Try this saucy, scrumptious pizza-meets-pasta dish for a fun weeknight meal! It's easily made from scratch in one skillet… leaving you with hardly any cleanup and a fridge full of delish leftovers (if you're lucky)!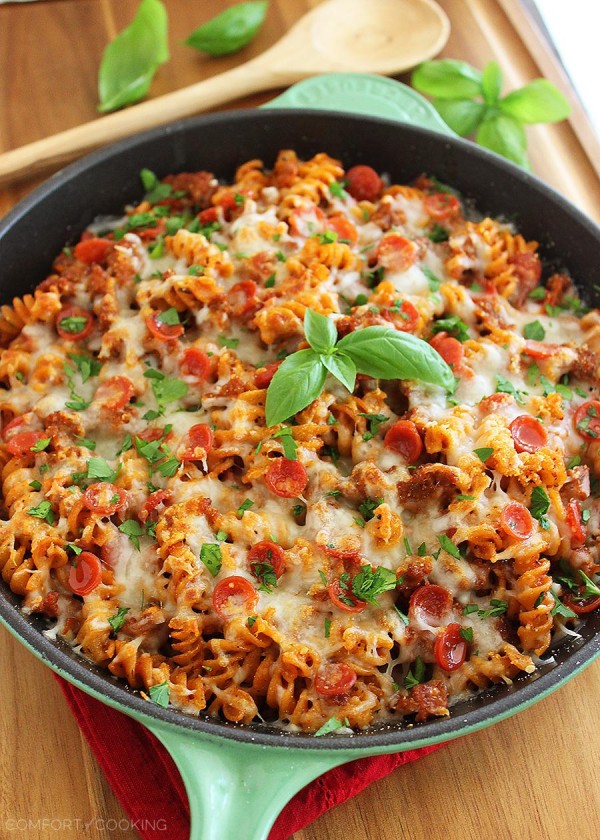 In my house, food is love. It's warmth and comfort, and my almost-daily way of showing my family just how much I care. Whenever I'm able, I so enjoy cooking for (and with) my friends as well. And they don't seem to mind giving me another excuse to whip out my big pots and pans.
When I found out our friend's family member was undergoing major surgery this week, I dropped off a heaping dish full of this pizza pasta. It wasn't much, but hopefully it eased the burden that dinner time can present after a long, stressful day. Or any weeknight, for that matter.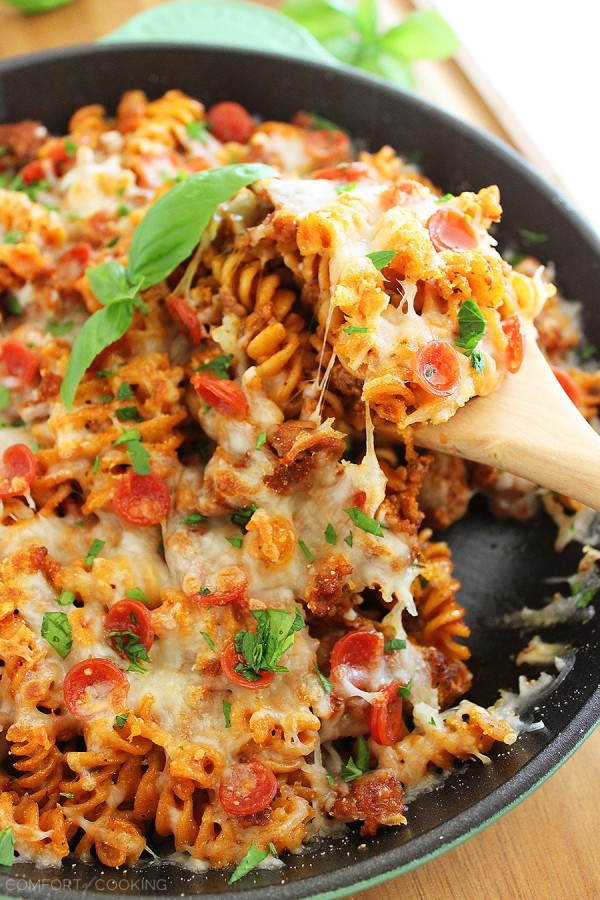 This pasta is one of the most undeniably delicious dishes to hit my skillet lately, and I'm so glad I could share it with friends. It's hugely flavorful and full of hearty goodness that both the big and little kids in your life will love. Best of all, this pizza-meets-pasta dish is easily made in one pan. And, I don't know about you, but knowing I have less clean up to do makes a meal taste even more delicious to me!
Try this saucy, scrumptious one-skillet dinner made from scratch tonight. It's so comforting and makes for even better leftovers the next day… if you're lucky enough to have any.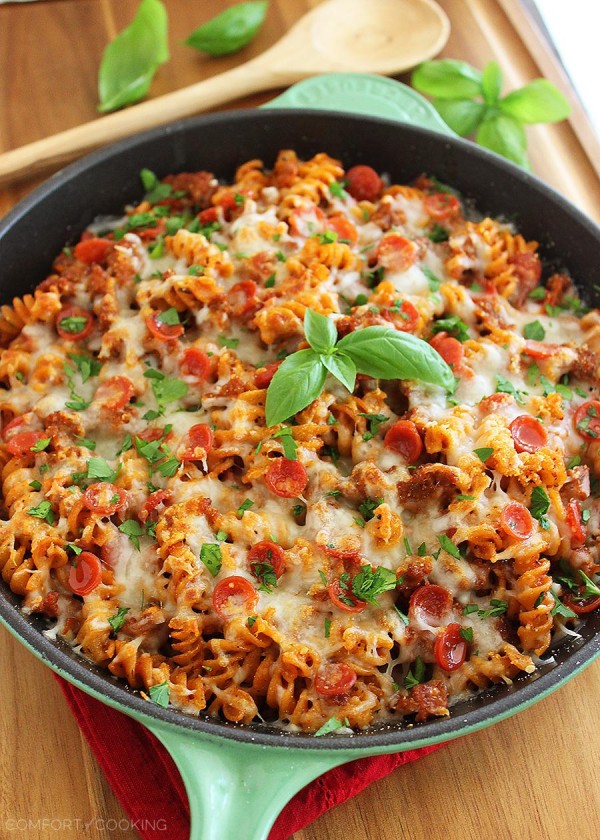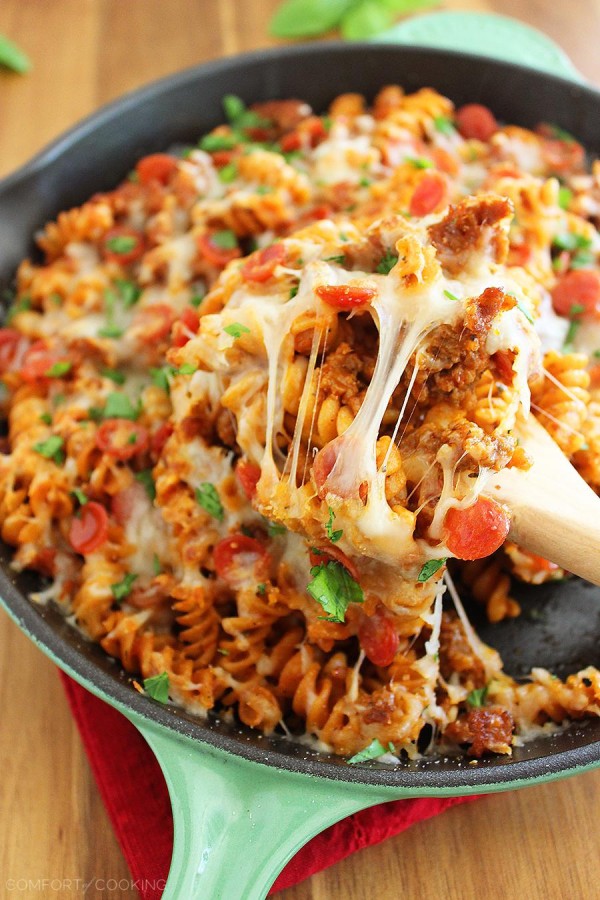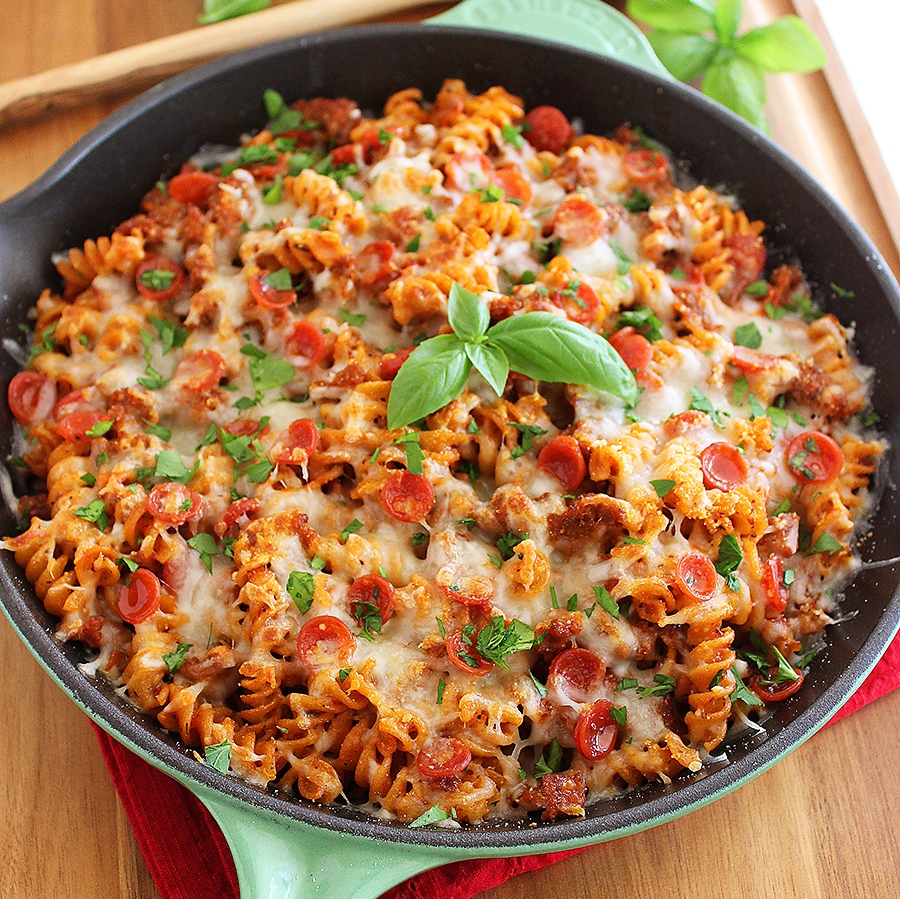 Cheesy Skillet Pizza Pasta
Ingredients
1 Tablespoon olive oil
8 ounces spicy or mild Italian sausage, casings removed
1/2 cup mini pepperoni, divided
1 15 oz. can tomato sauce
1/2 teaspoon dried oregano
1/2 teaspoon dried basil
1/4 teaspoon garlic powder
8 oz. rotini pasta
Kosher salt and freshly ground black pepper, to taste
1 cup shredded mozzarella cheese
2 Tablespoons chopped fresh parsley
Instructions
Preheat oven to broil.
In a large oven-proof skillet set to medium-high heat, add olive oil. Once hot, add Italian sausage and cook until browned, crumbling with a spoon, about 5 minutes. Drain excess fat. Stir in 1/4 cup pepperoni and cook 1 additional minute.
Stir in tomato sauce, oregano, basil garlic powder, pasta and 1 1/2 cups water. Bring to a boil. Cover and reduce heat, simmering until pasta is cooked through, 12-14 minutes.
Remove from heat. Sprinkle with mozzarella and remaining 1/4 cup pepperoni. Place under broiler and cook until melted and golden brown, 1-2 minutes, watching carefully to avoid burning.
Garnish with fresh parsley and serve.
Enjoy!