I made these wings knowing that the ever-popular "buffalo" flavor wasn't usually something I was a big fan of. So, when I put this plate in front of my hungry husband, I expected to just go about my business and move on to other things. But after he gobbled up two, there were still quite a few left. Just sitting there. Staring at me. And smelling delicious.
I went in for the kill and devoured one right then and there. And, well, I think can now say I'm a buffalo wing fan. With this recipe, you will love them too if you don't already. They may look five-alarm spicy, but in fact, while the flavor is very pronounced the spice is only minimal.
So, now that I love buffalo wings I also know how I like them – not too saucy, but crisp on the outside and tender on the inside. That's just what these are. If you prefer 'em saucy and spicy, just slather on some more buffalo or spicy sauce.
Served with a side of bleu cheese and a few celery sticks, these baked buffalo wings are the perfect way to kick off a game day feast, or any casual party. I know I can't wait for the next time we get messy in the kitchen and make these again!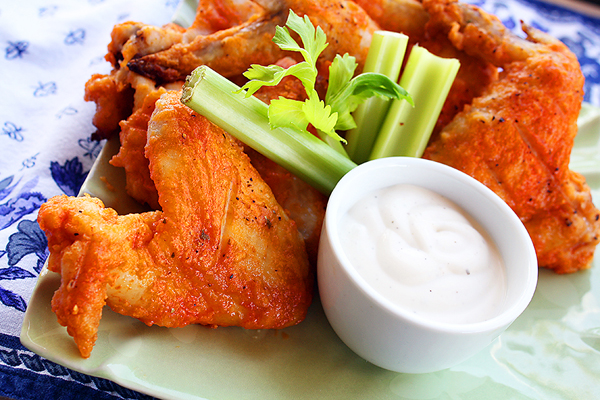 Baked Buffalo Wings
Ingredients
3/4 cup all-purpose flour
1/2 teaspoon cayenne pepper
1/2 teaspoon garlic powder
1/2 teaspoon salt
20 chicken wings
1/2 cup melted butter
1/2 cup hot pepper sauce, such as Frank's RedHot®
For serving:
Ranch and/or bleu cheese dressing, optional
Celery sticks, optional
Instructions
Line a baking sheet with aluminum foil, and top with a cooling rack.
Place the flour, cayenne pepper, garlic powder and salt into a re-sealable plastic bag, and shake to mix. Add the chicken wings, seal, and toss until well coated with the flour mixture. Refrigerate chicken in the bag for at least 1 hour.
Preheat oven to 400 degrees F.
Whisk together the melted butter and hot sauce in a small bowl. Dip the wings into this mixture, and place back on the baking sheet. Bake in the preheated oven until the chicken is no longer pink in the center, and crispy on the outside, about 45 minutes. Turn the wings over halfway during cooking so they cook evenly.
Optionally, serve wings with dipping sauces such as ranch and/or bleu cheese dressing, and celery sticks.
Enjoy!