These 4-ingredient Homemade Reese's Peanut Butter cups are fun to make, super creamy, and melt-in-your-mouth delicious!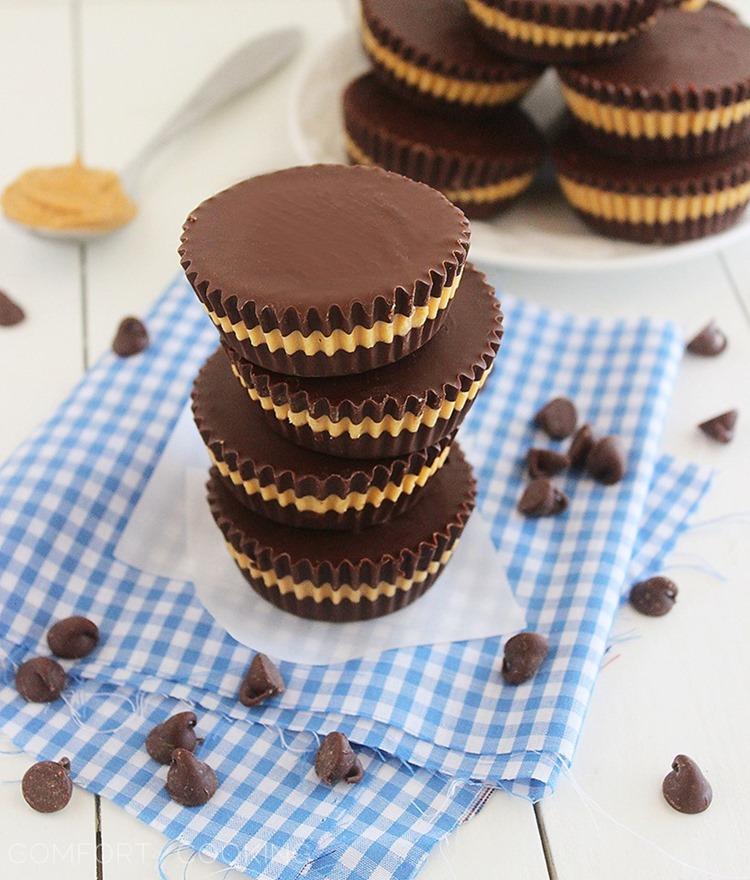 If you ever wondered what my idea of heaven on Earth is, you're staring smack-dab into a stack of it. These are… insane. Addictive and easy to make and positively insane. You could say, in the membrane.
Making a batch of these foolproof, four-ingredient peanut butter cups is pretty much like winning the candy lottery. That is, imagine yourself in that scruffy homemade Halloween costume (so cute!), toting around your little pail, and it's your lucky night, kid. Because everyone is passing out Reese's cups. All for you. You don't have to share them with anyone. They're all youuuuuurs!
Okay, maybe my desire to make these ran a little deeper than I realized.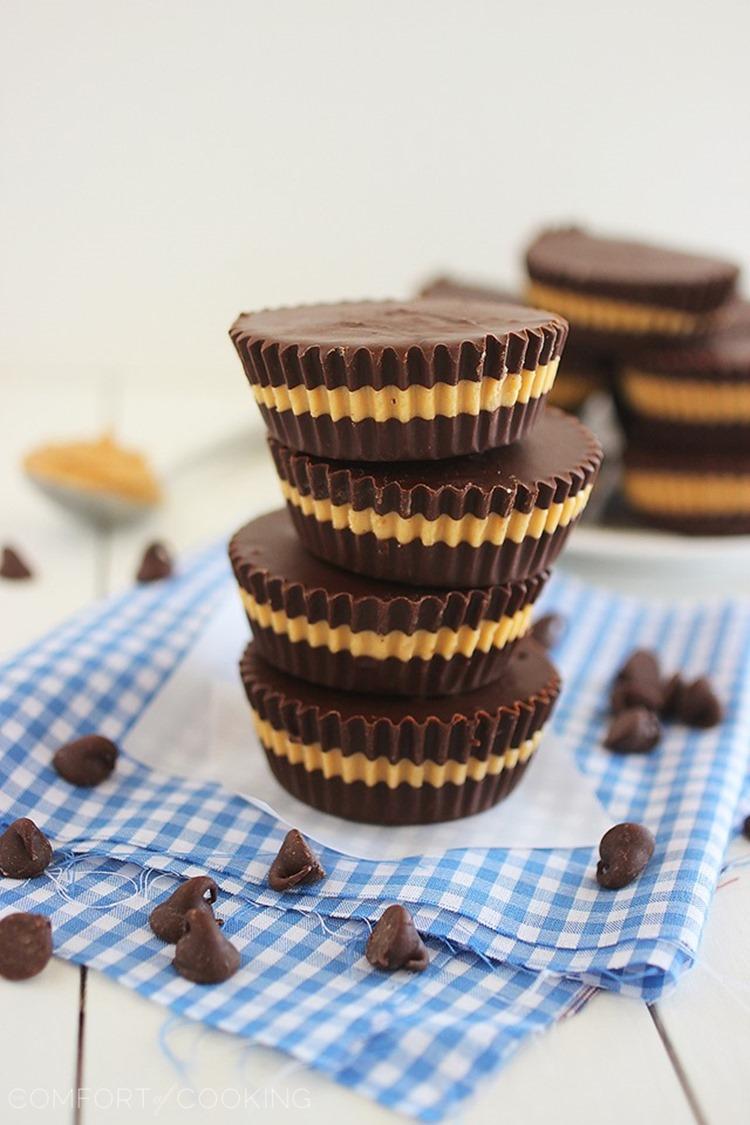 Reese's cups are a rare treat around here (can you tell?)… mostly reserved for Halloweens spent sneaking one or two between passing out candy to costumed kids. Just one of many reasons I'm looking forward to having our very own trick-or-treater next year! More peanut butter cups for Mom and Dad. Hehe.
These homemade chocolate peanut butter cups are terrific fun to make, indulgent and delicious with a glass of milk. Just start with a layer of melted chocolate in a muffin tin, freeze, then plop layers of peanut butter and more chocolate on top. Freeze again, peel the paper off, and enjoy. No bake, no fuss, and no time at all 'til they're in your belly.
The best kind of treat!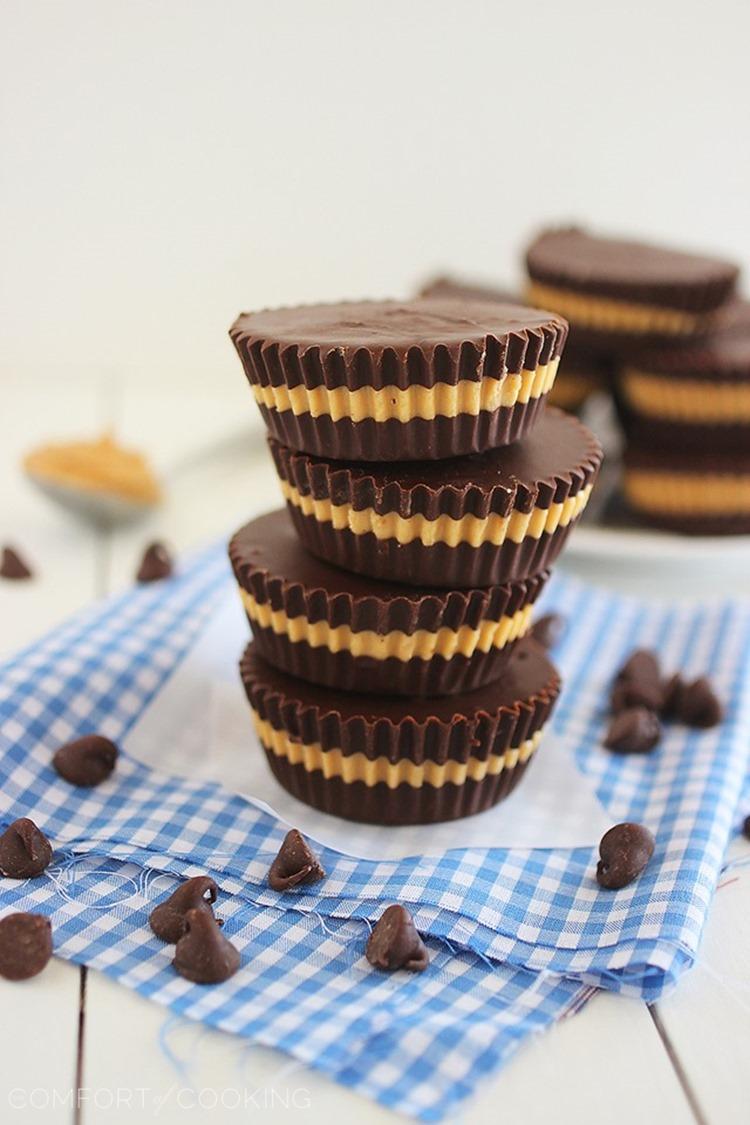 Homemade Reese's Peanut Butter Cups
Yield:
12 peanut butter cups
Ingredients
2 (12 oz.) bags semisweet chocolate chips
1/2 cup creamy peanut butter
1/4 cup powdered sugar
2 Tablespoons unsalted butter, softened
Instructions
Line a standard 12-cup muffin tin with paper liners.
Melt one (12 oz.) bag of chocolate either in a double boiler or by microwaving in short increments, stirring after 30 seconds, for about 2 minutes.
With a small spoon or cookie scoop, evenly distribute melted chocolate into each muffin cup. Drop pan repeatedly on the counter to help chocolate flatten and smooth out. Freeze whole pan for 15 minutes.
Meanwhile, in a medium bowl combine peanut butter, powdered sugar and butter. Whip with an electric hand mixer until smooth*. Remove pan from freezer and place small spoonfuls of peanut butter mixture on top of each chocolate layer. Drop pan repeatedly on the counter again, to help flatten peanut butter layer. Freeze whole pan for 15 minutes.
Melt remaining 12 oz. bag of chocolate. Working quickly, portion small spoonfuls of chocolate into each cups, three cups at a time, immediately dropping the pan repeatedly on the counter to flatten cups*. Freeze whole pan for 15 minutes to set the top layer of chocolate.
For a peanut butter cup with a firmer texture, serve chilled. For a softer, creamier texture, serve at room temperature. Store refrigerated in an airtight container up to 5 days.
Enjoy!