Whipped ricotta toast topped with roasted tomatoes and fresh basil. Want to impress your friends, but keep it quick? These gorgeous, creamy crostini only need a handful of ingredients and 15 minutes. Delicious, easy and elegant!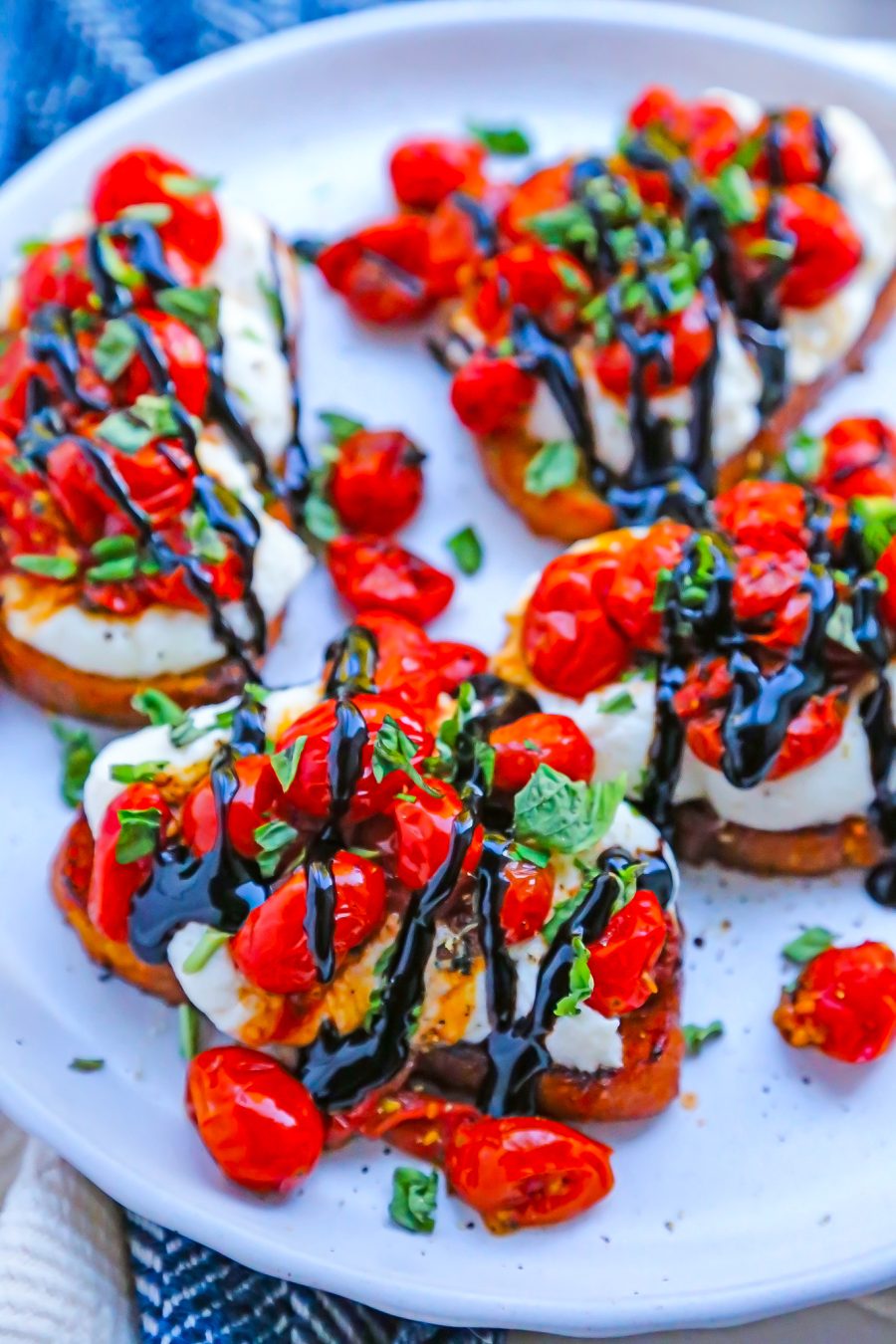 Caprese Whipped Ricotta Toast
If you've got 5 minutes, you can make Whipped Ricotta! Super creamy, salty-sweet, and oh-so scrumptious. The perfect appetizer for cozy nights at home, or for impressing guests. The Mediterranean flavors in this pairing of fluffy, tangy ricotta and roasted tomatoes is simply irresistible.
Spooned on top of toasty sourdough, this pairing is ideal for spring and summer entertaining. It's creamy, salty sweet perfection scooped up with warm bread.
Just grab a handful of ingredients and you're ready to make a batch of Caprese Whipped Ricotta.
Let's get you to this goodness, and start cooking!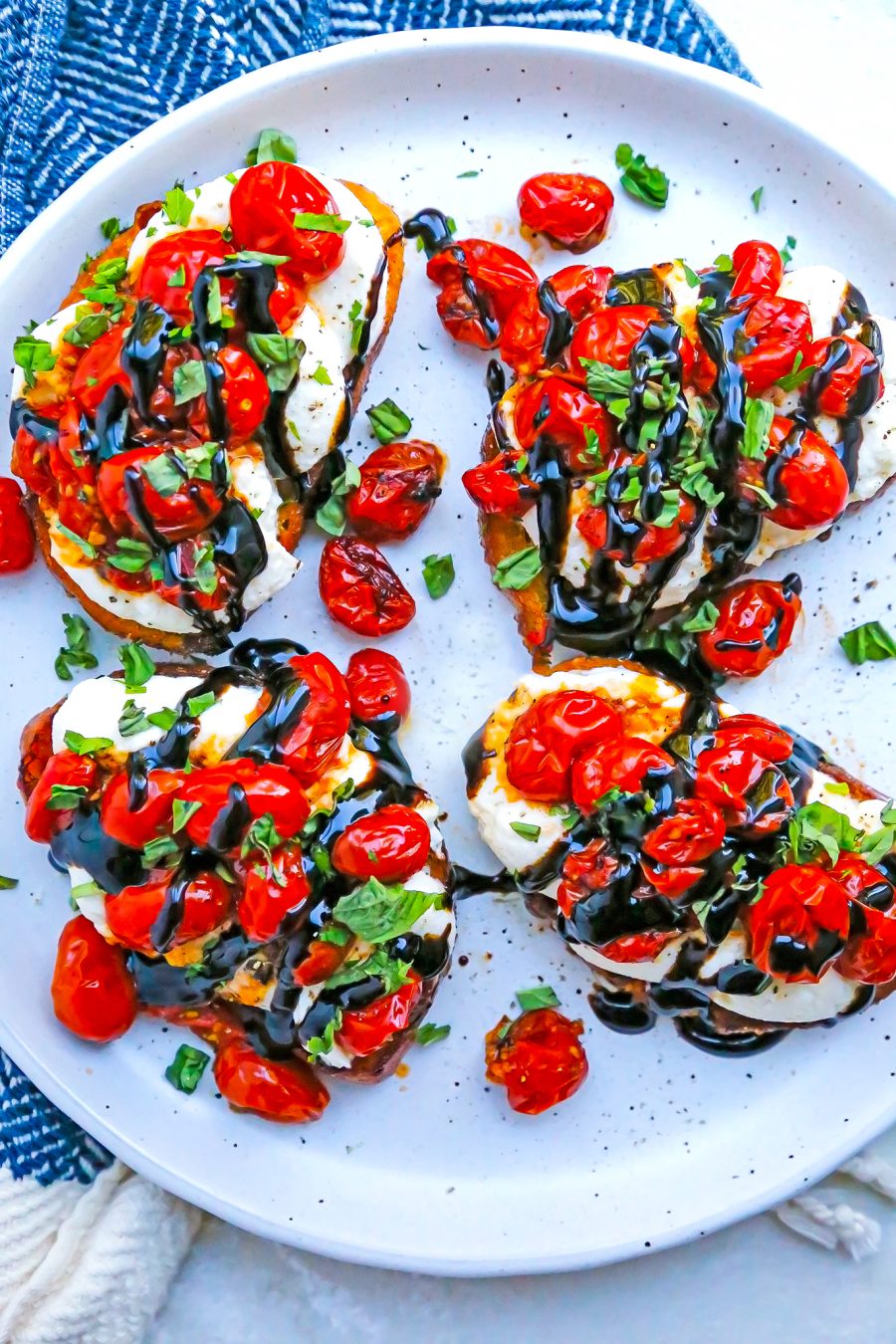 Ingredients for Caprese Whipped Ricotta Toast
• whole milk ricotta
• sourdough bread
• olive oil
• cherry or grape tomatoes
• minced garlic
• salt and pepper
• fresh basil
• balsamic vinegar or balsamic glaze
Keep reading for full ingredient list + recipe, below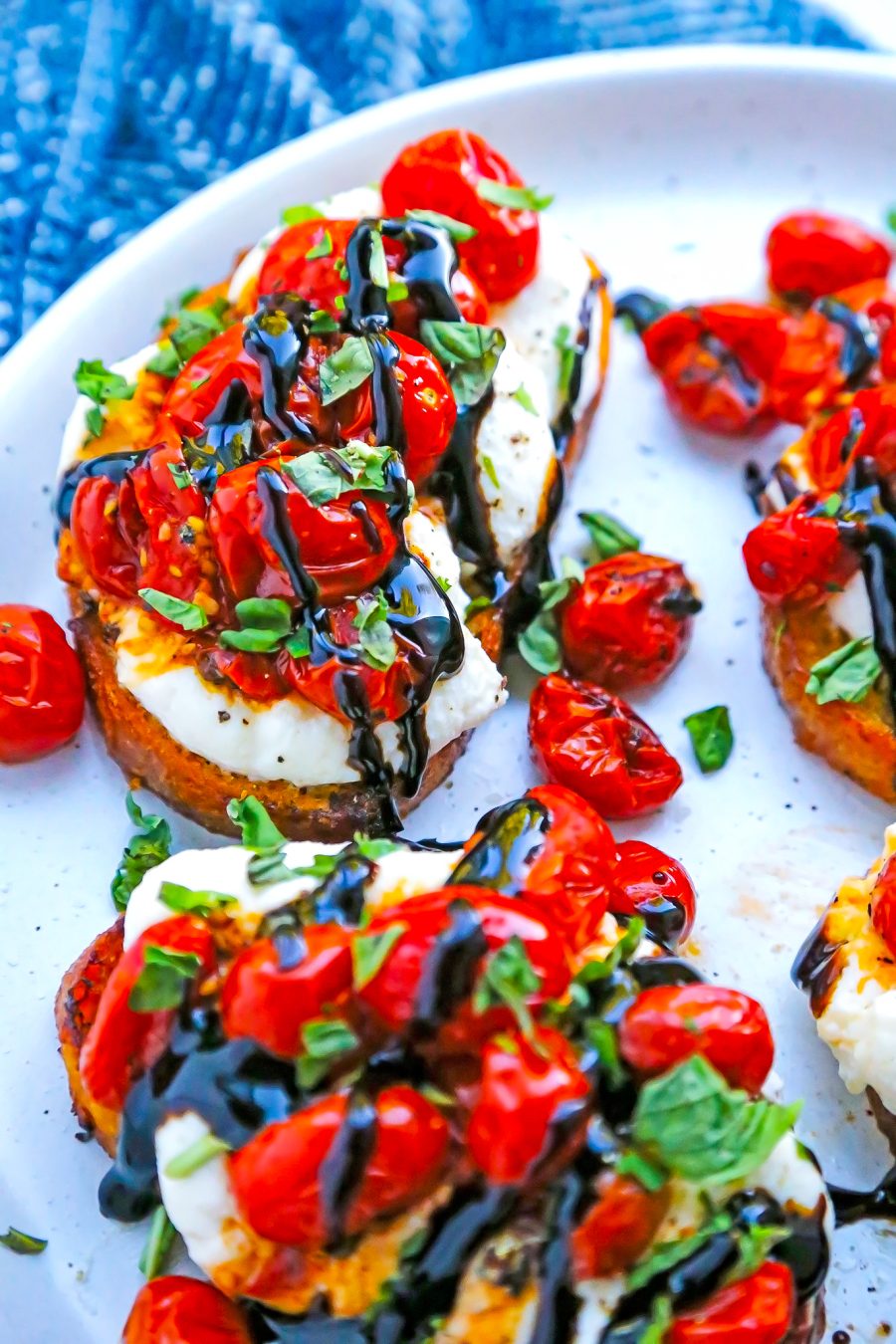 What is Whipped Ricotta?
Simply put, it is a better version of ricotta. It is ricotta that is whipped into a creamy, dreamy dip, and it only takes 2 minutes. Best to whip with an standing or handheld electric mixer. I found the best results with my whisk attachment, but traditional beaters work just great!
What are good toppings for Whipped Ricotta?
I love fresh herbs, honey, dried fruits, proscuitto, or just a drizzle of really good olive oil.
What kind of ricotta is best?
I have made ricotta at home, which is a time-consuming (but delicious) task. But, you can find a good homemade-style ricotta in the Whole Foods dairy or cheese section. Store-bought in the container works well, too. Just make sure it is whole milk, not part-skim.
How do I store Whipped Ricotta?
Store ricotta in a resealable container or covered dish. Refrigerate up to 5 days.
More easy appetizers:
• 3-Ingredient Mini Queso Cheese Balls
• Firecracker Chicken Meatballs
• Burrata Caprese Salad with Peach and Proscuitto
• Crispy Goat Cheese Poppers with Honey
---
I hope you enjoy this easy, elegant Whipped Ricotta Toast recipe. Those tangy-sweet-buttery flavors make sweet magic on a plate, and always have us going for seconds. We love this for date nights in, gatherings with friends, and something unique for the holiday table!
Please feel free to leave a comment and a star rating, if you give it a go. I would love to know if you serve this recipe for your family and friends.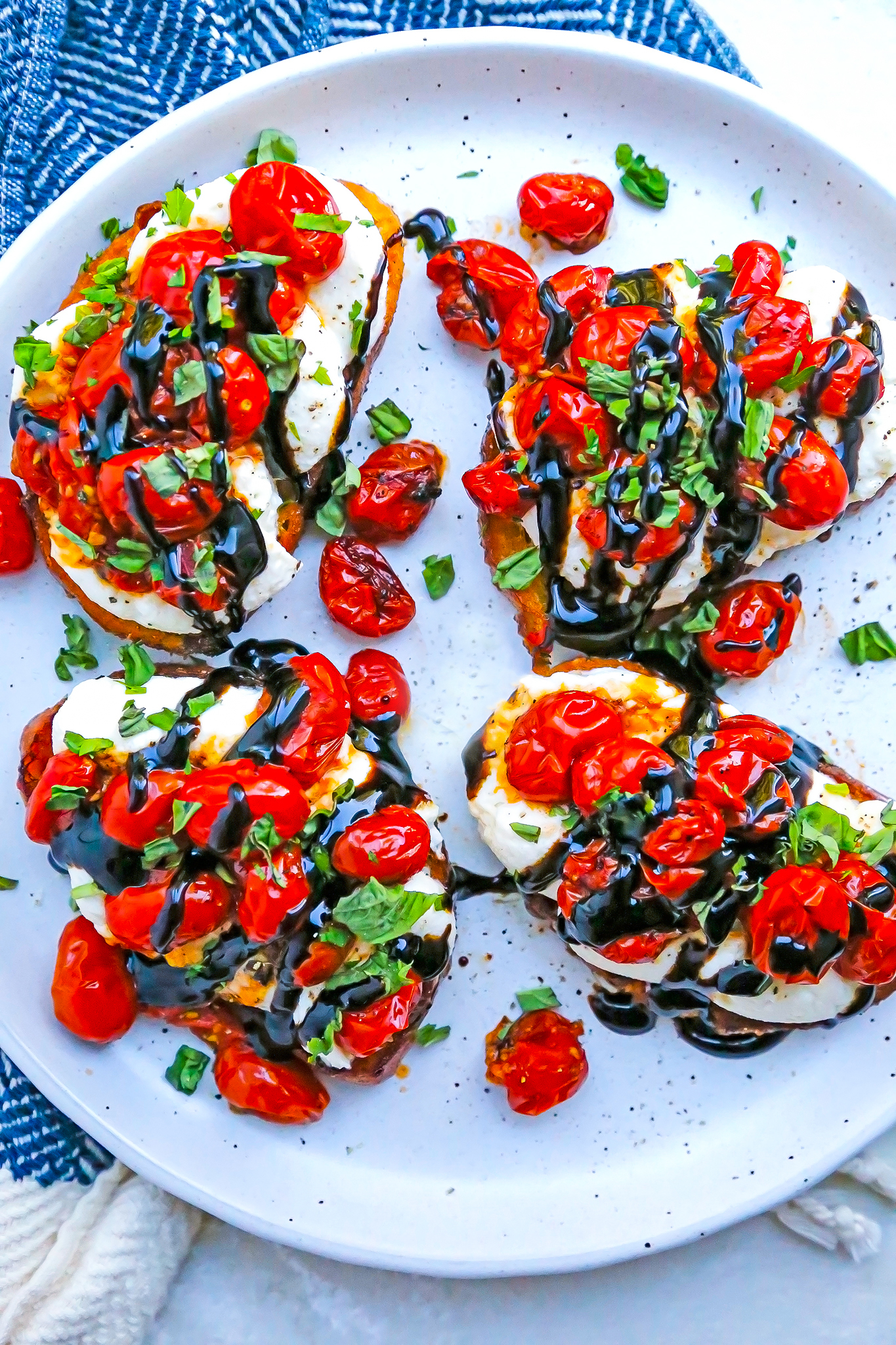 Caprese Whipped Ricotta Toast
Yield:
Makes 4 servings (2 toasts each)
Ingredients
1 cup whole milk ricotta
1 pint cherry or grape tomatoes
1 Tbsp. minced garlic
1/4 cup good quality olive oil
Coarse salt and cracked black pepper
1 loaf sourdough bread
1/4 cup fresh basil, torn
Balsamic vinegar or glaze, to taste
Instructions
In a medium bowl, add ricotta. Beat with an electric mixer (I used my whisk attachment, but traditional beaters will do), until light and fluffy, about 2 minutes.
Toss tomatoes and garlic onto a large baking sheet. Drizzle with olive oil. Bake at 400 degrees F for 15 minutes, until blistered and soft. Remove from oven; set aside.
Meanwhile, set a large skillet to medium-high heat. Drizzle bread slices with additional olive oil. Cook slices until golden brown and slightly toasted, about 1-2 minutes per side.
Spoon (or pipe with a plastic bag) whipped ricotta onto toasted bread. Spoon roasted tomatoes on top.
Sprinkle with fresh basil. Add a drizzle of balsamic vinegar or glaze.
Serve warm and enjoy!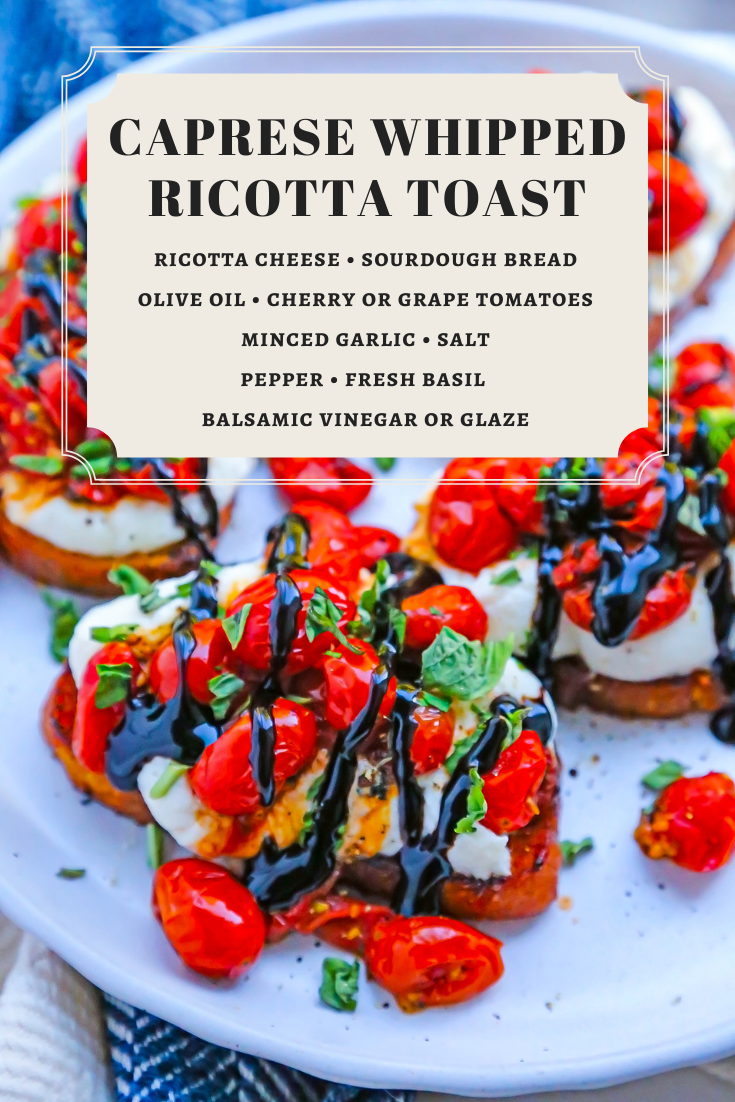 Want to receive our latest recipes straight to your email inbox? Click here to subscribe!