Piled on top of crispy crackers, this summery burrata is a party in your mouth! Sweet peaches, salty prosciutto and roasted tomatoes nestled in with gooey cheese and fresh basil? Yes, please.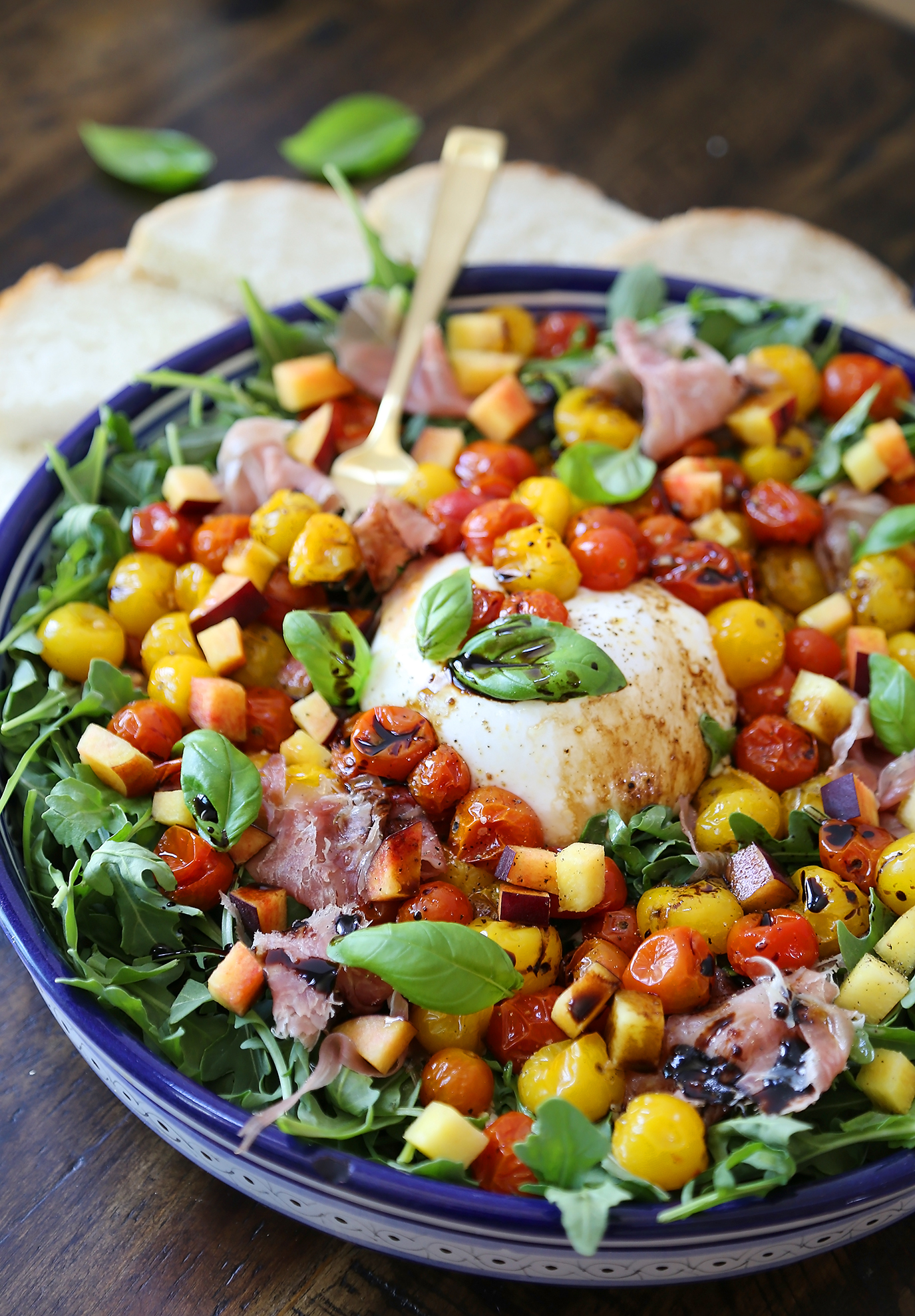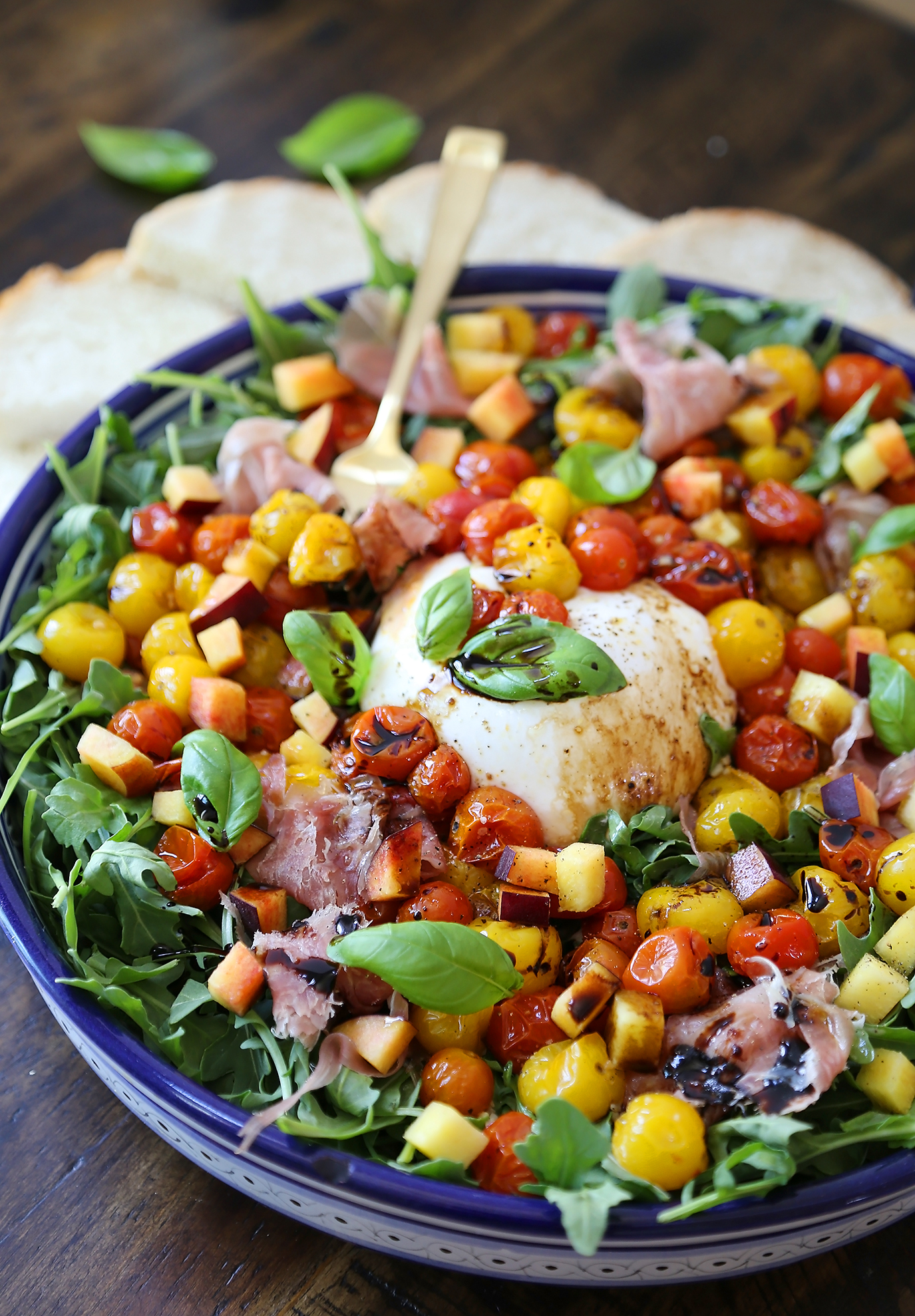 Come summertime, I find there is nothing more satisfying than sitting outside with a glass of wine in the backyard, enjoying a fresh salad while my daughter and dog play in the grass. There is nothing I love more than a simple weekend afternoon with family, and a heaping platter of balsamic-drizzled mozzarella, prosciutto, tomatoes and peaches to pick at for dinner. It's the Italian way, after all!
I've always thought the essence of Italian cooking is the quality of the ingredients you use, and the ease of making an effortless, but fantastically flavorful dish. This beautiful burrata caprese is the perfect example of how summertime "cooking" ought to be. Simple yet scrumptious.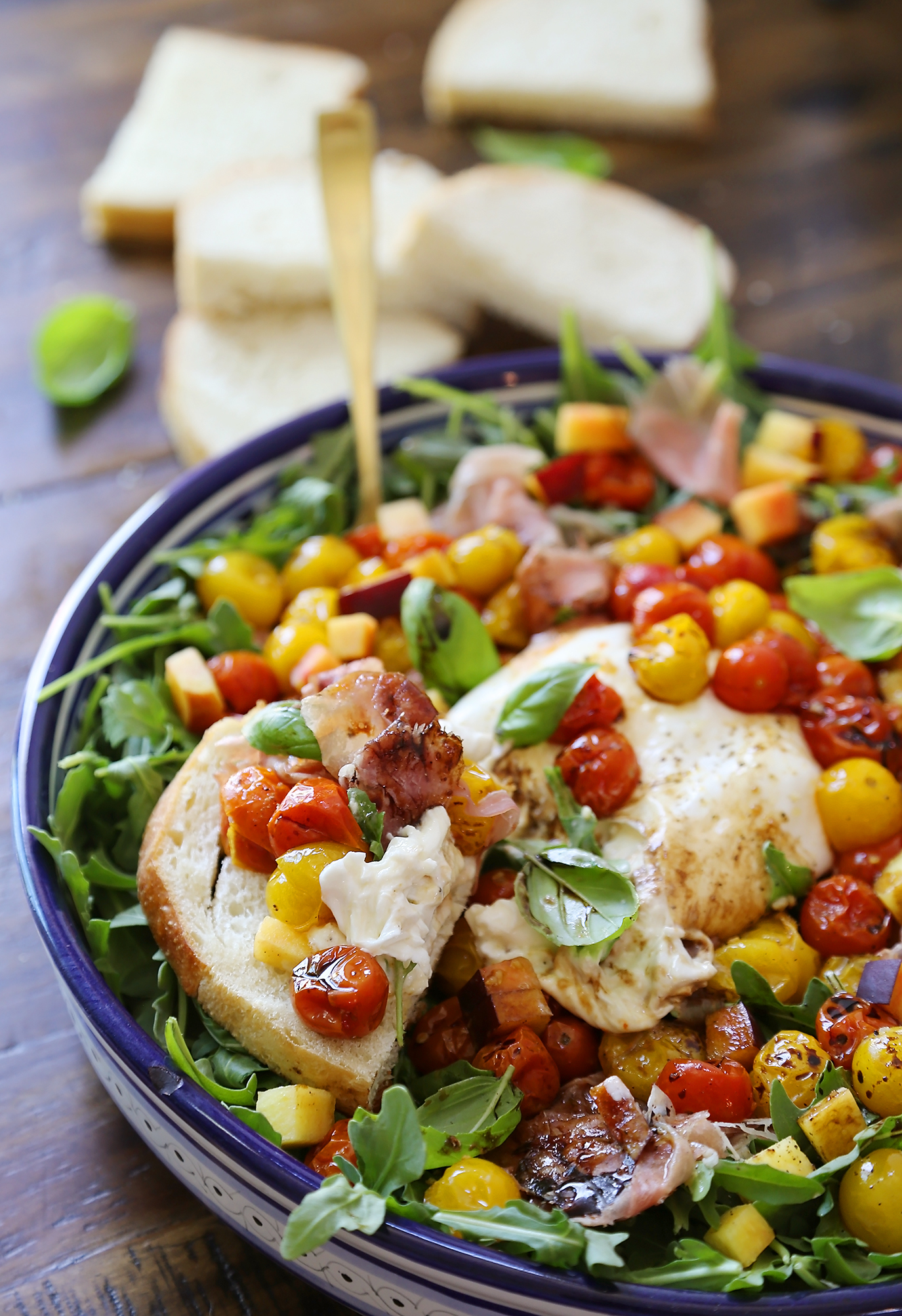 Find the best burrata ball you can, or use two smaller balls for feeding a crowd. Since we were feeling selfish this evening, the two of us made a feast out of this salad for dinner. But, you could easily get 4-5 appetizer sized servings per 8 oz. ball. It should feel like a water balloon, super soft and gushy on the inside. When you've found your best burrata, you can be sure you're in for some dippable deliciousness!
I love loading my salad with a mixture of garlic roasted tomatoes, peaches, prosciutto and my ultimate summer must have – fresh basil plucked from the garden. Then, I arrange my burrata ball in a fluffy nest of arugula, top it with the roasted goodness, and drizzle with a good quality olive oil and balsamic vinegar. The oil and vinegar seep down into your arugula, leaving a delicious dressing for scooping salad long after the burrata has been devoured. Perfection on a warm summer day!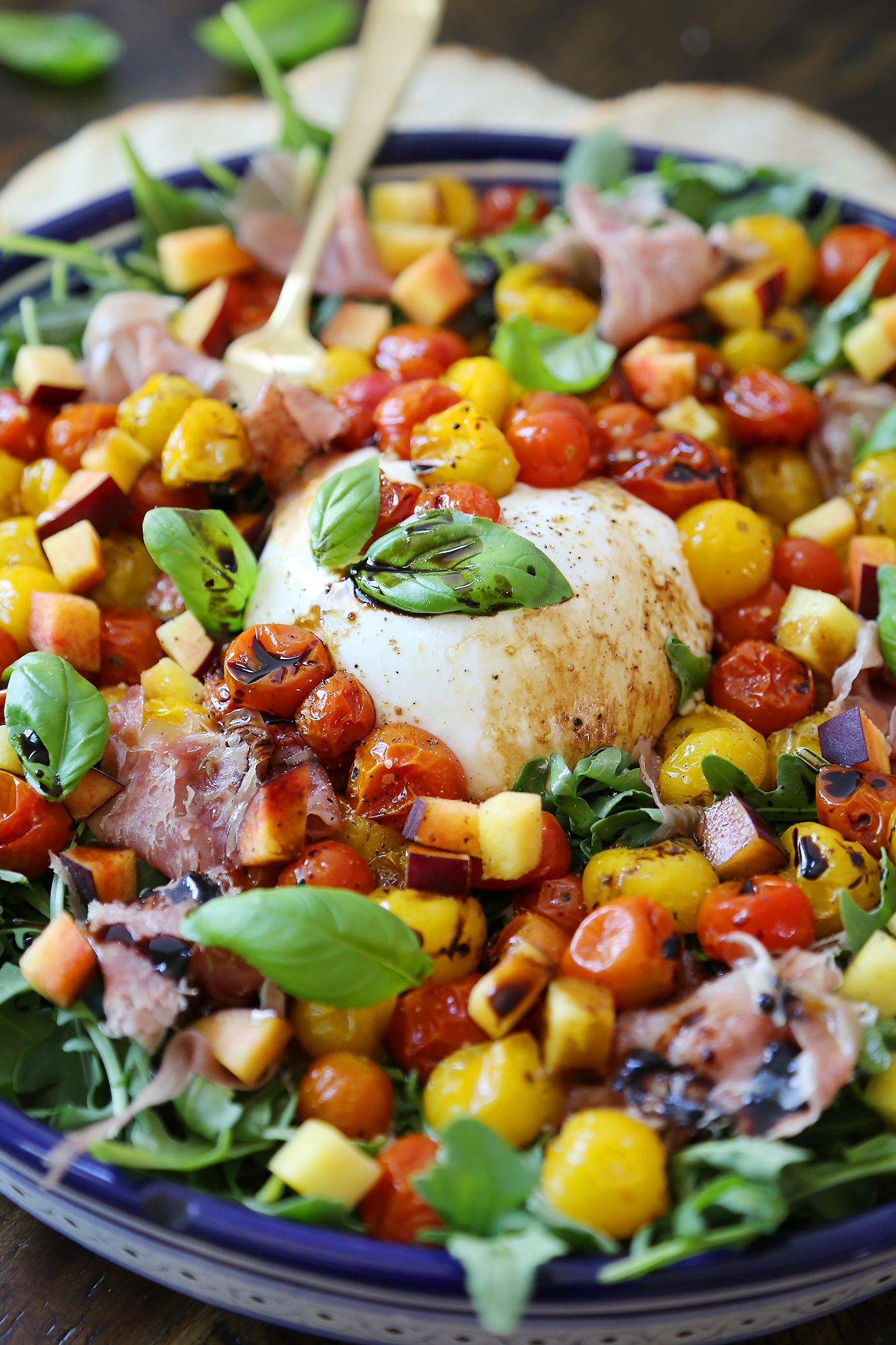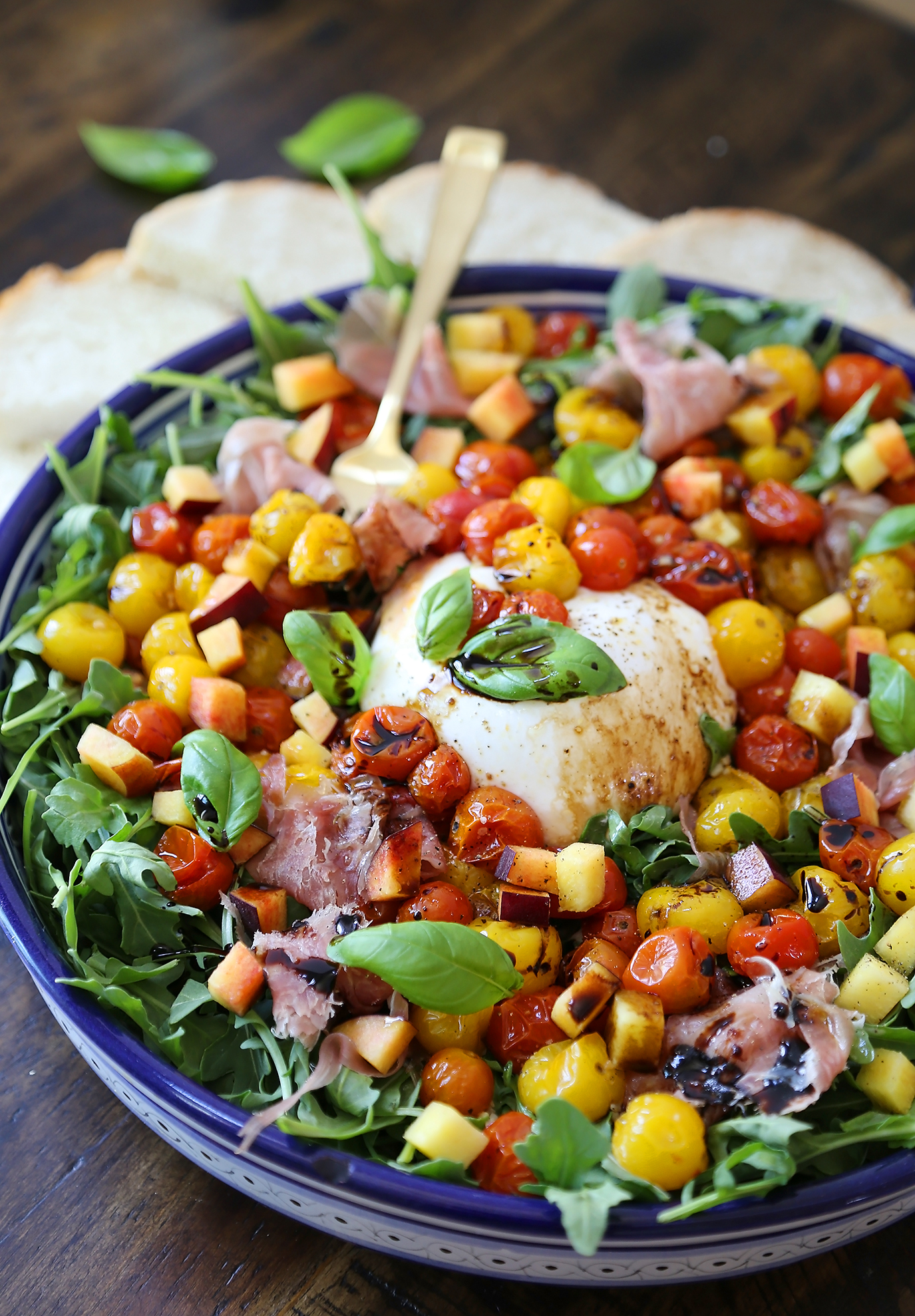 Burrata Caprese Salad with Peach and Proscuitto
Ingredients
3 cups cherry tomatoes
1 medium peach, cut into cubes
4 cloves garlic, minced
3 Tbsp. extra virgin olive oil, divided
Kosher salt and cracked black pepper
4 cups baby arugula
1 8 oz. ball fresh burrata mozzarella
1/4 lb. thinly sliced proscuitto
2 tsp. balsamic vinegar
1/4 cup fresh basil leaves
For serving, optional:
1 Toasted/grilled artisan bread loaf, sliced
Instructions
Preheat oven to 400 degrees F.
On large lined baking sheet, toss tomatoes with peaches, garlic, 1 Tablespoon olive oil, salt and pepper. Roast for 15 minutes and set aside.
Arrange arugula on top of a large serving platter or bowl.
Drain water from burrata. Add to center of arugula. Scatter salad with roasted tomatoes, proscuitto slices, balsamic vinegar, and basil leaves. Season with kosher salt and cracked black pepper.
Serve with lightly toasted or grilled bread slices.