Warm up this quick and easy all-in-one weeknight meal – a soup with tender tortellini, chicken and veggies. So delicious and comforting!
I love warming up with a hot bowl of soup, but since the toasty temps in Austin are just starting to drop, I've only just started to make them again. I especially love this chicken tortellini soup… it's a great all-in-one meal with soft, flavorful veggies and tender tortellini combined with chunks of chicken.
You may even already have all the ingredients on hand to stir up this scrumptious, quick soup! All you need are carrots, chicken broth, cheese tortellini, chicken and a handful of parsley. Rosemary, thyme or basil would also be great. Top it with some bits of fresh Parmesan and you have a mouthwatering meal!
I either serve this soup with a loaf of my Parmesan Herb Garlic Bread, a big leafy salad, or both if hubby and I feel hungry enough for a big meal!
Try this light, tasty soup some chilly fall weeknight or as a quick, no-fuss weekend meal. It's super quick and easy to make for even the novice cook, and a nice break from boring meal routines!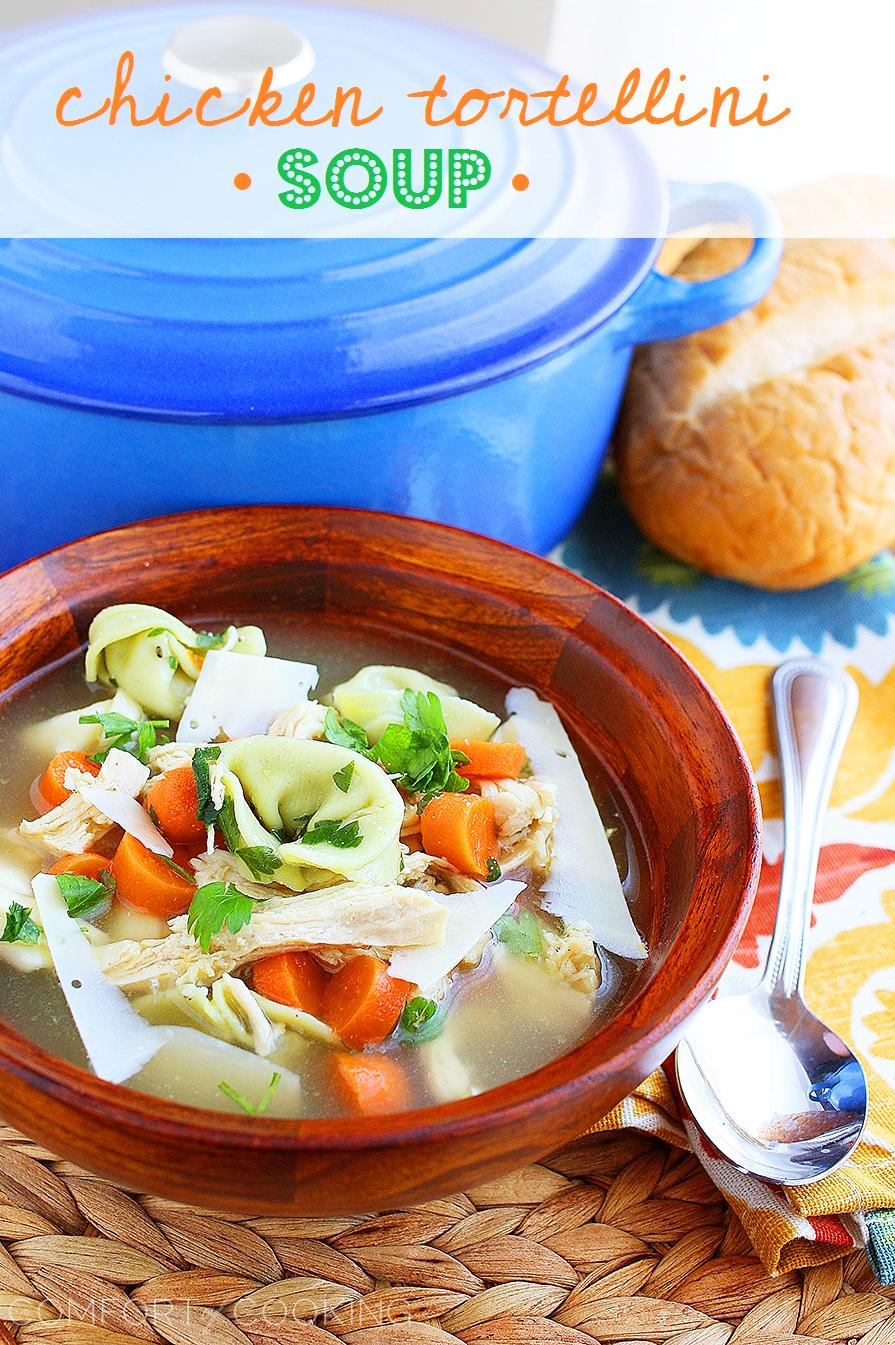 Chicken Tortellini Soup
Ingredients
4 cups low-sodium chicken broth
1 cup water
4 carrots, cut into bite-sized pieces
8 ounces cheese tortellini, fresh or frozen
1 1/2 cups shredded cooked chicken
Salt and pepper, to taste
2 tablespoons chopped fresh flat-leaf parsley
Parmesan cheese, optional
Instructions
In a large saucepan, bring broth and water to boil. Add carrots, reduce heat and simmer until tender, 10 to 12 minutes.
Add tortellini and simmer until tender, 2 to 4 minutes. Add shredded chicken and cook, stirring occasionally, until heated through, 1 to 2 minutes more.
Season soup with salt and pepper, to taste. Sprinkle with parsley. Top with shaved Parmesan cheese, if desired.
Enjoy!