Deliciously easy, slow cooked comfort in one pot! Hearty veggies meet juicy, tender beef in this classic French stew, made simple with basic ingredients and quick prep.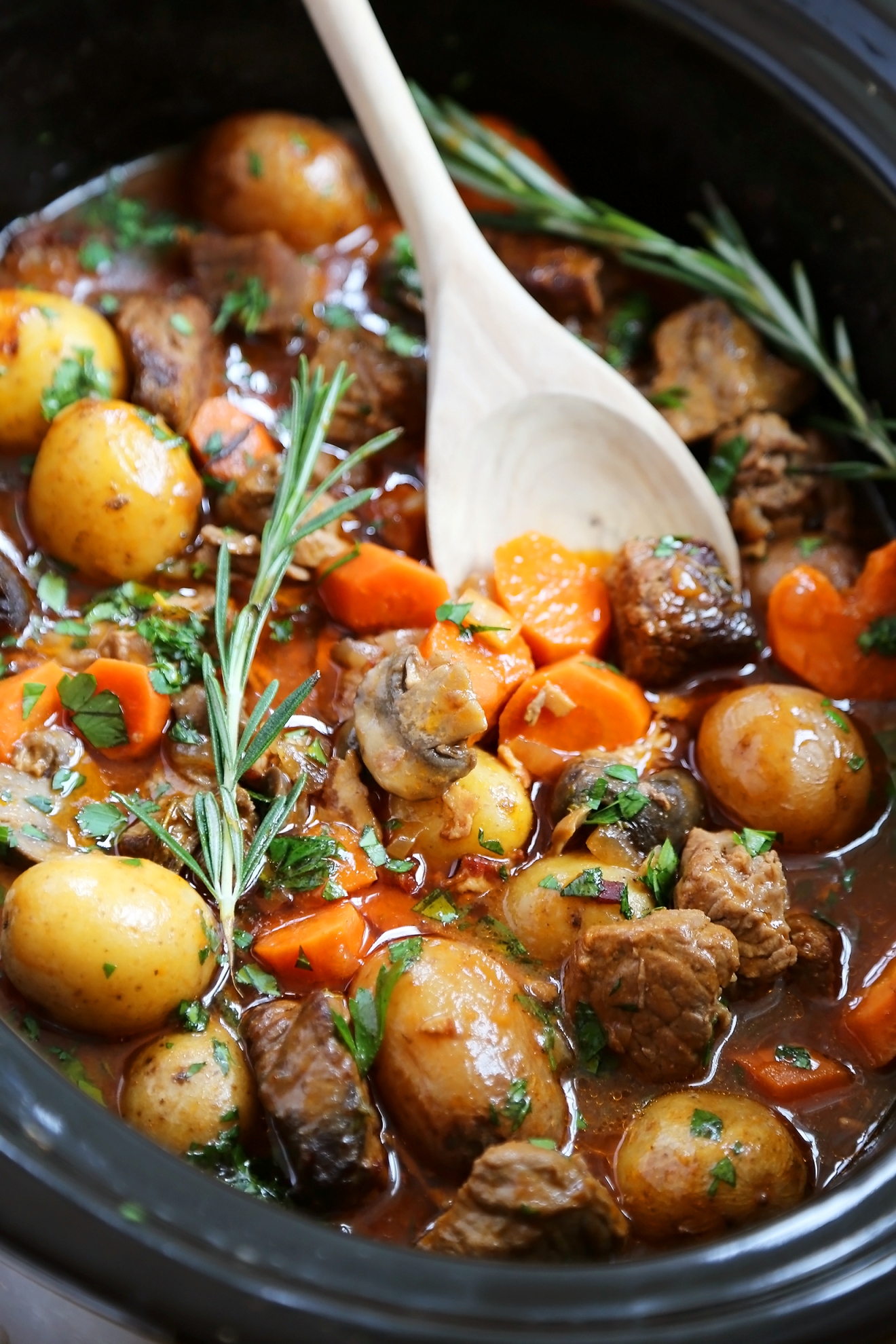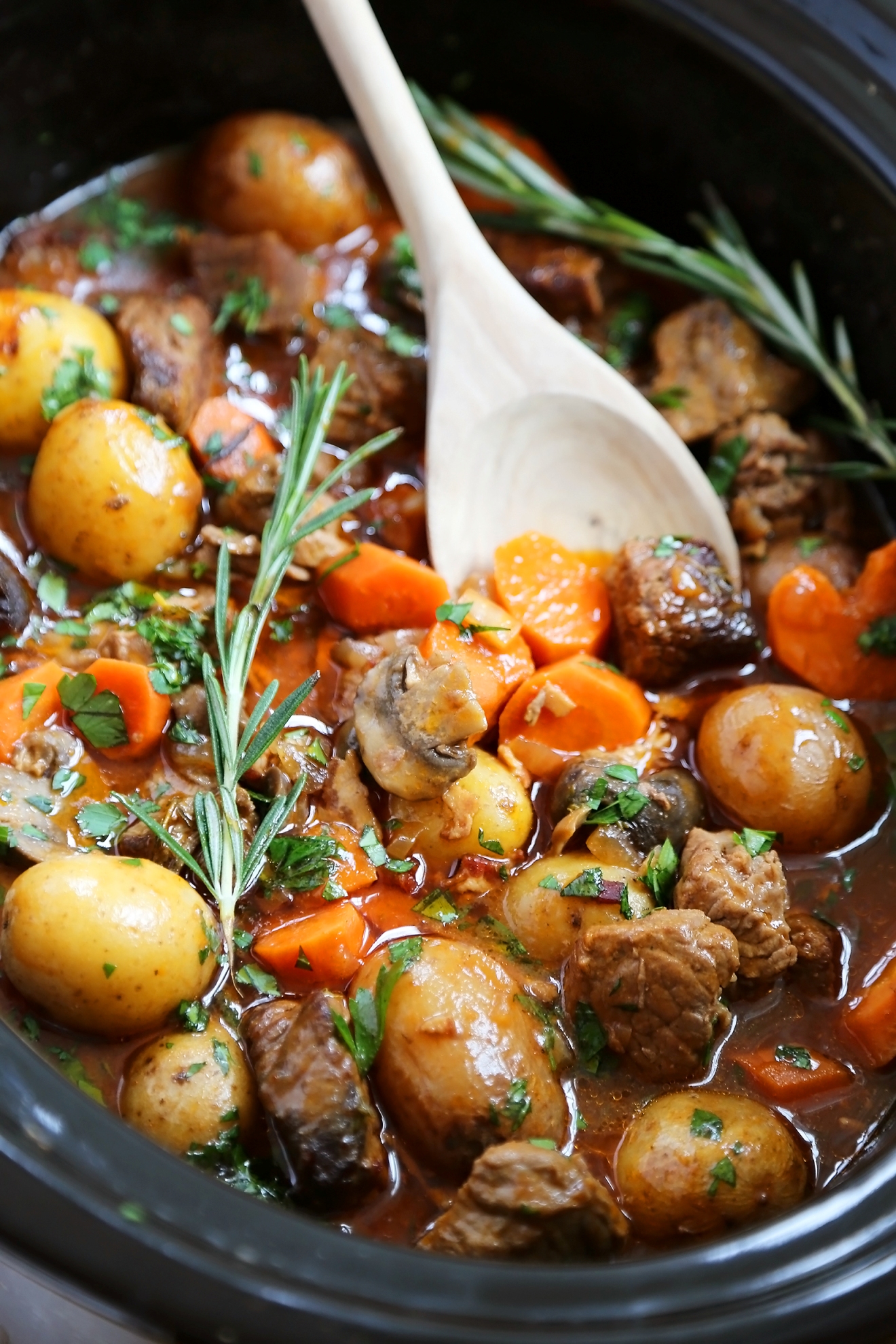 When there's a chill in the air and you're craving a belly warming meal, there is simply nothing better than a hearty beef stew. What is more irresistible than a one-pot meal simmering in your slow cooker, allowing you to spend time with your family instead of slaving over your stovetop?
Most slow cooker meals need a little boost with extra side dishes, but this is the most perfect all-in-one stew, with all the veggies, protein and starch you need. Not to mention, that mouthwatering aroma that draws everyone to peek in the pot!
Since our new climate in New England is calling for cozier meals at home, I have been cooking up lots of slow cooker favorites lately. Pasta sauces, pork sliders, pots of chili, and pulled chicken have been my mainstays for scrumptious, easy meals. However, until recently, I forgot how much I adored this amazing beef bourguignon recipe… and I'm so excited to share it with you today.
It just makes the colder months a little easier to bear, and is so easy to prepare.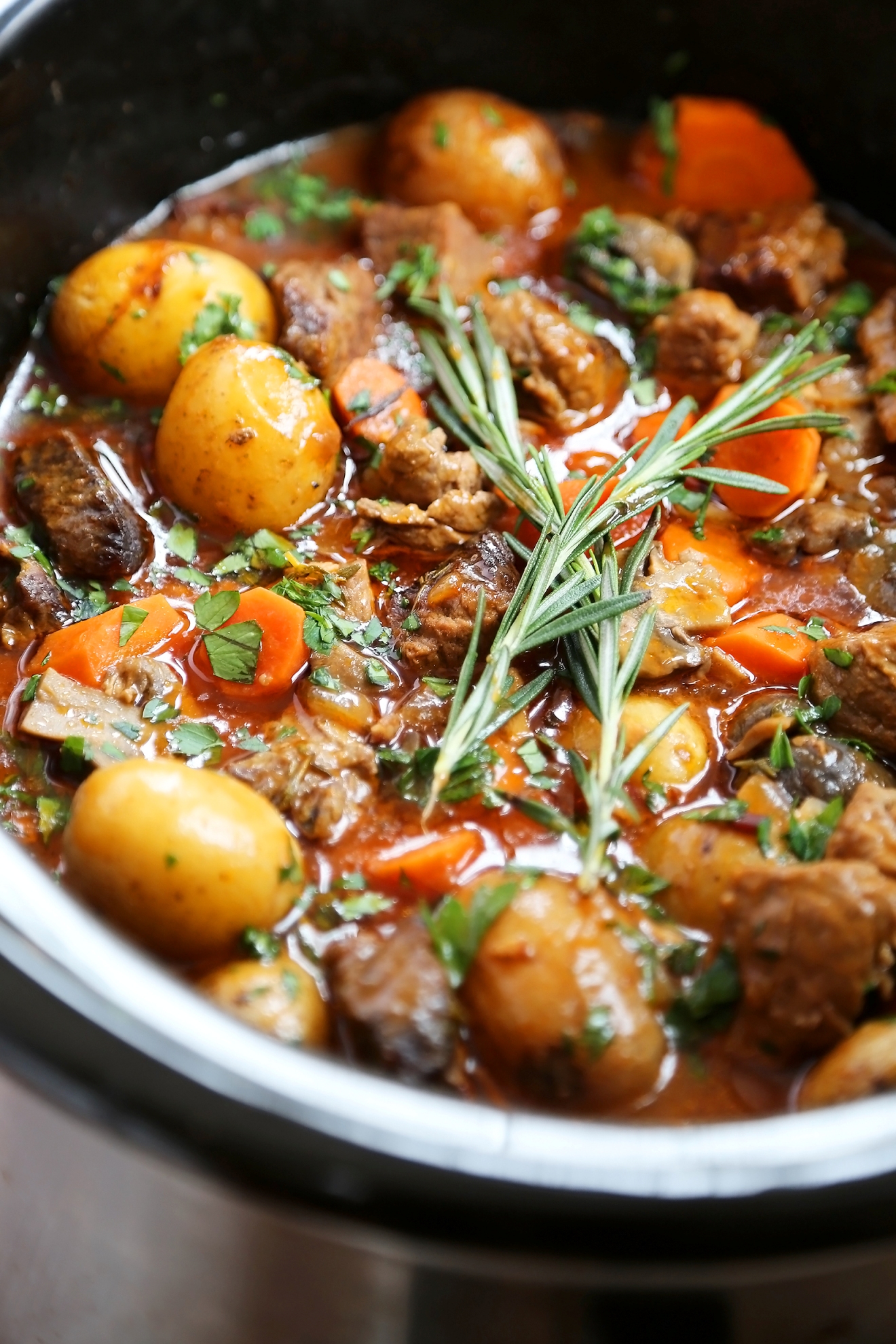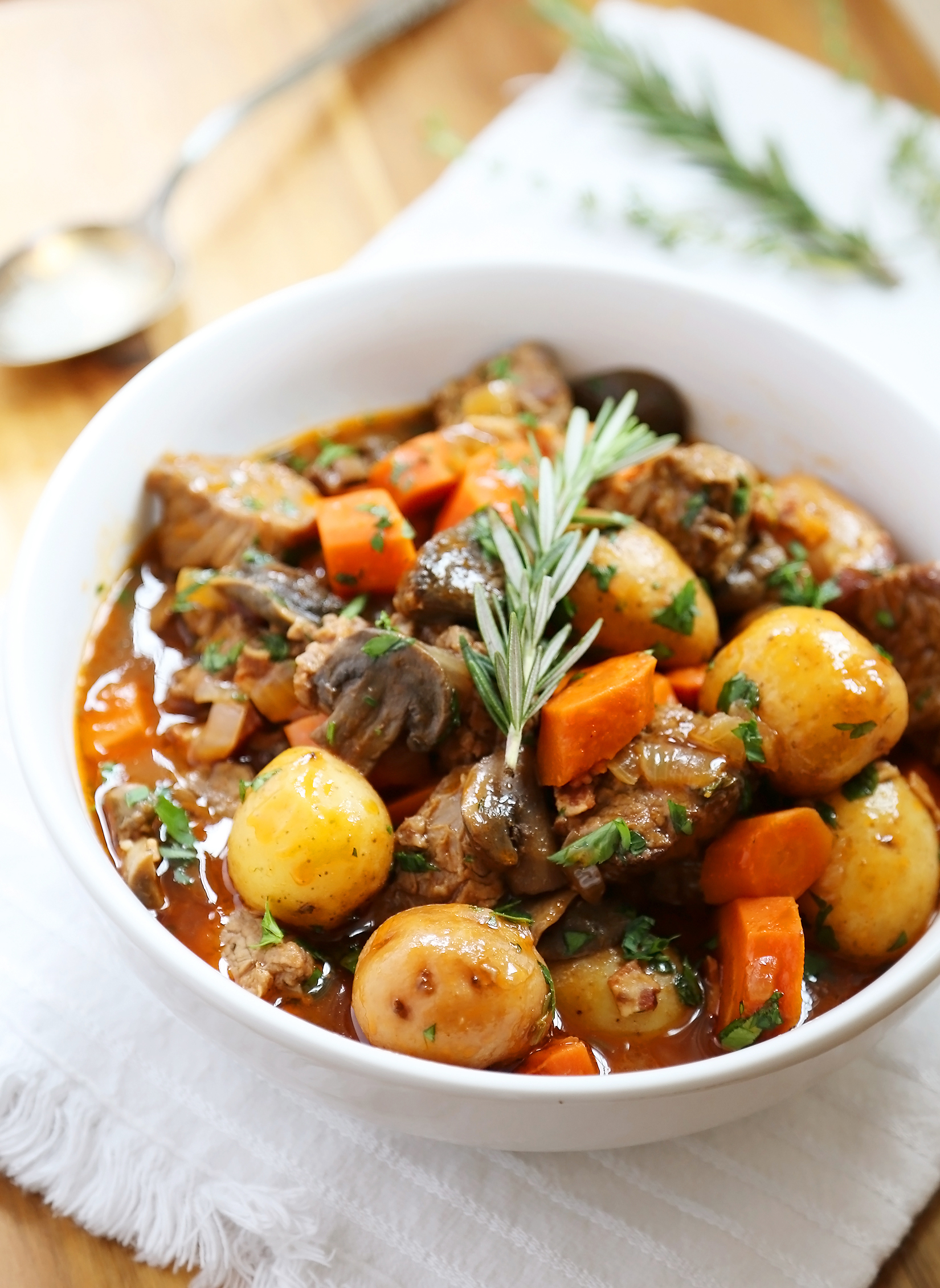 As every good thing does, this stew begins with bacon.
Chop up your bacon strips into bits, then toss them in a hot skillet. I like to use my Dutch oven instead, since the heavy cast iron gets the perfect sear on the bacon and beef. Feel free to substitute a thick bottomed skillet, though!
Once your bacon is crisp, remove it with a slotted spoon to your slow cooker. Next, arrange your beef cubes in the still-hot skillet so they're not overcrowded, and all have a chance to nicely brown on both sides. Oh yes, we're sizzling the beef in bacon grease and doing this stew right!
You might need to sear the beef in batches, since three pounds is a lot for one pot. When your beef has a nice golden crust, remove it to the slow cooker and dump all of your veggies on top – carrots, potatoes, onions, garlic, mushrooms, and a bit of fresh thyme. Stir it up and get excited. This is going to be good!
In your hot skillet, pour some Holland House Red Cooking Wine. If you've been around here before, you know about my love affair with this cooking wine. It punches up the flavor in everything I cook – from sauces to gravies, slow braised meats and soups. I love opening a bottle just to use a splash, and then storing it in my cabinet for later, not worrying it will go bad. Which, of course, means I can save my favorite red wines for drinking, and leave the work to this wonderful red cooking wine for enhancing my meals!
Grab your family and friends, and get cooking this delicious, comforting beef bourguignon, made simply in your slow cooker. For a homemade side dish, serve with my No-Knead Crusty Artisan Bread for mopping up that mouthwatering sauce!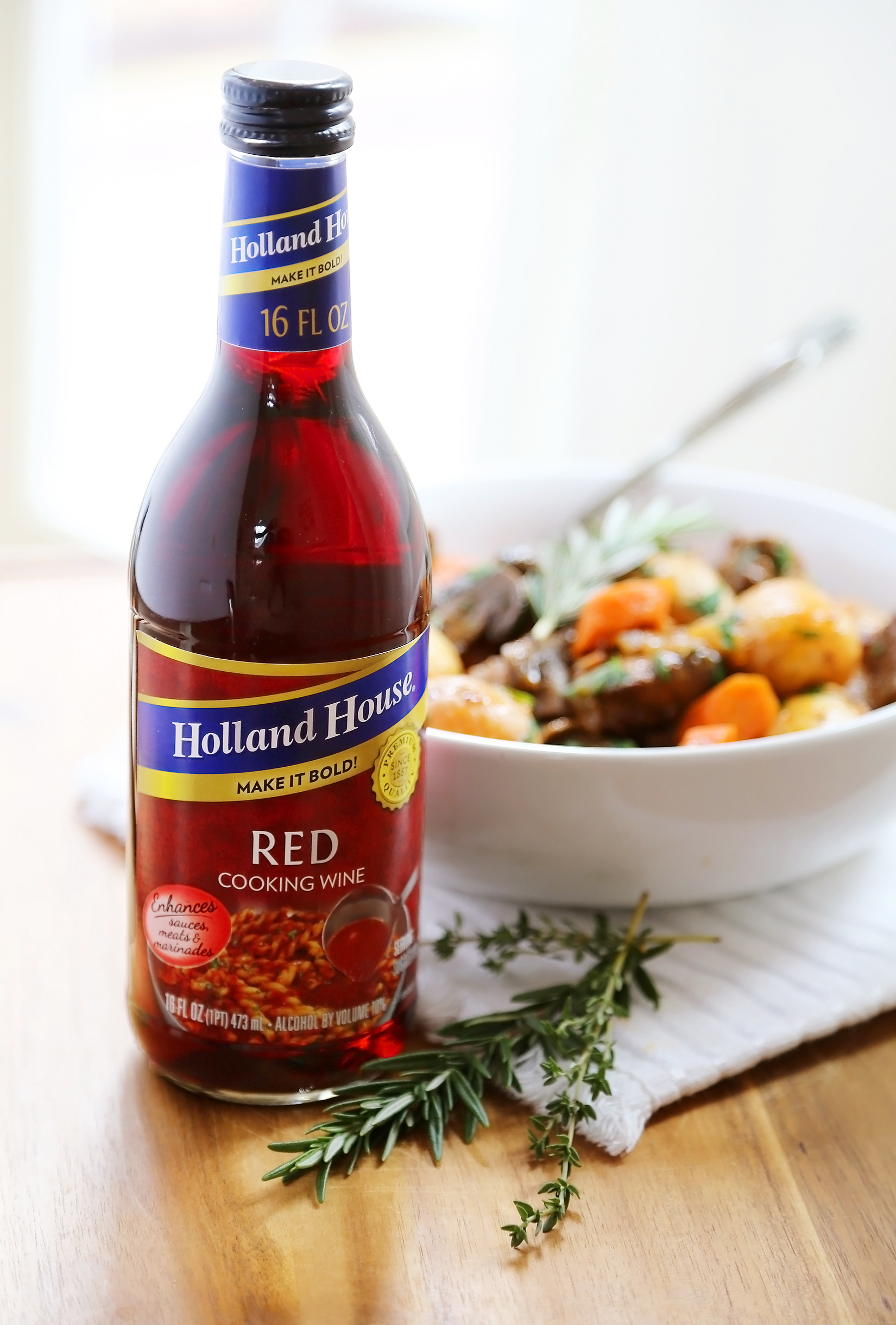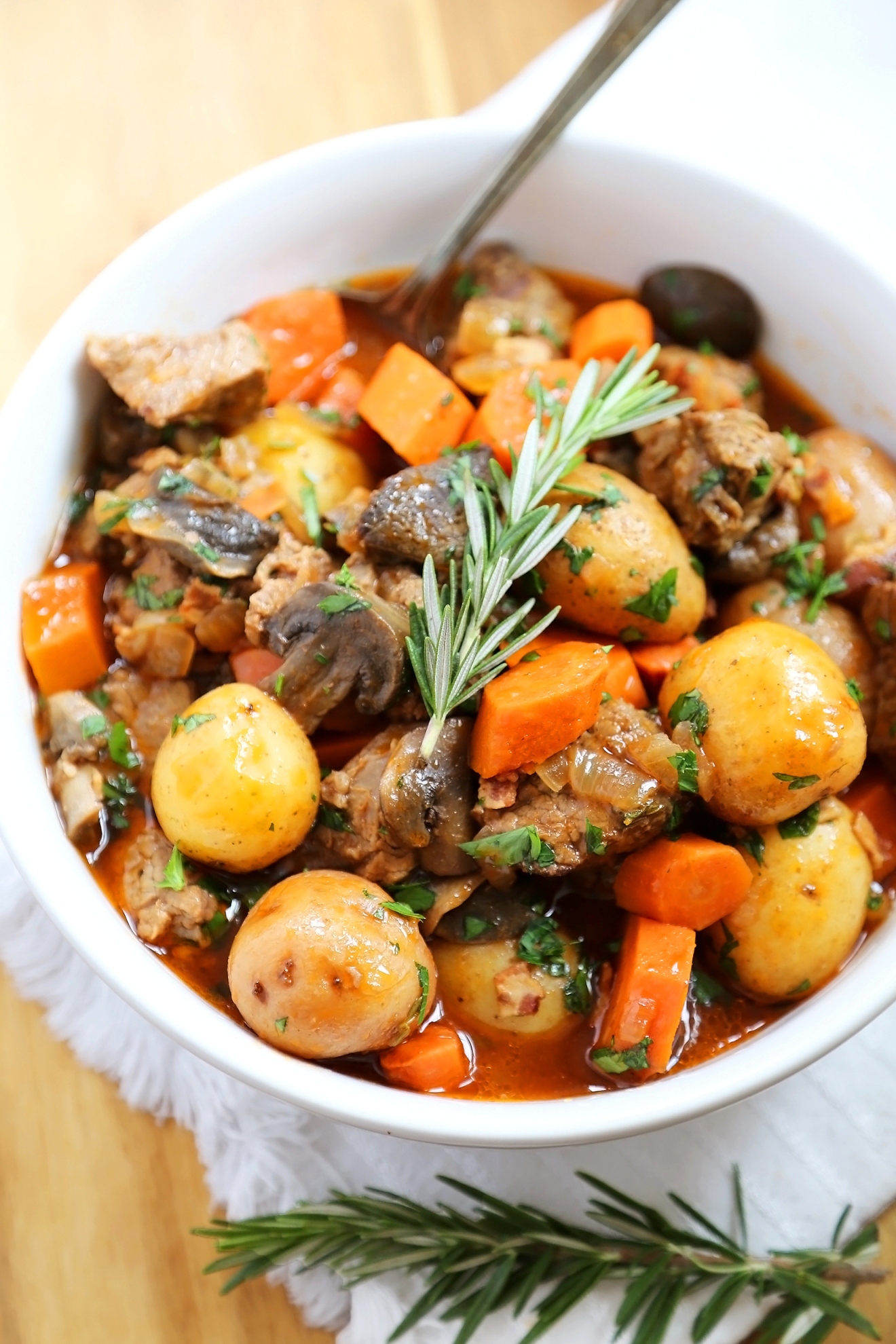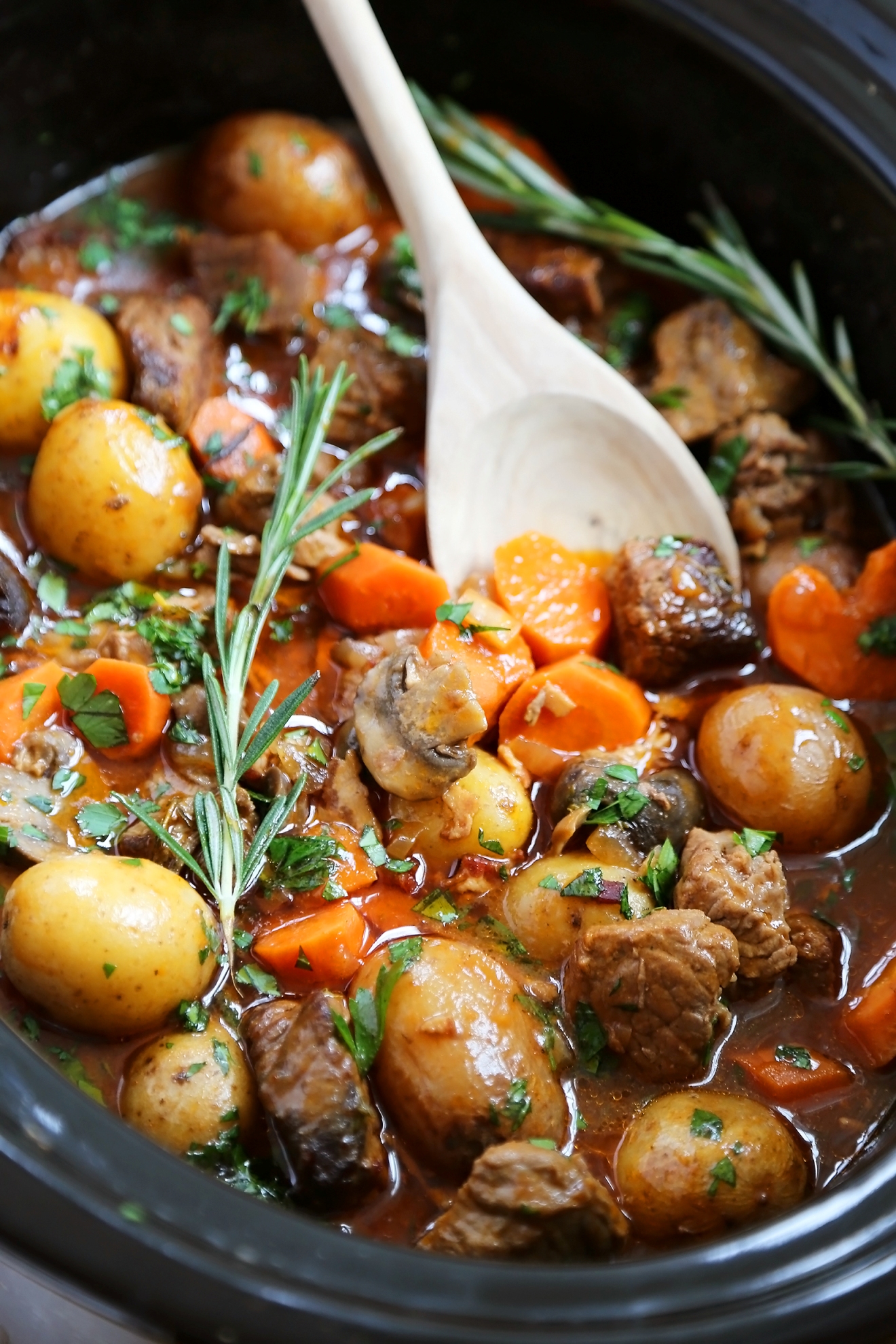 Slow Cooker Beef Bourguignon
Ingredients
5 slices bacon, finely chopped
3 lbs. boneless beef chuck, cut to 1-inch cubes
1 lb. baby potatoes
8 oz. white mushrooms, sliced
4 medium carrots, sliced
1/2 yellow onion, small diced
3 garlic cloves, minced
2 Tablespoons fresh thyme leaves
1 cup Holland House Red Cooking Wine
2 cups chicken broth
1/2 cup tomato sauce
1/4 cup soy sauce
Fresh chopped herbs (rosemary, thyme or parsley)
Instructions
In a large skillet or Dutch oven set to medium heat, cook bacon bits until crisp. With a slotted spoon, transfer bacon to slow cooker. Add beef to the skillet. Sear beef for 6-8 minutes, turning once. Transfer to the slow cooker. Top with potatoes, mushrooms, carrots, onion, garlic cloves and thyme. Stir to combine ingredients.
Add red wine to the skillet, scraping down brown bits on the side. Simmer and reduce by about half. Pour in chicken broth, tomato sauce and soy sauce; stir well and bring to a simmer. Pour into the slow cooker, over vegetables and beef.
Cook on Low heat for 6-8 hours, or high for 3-4 hours, until beef and vegetables are fully cooked and tender. Top with chopped fresh herbs of your choice.
Enjoy!
Notes
Disclosure: This recipe was created for Holland House Cooking Wines. All opinions are my own.