Scoop a chip into this delicious, gooey 2-ingredient slow cooked dip! So easy, cheesy and full of flavor for parties, lazy weekends in, and game day homegating. Load it up with bacon, tomatoes, jalapenos and your favorite fixin's!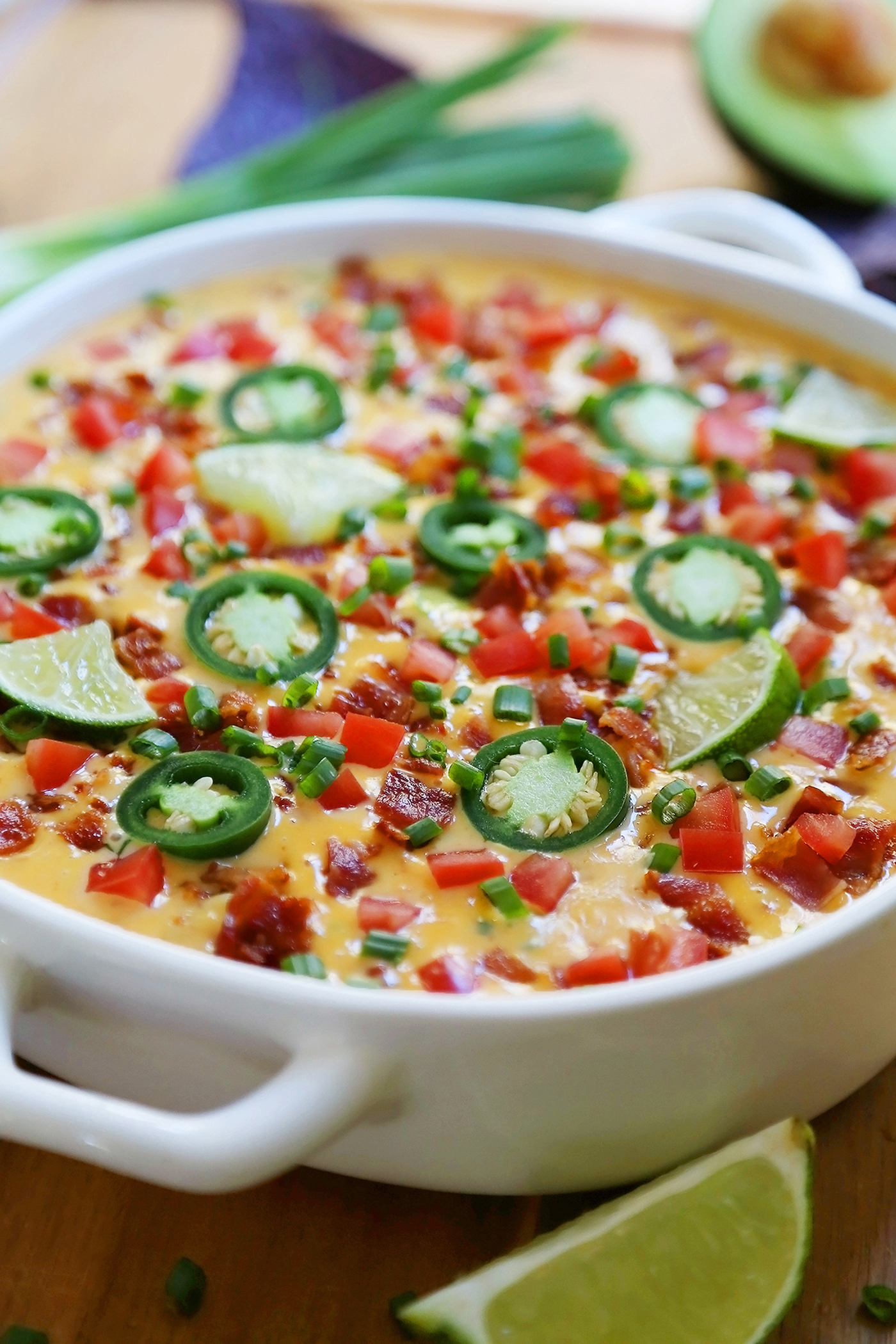 Don't you want to just dive right in?
Grab your tortilla chips and a hungry crowd, because I have something fun for you today! It's salty, spicy, creamy, tangy, bubbly-hot out of the oven… and it only takes five minutes to put together. Set this scrumptious dip to sizzle in your slow cooker, and forget it while you get back to enjoying your family and friends. Hello, zero prep work!
This time of year, I am all about eliminating the stress from party planning. Whether I'm feeding friends while watching Sunday football, or passing plates for Thanksgiving dinner, I keep the feasting frenzy to a minimum. After all, what is worse than a frazzled host who can't enjoy their own party?
Any good get-together does need a little planning ahead, but I always stick with dishes I know and love, like this irresistibly gooey, flavor-packed cheese dip. Simple, semi-homemade goodness that everyone enjoys, with minimal effort and virtually no clean-up for you! To say the least, this ridiculously easy, crowd pleasing dip is speaking my language.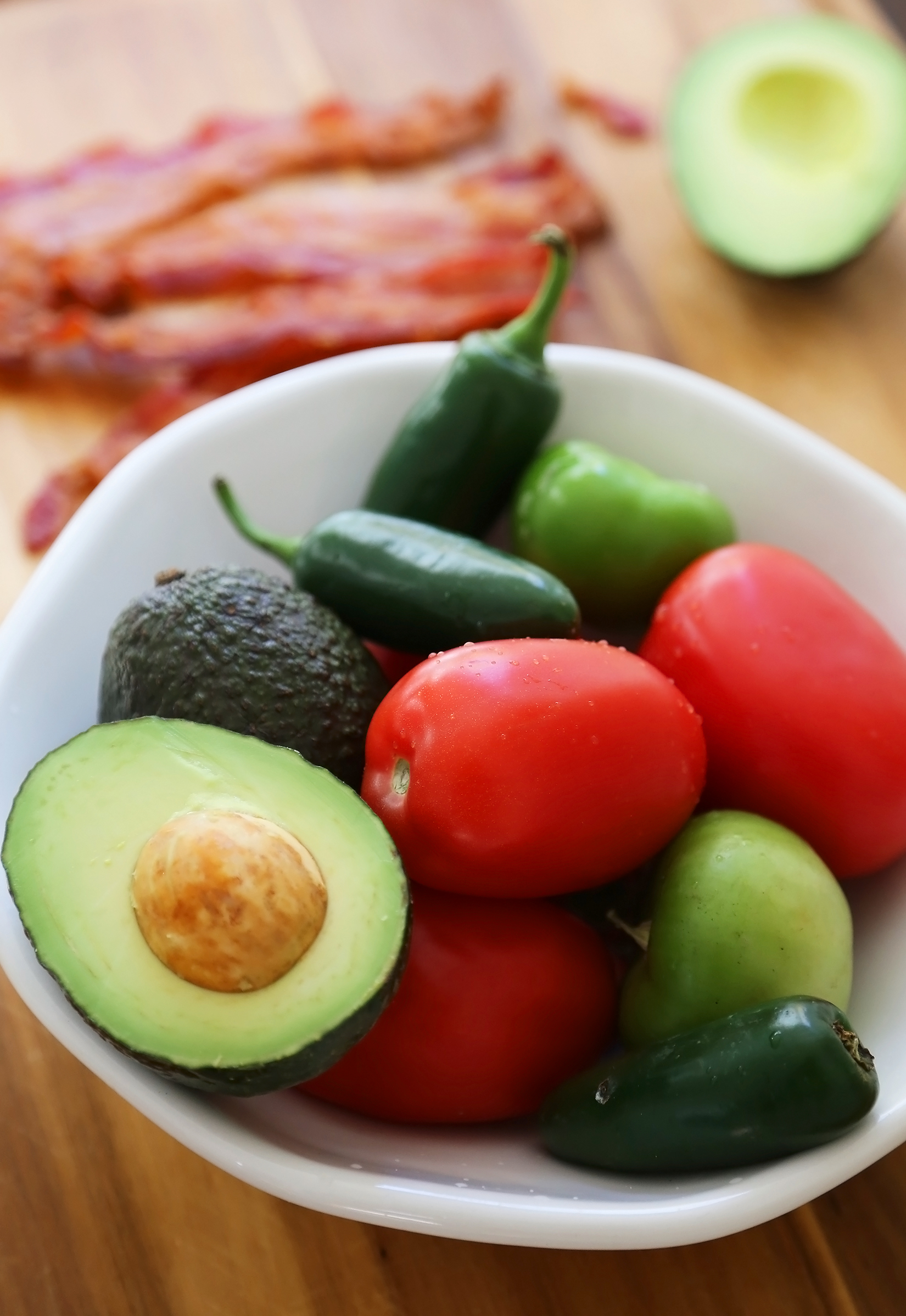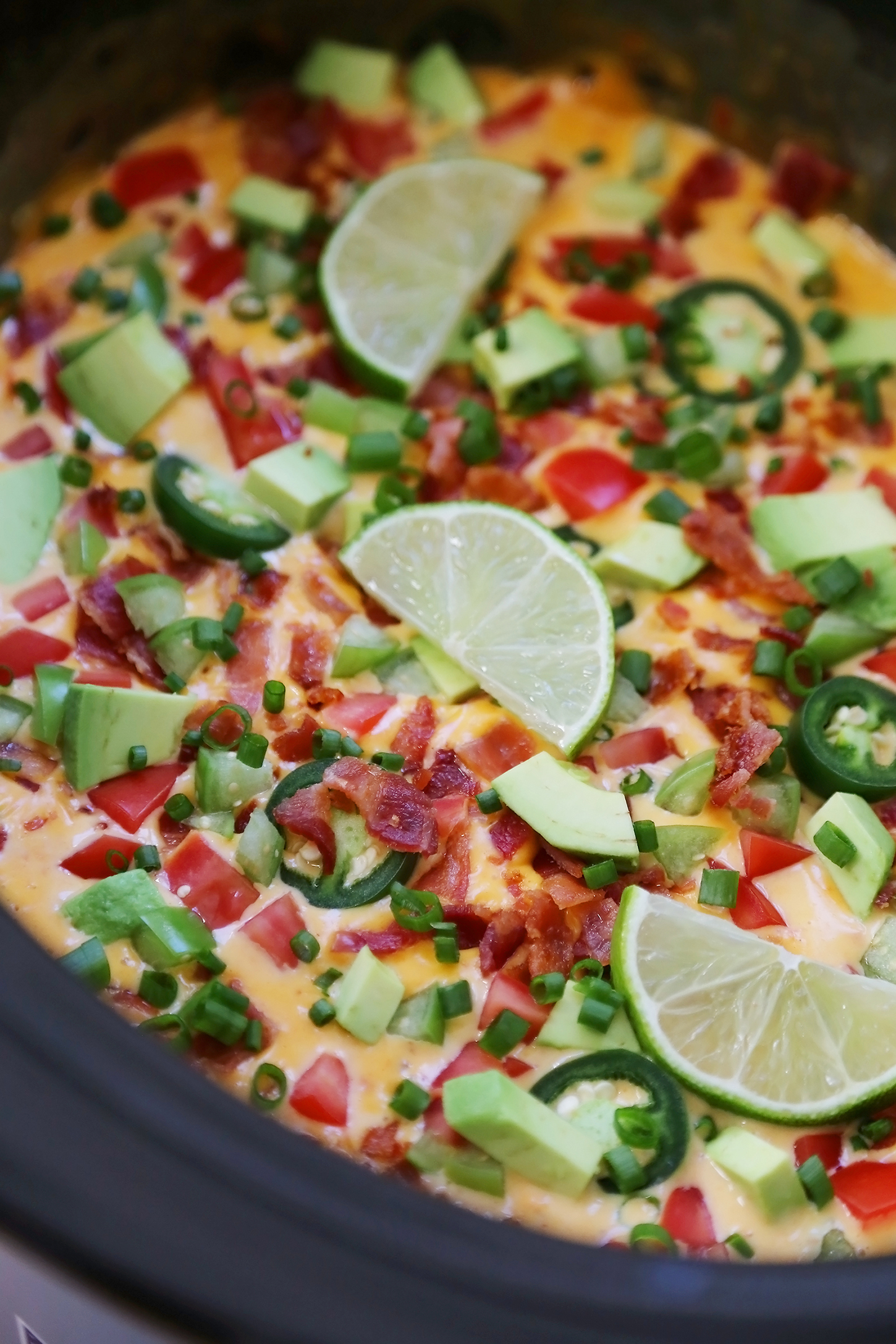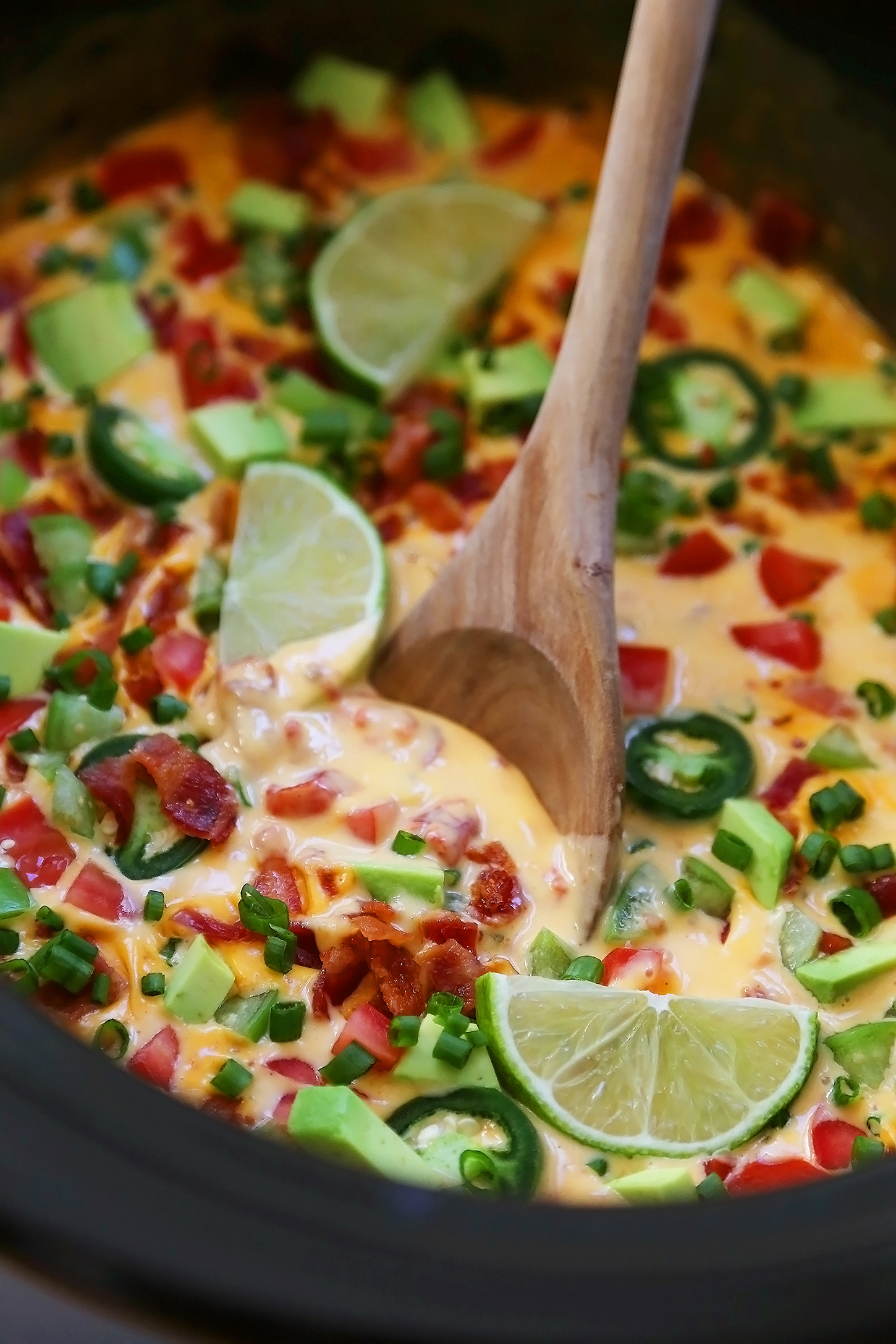 Want to whip up this delicious dip at home? Say hello to zero prep work and stress! Weekends at home with friends, game day on Sundays, tired Mondays that call for a Netflix and pass-the-chips dinner (it happens). Molten cheese is always a winner.
Just relax, and let this irresistible dip cook itself. Really. You only need 2 ingredients and a handful of your favorite toppings. So, why not make it today? I love to load up my cheese dip with chopped tomatoes, jalapenos, avocado, green onions, crispy crumbled bacon, and a squeeze of fresh lime. Gorgeous, and so finger-licking-good!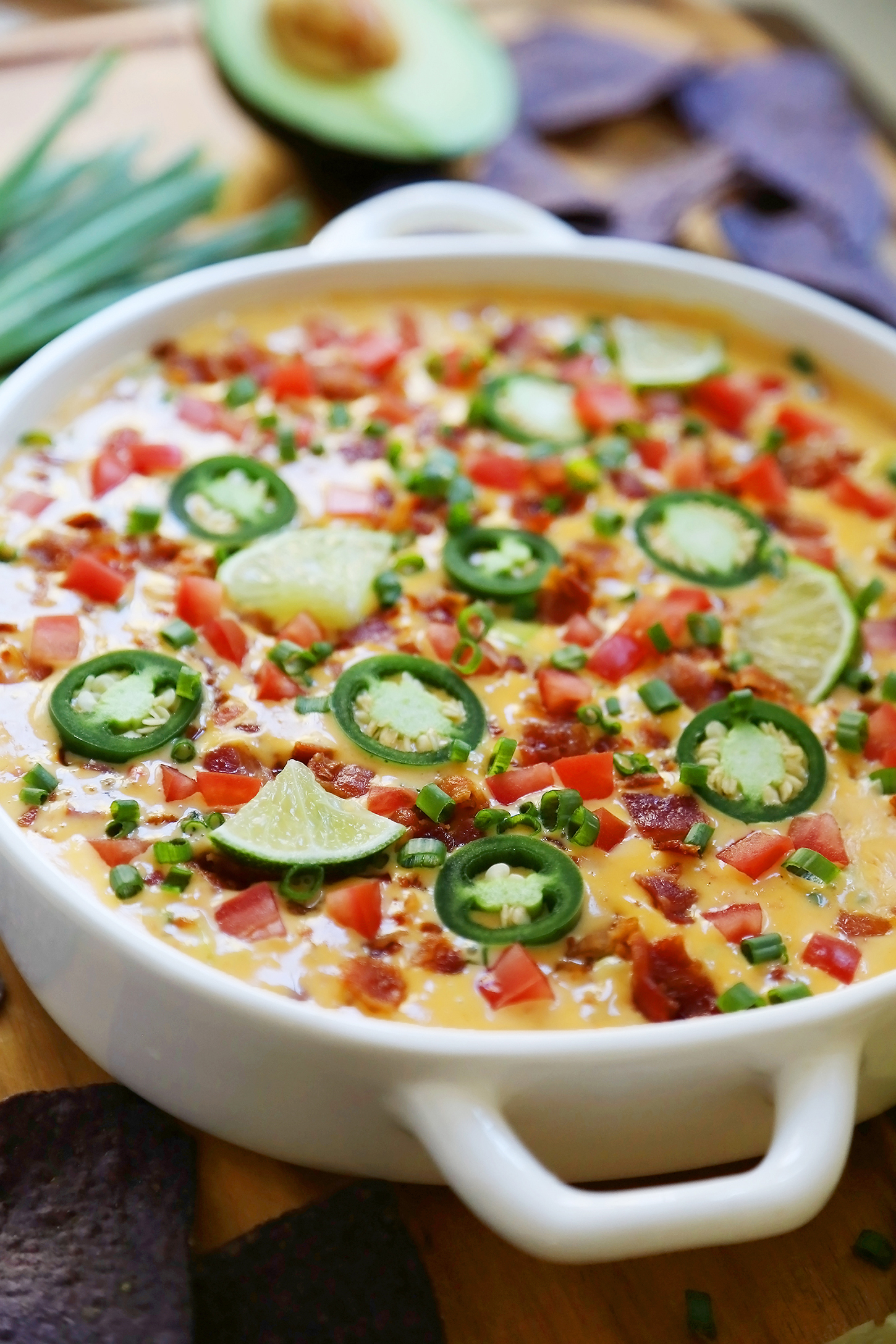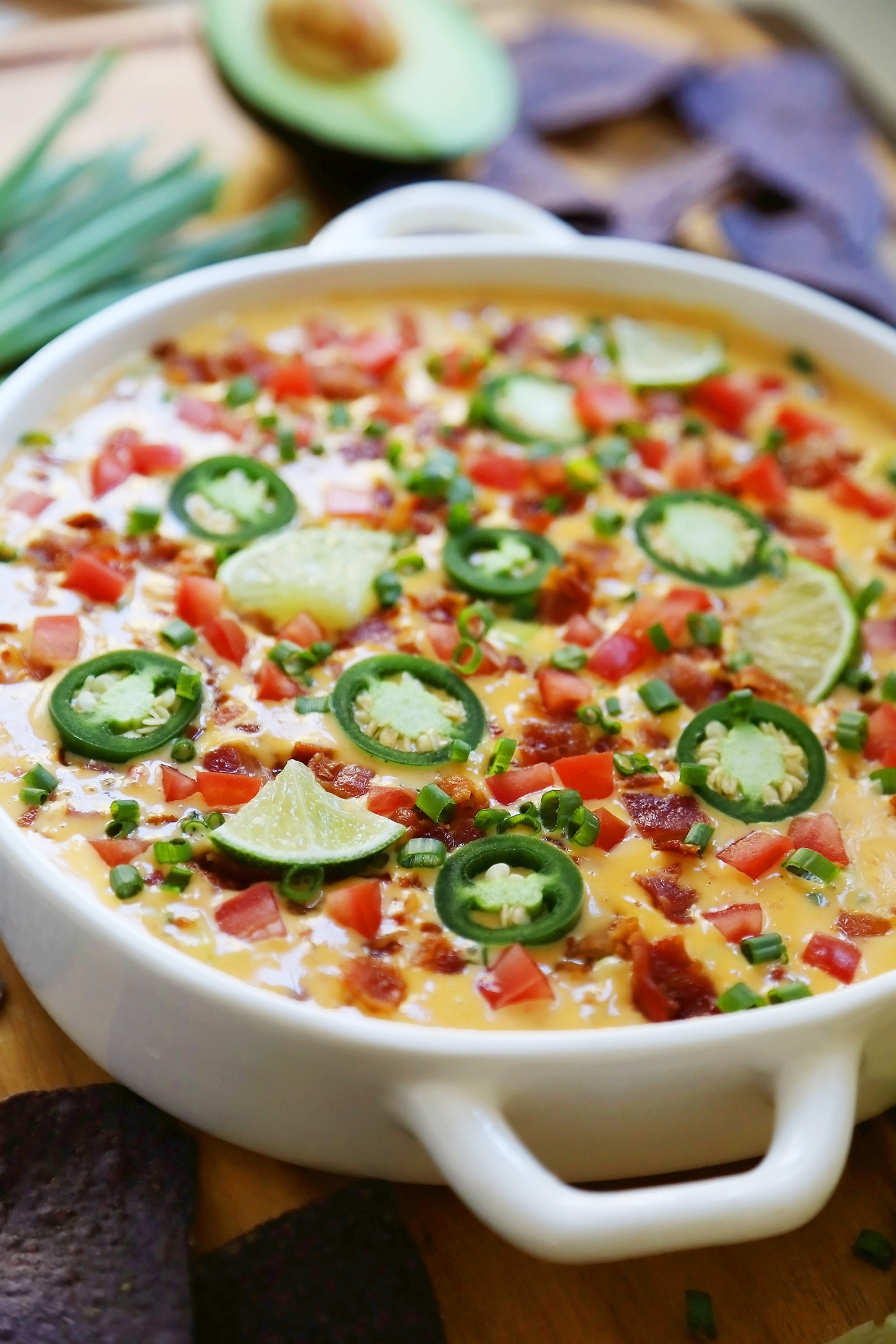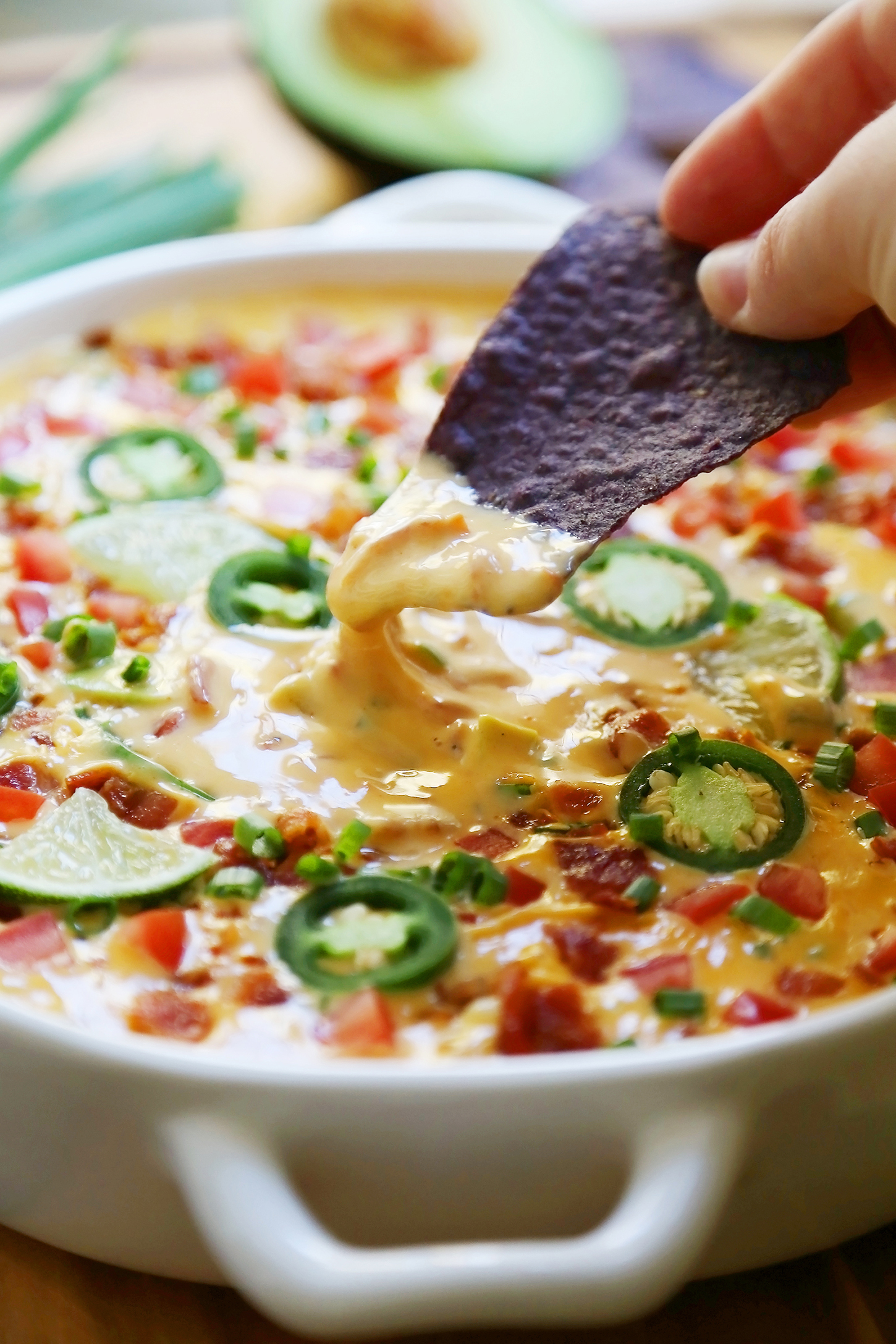 Tired of tailgating in the cold, wet weather? Bring the party indoors with a cozy feast of football favorites! With our fun NFL Patriots Crock-Pot® Slow Cooker, we love to serve up everything from saucy pulled pork sandwiches to hot spinach-artichoke dip, pots of baked beans to spicy beef chili, and of course, sticky buffalo wings! All of these can be made in your Crock-Pot® Slow Cooker, cooked on High/Low settings, and kept warm while party guests dig in. Its 6-quart stoneware insert can hold your heartiest dishes, and the travel-friendly locking lid helps you tote it on the go!
If you're craving something different in your slow cooker, I have some new ideas for you! Try a shredded buffalo chicken taco with a bar of delicious toppings, or a sweet-and-salty slow cooked Chex mix. How about barbecue ribs, pepperoni pizza dip, or even chocolate chip cookie bars? Yes, these can all be cooked in your Crock-Pot® Slow Cooker!
Have I got your appetite rolling? Well, good! I hope you're feeling inspired with a whole new batch of scrumptious slow cooked recipes to try. Because it's time to get cooking with a new, shiny NFL Crock-Pot® Slow Cooker of your team choice!
Keep reading for details on how to enter the giveaway!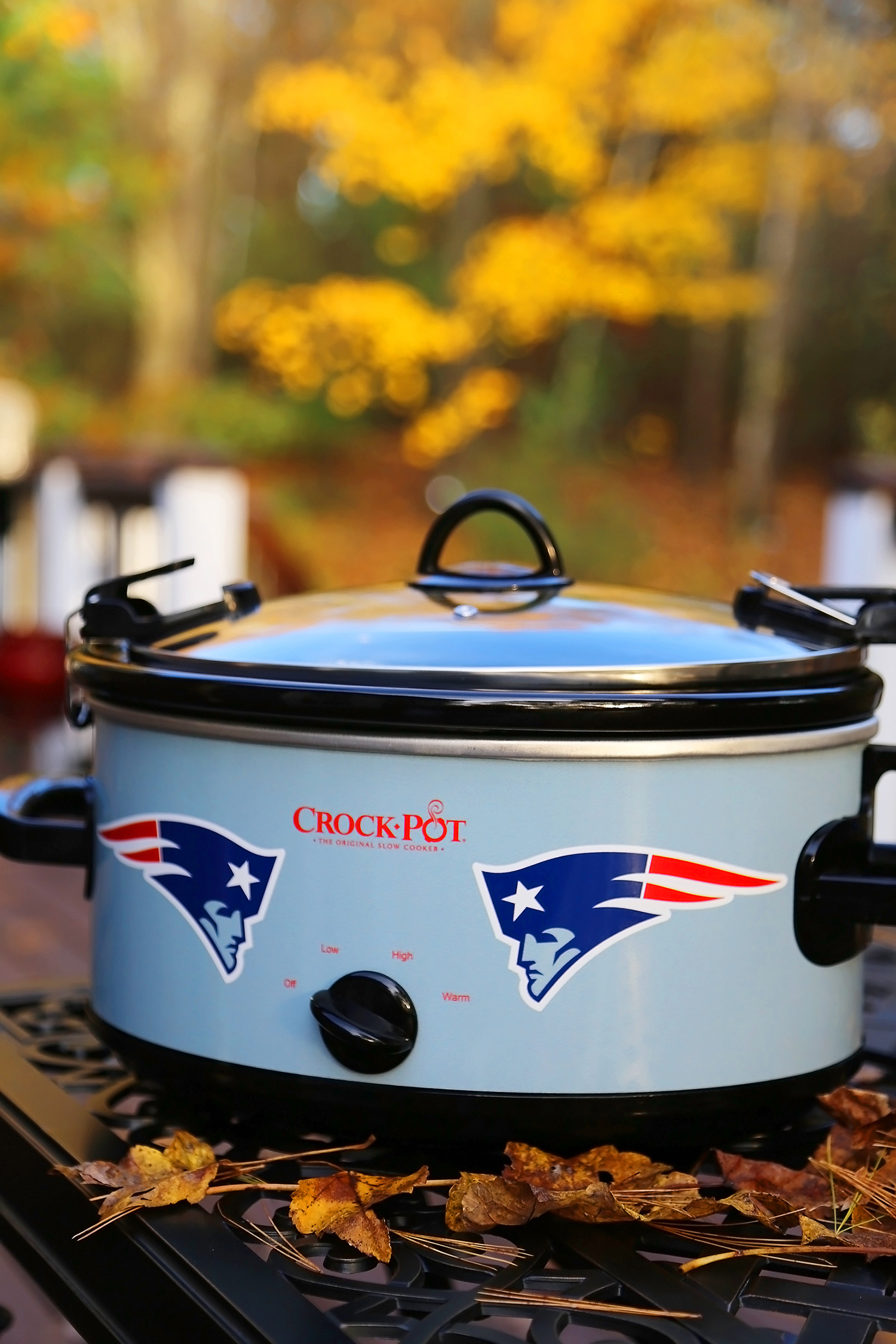 a Rafflecopter giveaway

Enter before your time runs out, and don't forget to whip up this KILLER cheese dip!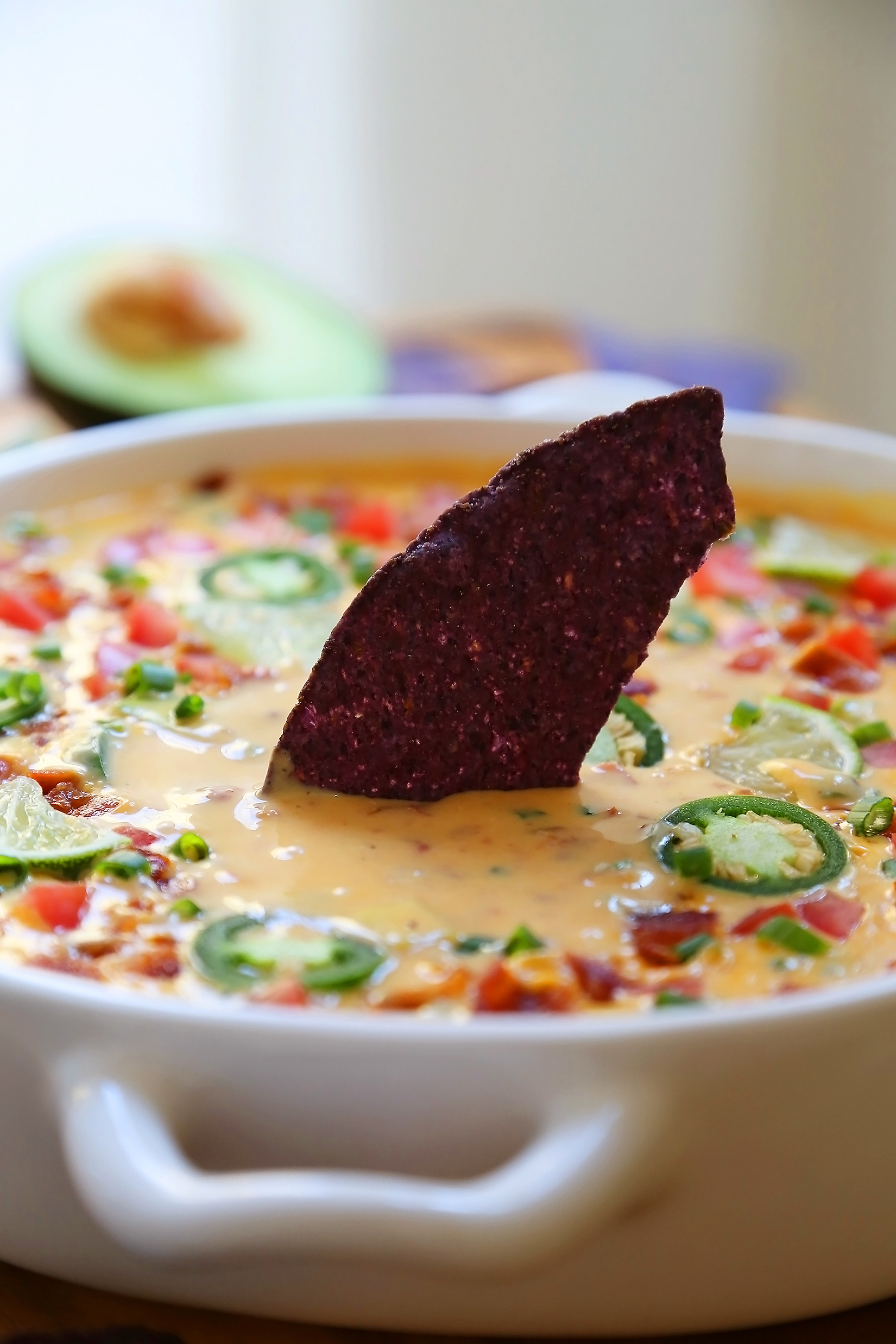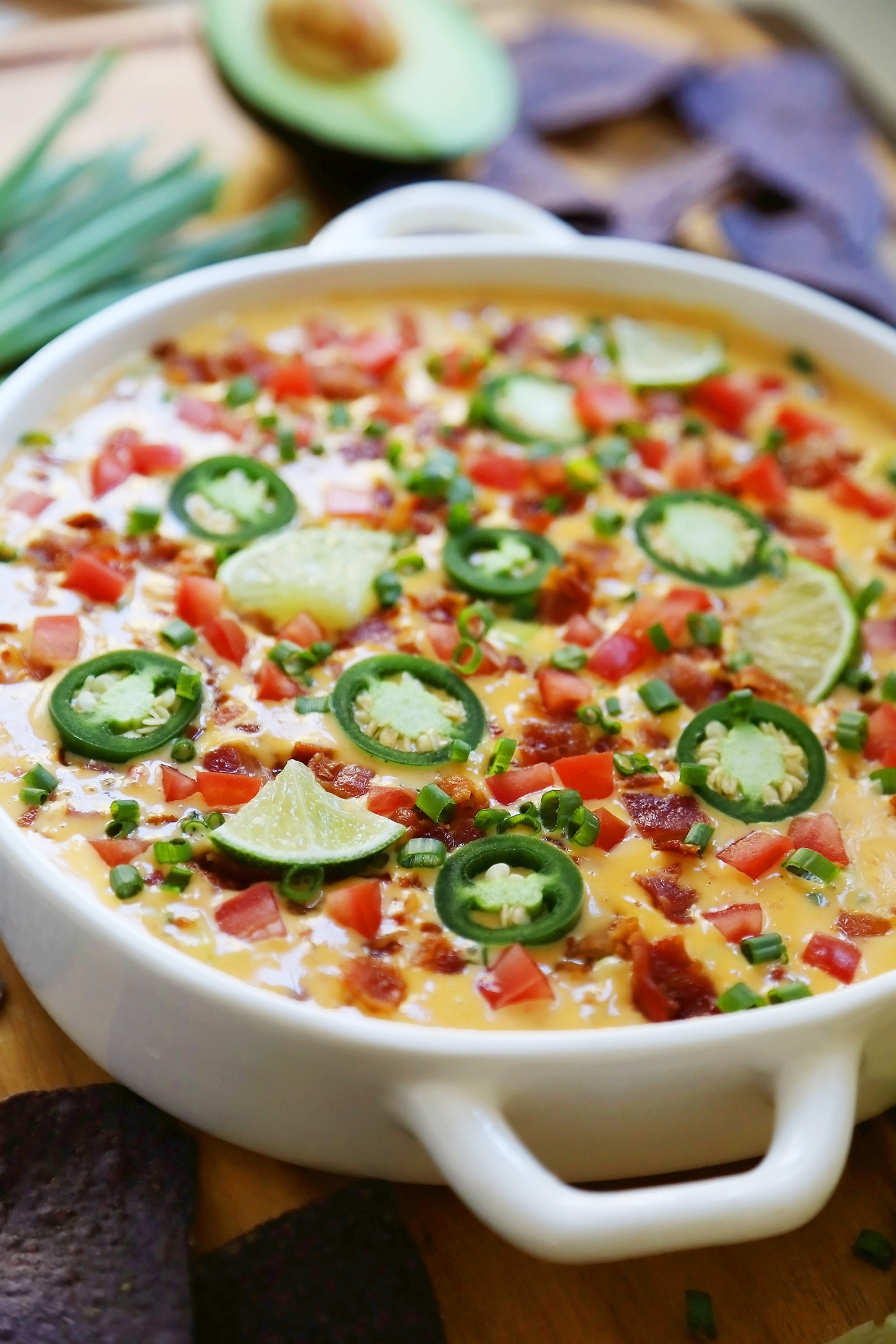 2-Ingredient Slow Cooker Queso Dip
Ingredients
1 (32 oz.) Velveeta block, cut into cubes
2 (10 oz.) cans diced tomatoes with chiles (not drained)*
For topping (optional):
Diced fresh tomatoes
Diced tomatillos
Chopped avocado
Crumbled queso fresco
Sliced jalapeno
Sliced green onions
Crispy crumbled bacon
Fresh lime slices
For serving (optional):
Tortilla chips
Baby carrots
Bell pepper slices
Cucumber slices
Fresh broccoli florets
Instructions
Set your Crock-Pot® Slow Cooker to Low heat. Add cubed cheese and tomatoes.
Cover and cook for 2 to 3 hours, stirring occasionally, until cheese has melt. Stir well to blend ingredients.
Prepare desired toppings before serving. Set dip to the Warm heat setting before and during serving.
Serve with chips and/or vegetables of your choice.
Enjoy!