Creamy, delicious and a cinch to make for a satisfying weeknight dinner, this one-pan sausage and spinach skillet will have you going for seconds!
Oh mama.
You see, usually, if there's a dish I can't get out of my head it involves sugar. Doughy-soft, sweet cinnamon rolls and oozy molten chocolate lava cakes have definitely intercepted my daydreams lately. But, as I do, I instead ate a Jell-O and tried to squash my "sweet" dreams and focus on savory weeknight menu-making
I tossed this incredibly tasty pasta dish on my weeknight menu months back, and had forgotten about it until recently. As soon as I remembered it was on my to-try list, though, I hopped to and got to cookin'!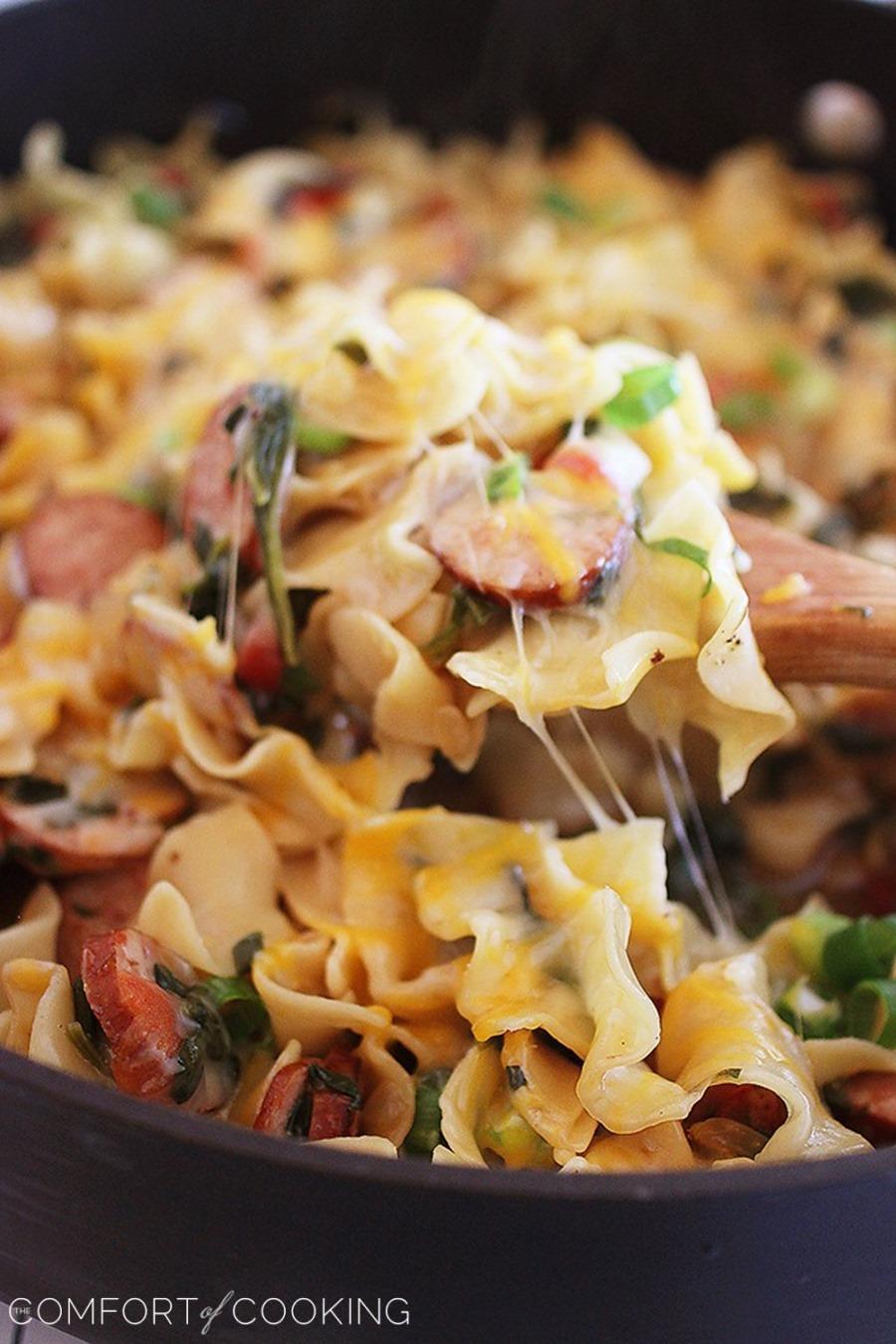 Well, I had NO idea it would be this good.
Just sauté up your favorite smoked sausage (I used a chicken variety), sizzle the onions and pour in some diced tomatoes, chicken broth and minced jalapeno for a kick. This one-pot wonder is even better since it only involves minimal clean-up, too! Your dry pasta goes right in to the hot liquid, boils until tender, and THEN. Then, it gets really healthy up in here. That's right, you're adding some chopped spinach. Holla for "healthy"!
Not.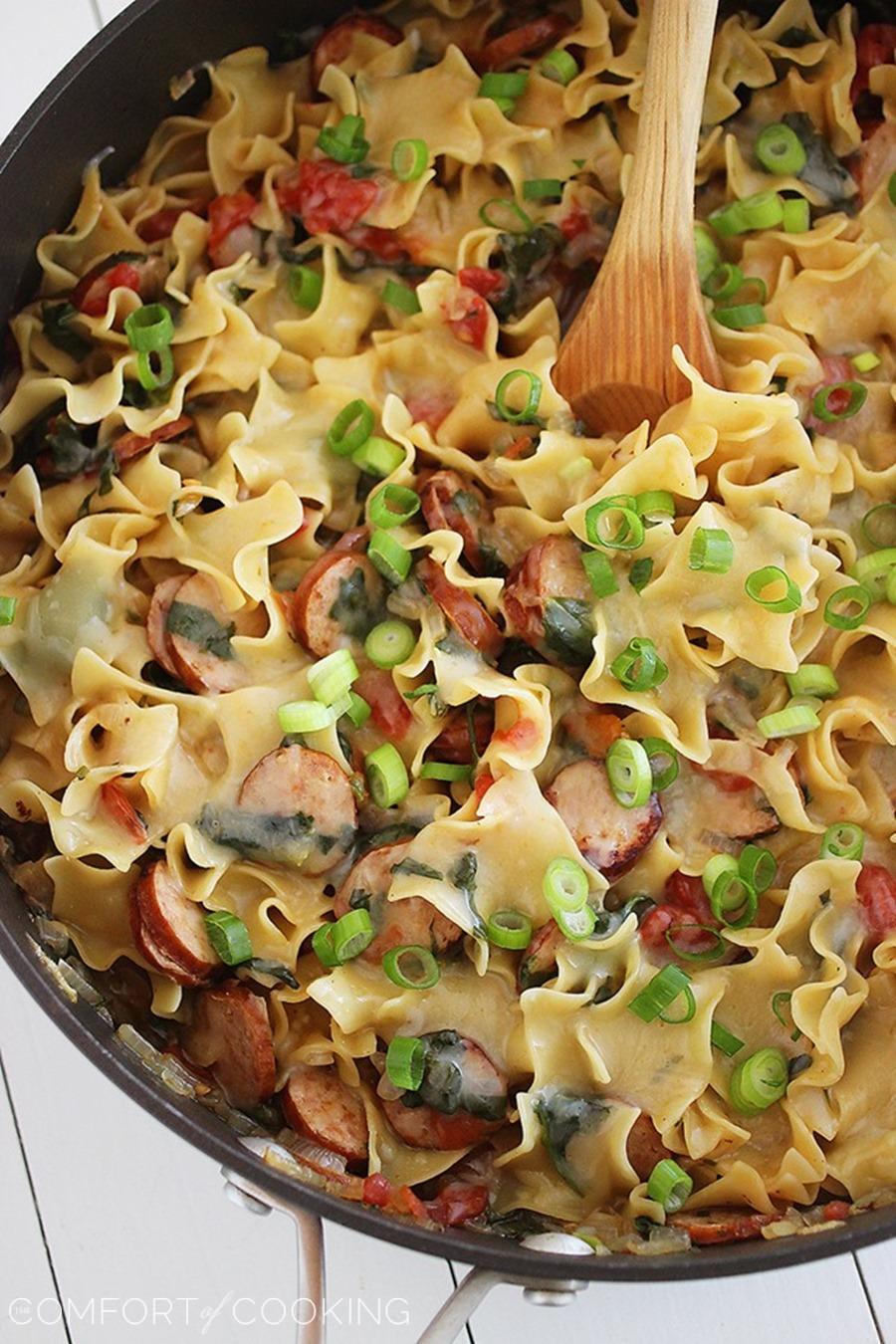 You don't even realize how amazing it can be until you mound big heaps of Monterey jack on top, though… After just a few minutes of letting the cheese melt, you have a creamy and incredibly delicious weeknight meal reading for scooping onto your plate and into your belly! It's like a little happy dance in your mouth. Easy to make and full of flavor, you're just gonna love this one.
… I promise it's the kind of dish dreams are made of!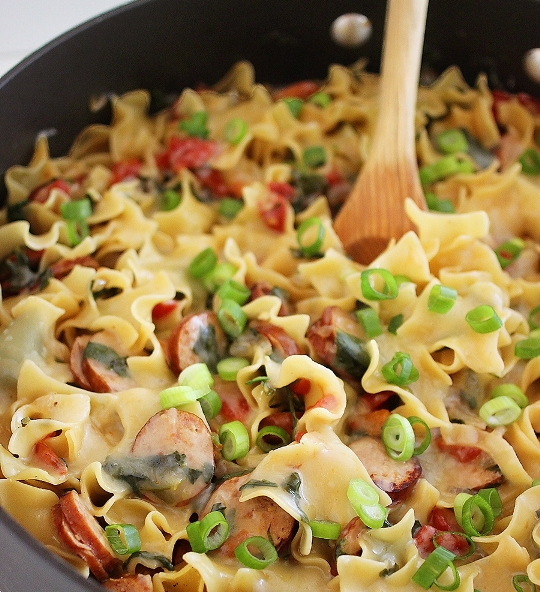 Creamy Sausage and Spinach Pasta Skillet
Ingredients
1 Tablespoon olive oil
6 oz. smoked sausage, turkey, beef or chicken, sliced
1 medium yellow onion, diced
1 14.5 oz. can diced tomatoes
2 cups low-sodium chicken broth
1 jalapeno pepper, minced
8 oz. uncooked dry pasta
3 cups fresh baby spinach, roughly chopped
Salt and pepper, to taste
1 cup 4 oz. shredded Monterey jack
2 green onions, thinly sliced
Instructions
Heat olive oil in a large skillet over medium heat. Add sausage and sauté until nicely browned, 5-7 minutes. Drain off excess fat. Add onion and cook until softened, about 5 minutes. Add diced tomatoes, chicken broth and jalapeno. Stir to combine and dissolve any browned bits off the bottom of the skillet.
Stir in uncooked pasta and submerge under liquid. Cover and bring the mixture to a boil. Once boiling, reduce heat to low and simmer for 10 minutes, or until the pasta is tender, stirring occasionally.
Stir in spinach, 1 cup at a time, until wilted. Maintain heat so that liquid will continue to simmer and thicken. Season with salt and pepper.
Sprinkle with shredded cheese, cover and let rest for a few minutes, or until cheese is melted. Sprinkle with green onions and serve hot.
Enjoy!