For your next festive fall occasion, everyone will love this tasty twist on traditional cheesecake. These creamy pumpkin cheesecakes with spiced gingersnap cookie crusts are to die for!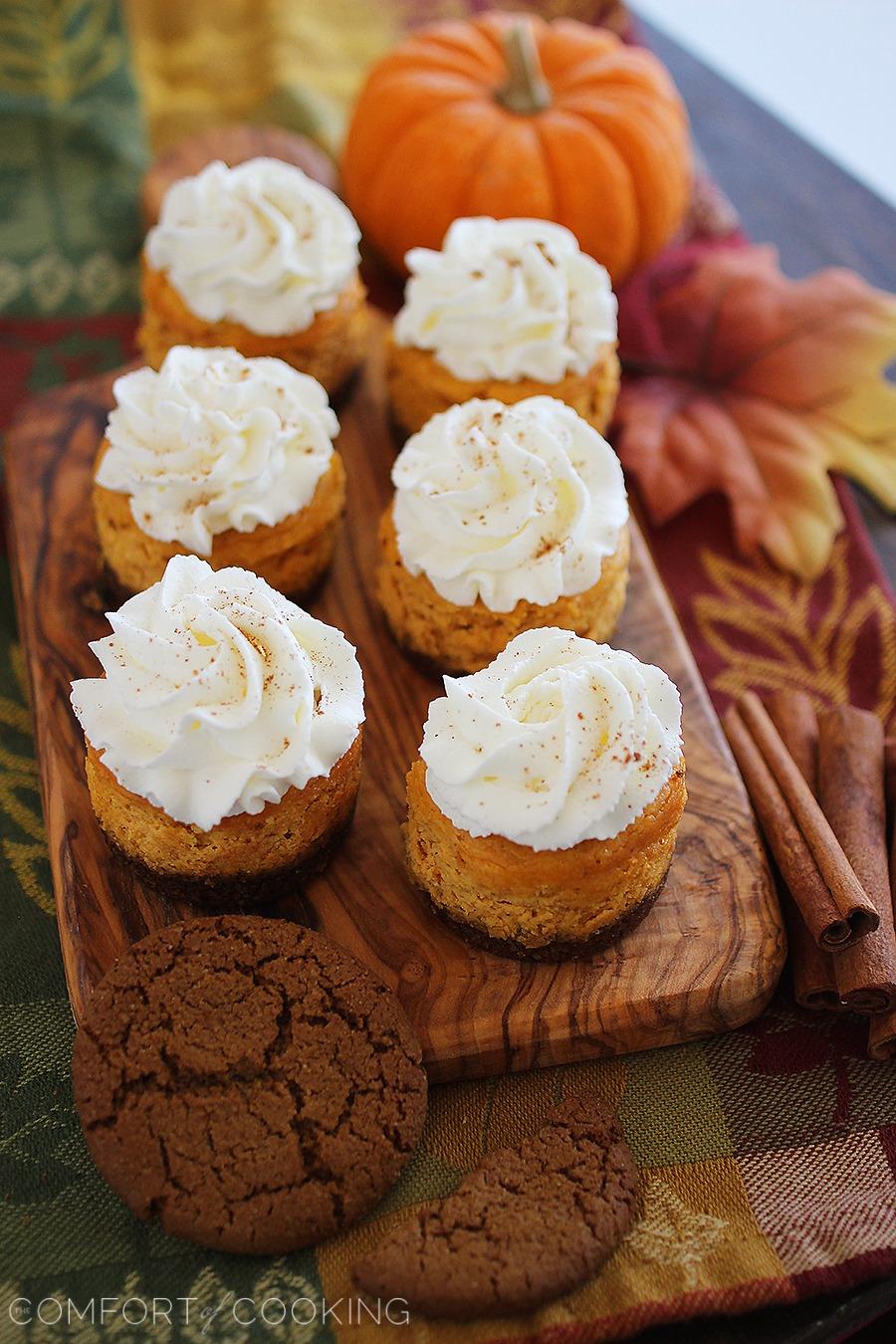 If my posts lately are any indication, my oven's been churning out a lot of baked goodies recently. Thanks to my low carb livin', avoidance and self control is easier said than done! But, my friends who love sampling my sweet treats (and taking them off my hands) are more than happy to oblige. After all, once one gooey apple pie, batch of cookies, or creamy cheesecake is out of the oven, another one's not far behind!
Maybe "The Comfort of Baking" would be more fitting?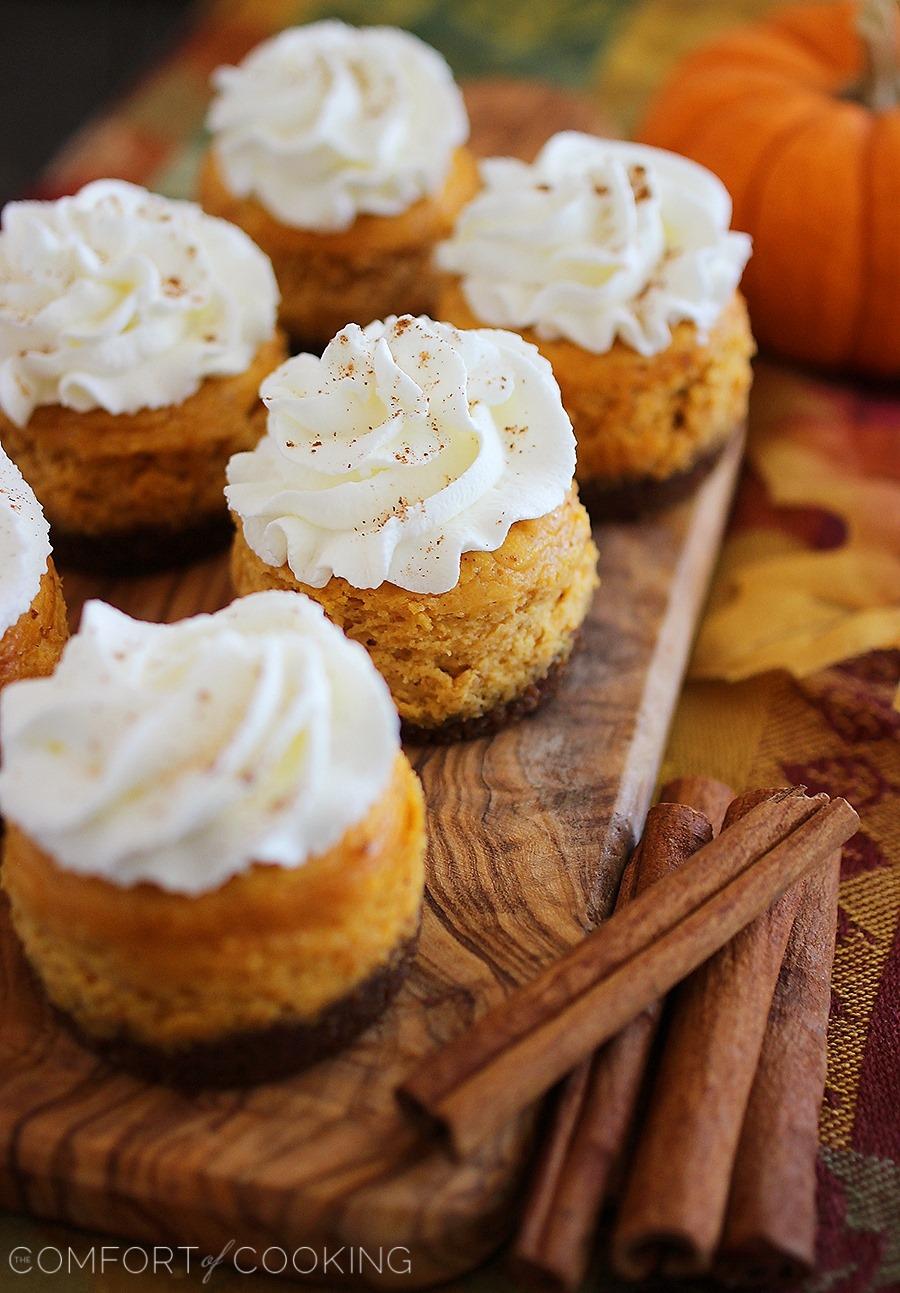 Using my favorite pumpkin-perfect spices from McCormick – ginger, cinnamon, nutmeg – these little cheesecakes pack major fall flavor! It's impossible to stop at one, and after sampling one myself, I definitely didn't!
The gingersnap-pecan crust is buttery and slightly salty, which compliments the soft, sweet spiced pumpkin cheesecake so nicely. Topped with a swirl of whipped cream, each one is a little bite of heaven! Perfect for parties, festive fall celebrating, and any occasion that calls for something delicious and a little different. I guarantee everyone will love this fun, addictive twist on a traditional cheesecake!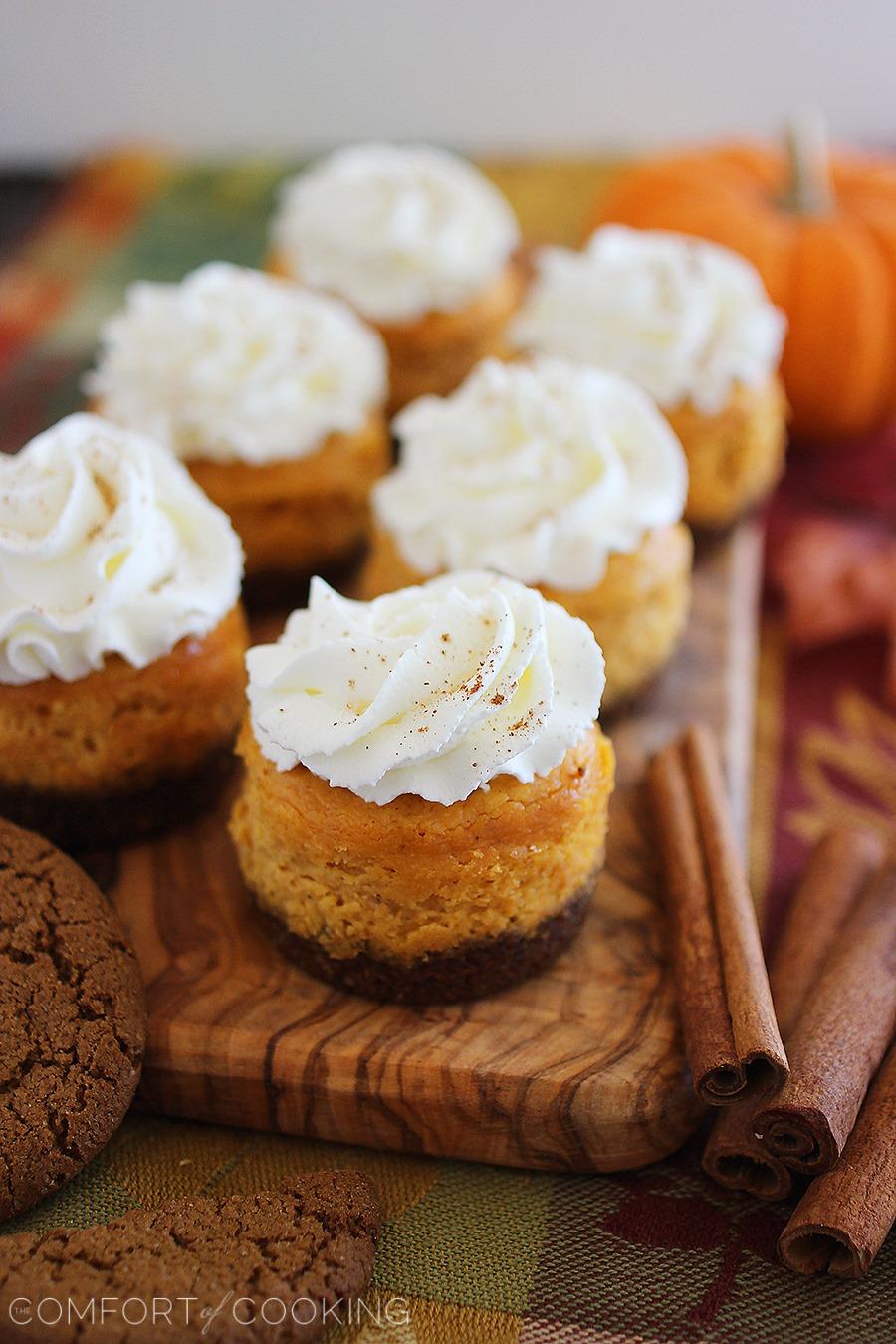 Looking ahead to Thanksgiving, I'm definitely getting inspired and excited to try new flavor combinations and bust out some well-loved, longtime favorite recipes for family! But, fall spices like cinnamon, sage and ginger don't have to be reserved just for special occasions. Sprinkle a little pumpkin pie spice in your coffee or some sage into your usual mashed potatoes, or maybe mix cream cheese with cinnamon and nutmeg for a scrumptious bagel spread! Check out all the delicious ways McCormick has incorporated pumpkin spice into breakfast, beverages, desserts, and even dips!
I know you'll love these pumpkin cheesecakes just as much as my friends and I did. They're easy to make and so darn cute for Thanksgiving, or even just a casual girls' night in between the holiday craze. I hope you let me know how they turn out if you try 'em!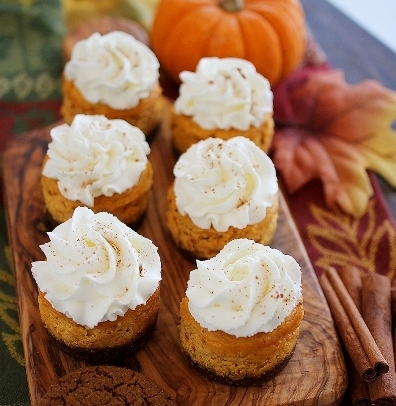 Mini Pumpkin Cheesecakes with Gingersnap Crusts
Yield:
12 mini cheesecakes
Ingredients
For the crust:
8 gingersnap cookies
1 graham cracker rectangle
1/4 cup chopped pecans
1 1/2 teaspoons brown sugar
1/8 teaspoon salt
1 1/2 Tablespoons melted butter
For the cheesecakes:
For whipped cream topping:
1 cup heavy cream
1 Tablespoon powdered sugar
1/4 teaspoon vanilla extract
Instructions
Preheat oven to 350 degrees F. Arrange oven rack in the lower third of your oven. Lightly grease a 12-cup mini cheesecake pan or mini muffin pan with nonstick cooking spray.
In the bowl of a food processor, grind all ingredients for crust (except for melted butter) until mixture resembles coarse crumbs. Add melted butter and process until crumbs resemble wet sand. Press mixture by the tablespoon (1/2 Tbsp. if using a mini muffin pan) into each cheesecake/muffin pan cup*. Bake for 10 minutes.
Meanwhile, prepare cheesecake. In a large bowl, beat cream cheese, sugar and pumpkin puree with an electric mixer on medium speed until smooth. Mix in egg, heavy cream, vanilla, cinnamon, nutmeg and ginger until just combined. Evenly pour filling over each crust. Bake for 20 minutes. Remove from oven and cool in pan for 20 minutes. Refrigerate at least 1 hour before removing cheesecakes from pan.
Remove cheesecakes from pan by gently running a blunt knife around the edges of each cheesecake and popping out.
Before serving, prepare whipped cream. Beat heavy cream, sugar and vanilla in a medium bowl with an electric mixer on medium-high speed, until stiff peaks form. Refrigerate until ready to dollop on top of cheesecakes. I used a Wilton 1M tip to pipe on my whipped cream.
To store, refrigerate in an airtight container up to 3 days.
Enjoy!