The most beautiful chocolate & fruit dessert board! Dive into a delightful assortment of berries, cookies, creamy chocolates and tiny truffles. Romantic, easy and impressive? You bet! Find many more ingredient ideas below to inspire your board.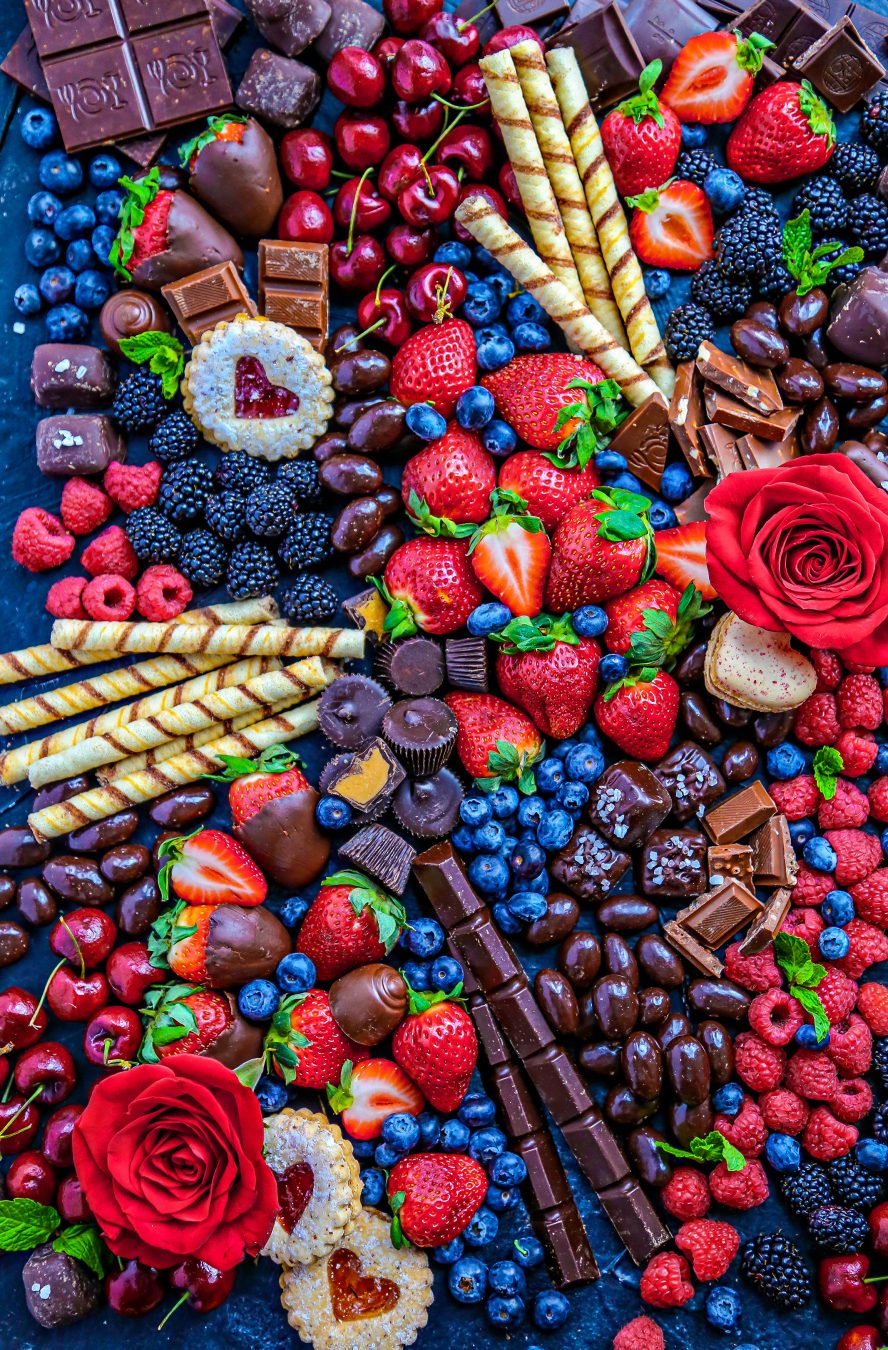 Chocolate & Fruit Dessert Board
I've died and gone to heaven. 😍 I mean, can you even believe this?
Last year, I had a bunch of couples over for dinner around Valentine's Day. We ate this beef tenderloin and buttery potatoes. But, the real hit? The jaw dropping, delicious chocolate board. Suddenly, my friends' full bellies made room for a bit of dessert! I've been dying to recreate that beautiful, bountiful board ever since.
There were creamy chocolate truffles, coated almonds, wafer cookies, juicy berries, French macarons, and salty chocolate covered pretzel sticks. This board blew dinner out of the water. How perfect would this be for any special occasion – birthday parties, bridal showers, Mother's Day, holiday gatherings, romantic evenings in!
It was so much fun to source all the perfect ingredients for this board, which I found between my grocery store's bulk candy section, Trader Joes, and Home Goods. They may have thought I was crazy at first, but creating it with my family's help was the cherry on top!
I've included many ideas below for ingredients you can substitute or add to your dessert board. The options are endless, and the board itself is totally foolproof! The recipe includes the exact chocolates, cookies and fruits I used here.
Ready for some ridiculously gorgeous dessert board inspiration? 🍓 Let's go!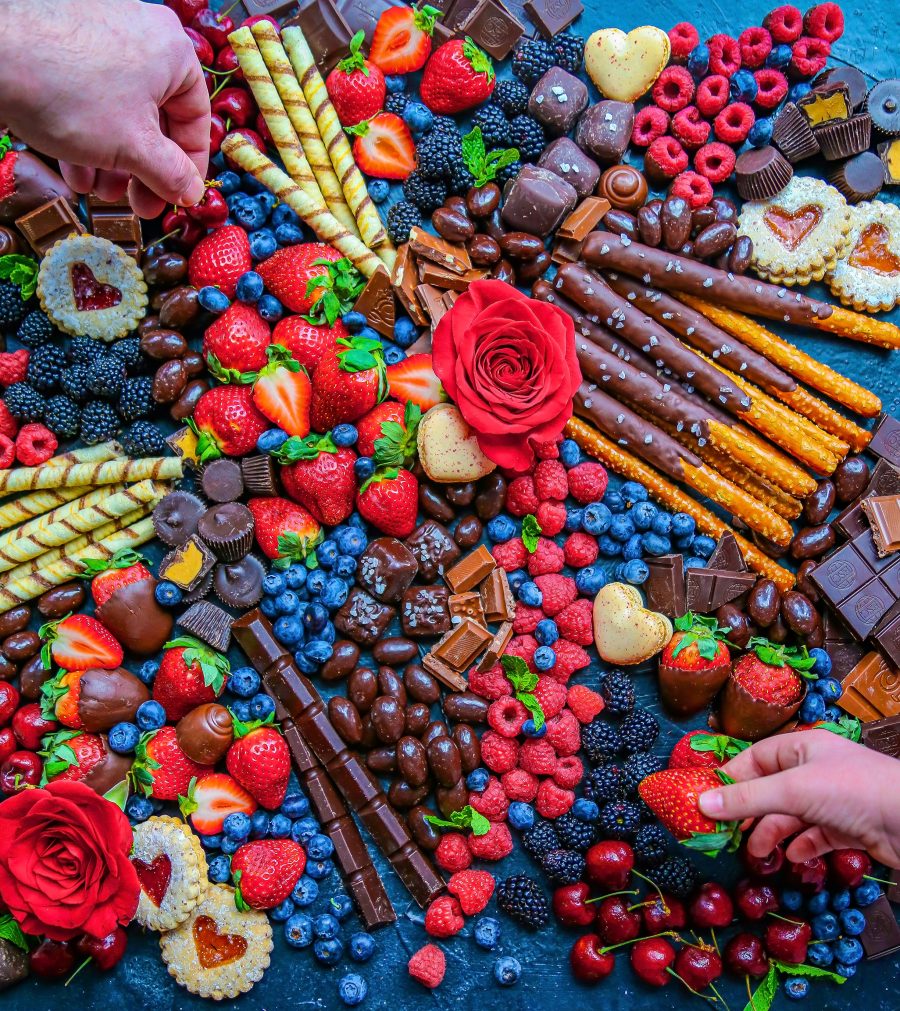 What other fruits can I substitute?
Try dried fruits, orange slices, apple slices, green or red grapes, balled melon, pineapple or mango chunks. Anything goes!
What else can I add to the board?
Try chocolate covered pretzels, various store-bought cookies, Nutella, English toffee, chocolate bark, caramel corn, cherry cordials, Pocky sticks, biscotti, coconut macaroons, bowls of nuts, or vanilla wafer cookies. Make it a breakfast board and add croissants, pastries and mini muffins!
Can I make this board ahead?
Yes! You can prepare this board 1 day ahead of serving. Wrap tightly with plastic wrap or foil. Cover and refrigerate. If using, add trimmed flowers just before serving. Roses, carnations and baby's breath are a few beautiful floral options.
How do I store the ingredients?
Store leftover cookies, crackers, fruits and chocolates in separate resealable containers. Storing the fruit and cookies/crackers together will cause the cookies to become soggy. Keep them separate, and you can keep enjoying them for days.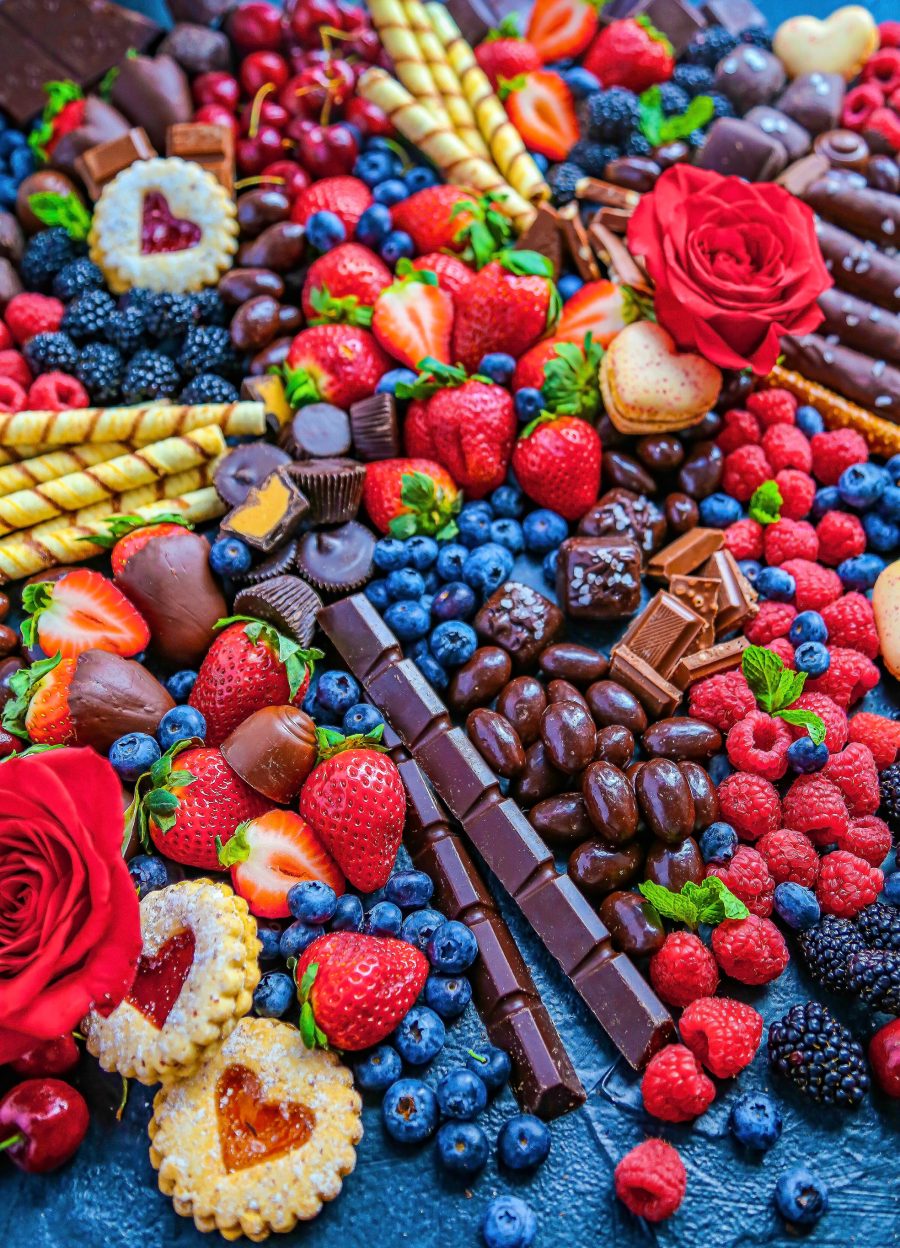 More easy chocolate desserts:
• Salted Caramel Chocolate Cups
• Chocolate Chip Cookie for Two
• Salted Chocolate Brownie Fruit Tart
• Chocolate Dipped Clementines with Sea Salt
• Soft + Chewy Double Chocolate Cookies
---
I hope you enjoy this beautiful Chocolate & Fruit Dessert Board for your next special occasion. We had so much fun devouring every little bite at our recent family bash! Everything was a hit, especially the berries, cookies and chocolate covered almonds.
Please feel free to leave a comment and a star rating, if you give it a go. I would love to know how you create a dessert board for your family and friends.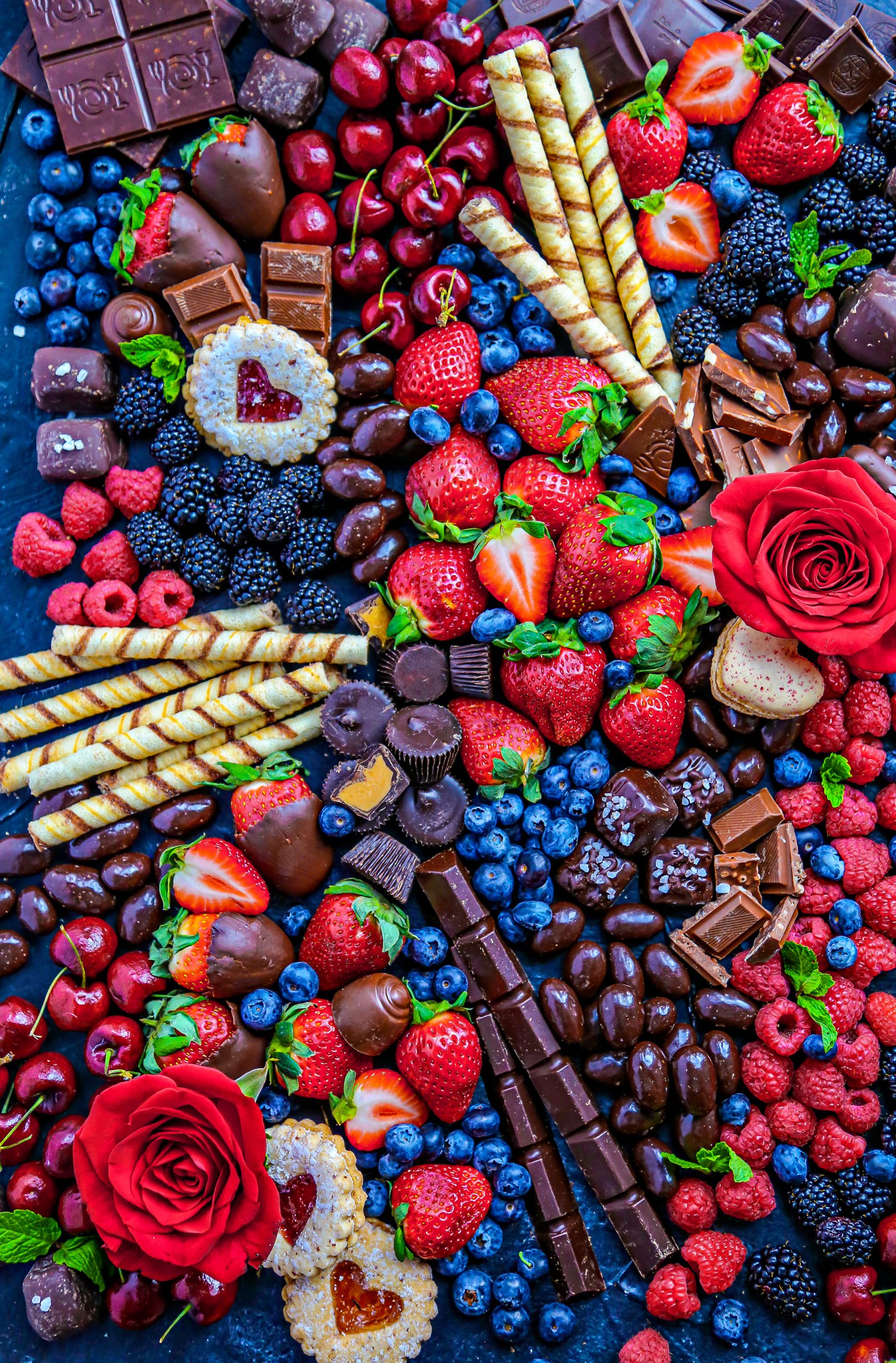 Chocolate & Fruit Dessert Board
Yield:
approx. 12-15 servings
Ingredients
Here are a bunch of ideas for your dessert board!
Produce
Strawberries
Cherries
Blueberries
Blackberries
Raspberries
Cookies/Pretzels
Pirouline cookies
French macarons
Linzer cookies
Chocolate covered pretzels
Chocolates
Chocolate covered almonds
Salted caramels
Cherry cordials
Various dark and milk chocolate bars
Chocolate truffles
Garnish
Fresh mint leaves
Fresh flowers, trimmed (roses, carnations and/or baby's breath)
Instructions
Prepare a large serving board. [Board pictured is square and about 15" across, but you can use any shape and size large board.]
Choose your ingredients. Prepare chocolate dipped strawberries and pretzels, if using. Get creative with the ingredients listed!
Arrange foods in your desired pattern, scattering all ingredients across the board. It helps to reference a photo, at the same time you are doing this.
Cover and set aside, until ready to serve.
Notes
You can make up to 1 day ahead. Cover tightly and refrigerate before serving. If using flowers, add just before serving.
All ingredients are able to be substituted with whatever you prefer. Read the post for many ideas of ingredient additions or substitutions.
A great place to find affordable gourmet chocolate is Trader Joes and your local grocery store. Try HomeGoods/TJ Maxx for the pirouline cookies. Find specialty items like French macarons at your grocer's bakery or local bakery.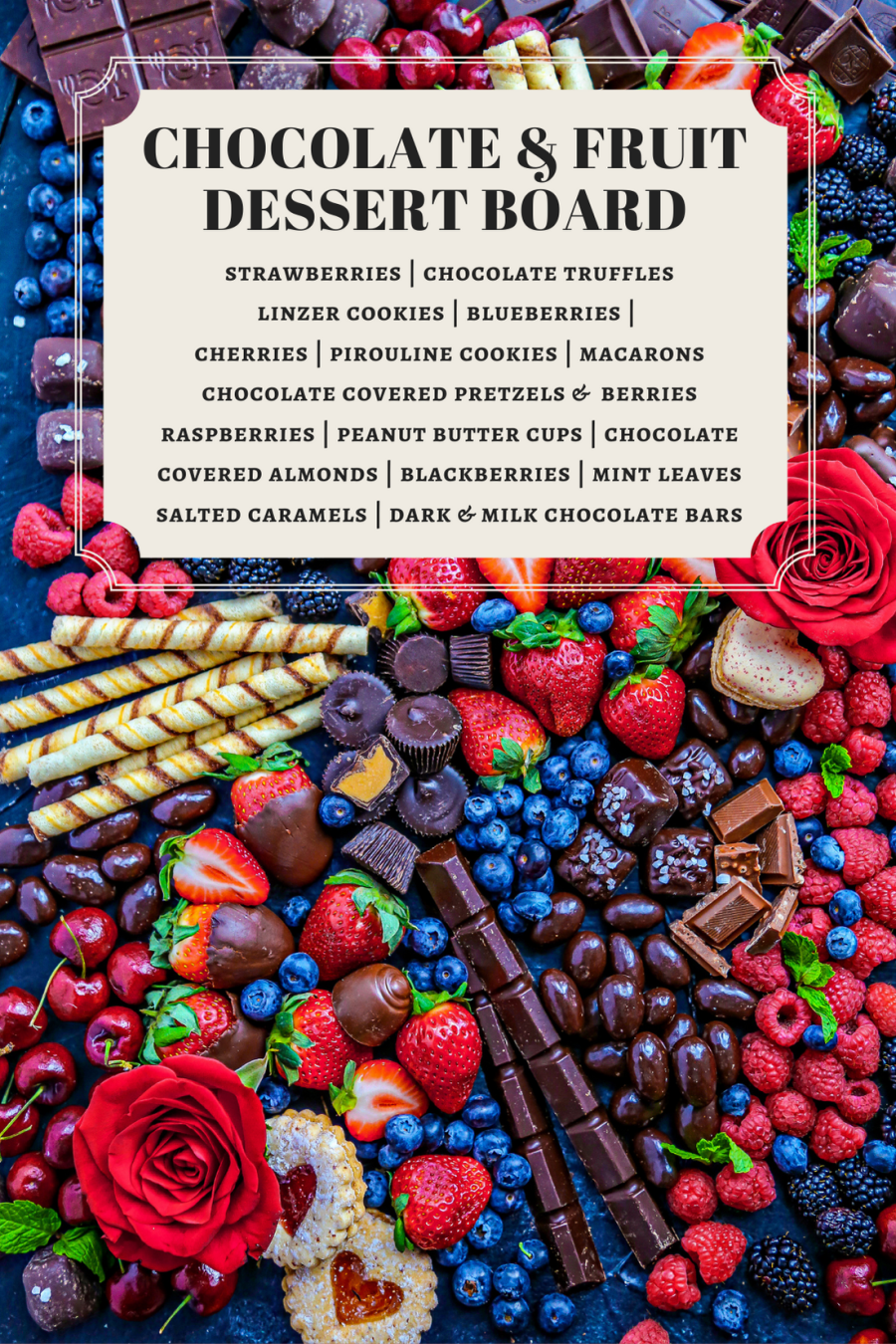 Want to receive our latest recipes straight to your email inbox? Click here to subscribe!