Sweet, salty and easy to make for snacking, these quick chocolate-covered s'mores pretzels really hit the spot! No oven, grill or campfire needed.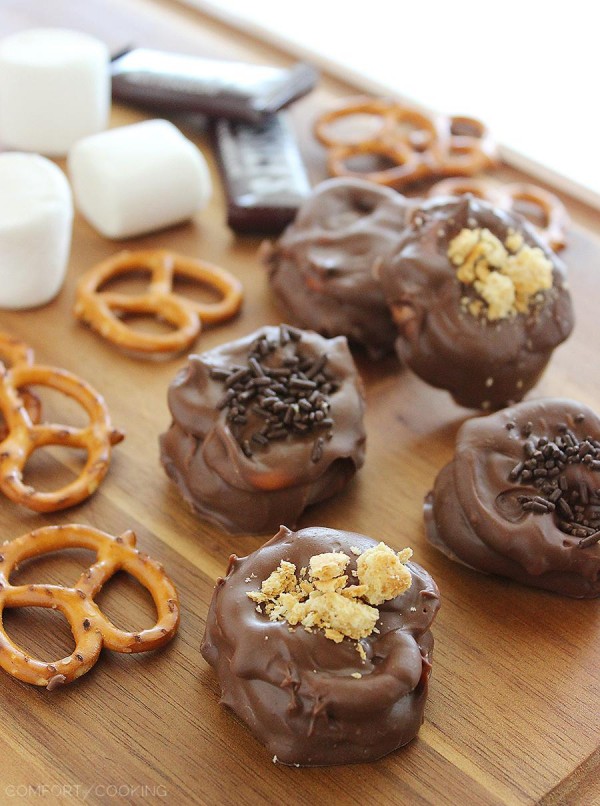 When baby is in bed for the night, hubby and I like to unwind and treat ourselves. He grabs a beer (and a glass of wine for mama), and I snag the good stuff – graham crackers, marshmallows and chocolate for s'mores! We head out into the hot summer night, fire up the grill, and toast our 'mallows until melty and crisp. Naturally, it becomes a who-can-toast-the-perfect-marshmallow competition.
I win. Of course.
He gets over it, and a "cheers" with our cold drinks calls a truce. We indulge in our sticky s'mores while watching the sunset and head inside after the mosquitoes have munched on us enough. It's perfect. It's delicious. And there's no other way (minus bugs) I like to spend my summer evenings! Except catching up on some sleep.
… During which I dream about how to make classic s'mores even better!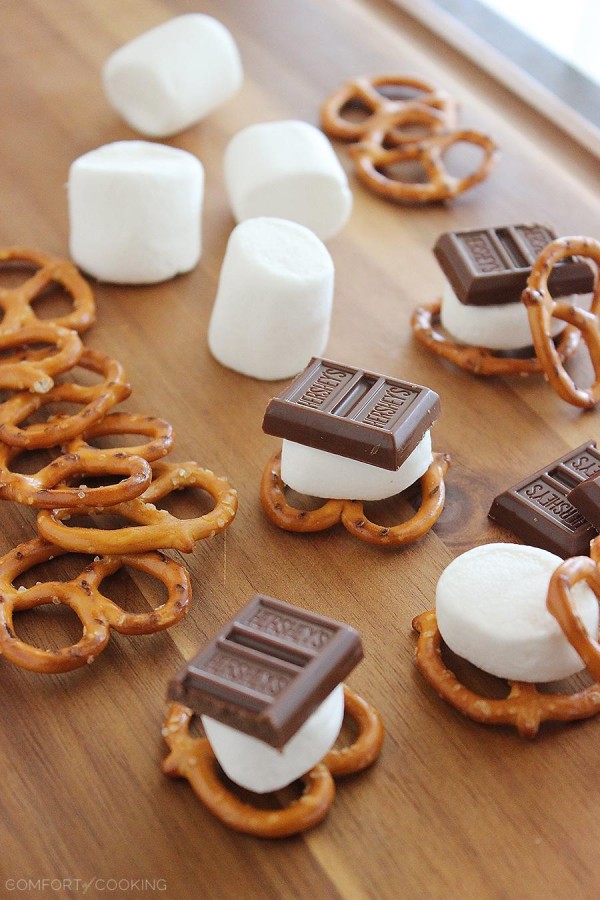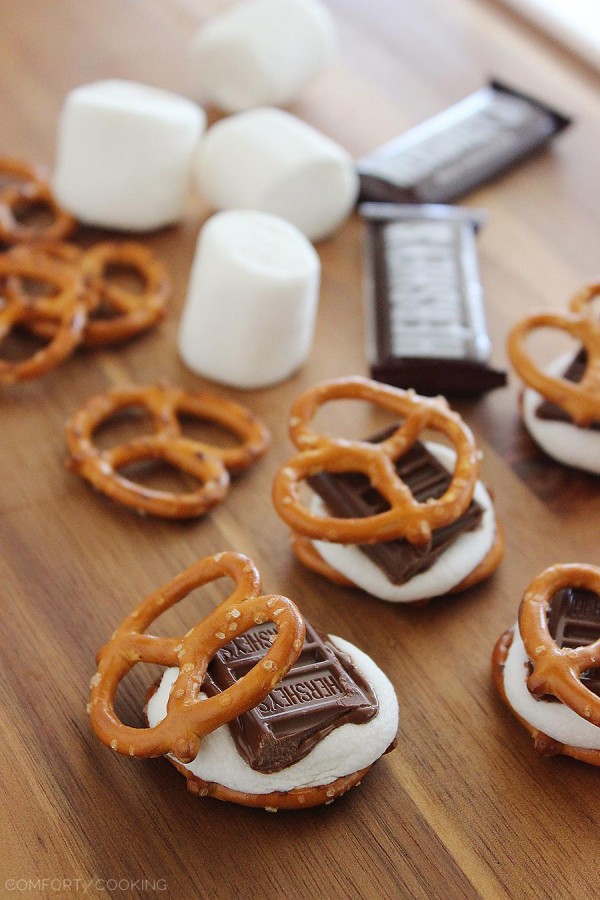 In these sweet, salty and super easy S'mores Pretzels, I found my answer.
You don't need an oven, grill or campfire for these little cuties – just use your microwave! Ten seconds is all it takes for the marshmallow to puff up. Layer on your chocolate candy (halved Hershey's snack-size chocolates work well), and top with another pretzel. Perfectly good as is, but even better dunked in delicious melted chocolate!
You could easily omit the chocolate bar from the s'more, since the chocolate coating adds lots of creamy sweetness. But, I'd say go for both!
For parties, weeknights or any occasion that calls for a quick and easy treat, these Chocolate Covered S'mores hit the spot. They take under 10 minutes to make, are a fun activity for kids, and are delicious little indulgences. I can see us making these for our baby bedtime treats, too!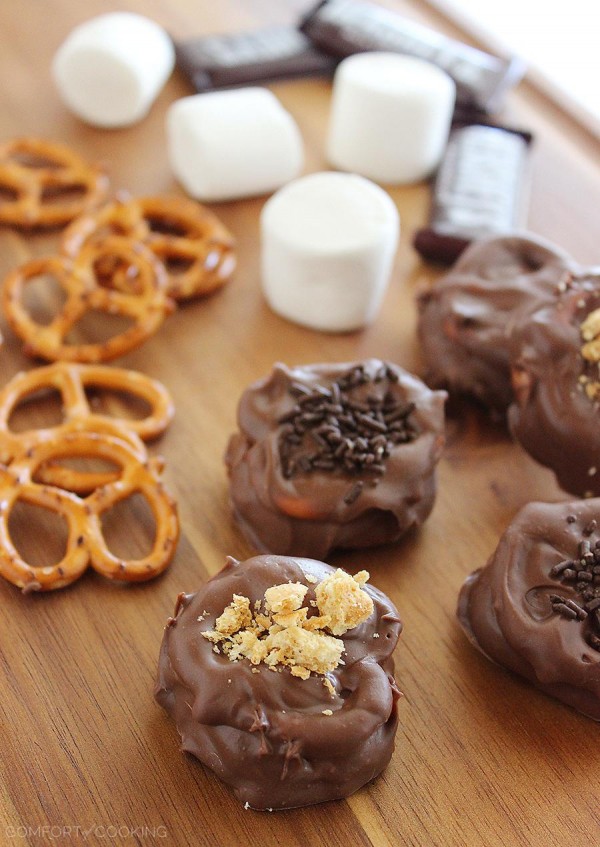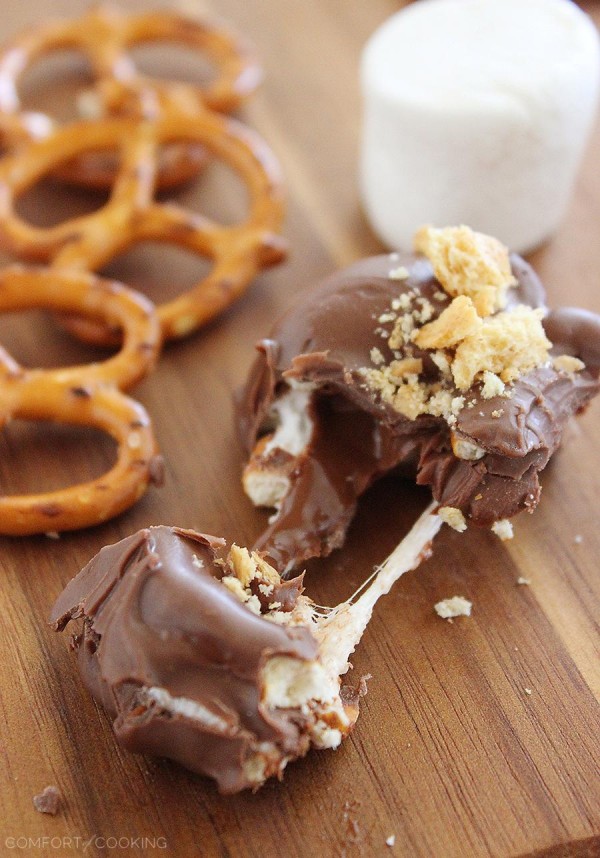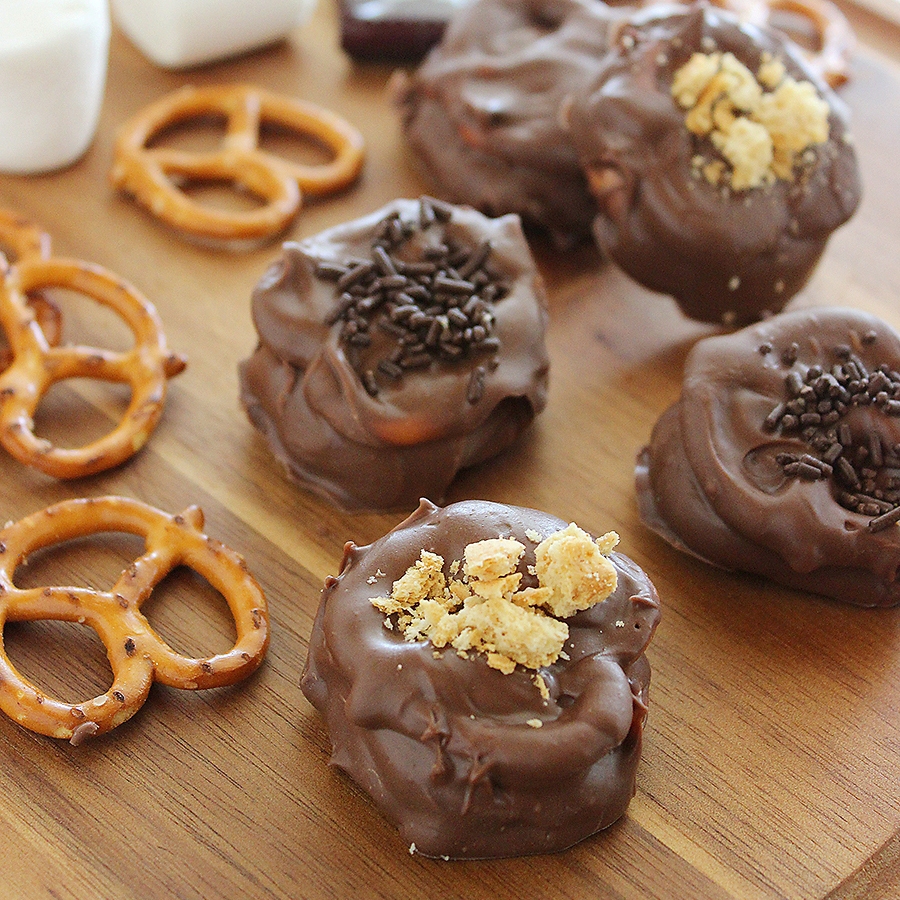 Quick & Easy Chocolate Covered S'mores Pretzels
Ingredients
30 pretzels
30 chocolate candies, halved (I used snack-size Hershey's bars)
15 full-sized marshmallows, cut in half
1 cup candy melts or chocolate chips
1/2 teaspoon vegetable oil
For topping:
Sprinkles, chopped nuts/cookies/graham crackers, etc., optional
Instructions
On a flat working surface, assemble pretzel s'mores. On top of 1 pretzel, layer marshmallow and chocolate candy. Microwave for 10-20 seconds, up to 5 at a time, watching closely. The marshmallow should puff up. Top each with an additional pretzel, pressing down slightly.
Microwave candy melts in 30-second increments. Once melted, whisk in vegetable oil until smooth. Dip pretzel s'mores in melted chocolate, coating as best as possible (I used a spoon to help "pour" the chocolate over top – it can get messy!). Place on wax paper-lined plate and freeze to harden.
Enjoy!