I recently taught a cooking class for a bunch of lovely fellow food lovers, and during the class we made this delicious pear tart. It's fabulously fragrant with spicy cinnamon, nutmeg and fresh ginger, and is really a cinch to pull together for a last-minute dessert. Not to mention, with some homemade vanilla whipped cream, it tastes like heaven on earth!
It's the season of pears, and while most of the year I forget how luscious and purely decadent pears are, I always remember around this time of year to pop a pear dessert in the oven and savor the sweet smell!
The ideal pear is firm but fleshy, with a slight softness when handled. The riper the pear the sweeter it will be, so to ripen a hard pear simply leave it at room temperature until the neck of the pear yields to gently applied pressure – that's a sign of ripeness and readiness to be baked with, cooked with or eaten as is!
Try this simple pear tart for yourself sometime, and feel free to get creative with the fillings! You can also use strawberries, peaches and blueberries, or apples, just to name a few of my favorites. Either way, the result is a divinely delish dessert that is as fun to make as it is to enjoy with family and friends!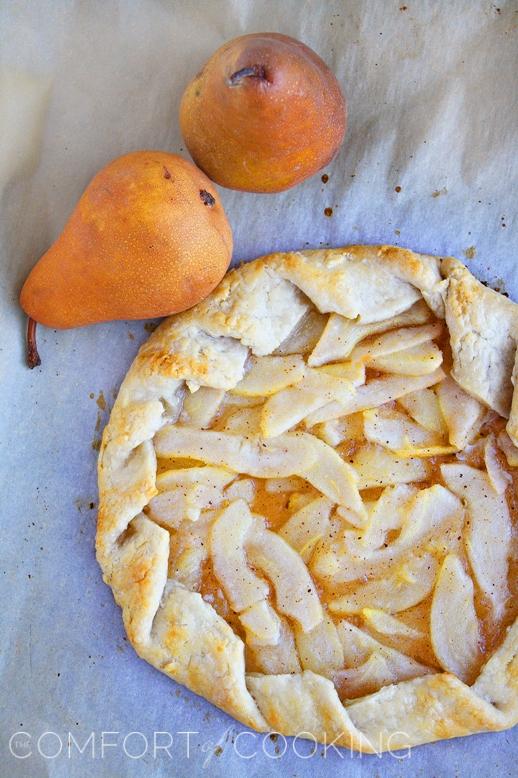 Rustic Pear Tart
Ingredients
All-purpose flour, for dusting your work surface
1 9- inch pie dough, store bought or homemade
3 Bartlett or Bosc pears, peeled and sliced 1/4-inch thick
2 teaspoons cornstarch
1 tablespoon fresh lemon juice
1/2 teaspoon grated fresh ginger
1/4 teaspoon ground cinnamon
1/8 teaspoon ground nutmeg
3 tablespoons plus 1 teaspoon granulated sugar
2 Tablespoons heavy cream
Instructions
Heat oven to 400° F. On a lightly floured surface, roll the pie dough into one 9-inch circle. Transfer to a parchment-lined baking sheet.
In a large bowl, toss the pears, cornstarch, lemon juice, ginger, cinnamon, nutmeg, and 3 tablespoons sugar. Pour filling onto the pie crust, leaving a 2-inch border. Fold the edges of the crust over the fruit mixture.
Brush the heavy cream on the crust and sprinkle with the remaining teaspoon of sugar. Bake until the crust is golden brown and the fruit is tender, 25 to 30 minutes.
Enjoy!