Once of my fondest childhood memories is this: Looking back on it now, I can't believe it, but when I was a little girl, my dad would drive 500 miles from his home in suburban Massachusetts to my front door in rural Maryland, I'd hop in his Nissan Altima, and we'd drive 500 miles back to his home the same day.
He always had the route planned out just right, and we'd speed along for most of the day, but we always made a point to stretch our legs and stop in New Jersey for a little food and a Mrs. Field's macadamia nut cookie.
So, when it came time to give dear ole' pop a gift this Father's Day, I wanted to gift him with something homemade, delicious and made from the heart. I was a little nervous that I wouldn't pull it off, given my last failed attempts at sending cookies for Mother's Day.
But this time, packed 'em tightly in a box full of local Los Angeles newspapers, the cookies made it to their destination, this time over 3000 miles away, all in one piece.
I encourage you to try these delicious cookies, too, whether giving them as a gift or keeping them for yourself. Macadamia nut, if you've never had it, has a very creamy, mild flavor, and it gives the otherwise soft, sugar-like cookie a little crunch. The white chocolate just makes the whole thing melt in your mouth, and before you know it, you've eaten half the batch!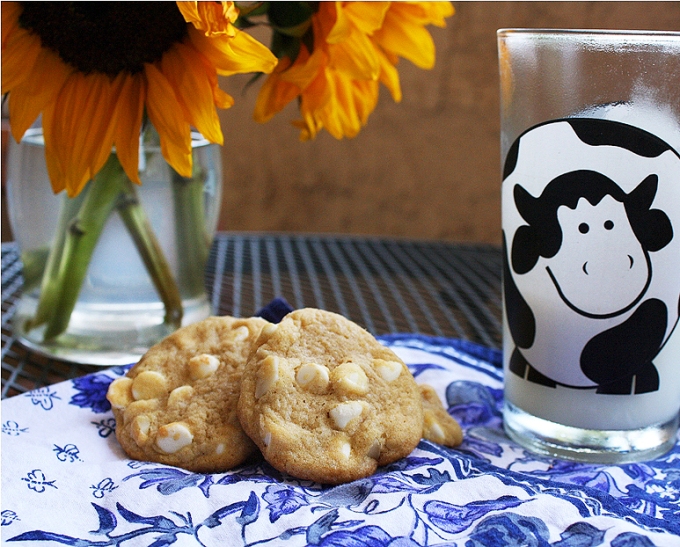 White Chocolate Macadamia Nut Cookies
Ingredients
1 cup 2 sticks butter, softened
3/4 cup packed light brown sugar
3/4 cup granulated sugar
2 teaspoons vanilla extract
2 eggs
2 1/3 cups all-purpose flour
1 teaspoon baking soda
1 teaspoon salt
1 cup coarsely chopped macadamia nuts
1-1/2 cups 12 oz. white chocolate baking chips, or coarsely chopped
Instructions
Preheat oven to 375 degrees.
Beat butter, both sugars, and vanilla on medium speed, until creamy. Beat in the eggs, one at a time, until light and fluffy. Blend in flour, baking soda, and salt on low speed until mixed. Stir in macadamia nuts and white chocolate. Drop dough by rounded teaspoonfuls onto ungreased baking sheets.
Bake for 8-10 minutes, or until edges are golden brown. Cool on baking sheets for 2 minutes, remove to wire racks.
Enjoy!