My first experience years ago with chicken marsala was not positive. I don't remember it well, but maybe I was in the "tastes change" phase and couldn't stomach the cooked mushrooms and syrupy sauce. Or, maybe it was because the restaurant didn't make it properly, and it sat under a heat lamp for hours.
I'm not quite sure exactly why I didn't like marsala at the time, but up until last week, I had never had it like this.
This incredible recipe came from Ali of Gimme Some Oven, who takes drool-worthy photos and is always inspiring me with new recipes. She adapted this recipe from Cooks Illustrated and spoke so highly of it that I had to give it a try, and boy am I glad I did!
The ingredients are as basic and inexpensive as they come, from the crispy bacon to the tender mushrooms and fresh parsley, but together, they guarantee a flavor that is absolutely incomparable. Once you create a smooth, rich sauce from the butter, Marsala wine, and all that irresistible flavor from the cooked bacon, you pour it over the tender pan-roasted chicken breast, lay it on a bed of warm pasta, pour yourself a glass of wine, and dig in.
I'm officially a marsala lover now, and with this dish I know you will be, too!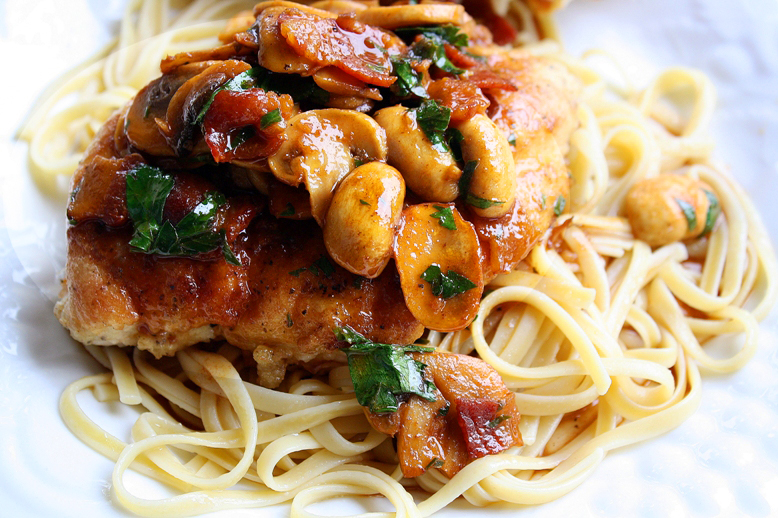 Chicken Marsala
Ingredients
2 boneless skinless chicken breasts
1/2 cup all-purpose flour
salt and black pepper
1 Tbsp. vegetable oil
1 1/2 ounces pancetta or bacon, about 2 slices, diced into pieces
1 cup white mushrooms, sliced
2 medium cloves garlic, minced
1/2 tsp. tomato paste
3/4 cups Marsala wine
1 Tbsp. lemon juice
2 Tbsp. unsalted butter, cut into 4 pieces, softened
1 Tbsp. chopped fresh parsley leaves
1/2 lb. pasta, I used linguine, cooked according to package instructions
Instructions
Adjust oven rack to lower-middle position and heat oven to 230 degrees.
Heat 12-inch heavy-bottomed skillet over medium-high heat until very hot, about 2 minutes. Pat chicken breasts dry. Meanwhile, place flour in shallow baking dish or pie plate. Season both sides of chicken cutlets with salt and pepper; working one piece at a time, coat both sides with flour. Lift breast from tapered end and shake to remove excess flour; set aside. Add oil to hot skillet and heat until simmering. Place floured cutlets in single layer in skillet and cook until golden brown, about 3 minutes. Using tongs, flip cutlets and cook on second side until golden brown and meat feels firm when pressed with finger, about 3 minutes longer. Transfer chicken to a plate and put plate to oven.
Return skillet to low heat and add pancetta/bacon; sauté, stirring occasionally and scraping pan bottom to loosen browned bits until pancetta is brown and crisp, about 4 minutes. With slotted spoon, transfer pancetta to paper towel-lined plate. Add mushrooms and increase heat to medium-high; sauté, stirring occasionally and scraping pan bottom, until liquid released by mushrooms evaporates and mushrooms begin to brown, about 5 minutes. Add garlic, tomato paste, and cooked bacon/pancetta; sauté while stirring, until tomato paste begins to brown, about 1 minute.
Off heat, add Marsala. Return pan to high heat and simmer vigorously, scraping browned bits from pan bottom, until sauce is slightly syrupy and reduced to about 1/2 cup, about 5 minutes. Off heat, add lemon juice and any accumulated juices from chicken; whisk in butter 1 tablespoon at a time. Season to taste with salt and pepper, and stir in parsley.
Serve pasta on plates, and top with chicken. Pour sauce over chicken and serve immediately.
Enjoy!