Try as we might, we still cannot put our finger on one truly great store bought salsa. There are brands here and there that we sort of like, but nothing out of a tub truly hits the spot for our frequent salsa cravings.
This is precisely why I like to make my own salsa, specifically pico de gallo, at home. It doesn't take more than a bunch of simple, fresh ingredients to make, and it tastes so delicious every time… especially with a handful of tortilla chips and frosty glass of Corona!
Pico de gallo, which in Spanish means "rooster's beak", also makes a great topping for some of my favorite Mexican dishes, like quesadillas and carne asada, and since we love a little kick in our food, those dishes frequent our dinner table. Luckily, fresh tomatoes, cilantro and avocado are never hard to come by in California, and as a native East-Coaster, I've learned not to take that for granted!
This scrumptious, healthy salsa is one you won't be able to resist – It's easy and quick to make, and it pleases the eye with vibrant colors, and the palate with a tangy taste.
Not to mention, it makes for a good excuse to sit outside with a bag of chips and your favorite ice-cold drink!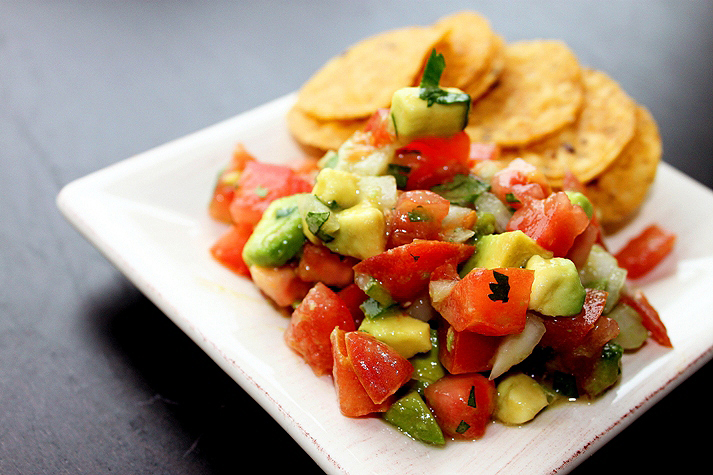 Avocado Pico de Gallo
Ingredients
1 white onion, diced
4 ripe roma tomatoes, diced
2 ripe avocados, diced
1-2 fresh jalapeno pepper, s, finely chopped (adjust for your heat tolerance)
2 garlic cloves, minced
1/4 cup fresh cilantro, chopped
Juice of 2 limes
Salt and pepper, to taste
Instructions
Mix all ingredients in a medium-sized bowl and set out at room temperature for 1 hour to allow flavors to blend.
Serve cold or at room temperature with tortilla chips, or as a topping on your favorite Mexican dish.
Can be refrigerated in a plastic container up to two days.
Enjoy!