So, yes. This may be a bit late, and too romantic of a scene for a random Wednesday, but I've had a revelation: Why do we only enjoy these tasty one-bite treats on Valentine's Day anyway? Why not on a random Wednesday? Wednesdays are special, they deserve love. And so do you, especially on random days and not just Valentine's Day. So make yourself, or someone else, some chocolate covered strawberries. Because… well… why the heck not?
The steps to making these scrumptious chocolate covered strawberries are nothing fancy, but the end result sure is! Simply melt together some milk chocolate and shortening, stir it all until velvety smooth, and dip those beautiful red berries in by their leaves.
Now, if you can stand the sight of the gooey, chocolaty strawberry, gently place it on a wax paper lined baking sheet, set in the refrigerator and step away. Or, abandon all self control and just dig in. Patience is for the birds.
If you like yours all fancied up, roll them while they're still wet in various toppings. You can go for chopped nuts, shredded coconut, crushed cookies… whatever tickles you. Get inspired with more topping ideas by clicking below.
To get cutesy with designs, melt a little white chocolate, pour it into a piping bag with a small tip or small squeeze bottle, and go wild. You can also just dip a fork into the melted chocolate and drizzle it over the strawberries for a zigzag effect.
However you enjoy these little beauties, they will definitely make you or a lucky recipient feel special any day of the week!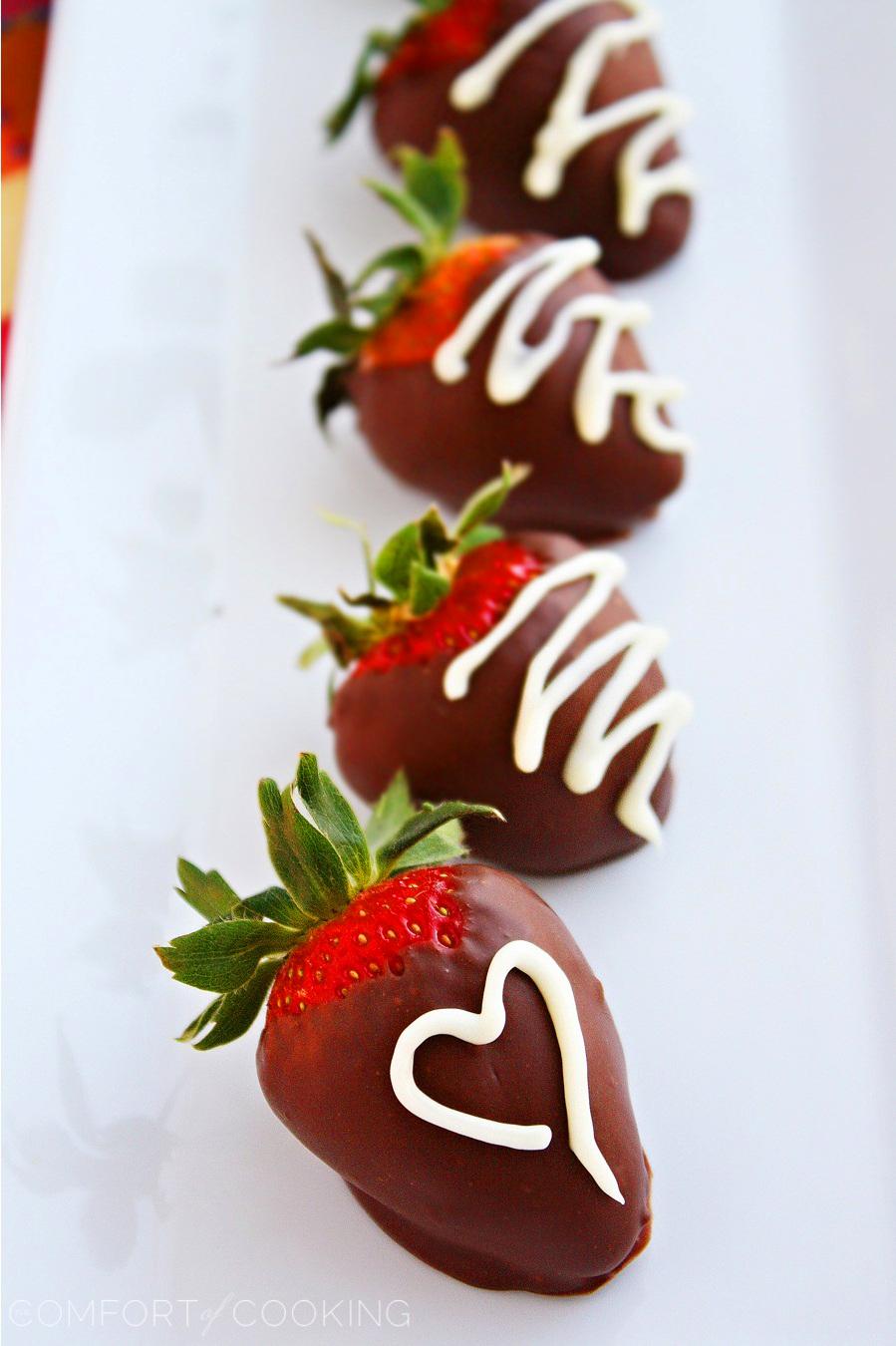 Chocolate Covered Strawberries
Ingredients
16 ounces milk chocolate chips
2 tablespoons shortening
1 pound fresh strawberries with leaves
8 ounces white chocolate chips, optional *
Other topping ideas
Chopped nuts, shredded coconut, candy sprinkles, mini chocolate chips or candies, crushed graham crackers, crushed cookies
Instructions
Cover a large baking sheet with wax paper and set aside.
Microwave chocolate chips at 30-second increments for about 1 minute and 45 seconds, stirring until chocolate starts to melt. Add the shortening, stir until smooth, and dip the strawberries into the chocolate mixture, holding by the stems.
Roll strawberries in toppings, or place strawberries onto the wax paper lined baking sheet. Set in the refrigerator to harden, at least 20 minutes and up to 1 day. Allow chocolate coating to harden before creating designs with white chocolate, if desired.
* Tip: To create designs with white chocolate on top of strawberries, melt white chocolate in 30-second increments until beginning to melt. Add 1 teaspoon shortening and stir until smooth (if you want, you can also add food coloring at this point). Pour chocolate into a piping bag or squeeze bottle with small tip; design as desired. Refrigerate to set.
Enjoy!