One of my absolute favorite comfort foods is spaghetti and meatballs. There's nothing better than twirling your fork around a big bowl of spaghetti and spearing a saucy meatball with your fork. It just oozes "comfort" to me.
So, when I found myself with a few sandwich rolls leftover from these, a couple slices of provolone cheese, ground beef and plenty of basil, I decided to make a fun, comfort-food-inspired weekend lunch for my husband and I.
Topped with my Easy Basil Pesto, these mini meatball subs were a terrific treat that I'm pocketing as a future idea for when friends come over. They're easy, delicious and devoured in about two bites – especially by hungry boys!
All it takes are the traditional meatball ingredients – ground beef (if you want to go the traditional Italian route with beef, veal and pork, go right ahead), breadcrumbs, onion, green pepper, egg, Worcestershire sauce, garlic and spices. Roll 'em into balls, bake and then plop into a pot of simmering pasta sauce. Then, onto the lightly toasted rolls they go. A little more sauce on top (or a lot), gooey Provolone cheese and a pinch of pesto make these meatballs melt-in-your-mouth delicious!
Make these for a party, your family and friends, or whenever you need to feed a lot of people! Or, better yet, use this recipe as a reference for leftover spaghetti and meatballs. They're usually better the next day anyway!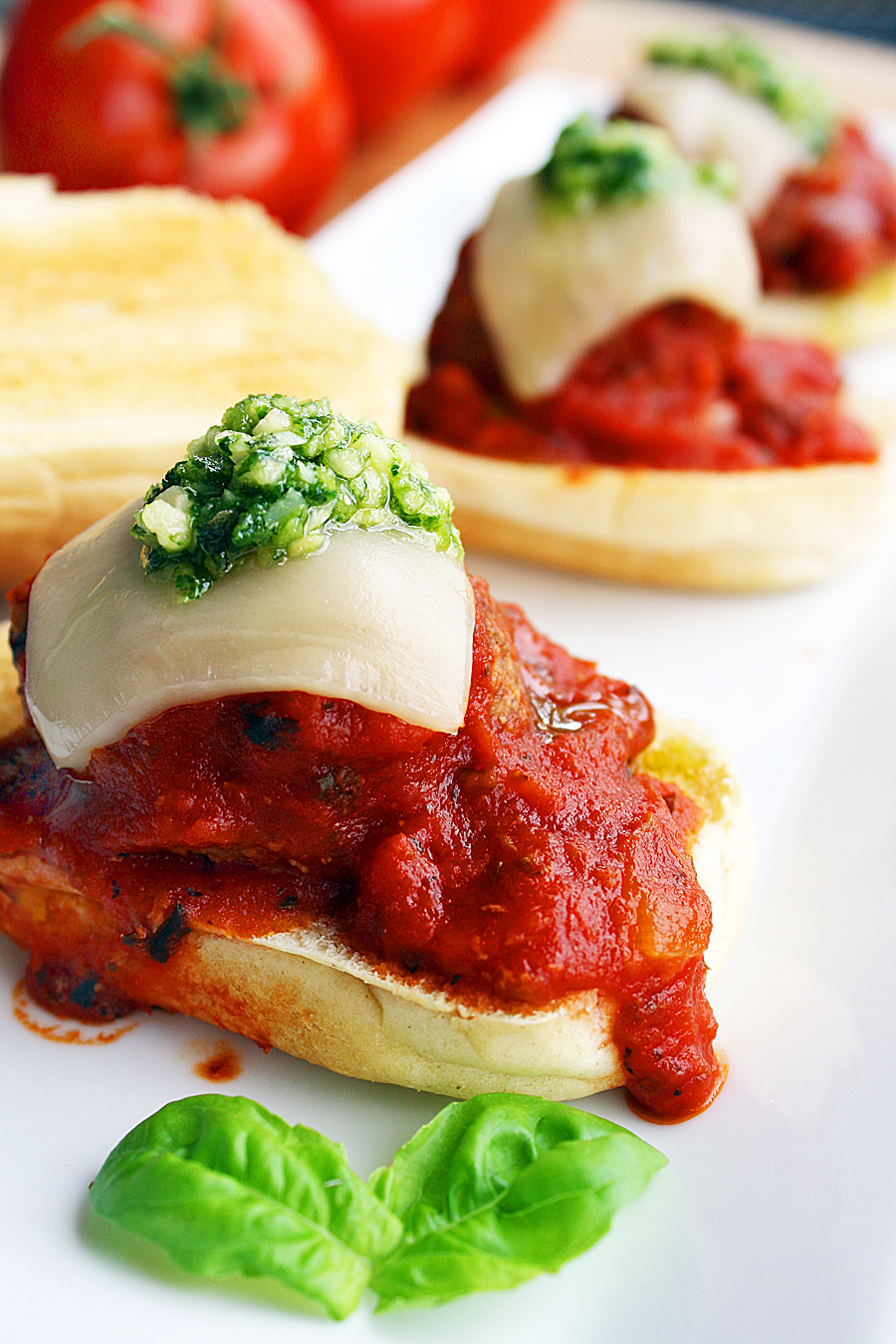 Mini Meatball Subs with Provolone
Ingredients
1 pound ground beef
1/2 cup chopped onion
1/2 cup chopped green pepper
1/2 cup crushed butter-flavored crackers or breadcrumbs
1 egg
1 teaspoon Worcestershire sauce
1 teaspoon chopped garlic
1 teaspoon salt
1 teaspoon ground black pepper
1 26.5 ounce can pasta sauce
1/2 cup shredded mozzarella cheese
4 slices provolone cheese
1/3 cup grated Parmesan cheese
8 dinner rolls, split and lightly toasted
+ 1 batch Easy Basil Pesto
Instructions
Preheat an oven to 350 degrees F (175 degrees C).
Combine ground beef, onion, green pepper, crumbs and egg in a large bowl. Season with Worcestershire sauce, garlic, salt, and pepper; mix well. Form mixture into 8 meatballs. Place meatballs in a 9 x 13 inch baking dish.
Bake meatballs in the preheated oven for 25 minutes. Pour the pasta sauce into a large saucepan; bring to a simmer over low heat. Stir baked meatballs into the simmering sauce. Do not turn oven off. Simmer meatballs sauce for 5 minutes.
Place one meatball, provolone cheese, a sprinkle of Parmesan, and a spoonful of sauce between each roll. Place sandwiches in hot oven; bake until cheeses melt, about 7 minutes. Top with 1/4 teaspoon of basil pesto and serve immediately.
Enjoy!