All you need for this cheesy, golden brown quiche is 5 ingredients, plus your pie crust and spices. It's perfect for Easter morning or lazy brunching!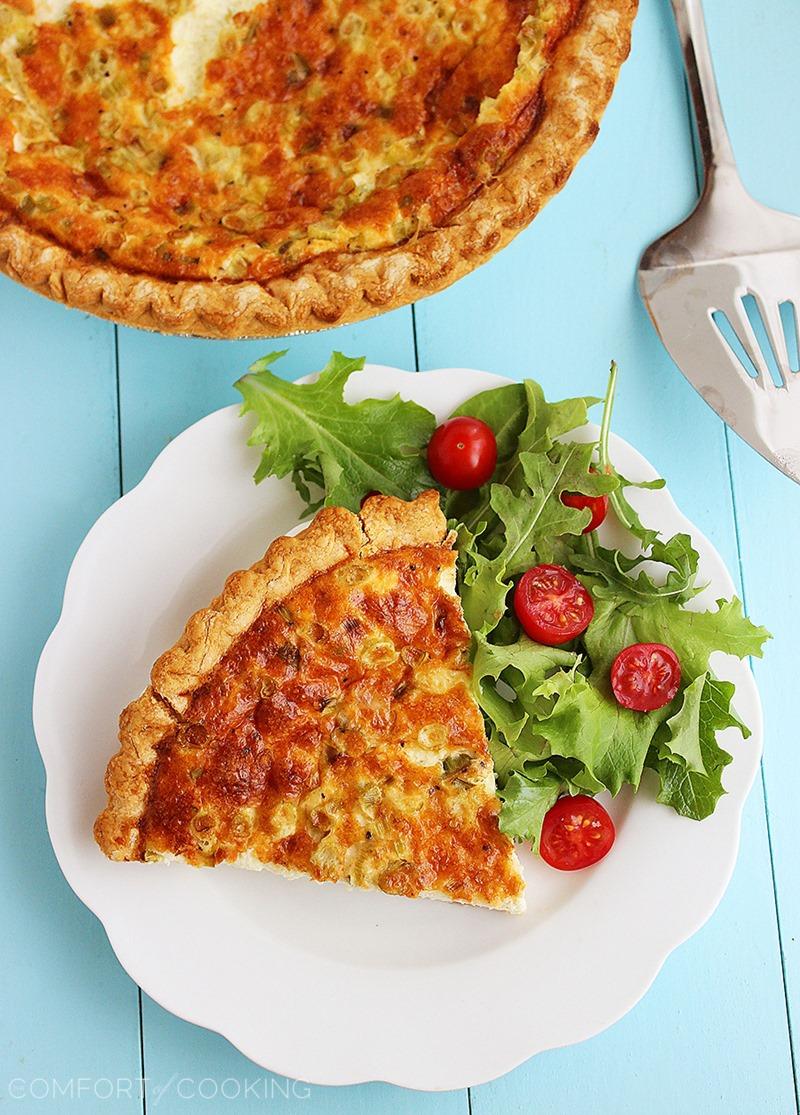 When we have guests over for an extended stay, I take the opportunity to try all sorts of treats on them! And fatten them up. Because I have way too many skinny people in my life, and they need to be fed.
My favorite meal of the day is breakfast, and I can be known to go a bit beyond bacon and eggs when there's more than two under my roof. This may or may not involve dragging myself out of bed earlier than everyone else. But, though I may look all kinds of busted, the food is flaunting its fabulous self. And whose day isn't made better with a delicious breakfast?!
What I'm saying is, I want fat friends and family in good moods. Enter: ham and cheese quiche.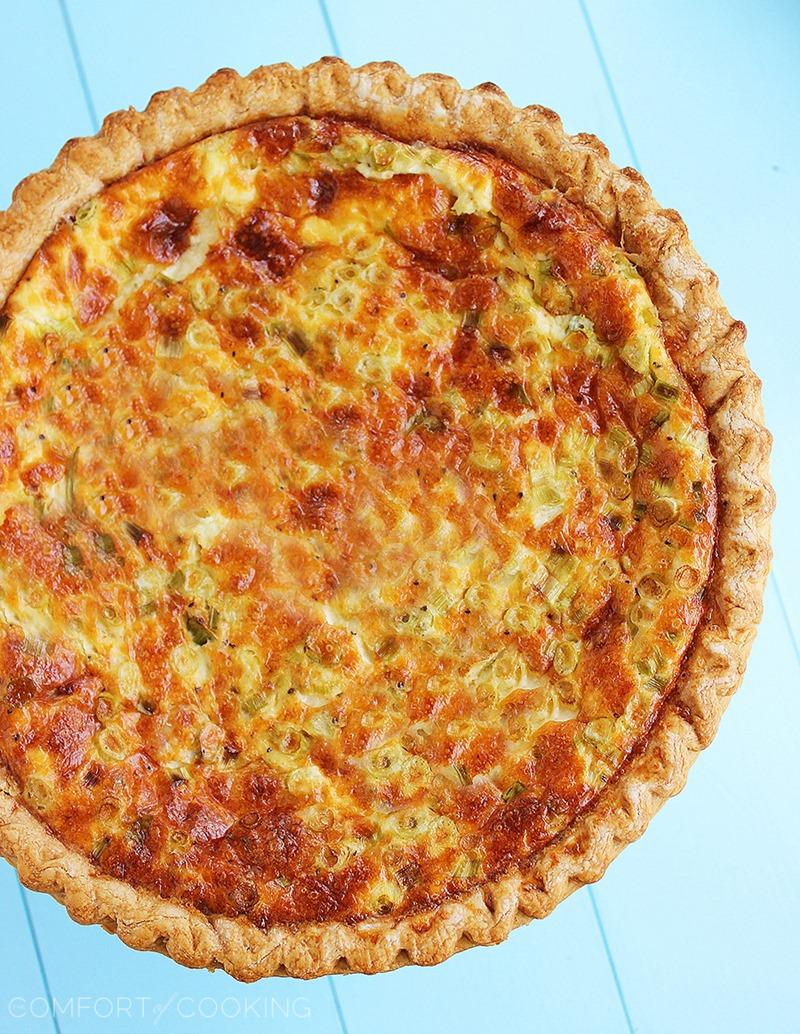 Since we "celebrate" holidays a little earlier in this house (gotta get those recipes to you ahead of time!), I recently found myself with heaps of leftover Easter ham. Aside from egg sandwiches, pizzas and casseroles, this breakfast lovin' lady had quiche on the brain. And I was determined to whip up a delicious, quick recipe that is easy enough to make the morning-of.
Well… I found success with this scrumptious 5-ingredient quiche (plus your pie crust and spices)!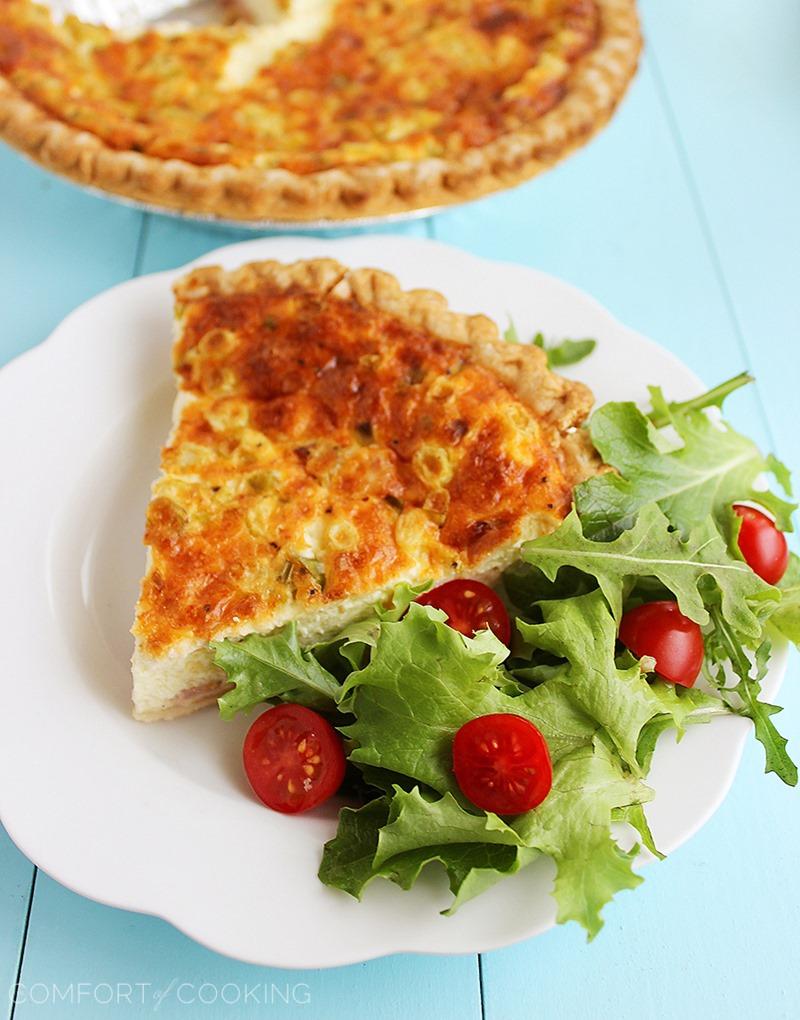 Just pour a mixture of egg, half-and-half, cheddar, chopped ham and green onions into your pie crust, and bake it up 'til bubbly and golden. It rises into a beautifully browned, fluffy quiche with a light-as-air texture. Perfect alongside a simple green salad for brunchin' and lunchin'!
Using a pre-made pie shell saves major time, but roll out a homemade crust if you prefer. Feel free to substitute leftover turkey or bacon for the ham, too. Not into cheddar? Any cheese will do.
However you dish it, you'll LOVE this delicious quiche for Easter, Mother's Day or any spring morning that calls for something special!
Cheesy Ham, Cheddar and Scallion Quiche
Yield:
8 servings // 8 slices
Ingredients
1 9-inch deep dish pie crust, store bought or homemade*
4 large eggs
2 cups half-and-half, not fat-free
1 cup shredded cheddar cheese
1/2 cup diced ham
1/3 cup chopped green onions
1/4 teaspoon each salt, pepper and paprika
Instructions
Preheat your oven to 425 degrees F. Place oven rack in the lower third of your oven.
In a medium bowl, whisk eggs. Stir in remaining ingredients and pour over pie crust, filling to the top.
Bake for 20 minutes. Reduce heat to 325 degrees F, and continue baking for another 45 minutes.
Remove from oven and let rest for 10 minutes before slicing and serving.
Enjoy!