Slice into a loaf of warm cinnamon-spiced swirl bread with your morning coffee! This easy recipe bakes two loaves that taste amazing and freeze easily. I can't think of a better holiday breakfast or brunch!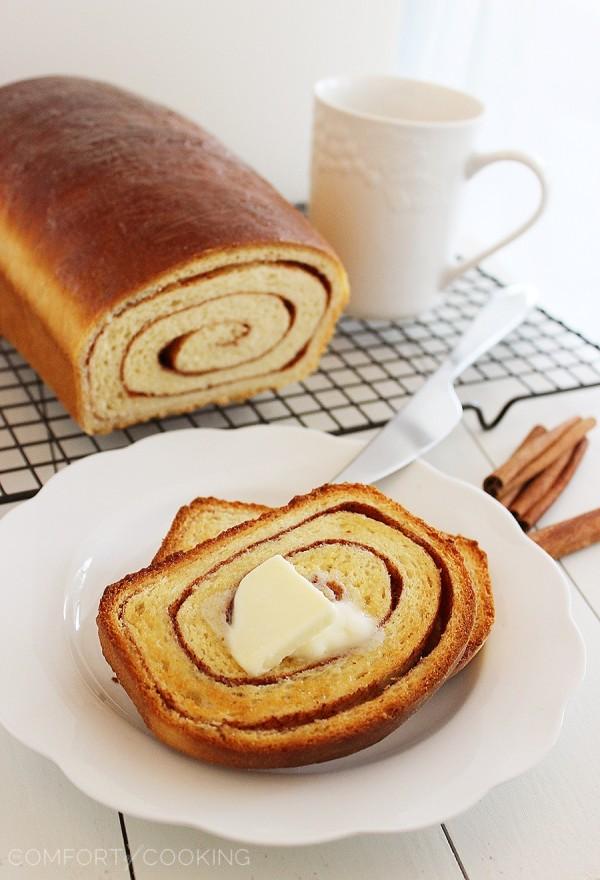 Last Friday, I woke up feeling terrible. I tumbled out of bed at 4am and, ignoring my sleepy, sick feeling, worked on my laptop until the sun rose. I couldn't shut my mind off. And it really came to bite me when it was time to approach the day with any semblance of energy. Once the little one was down for her morning nap, I snuggled back under the covers and snoozed off my sickness. When I woke up, I decided to embrace the cold fall day, stay in my pajamas and bake a cozy, warm loaf of cinnamon swirl bread.
Because sometimes the to-do list just has to wait.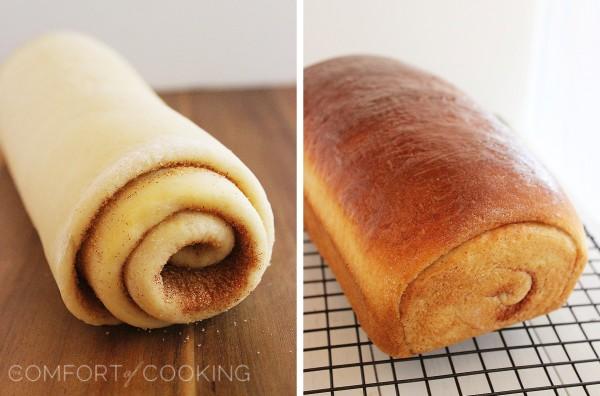 Cinnamon swirl bread is a big time favorite in my family. And best of all, my visiting mother-in-law enjoyed warm, buttery slices for breakfast with us. It's the simple joys like sitting down to a homemade treat with family and talking about the day ahead. It just warms me from the inside out.
I've made cinnamon swirl bread dozens of times before, but honestly, this is the BEST loaf I've ever baked. And I'm no expert baker. You can do it, too!
This lovely, fragrant cinnamon loaf is actually quite easy to make. All it requires are some basic pantry staples and a lazy morning at home to let it rise. This recipe yields two loaves, so go ahead and freeze one (I cover it in plastic wrap and place in a resealable bag to freeze) or give it as a gift to someone special.
A loaf of this cinnamon swirl bread is bound to bring a smile to anyone's face, and an amazing aroma to your kitchen!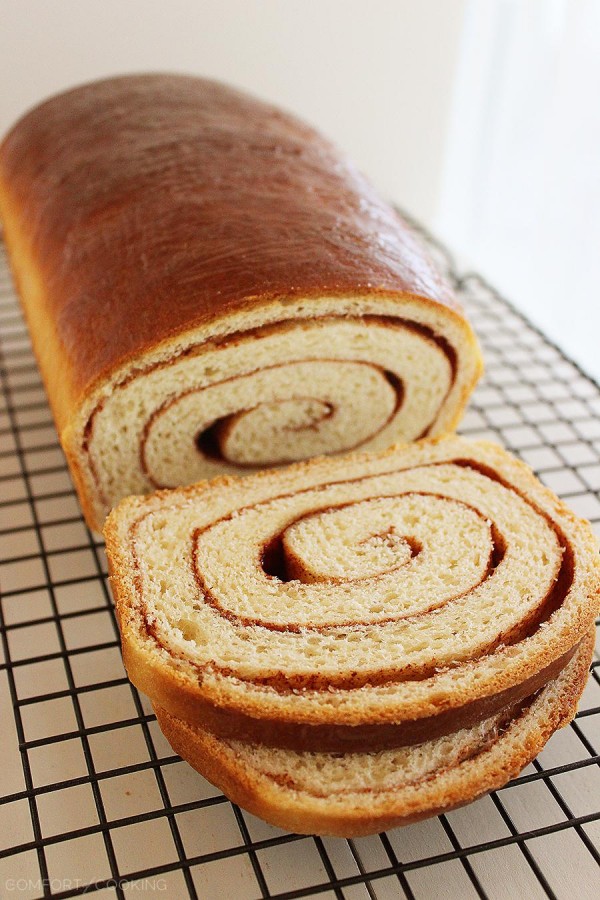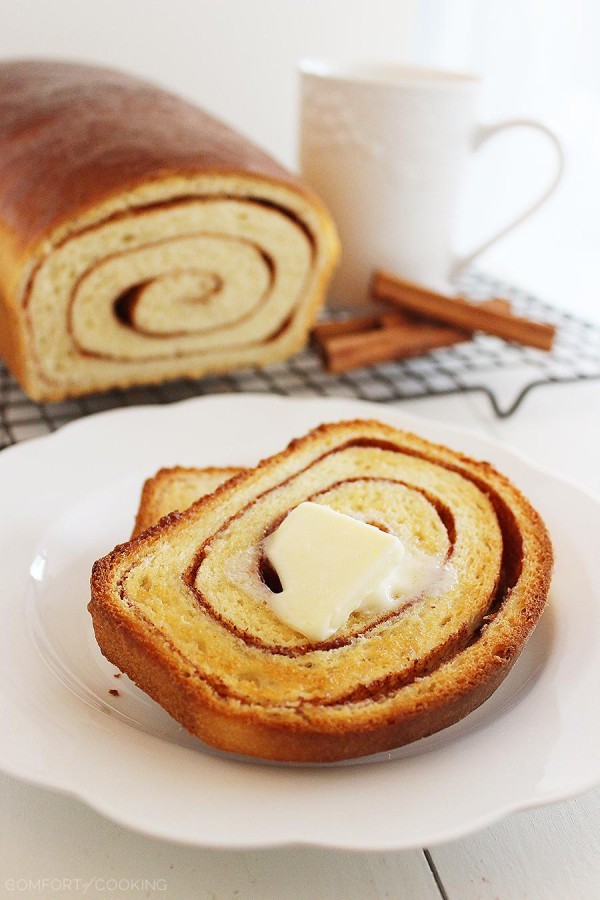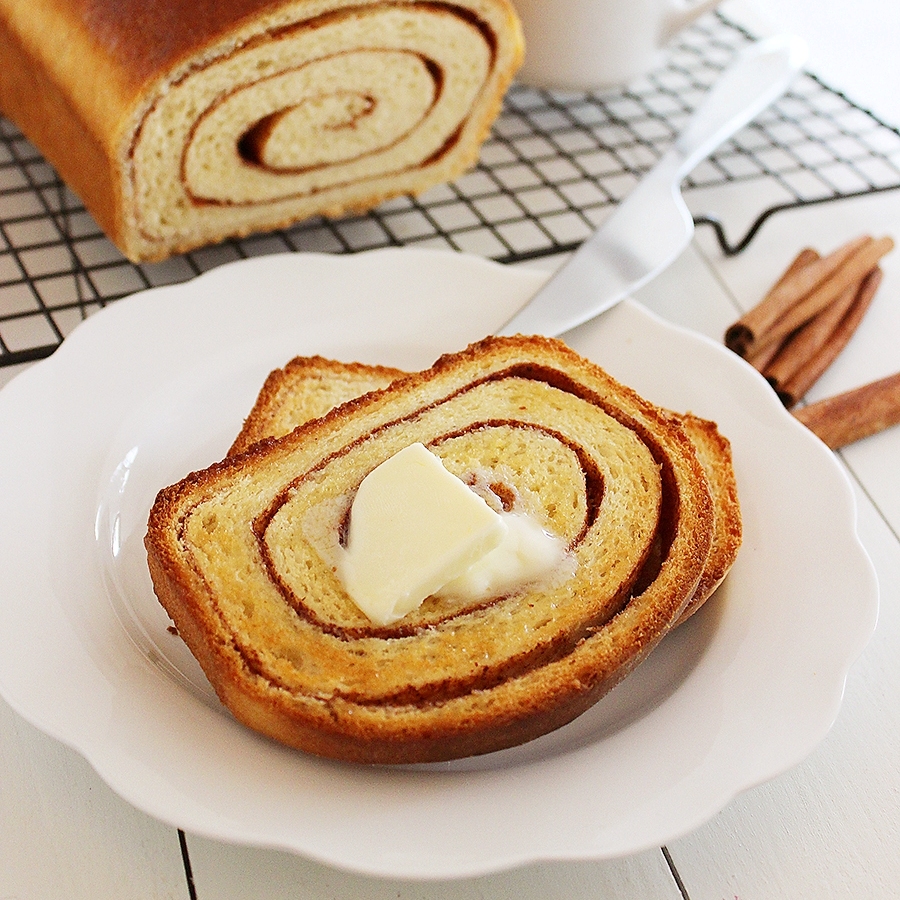 Soft Cinnamon Swirl Bread
Yield:
2 loaves (16 slices each)
Ingredients
2 packages, 1/4 oz. each active dry yeast
1/3 cup warm water
1 cup warm milk
1/2 cup granulated sugar
2 large eggs, lightly beaten
6 Tablespoons unsalted butter, softened
1 1/2 teaspoons kosher salt
5 1/2 to 6 cups all purpose flour
For the cinnamon-sugar swirl:
1/2 cup granulated sugar
2 Tablespoons ground cinnamon
Instructions
In a large bowl, dissolve yeast in water. Add milk, sugar, eggs, butter, salt and 2 1/2 cups flour. Beat until smooth. Gradually stir in enough remaining flour (3 to 3 1/2 more cups) to form a soft dough.
Turn onto a floured surface and knead until smooth and elastic, about 6-8 minutes (You can also knead with a stand mixer fitted with the dough hook). Place in a greased bowl, turning once to grease top. Cover and let rise in a warm place until doubled, about 1 hour.
Punch dough down; divide in half. Roll each half into an 18-inch x 8-inch rectangle. Combine 1/2 cup sugar and 2 Tbsp. cinnamon in a small bowl. Sprinkle evenly over dough. Roll up each rectangle from short side; pinch seam to seal. Place seam side down in two greased 9-in. x 5-in. loaf pans. Cover and let rise in a warm place until doubled, about 1 1/2 hours.
Bake at 350 degrees F for 30-35 minutes or until golden brown. Remove from pans and cool on wire racks. Brush warm loaves with additional melted butter.
Enjoy!