This tangy, sweet cranberry orange relish is a must-have for our holiday feasts… and only takes 5 minutes to make! Quick tip: I usually bake the leftover relish into a warm cranberry cobbler. Yum!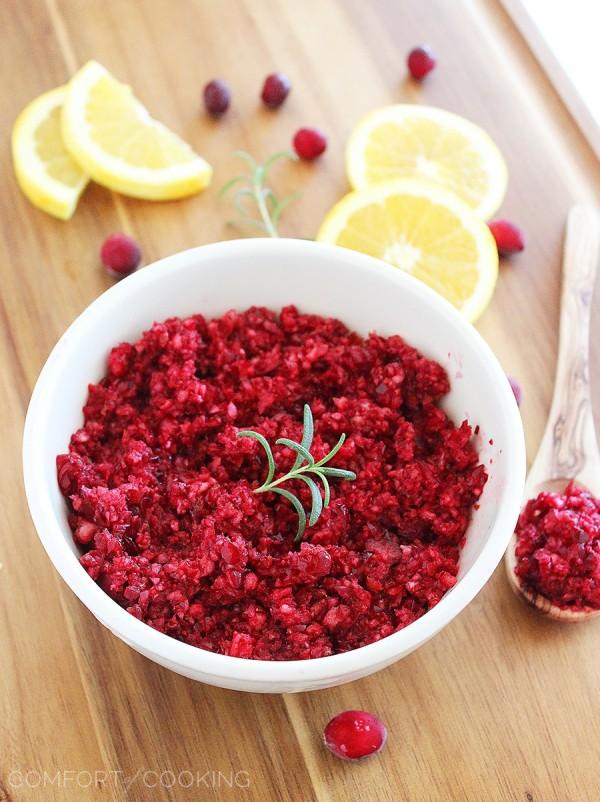 When trying to pick a favorite Thanksgiving dish, I find it impossible to avoid considering the meal as a whole. Yes, I'm the one who stacks a bit of everything on her fork – turkey, mashed potatoes, butternut squash… and the cherry on top. Which I consider to be a perfectly tangy, citrusy-sweet cranberry relish.
I grew up with rings of canned cranberry "sauce." You know the ones. Slop it out of can and onto your plate. Such a comfort that takes me back to my kid days, I love it (even though it's a little laughable). But, believe it or not, I found something even easier. And a bajillion times tastier. Just 4 ingredients (plus a pinch of cinnamon), and made from scratch in less than 5 minutes!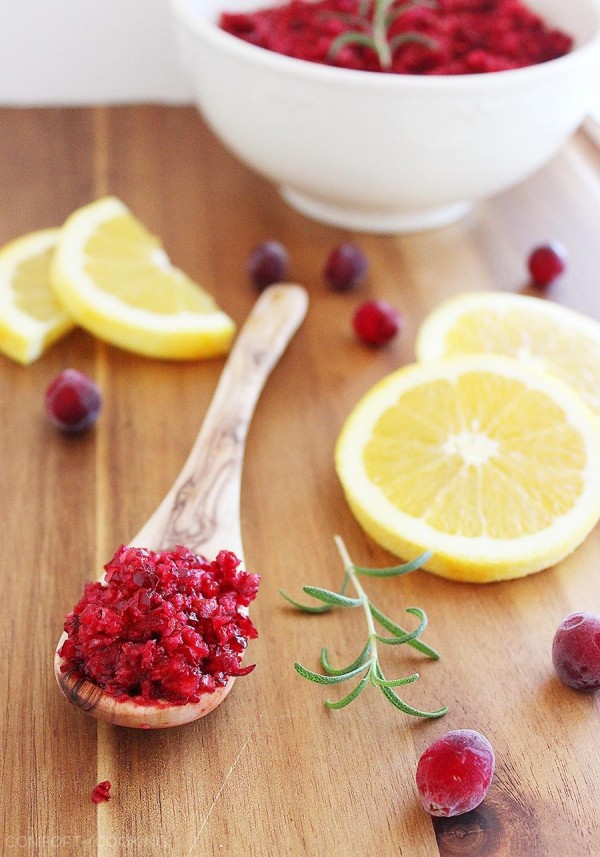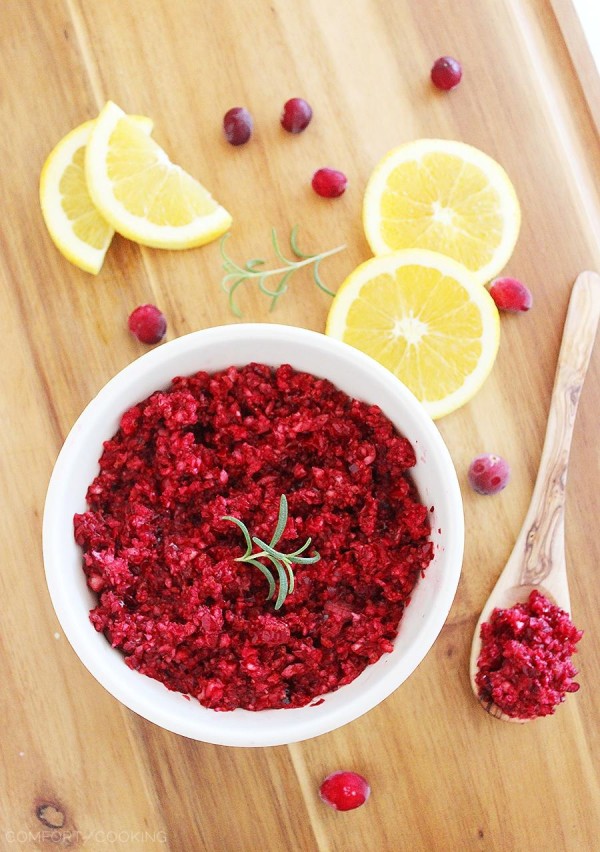 This cranberry relish was first introduced to me at my in-laws' Thanksgiving table. It's been one of their go-to side dishes for decades, and it couldn't be simpler. Want the secret?
Lean in close, now.
Fresh cranberries, an orange, sugar, cinnamon and a sprinkle of fresh ginger. You don't need the ginger, but I think it gives it a nice, spicy fragrance. Toss it all into your food processor, pulse it up and you're done. Insta-scrumptiousness!
This cranberry relish adds a citrusy, fresh and tangy note that a traditional Thanksgiving is otherwise missing. It's mouthwatering with roasted meats, and if there's leftover relish, I usually make it into mini cranberry cobblers. Superbly yum!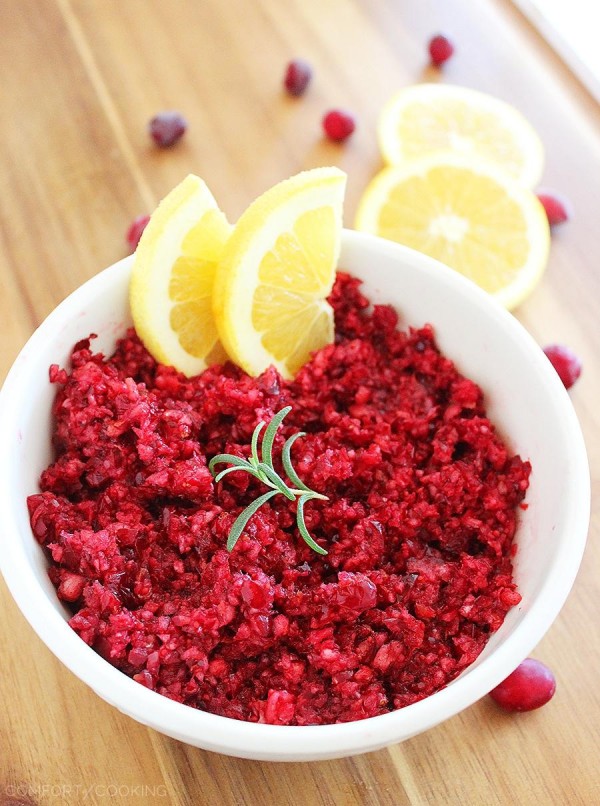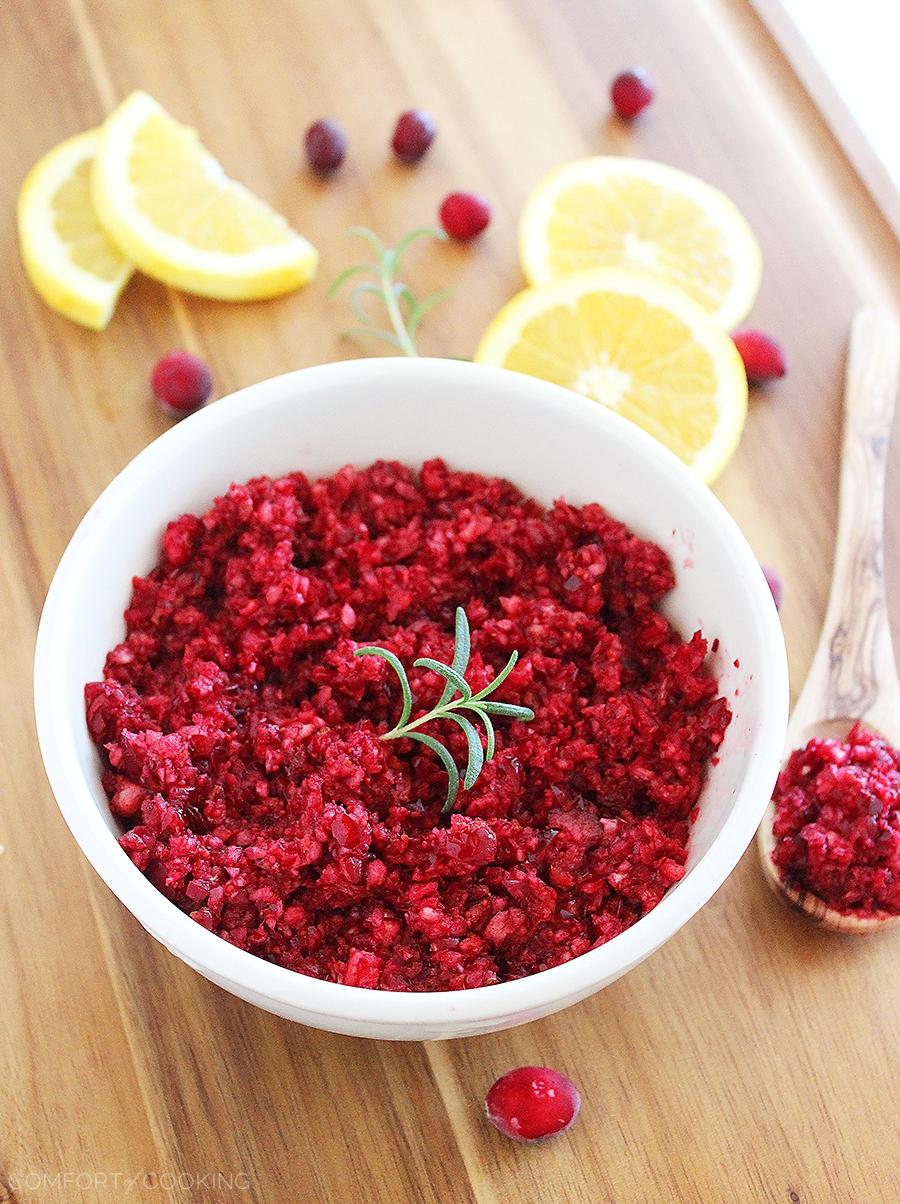 Quick & Easy Cranberry Orange Relish
Ingredients
1 navel orange
1 12 oz. bag fresh cranberries
1/2 cup granulated sugar or sugar substitute
1/4 teaspoon freshly ground ginger
1/8 teaspoon ground cinnamon
Instructions
Finely grate zest from orange. Cut away and discard peel and pith from orange, then cut sections free from membranes.
Pulse cranberries with zest, orange sections, sugar, ginger and cinnamon in a food processor until finely chopped. Chill, covered, at least 2 hours to allow flavors to develop.
Enjoy!