Gooey, hearty and totally scrumptious Crockpot Chicken Cacciatore packed with flavorful veggies! Serve it over pasta, egg noodles or rice, add a salad, and dinner is served. It's a major favorite in my house!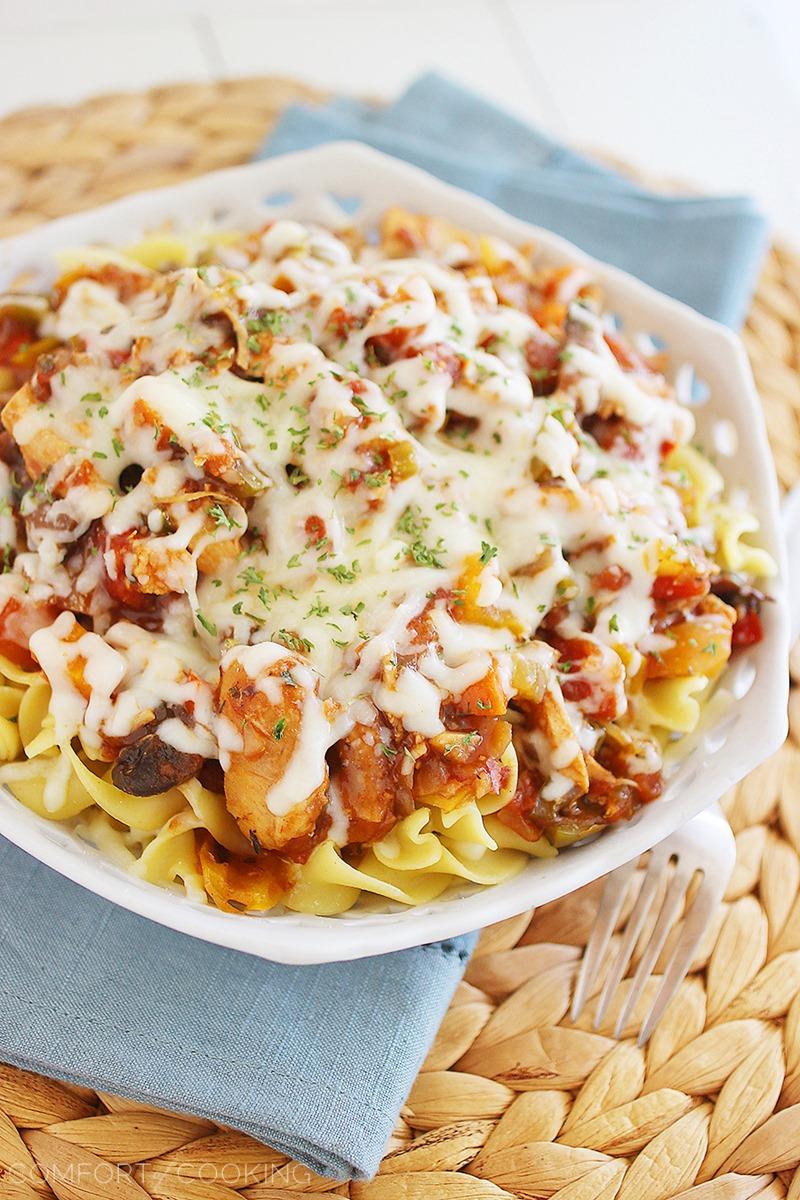 Well, I'm kicking my kitchen to the curb and trading my laptop for laps in the ocean this week! My Monday-through-Friday routine is getting a little shake up, and I couldn't be more ready. Early this morning, hubby and I are setting off for Cancun with bags of swimsuits and sunscreen, and not a whole lot else.
On the agenda? Lazing around on the beach (and everywhere possible), dipping our toes in the warm Caribbean sand, sunset watching, trashy novel reading, and splashing around like fools in the turquoise water. Definitely not a bad way to spend a typical work week, I'd say!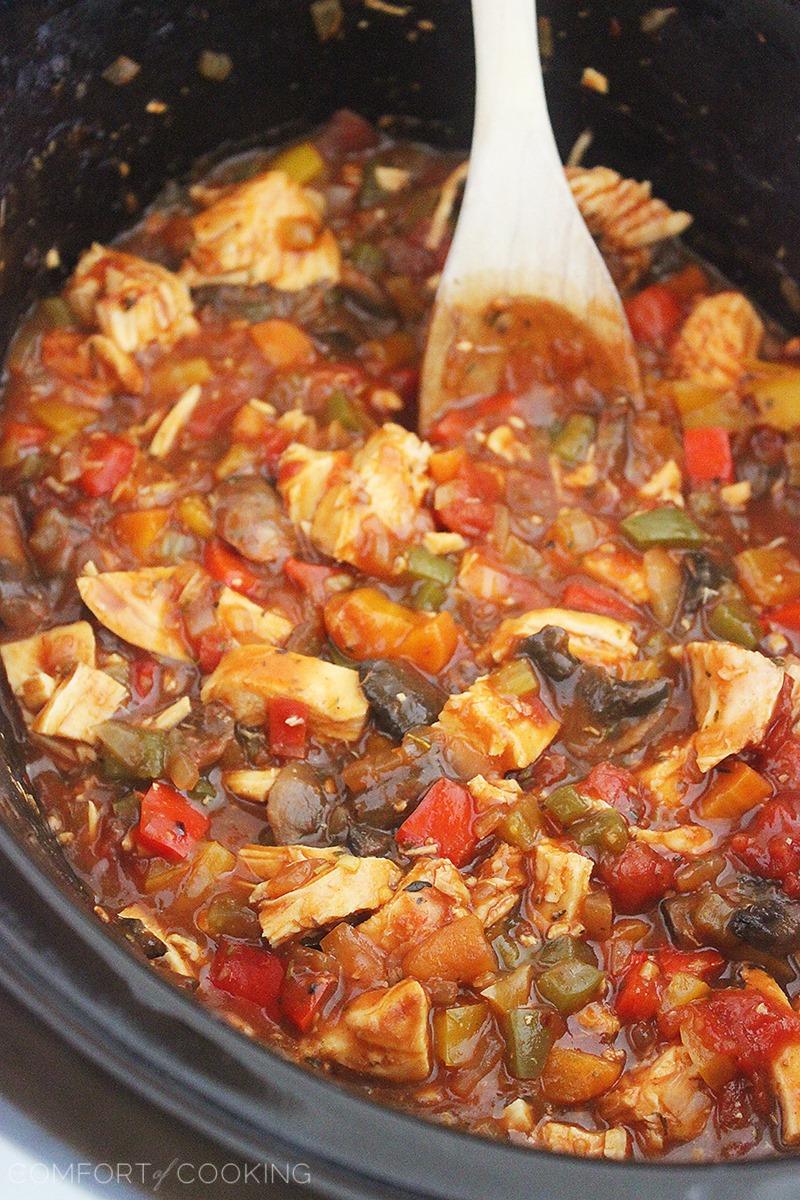 Before we go, though, I wanted to leave you with one of my favorite weeknight meals. That is, one that we really love when we're enjoying a typical weeknight!
Especially with the weather as chilly as it has been, I've been making hearty, flavor packed meals that warm you to the bone. This slow cooked chicken cacciatore with gooey mozzarella is a major favorite in my house! It's saucy, scrumptious, and sensationally easy (with a little prep work)… perfect for coming home to after a long day at the office.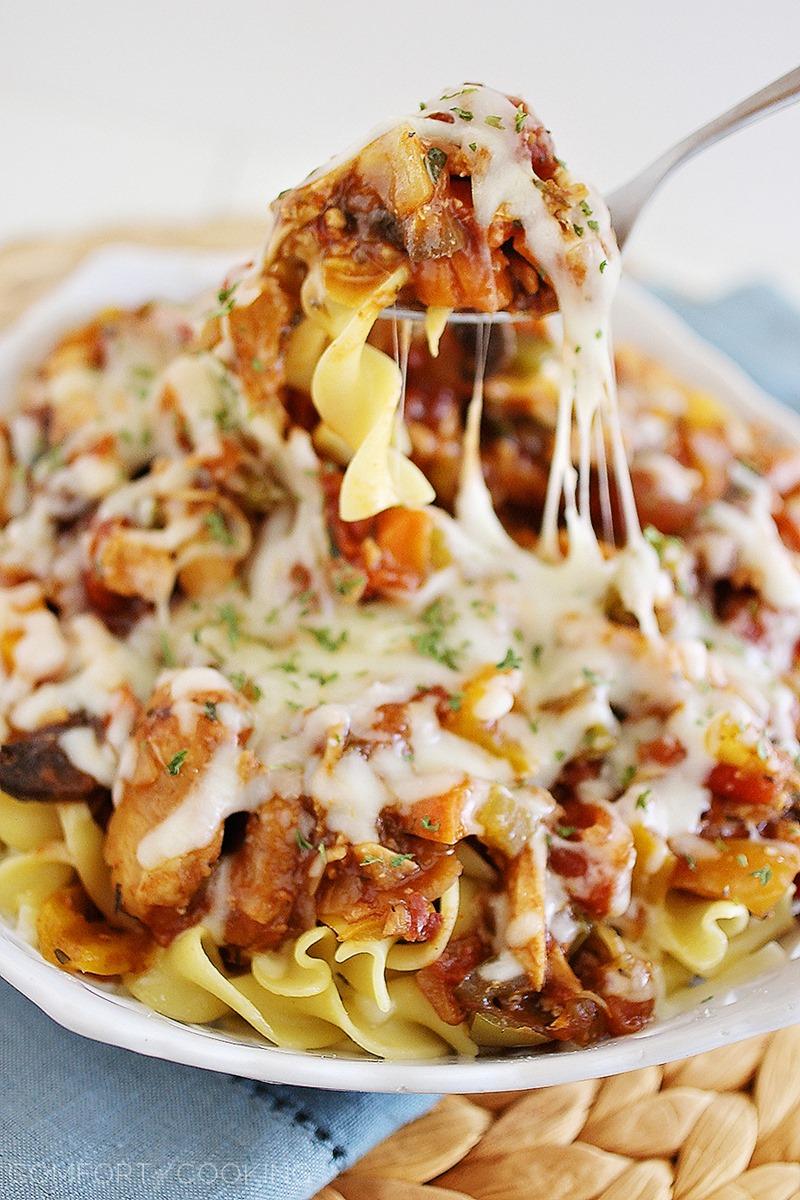 Served on a bed of warm pasta, egg noodles or rice, this meal is truly mouthwatering. Scoot a salad alongside, and you've got the perfect family dinner. The mozzarella is totally optional, of course, but if you love cheese nearly as much as we do… Well, it goes without saying that mozzarella makes the world go 'round. And heaped on top of a hot plate of cacciatore, that ain't no exception. Am I right?
Cheese it up, friends!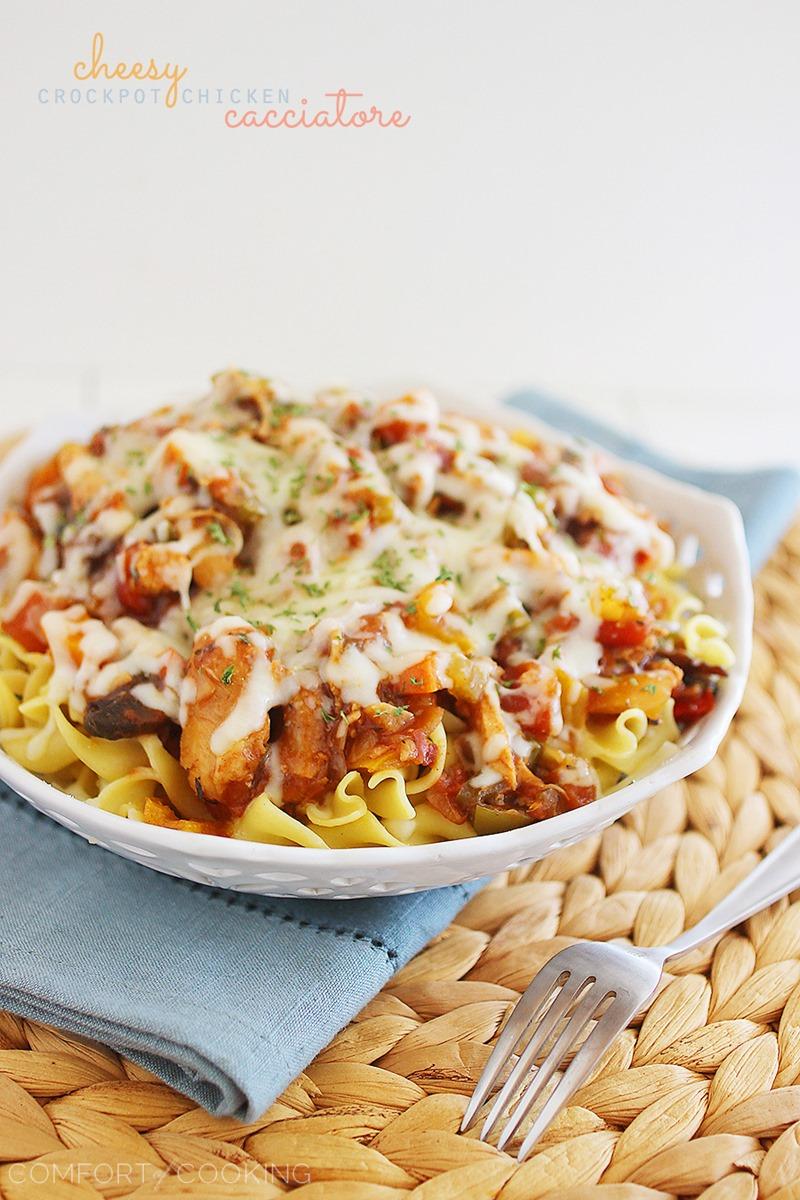 The beauty of cacciatore is all in the medley of veggies that make it so flavorful and good. Bubbling bell peppers, onions, carrots, celery, mushrooms, and garlic in a thick tomato sauce make for one amazing aroma! Tossed with tender chicken and seasonings, it's just about the greatest thing since sliced bread. One hearty forkful, and I guarantee you'll agree!
I hope you love this recipe as much as we do, and try it out for your family and friends sometime soon. I'll see you back here next Monday with a fabulous dessert to kick start your springtime sweet tooth!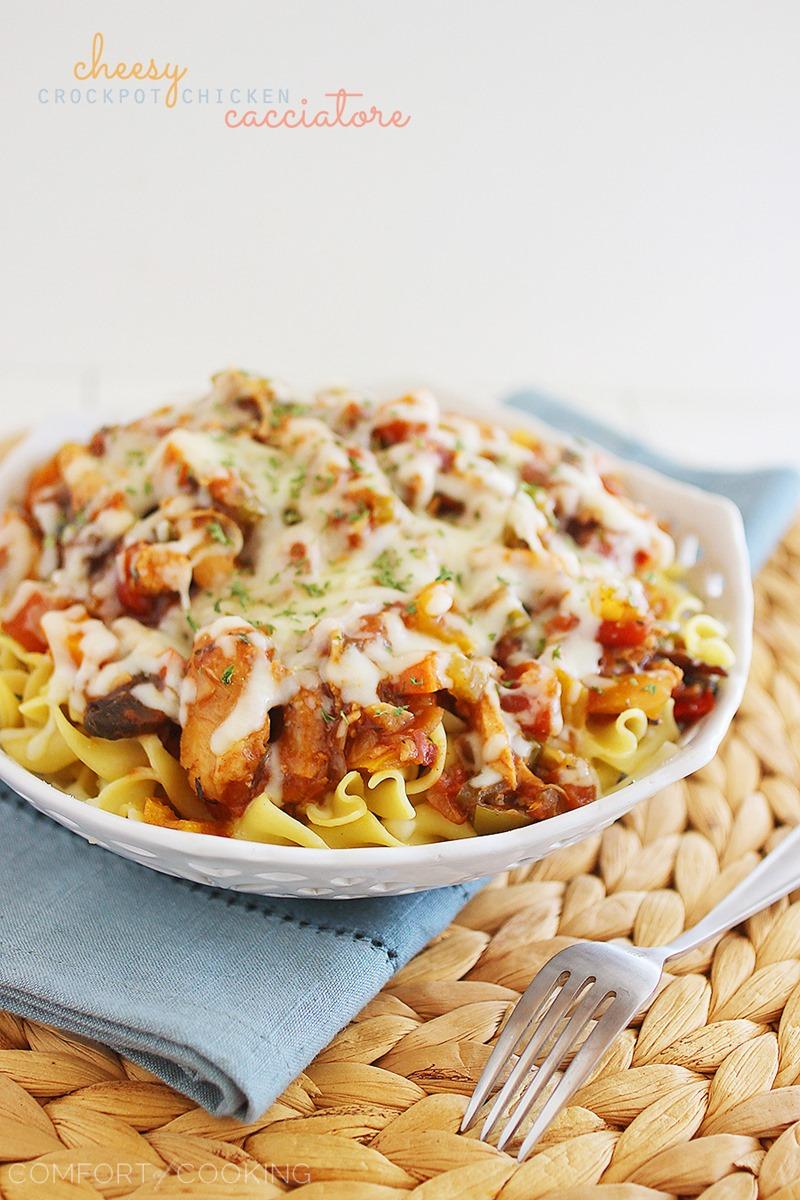 Cheesy Crockpot Chicken Cacciatore
Ingredients
1 lb. 2-3 skinless, boneless chicken breasts
1/2 green bell pepper, seeded and chopped
1/2 red bell pepper, seeded and chopped
1/2 yellow bell pepper, seeded and chopped
1/2 medium yellow onion, chopped
1 large rib celery, diced
1 large carrot, diced
1 cup sliced mushrooms
2 cloves garlic, minced
1 14.5 oz. can diced tomatoes
1/4 cup chicken broth
3 Tablespoons tomato paste
1 Tablespoon balsamic vinegar
1 teaspoon Italian seasoning
2 Tablespoons cornstarch
1/4 cup water or chicken broth
Kosher salt and freshly cracked black pepper, to taste
Hot cooked pasta, egg noodles or rice, for serving
1 1/2 cups shredded mozzarella
Instructions
To your slow cooker, add whole chicken breasts, bell peppers, onion, celery, carrot, mushrooms and garlic. Drain juice from diced tomatoes into a medium bowl; add tomatoes to the slow cooker.
To the bowl of tomato juice, add tomato paste, chicken broth, balsamic vinegar and Italian seasoning, whisking until well combined. Pour into slow cooker and stir mixture. Cover and cook on low for 6 to 7 hours, or high for 4 hours, until chicken and vegetables are tender. Remove chicken to a cutting board and shred with two forks. Add back to slow cooker.
In a small bowl, mix cornstarch and water together until no lumps remain. Pour into slow cooker and stir. Cover and cook another 10 minutes, or until the sauce has thickened. Season with salt and pepper, to taste.
Serve cacciatore over hot cooked pasta, egg noodles or rice. Sprinkle with mozzarella cheese.
Enjoy!