These are perfect additions to a holiday tray of cookies or as gifts for teachers and friends. While little ones may not be able to help you during the baking process, they can certainly aid in what my niece likes to call, "Sugar time!" Open a bag of powdered sugar and let your children have fun sprinkling the cooled cookies with a little bit of "snow."
These are perfect additions to a holiday tray of cookies or as gifts for teachers and friends. While little ones may not be able to help you during the baking process, they can certainly aid in what my niece likes to call, "Sugar time!" Open a bag of powdered sugar and let your children have fun sprinkling the cooled cookies with a little bit of "snow."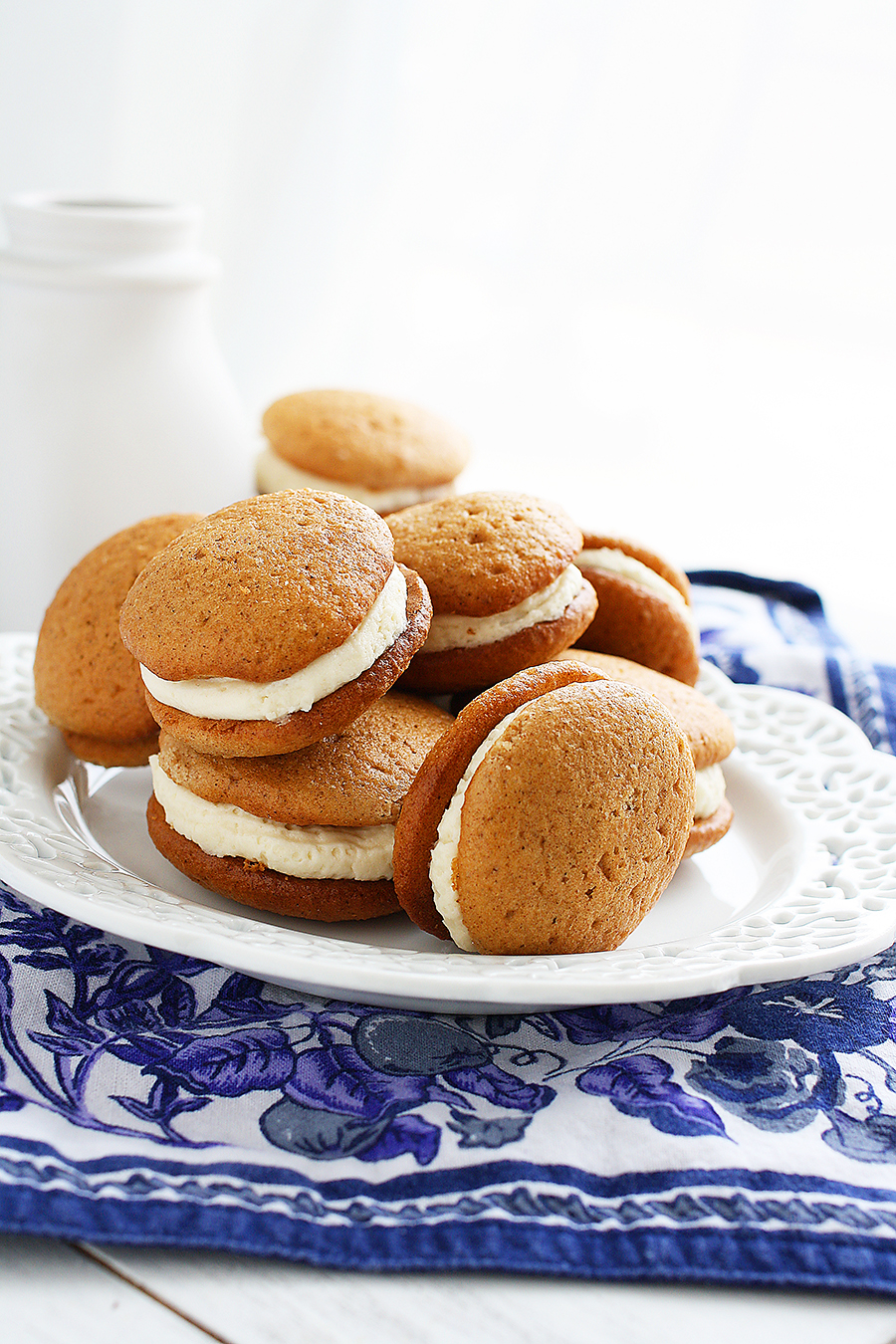 Thanks for reading along. I hope you enjoy these cookies as much as we did. I can't wait to make another batch!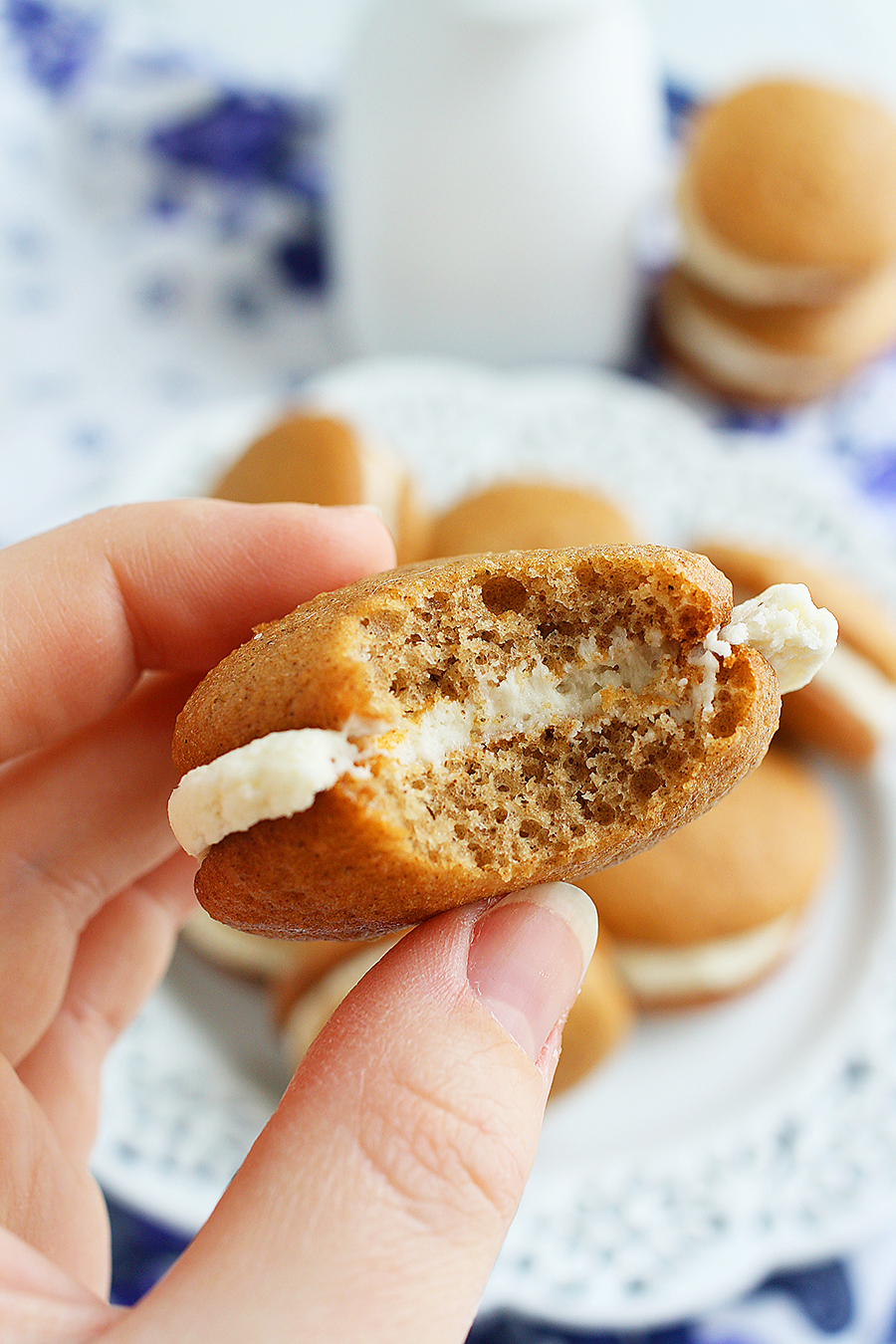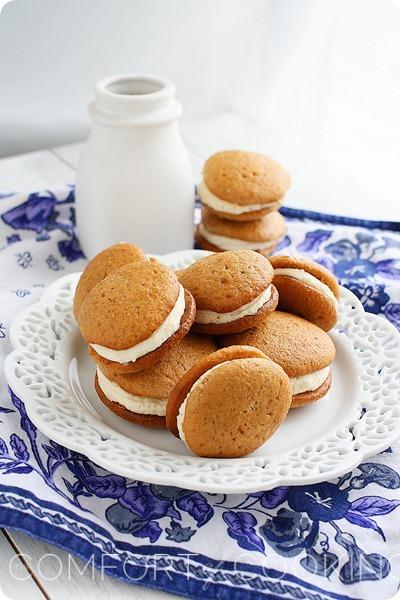 Gingerbread Whoopie Pies
Ingredients
Gingerbread Whoopie Pies
3 3/4 cups all-purpose flour
1 teaspoon salt
1 teaspoon baking soda
1 1/2 teaspoons McCormick Ground Ginger
1 1/2 teaspoons McCormick Ground Cinnamon
1/4 teaspoon McCormick Ground Nutmeg
3/4 cup 1 1/2 sticks unsalted butter, at room temperature
3/4 cup light brown sugar
1 large egg
3/4 cup molasses
3/4 cup buttermilk
Filling
1/2 cup 1 stick unsalted butter, softened
2-3 cups powdered confectioners' sugar, sifted
1/4 teaspoon McCormick Pure Vanilla Extract
Instructions
Preheat oven to 350 degrees. Prepare two baking sheets with parchment paper.
In a medium bowl, whisk flour, salt, baking soda, ginger, cinnamon, and nutmeg.
In a large bowl, cream the butter and brown sugar with a mixer until light and fluffy, about 3 minutes. Beat in egg, scraping down sides of bowl after. With mixer on low, add molasses and buttermilk. Add flour and mix only until blended; do not over-mix.
Using a small scoop or teaspoon, portion batter onto the baking sheets, spacing each about 2 inches apart.
Bake for 10-12 minutes, rotating baking sheets halfway through. Let cookies cool for 5 minutes, then transfer to wire racks to cool completely.
To make the filling: With a mixer, beat butter and powdered sugar on medium speed until fluffy, about 3 minutes. Add vanilla extract and beat for 1 more minute, until frosting is smooth and fluffy.
Make sure cookies are cooled completely then pair cookies by size. Transfer filling to a piping bag. Onto the flat side of one of each cookie pair, pipe a bit of frosting. Sandwich the cookies together.
Enjoy!