Try these super simple chocolate cookies stuffed with ooey gooey caramel… They're a delish indulgence and also make a great gift!
Simple as they may look, these scrumptious cookies really pack a punch! Soft, chewy chocolate gives way to oozy, gooey melted caramel that just begs for a tall glass of milk… AND another cookie, since it's impossible to stop at one. At least for me and everyone I shared these with!
Keep these cookies easy by stuffing them with Rolos, a chocolate-caramel candy you can find at most grocery checkouts. Just mix up the chocolate batter, roll it into balls, stuff a Rolo inside, and roll them in a bit of sugar. For a delicious sweet-salty twist, top them with a tiny bit of sea salt and bake 'em up!
These cookies make an indulgent gift for family and friends, or just to reward yourself for surviving the holidays!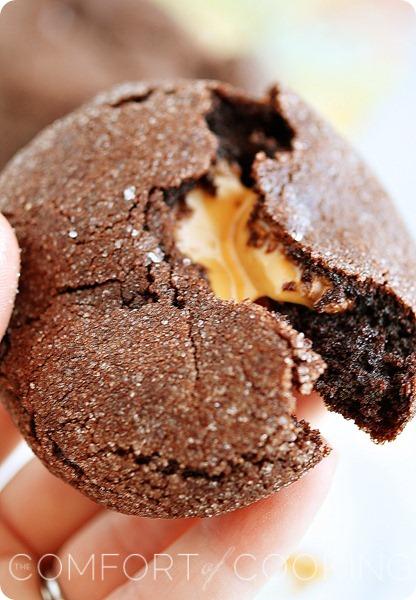 Salted Caramel Chocolate Cookies
Ingredients
1/2 cup granulated sugar
1/2 cup brown sugar
1/2 cup 1 stick butter, softened
1 large egg
1 tsp. vanilla extract
1 1/4 cups all purpose flour
6 Tbsp. unsweetened cocoa powder
1/2 tsp. baking soda
20-24 chocolate-covered caramel candies, such as Rolos, unwrapped
1/4 cup granulated sugar
1 Tbsp. kosher or sea salt, optional
Instructions
Preheat oven to 375 degrees F. Line a large baking sheet with parchment paper.
In a large bowl combine sugar, brown sugar, butter, eggs and vanilla. Mix together until well blended. Add flour, cocoa powder and baking soda; mix well.
Cover bowl with plastic wrap and refrigerate dough for 30 minutes.
Roll dough into balls and place 1 chocolate-covered caramel candy in the center of each dough ball. Form the dough ball around the candy and roll each in sugar. Place on ungreased baking sheet and compress slightly with the bottom of a dry measuring cup. Sprinkle with a tiny pinch of salt, if desired. (This really brings out the sweetness of the caramel)
Bake for 8-10 minutes. Let cool for 2 minutes then transfer cookies to a cooling rack.
Enjoy!