Got lots of jalapeños? Give these quick & easy pickled jalapeños a go, and you'll be using them year-round on sandwiches, dips, salads and plenty more! I like to chop them up and stir them into my favorite Mexican dishes (incl. burritos, tacos, and enchiladas) for a spicy kick!
Now that the traditional turkey dinner is over, don't you think it's about time we spice things up a bit? I know I could use a few scoops of salsa to offset all the sweet potatoes and stuffing!
These quick and easy pickled jalapenos aren't just for spicy Southwestern dishes though… They add a zesty zip to plenty of dishes, from burgers to soups, dips to salads and plenty more. Toss 'em in cornbread too!
These are fun to make, but here are some hot tips to keep it easy for ya… For the sake of your contact lenses (we've all been there), PLEASE remember to wear gloves when chopping up the jalapenos. If you've got one, flip on the fan over your stove too. That vinegar mixture can get mighty pungent!
After just 15 minutes, this is what you'll get! Pretty, huh? You betcha. And pretty spicy too! But give these a week and the peppers will be fully pickled and much more mild.
I love them on my Sonoma Chicken Salad Sandwiches. Delish!
If you've got a gorgeous crop of jalapenos rip for the pickin', or in my case a friendly neighbor who wanted to share, make these Easy Pickled Jalapeños! You and whoever you gift them to will love to use them throughout the year.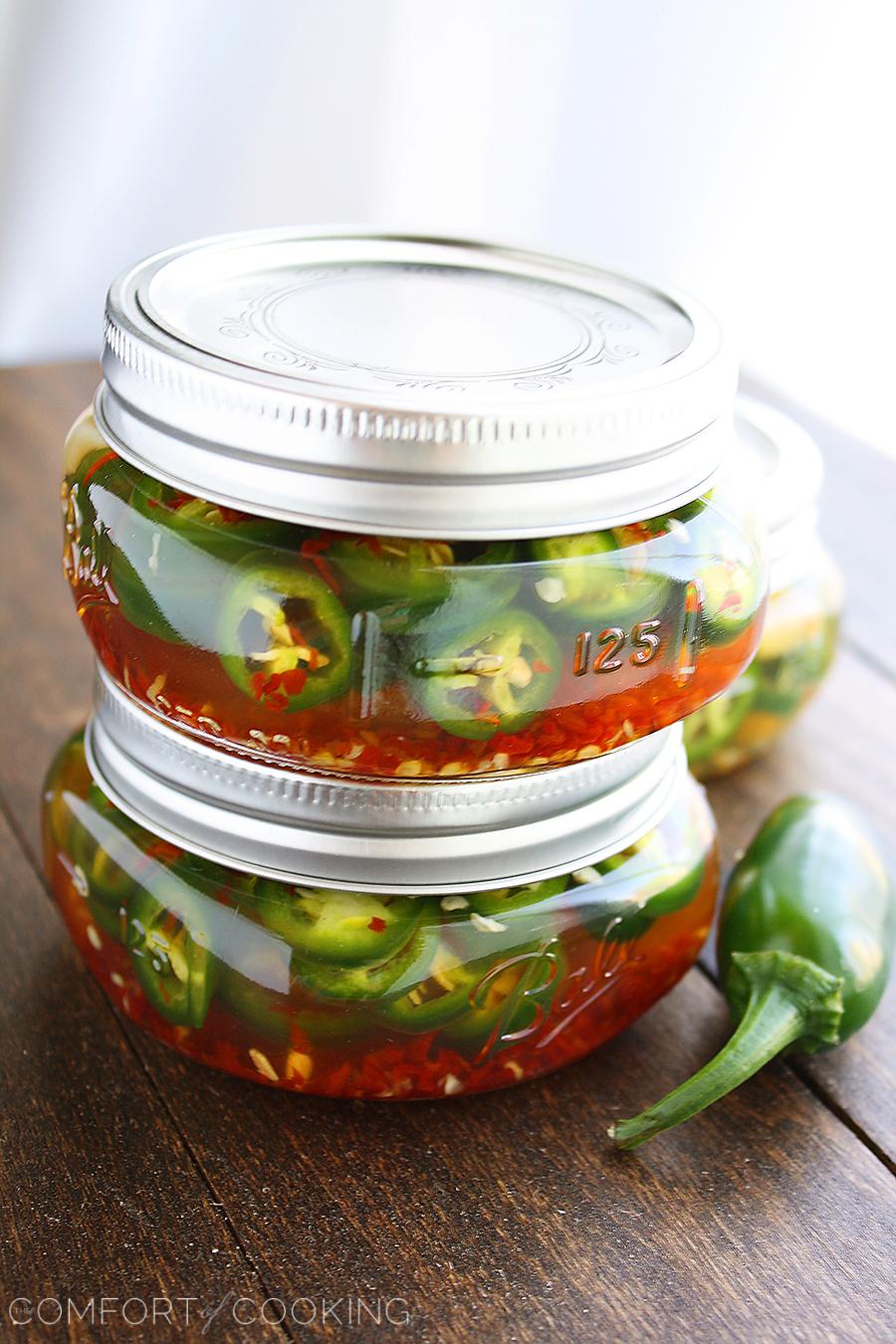 Easy Pickled Jalapeños
Ingredients
3/4 cup water
3/4 cup distilled white vinegar
3 tablespoons granulated sugar
1 tablespoon kosher salt
1 clove garlic, crushed
1/4 teaspoon oregano
1/2 teaspoon crushed red pepper flakes
10 jalapeno peppers, sliced
Instructions
Combine all ingredients, except jalapeno slices, in a medium saucepan. Bring mixture to a boil. Remove from heat. Let mixture cool for 10 minutes.
Divide jalapeno slices equally between jars. Pour vinegar mixture evenly over each jar, cover tightly and refrigerate.
Pickled jalapenos will be ready to use after one week. Store in the refrigerator.
Enjoy!