This delicious slow cooked, skinny Santa Fe chicken can be dished over rice, tortillas or in a lettuce wrap for a healthy meal!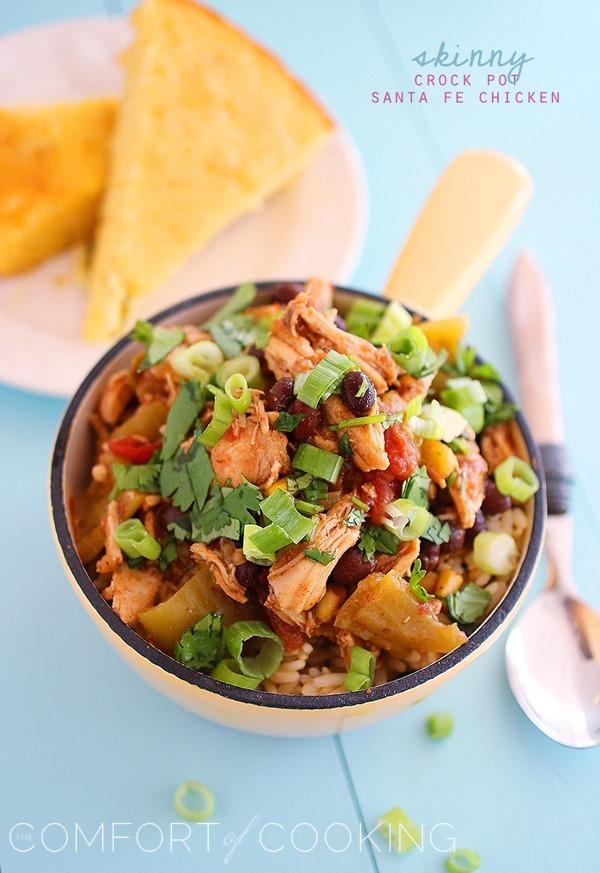 How was your weekend? Did you have a nice, long and lazy one?
Over here, it was a little slice of heaven. From last Thursday onward, you couldn't find my hubby or I anywhere near our computers, phones or TV. It was all about chilling out and grilling out, and enjoying the good people, food and drinks around us! We watched friends' backyard fireworks sparkle for the 4th, swam so much you'd think we had gills, and ate ourselves into a fat, happy coma. Total bliss!
… And I intend on taking it slow as we ease back to the workin' world this week. Le sigh.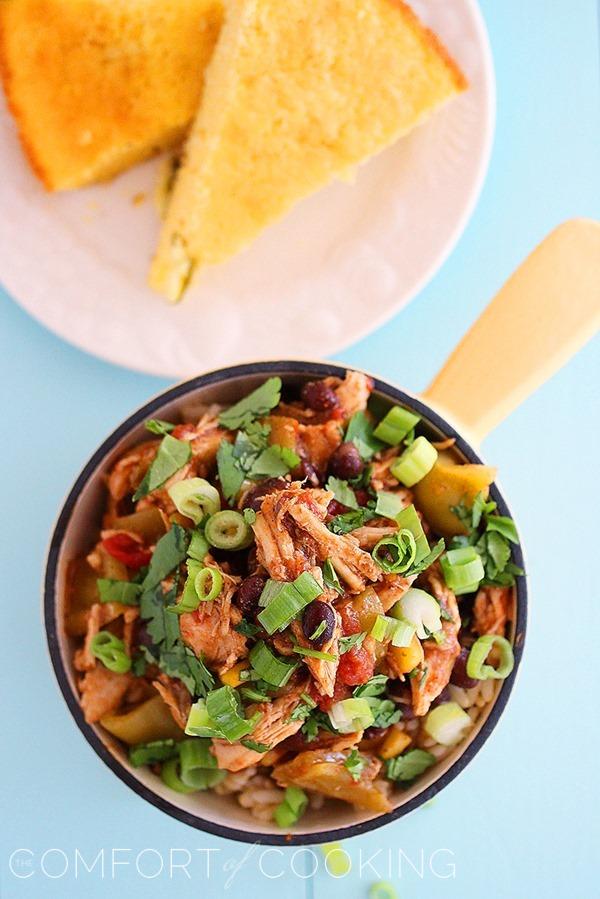 For days when you can't be bothered, slow cooker meals are the perfect solution. They're easy to whip up, ya got leftovers for days, and with the right ingredients, they can be made skinny enough to enjoy during swimsuit season! At just 190 calories and 21 grams of protein per serving, this is one meal I'll be mixing up not only this summer, but throughout the whole year.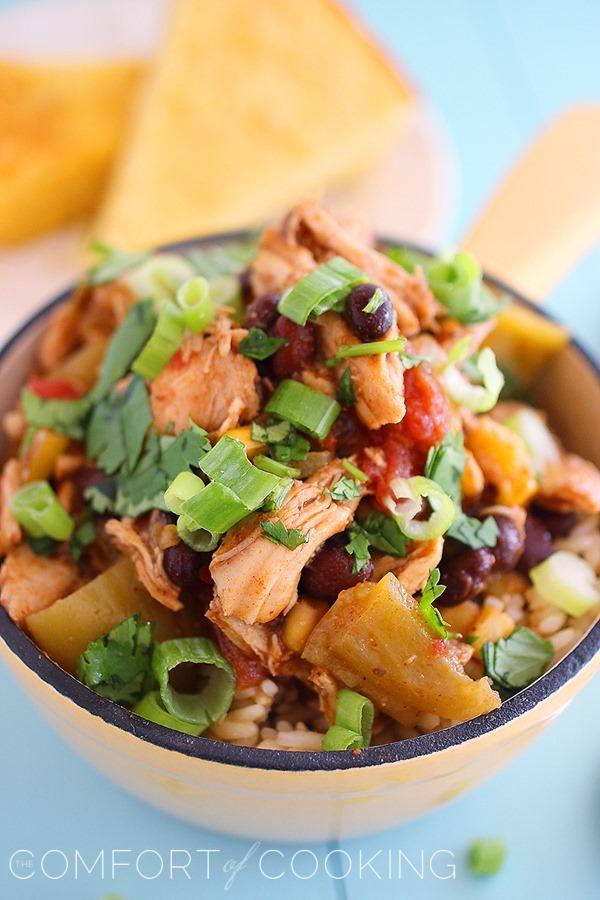 I am just in love with how easy and adaptable this scrumptious Skinny Santa Fe Chicken is. Just toss a bunch of pantry staples and spices in your slow cooker along with beans, bell peppers, corn and diced tomatoes, and a delicious dinner is done in as little as 4 hours!
Scoop it on top of brown rice, wedge it into a lettuce leaf for a healthy wrap, or stuff it into a tortilla. Top it with chopped scallions and cilantro for a fresh kick. You can also add reduced-fat cheddar cheese, plain fat-free yogurt or light sour cream, and add crushed tortilla chips for a crunchy, salty bite. I love to serve this meal alongside my Jalapeno Cornbread with Honey-Lime Butter! Not skinny but so good.
However you dish it up, you will love this delish, easy CrockPot meal for weeknights or crowds!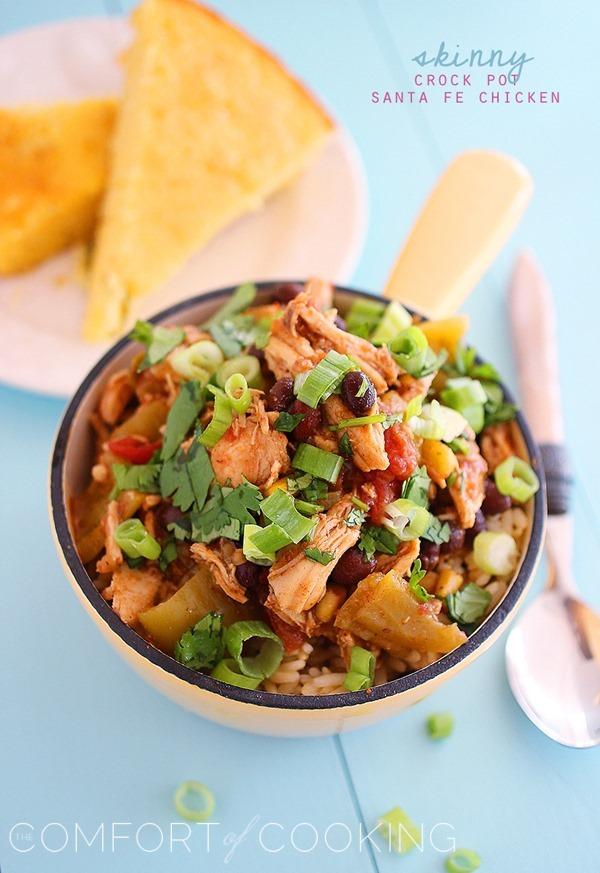 Skinny Crock Pot Santa Fe Chicken
Yield:
8 (1 cup) servings
Ingredients
1 lb. about 2 boneless skinless chicken breasts, trimmed of fat
1 14.5 oz. can diced tomatoes with mild green chilies*, drained
1 15 oz. can black beans, drained and rinsed
1 1/2 cups 12 oz. low-sodium chicken broth
1 cup 8 oz. frozen corn
1 large green bell pepper, chopped into 1/2-inch pieces
1/2 teaspoon kosher salt
1/4 teaspoon freshly cracked black pepper
1 teaspoon each: chili powder, garlic powder, onion powder, ground cumin, cayenne pepper (or to taste)
1/4 cup chopped fresh cilantro
6 scallions, chopped
Ideas for serving (optional):
Cooked brown or white rice, tortillas, lettuce leaves, (make a wrap!)
Additional scallions and/or cilantro
Shredded reduced-fat cheddar cheese
Crumbled queso or cotija
Chopped red onion
Crushed tortilla chips, adds a salty crunch!
Light sour cream or fat-free plain yogurt
Instructions
Combine all ingredients except cilantro and scallions in your slow cooker. Nestle chicken into mixture and cook on low for 8-10 hours or high for 4-6 hours.
Half an hour before serving, remove chicken and shred with two forks. Return chicken to slow cooker and stir. Adjust salt and seasoning to taste. Stir in cilantro and garnish with scallions.
Serve over rice, tortillas, or large lettuce leaves to make a lettuce wrap. Add your favorite toppings.
Enjoy!