Mini pizzas on homemade thin crust dough + tons of topping ideas! These little bites are perfect for parties and fun for weeknights!



One of the best things about knowing how to cook is that you turn whatever's in your fridge into a fabulous, delicious appetizer for friends and family!
With a batch of freshly made pizza dough, mozzarella, sauce, and a few of my favorite toppings, these little two-bite pizzas were easy to make and a total hit. Well… I didn't have a chance to taste more than one of them, but if there weren't guests to feed you could bet I'd have gone back for more!

I like to make my pizza dough at home – There's something that knocks my socks off about watching a bunch of simple ingredients turn into a puffy, cloudlike ball of bready goodness! Plus, you can add in dried herbs or grated cheese and give it a little extra flavor than the store bought stuff.
Read up on how to get these perfect mini pizza circles in the recipe below.

Now onto the good stuff! Sometimes you just gotta use what you got. This time, it was roasted red peppers, spinach, ham, and a thoroughly loved block of Asiago cheese. Oh, Asiago I love you.
Onto the pizza they went, along with freshly grated ribbons of shredded mozzarella and a swirl of my favorite pasta sauce. You can use pizza sauce, too, or do it up homemade with your bad self!

After baking for about ten minutes, these bubbling hot beauties were ready for munching – and boy, did they go fast!
Get inspired with plenty of creative topping ideas below, including different meats, vegetables, cheeses and more than you may not have tried before. I love to get funky with different flavors, and pizza is a great canvas for experimenting!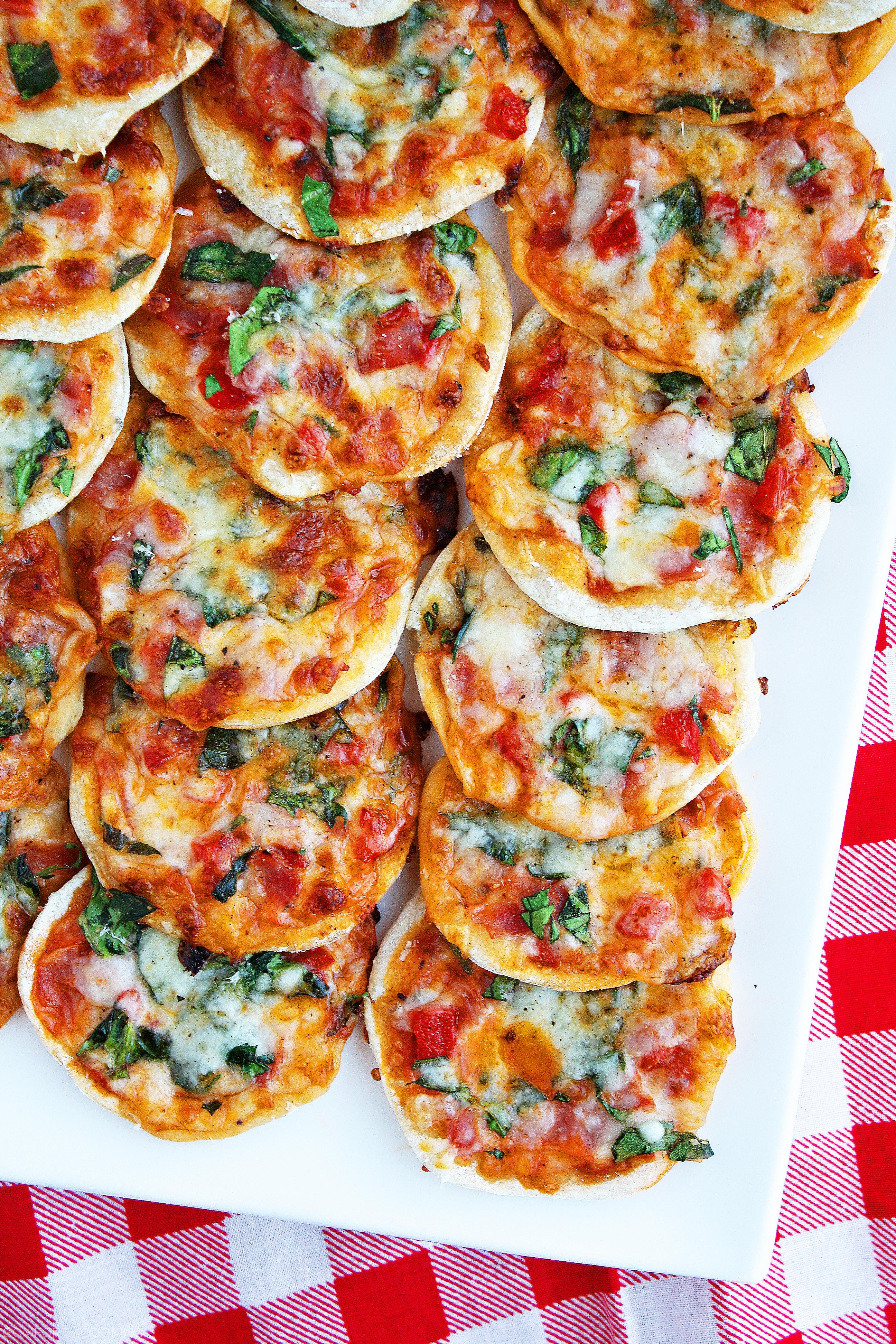 Make Your Own Mini Pizzas
Yield:
18 to 20 mini pizzas / 2 balls pizza dough
Ingredients
Mini Pizzas
1 ball refrigerated pizza dough, store bought or homemade (see recipe below)
1 cup pizza sauce or jarred pizza/pasta sauce
Your desired toppings, see below for ideas
Topping Ideas
Cheese: Mozzarella, Mexican cheese, Asiago, Parmesan, Romano, bleu cheese, feta, provolone
Meat: Chicken, Italian sausage, bacon, ham, beef, chorizo, pepperoni, prosciutto, shrimp
Vegetables: Tomatoes, artichokes, roasted red peppers, onions, green peppers, jalapenos, spinach, cherry tomatoes, olives, mushrooms, banana peppers, squash, sweet corn, peas, avocado
Other: Pineapple chunks, black beans, fresh basil, garlic, sprouts, capers
Pizza Dough
1 1/4 oz. envelope yeast
1 1/3 cups warm water
3 1/2 cups all purpose flour
2 tsp. salt
1 tsp. sugar
2 Tbsp. extra-virgin olive oil
Chopped dried herbs, such as basil, oregano or rosemary, optional
Instructions
To assemble pizzas:
Preheat oven to 400 degrees F.
Line a large baking sheet with parchment paper or nonstick aluminum foil. Place pizza dough on a well-floured surface, press dough firmly with your fingers to shape, and stretch gently into a 12" x 8" rectangle.
With a round cutter, cut dough into 18-20 rounds; place rounds 1 inch apart on baking sheet. Top each with pizza sauce, cheese, and your desired toppings.
Bake mini pizzas for 8-10 minutes, or until cheese is melted. Serve immediately.
To make pizza dough:
Stir together yeast and warm water in a small bowl; set aside for 5 minutes.
Mix together the flour, salt, sugar and olive oil in a large bowl, or the bowl of a stand mixer fitted with the dough hook. Optionally, add dried herbs like basil, oregano or rosemary. Stir in the yeast water. Knead with the dough hook or by hand on a well floured surface for about 5 minutes. If using the stand mixer, once finished kneading, remove dough from bowl and shape into a large ball by hand.
Oil two bowls lightly with olive oil and set aside. Divide the dough into two pieces and roll into balls. Place each ball into the oiled bowls, seam side down, and coat the tops with a little olive oil. Top each bowl with plastic wrap or a clean, dry towel and place the dough in a warm place (I use an oven preheated to 250 degrees F, then turned off). Let rise 2 hours.
Once risen, either use immediately by turning dough out onto a floured surface and shaping. Or, wrap dough in plastic wrap, then a plastic bag, and freeze or refrigerate to use later.