Cool off with an icy cold, fresh watermelon martini with fresh lime juice and vodka! There's no better summery sip.
Lately, I haven't been able to stop daydreaming about frosty New England falls, big mugs of hot cocoa and fuzzy sweaters! What can I say, I'm a cold weather girl at heart. But, if there's one thing that can distract me away from my winter weather wonderings, it's an icy cold, fresh watermelon cocktail with a citrus twist. No sweater required!
I may tend towards tundra-like temperatures, but the mere mention of watermelon gets me excited for summertime all over again. Forget warm mugs of tea and sweaters big enough to get lost in – give me frilly skirts, this smooth, sinful cocktail and a straw with an umbrella! … And maybe a pool boy bearing an armful of sunflowers, too?
This tasty 'tini is hardly sinful at only 90 calories! Just combine fresh watermelon, citrus vodka and your favorite liqueur – orange, lemon, or melon will do. Limoncello would be a great accompaniment, too!
Topped with a splash of lime juice and a sugared rim, this watermelon martini is as delicious and summery a cocktail as they come. Make yours pretty with a sliced lemon, lime or orange, or for an cute and creative touch, freeze a couple chunks of watermelon for fruity ice cubes! Cheers!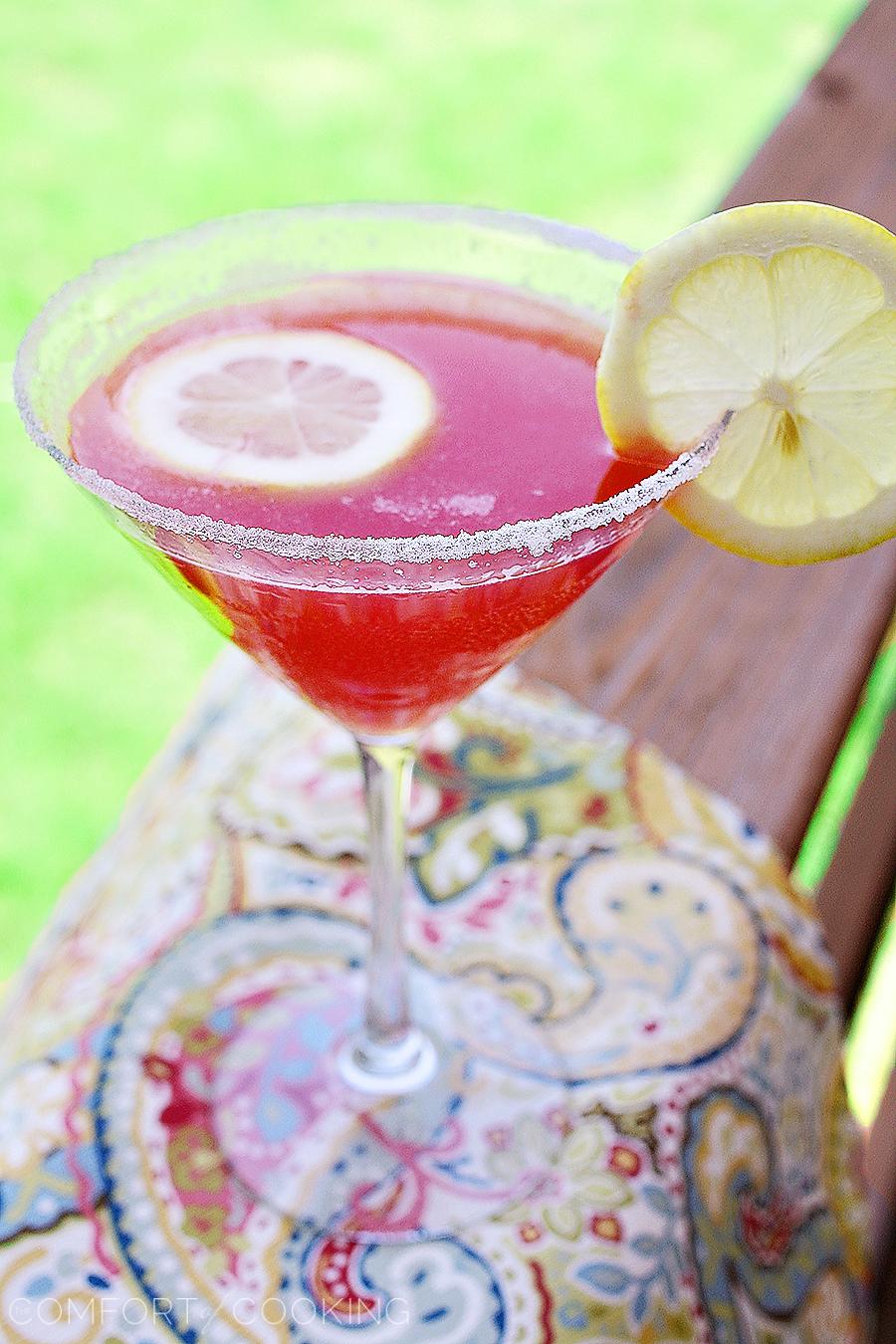 Citrus Watermelon Martini
Ingredients
3 cups seedless watermelon, cut into cubes
2 oz. citrus vodka, recommended: Absolut Citron
1 oz. orange, lemon or melon liqueur
1 oz. fresh lime juice
1 cup ice cubes
For garnish:
Granulated sugar or salt
Lemon, lime or orange wedges
Instructions
In batches, puree watermelon cubes in a blender until smooth. Pour through a fine-mesh sieve into a liquid measuring cup, pressing on solids to extract liquid; discard solids. Add liquid back to blender. Add vodka, liqueur, lime juice and ice; blend well.
To rim the martini glass with sugar or salt: Smooth out a thick layer of sugar or salt onto a surface wider than your glass. Go around the rim with a bit of lime juice. Press the top of the glass into the sugar or salt and gently rotate until coated.
Fill each martini glass and garnish with slices of your choice citrus.
Cheers!