On the side of soups, salads or your favorite Italian dishes, enjoy this easy, fluffy garlic bread with fresh parsley and Parmesan!
Blindfold me, spin me around, hell, tie my hands behind my back and I could still make this mouthwatering batch of garlic bread! I'd say I know this recipe better than any, but it's hardly a recipe. It's more like five ingredients, ten minutes, and a whole lotta delicious payoff!
When I needed to impress my first big city boyfriend, I made him chicken parmesan. After he married me, I made him this garlic bread. See what I did there? Made him wait for the REALLY good stuff. Take notes, ladies!
This is as easy as it gets for garlic bread, and I promise you'll never go back to your other recipe. Just pick up a French bread loaf from the grocery store, slice it up, make a mixture of butter, garlic powder, chopped parsley and salt, and slather each slice. Wrap it up, bake it up and eat it up! Simple as that.
It's worth noting that I don't use fresh garlic because, 1) I find that garlic powder gives off a stronger taste and aroma, and 2) it's just too damn time consuming – who has time to wait for this garlic bread to get in their mouth?
If you must, mince up a couple cloves and toss them into the butter mixture. Be all fancy like that.
Serve it with Italian dishes and soups, stews and salads, or if it's been one of those days, just serve it to yourself. Some days just demand no carb be left behind. Take a stand!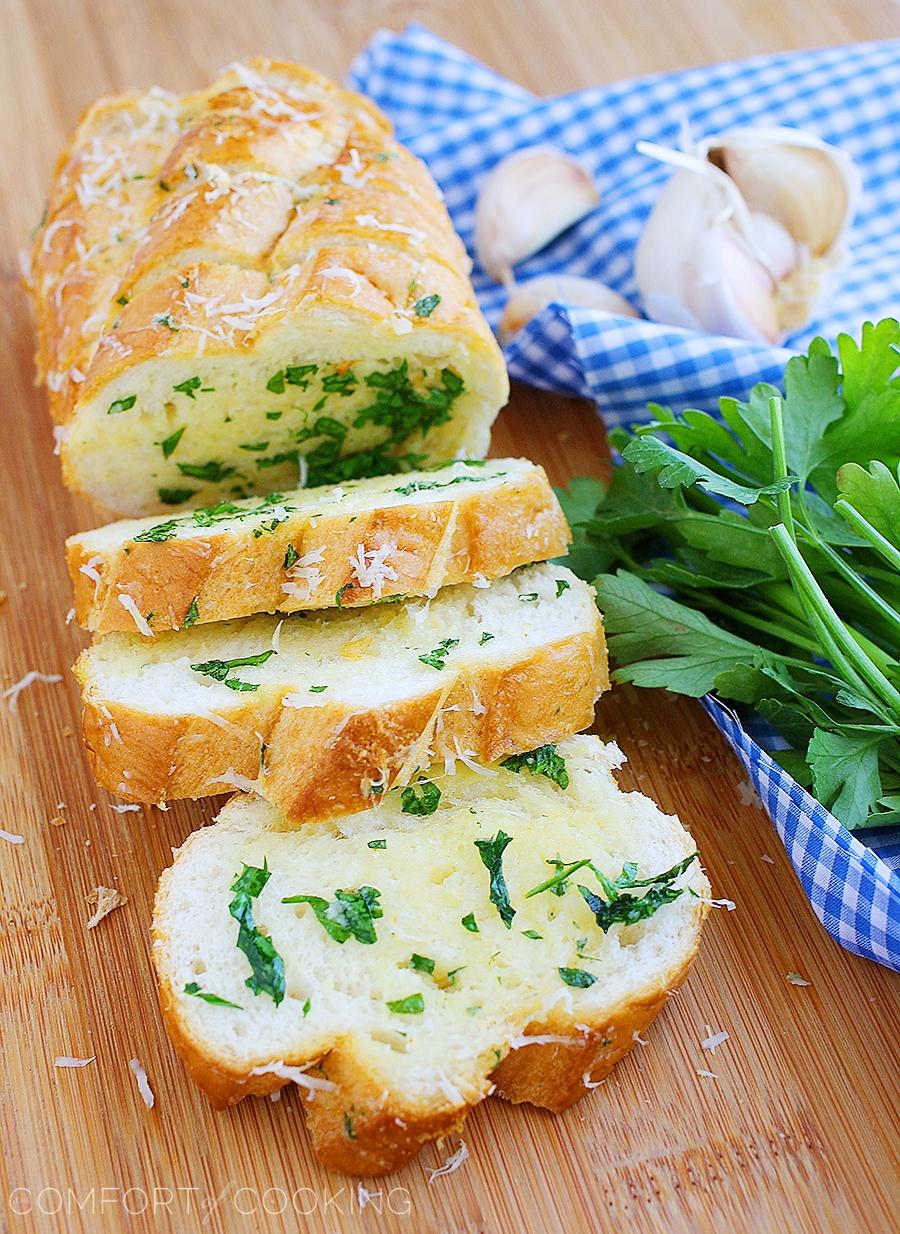 Parmesan Herb Garlic Bread
Ingredients
1/2 loaf French bread
1/4 cup unsalted butter
1 teaspoon garlic powder
1/4 teaspoon kosher salt
1/4 cup chopped parsley
1/3 cup freshly grated Parmesan, divided
Instructions
Preheat oven to 375 degrees F. Prepare a large piece of aluminum foil; set aside.
Mix together butter, garlic powder, salt, parsley, and half the Parmesan. Make deep, even cuts into bread, about 1/2 inch apart, without cutting through bottom. Spread butter mixture inside each slice; spread remaining butter on the outside of the loaf.
Place bread on top of aluminum foil. Top with remaining grated Parmesan. Gather up sides of aluminum foil to make a packet for the loaf, leaving a small slit at the top.
Bake for 10-15 minutes, or until the top is crisp and inside is soft and fluffy.
Enjoy!