Bake a batch of these super soft, gooey cinnamon rolls to make your weekend wonderful. Is there anything better than a warm cinnamon roll with a cup of coffee after all? It's my best (and easiest) recipe, and now it's yours.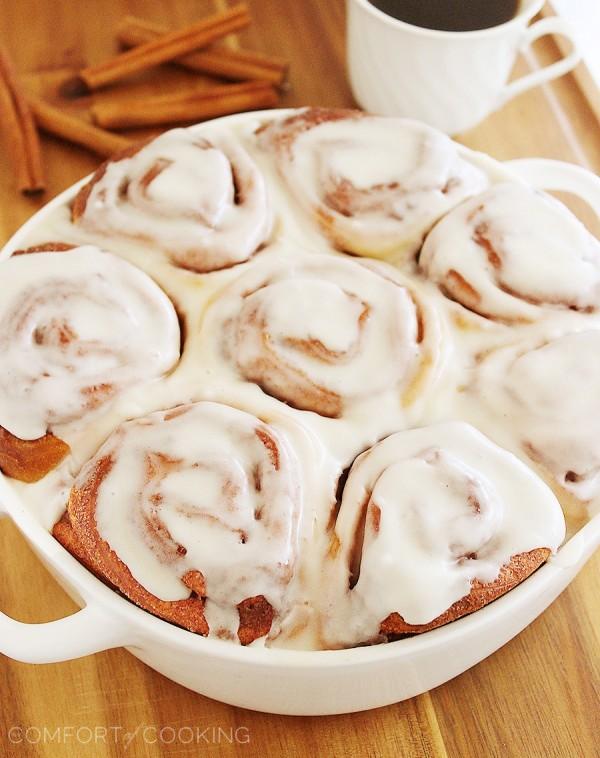 The sun outside may still be scorching away, but inside I've created a cozy fall oasis! I've got my chunky knit sweaters, pumpkin candles burning, and the oven churning out delicious, warm goodies. And all it takes is a thermostat set to keep my house feeling like the inside of a freezer! Just don't tell my hubby the dial sits at 60° F in here all day…
Ah, I wish! Of course, with a little munchkin to think of, I can't keep the house quite as cool as I like. But, we'll get to throw open the windows and feel a cool breeze soon enough. In the meantime, I'll keep pretending it's fall, pawing at my comfy sweaters and baking batches of fluffy cinnamon rolls.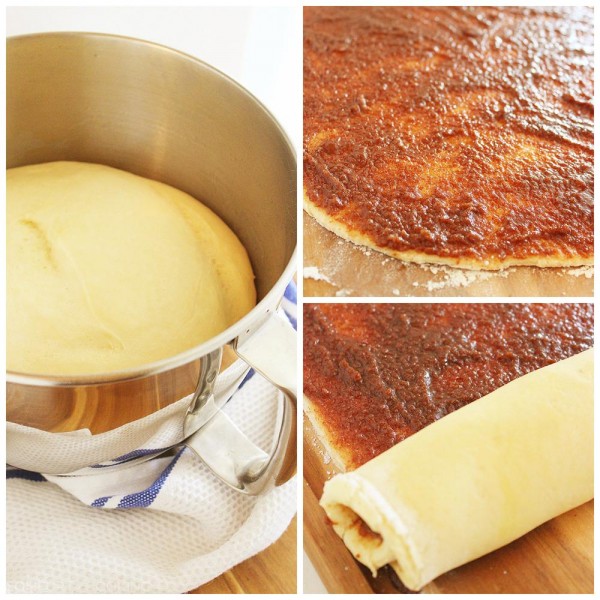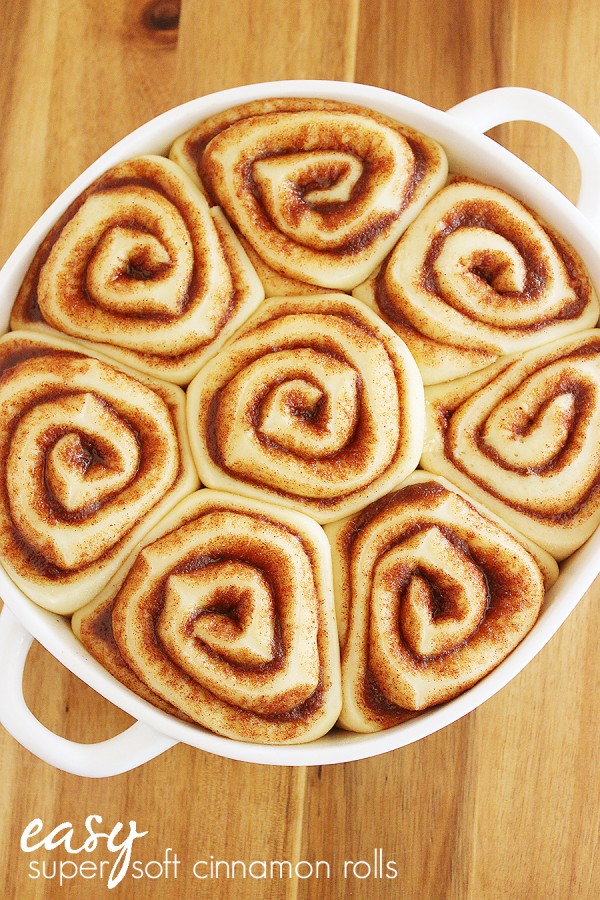 As an avid fan of fall and all things cinnamon, I've made mountains of homemade cinnamon rolls since I started experimenting. And these, my friends, have to be the BEST I've ever eaten. They're also one of the easiest recipes from scratch I've come across.
Though the canned variety will do in a pinch, there is truly nothing like the taste of a warm, gooey cinnamon roll made with love. And slathered in icing, of course. Fresh from the oven and served with a cup of coffee or tea, these babies are heaven on Earth. Every layer is full of flaky, buttery goodness and warm cinnamon-sugar flavor.
Bake these for a special breakfast or brunch treat one chilly morning, especially if you're feeding lots of holiday guests. I know you (and whomever's lucky enough to enjoy them with you) will agree these cinnamon rolls are second to none!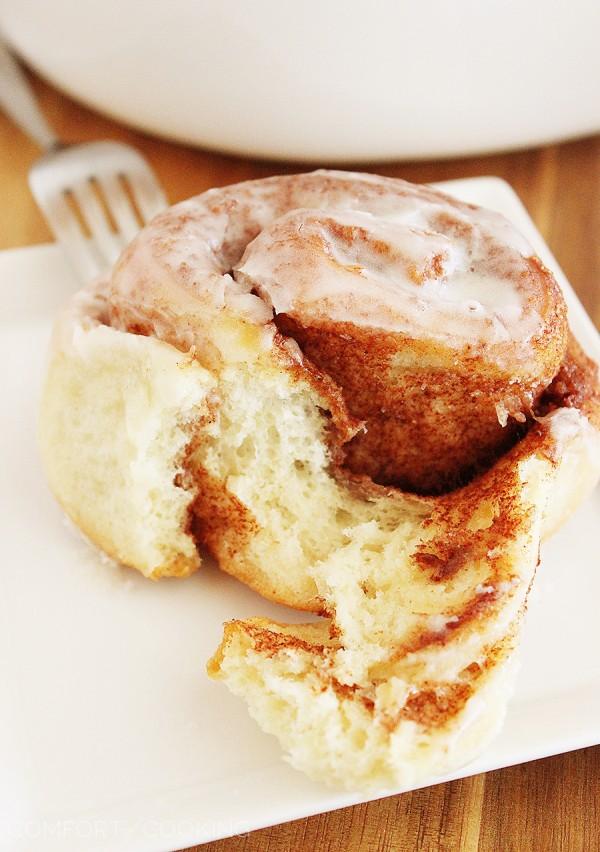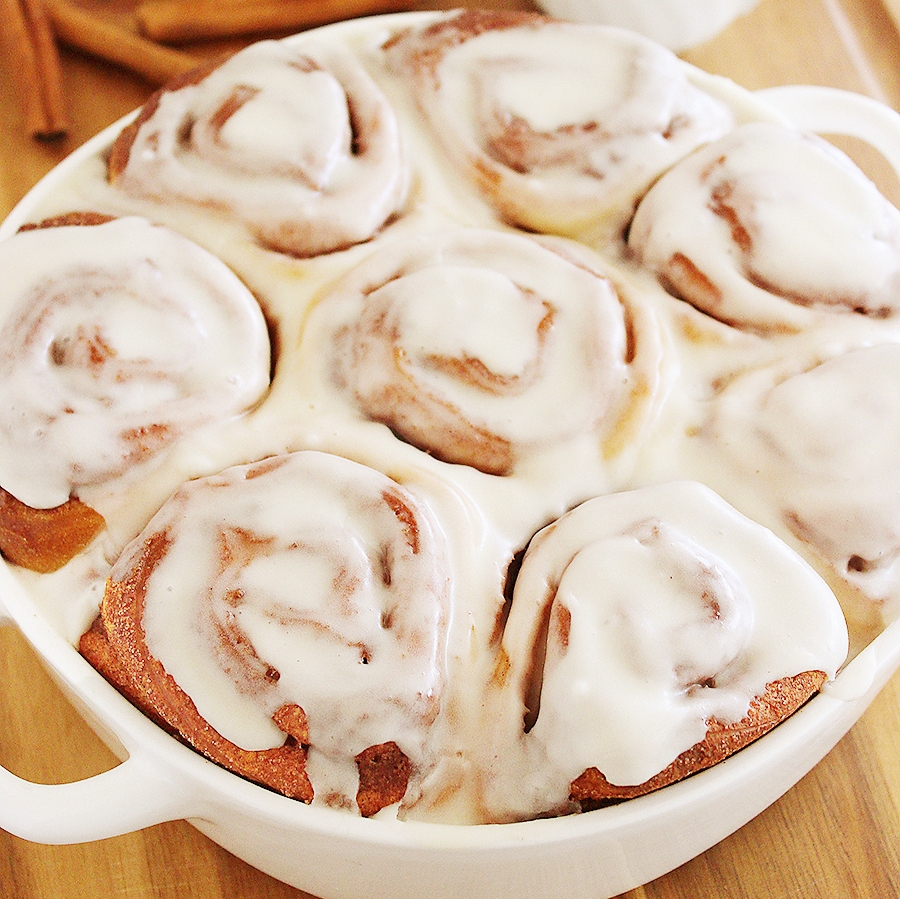 Easy Super Soft Cinnamon Rolls
Yield:
8 to 10 cinnamon rolls
Ingredients
For the Dough:
1/4 ounce package yeast
1/2 cup warm water
1/2 cup warm milk
1/4 cup granulated sugar
1/3 cup unsalted butter, melted
1 teaspoon kosher salt
1 large egg
3 to 3 1/2 cups all-purpose flour
For the Filling:
1/2 cup melted butter
1/2 cup brown sugar
2 Tablespoons ground cinnamon
For the Glaze:
3 Tablespoons unsalted butter, softened
1 cup powdered sugar
1/2 teaspoon vanilla extract
3 Tablespoons milk
Instructions
For the Dough: In a small bowl, dissolve yeast in warm water and set aside.
In a large bowl, or the bowl of your stand mixer fitted with the paddle attachment, mix milk, sugar, melted butter, salt and egg. Add 2 cups of flour and mix until smooth. Pour in yeast mixture. Mix in remaining flour, 1/4 cup at a time, until dough is easy to handle. If mixture appears too dry, add 1 tsp. water at a time, mixing well after each addition.
Knead dough in your mixer with the dough hook, or by hand on lightly floured surface, for 5 to 10 minutes. Place in a well-greased bowl, cover and let rise until doubled in size, usually 1 to 1 1/2 hours.*
Once doubled in size, punch down dough. Roll out on a floured surface into a 15 by 9-inch rectangle.
For the Filling and Baking: Combine melted butter, cinnamon and sugar, spreading all over dough. Beginning at the longest (15 inch) side, roll up dough and pinch edges together to seal. Cut into 12 to 15 slices.
Coat a baking pan with nonstick cooking spray and sprinkle with sugar. Place cinnamon roll slices close together in the pan and let rise until dough is doubled, about 45 minutes.
When ready to bake, preheat oven to 350 degrees F. Bake for 20-25 minutes, or until golden brown.
For the Glaze: Mix butter, powdered sugar, and vanilla. Whisk in milk 1 tablespoon at a time until the glaze reaches desired consistency. (If you like a thinner consistency glaze, add more milk.) Spread over slightly cooled rolls.
Enjoy!