These hearty, hot 'n cheesy breakfast sandwiches are great for a quick, protein-packed breakfast! Use any meat, cheese and cooked eggs, pile on a fluffy English muffin and freeze for later. So easy and delicious!
If there's one meal we all want to be simple, scrumptious and filling (with hardly any effort), it's breakfast. From oatmeal to omelets, cereal to smoothies, I've been wrestling with this one my whole life. And you probably have, too!
But, after enough trial and error of realizing that I won't stay energized and full on a bowl o' carbs (talking to you, oats and bagels), I determined a breakfast sandwich was the best bet. So, why not make it homemade, scrumptious and super quick to grab on a busy morning?
I still get to have my favorite carb – a fluffy wheat or multigrain English muffin – piled with low-sodium deli ham, reduced fat cheese and a cooked egg. Perfectly delicious, and packed with protein to keep you fuller longer!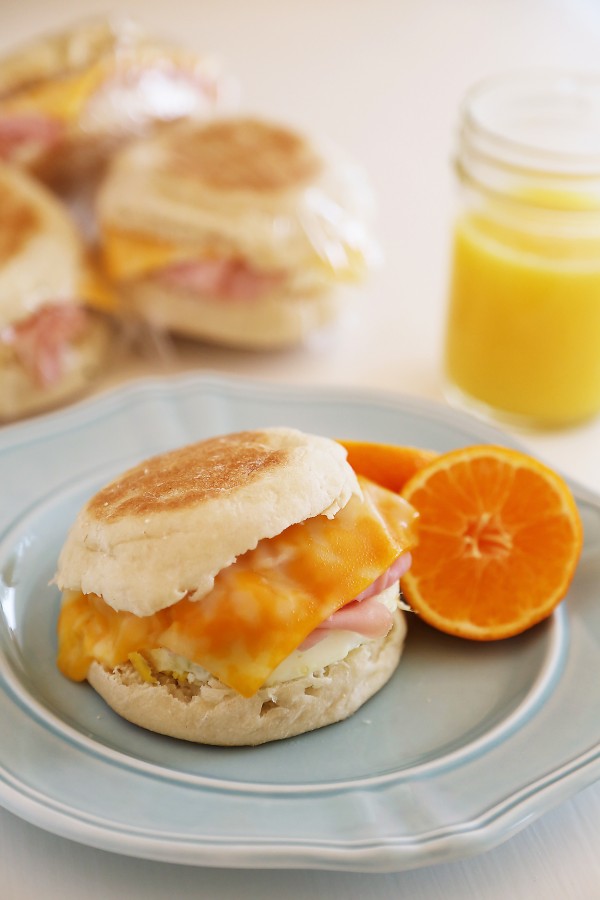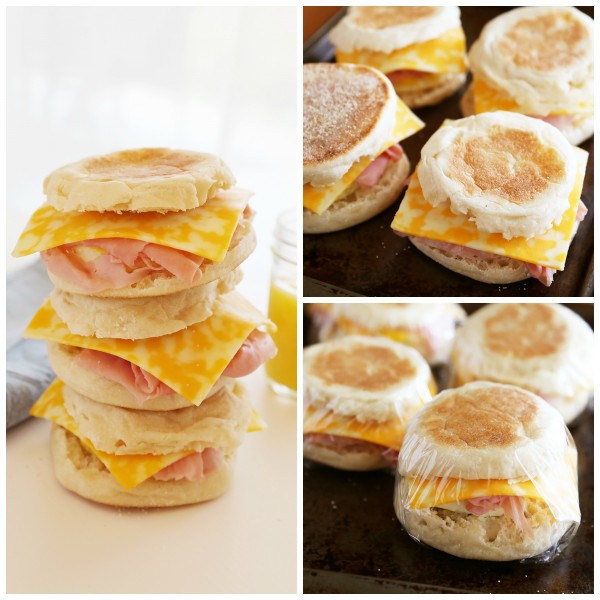 You can use any cooked meat and eggs that you prefer, even pasteurized egg products – just pour the equivalent of one egg into your ramekin or muffin tin cups. You may need to decrease the baking time slightly.
Apart from cooking your eggs, these sandwiches require no baking and hardly any prep. Just slice your English muffins, top each with eggs, meat and cheese, and wrap 'em up for later! I recommend storing these in a large resealable container or plastic bag for max freshness.
The next morning (or any morning in the next 1 month), just zap a sandwich in your microwave and you have a hot and filling breakfast in less than 2 minutes! There's nothing more delicious, quick and easy.
This has become our go-to breakfast, and we love ours with hot sauce and salsa!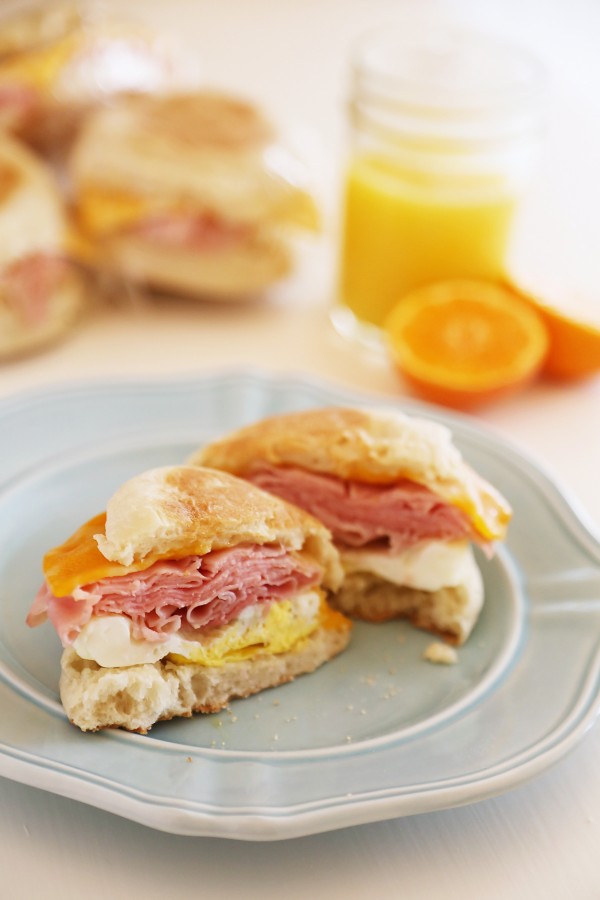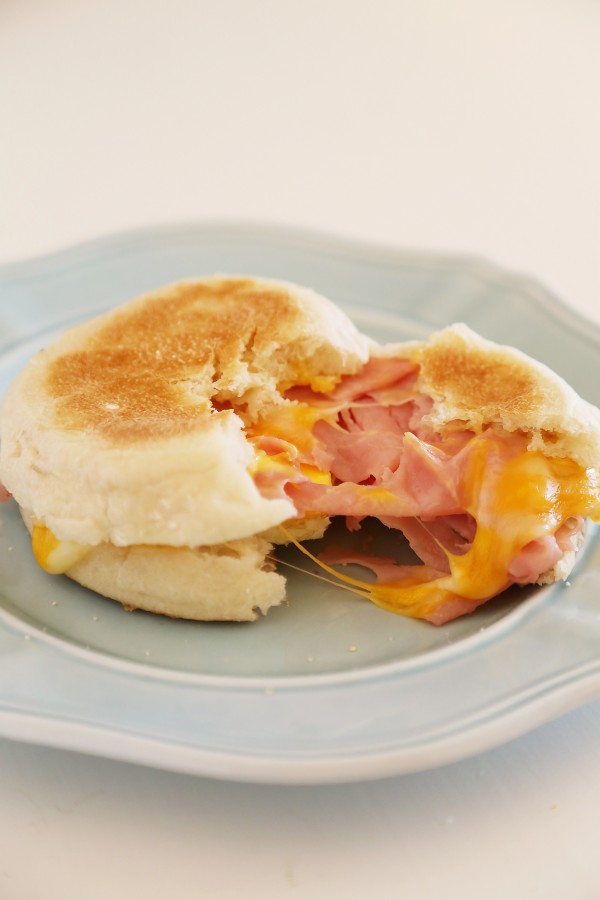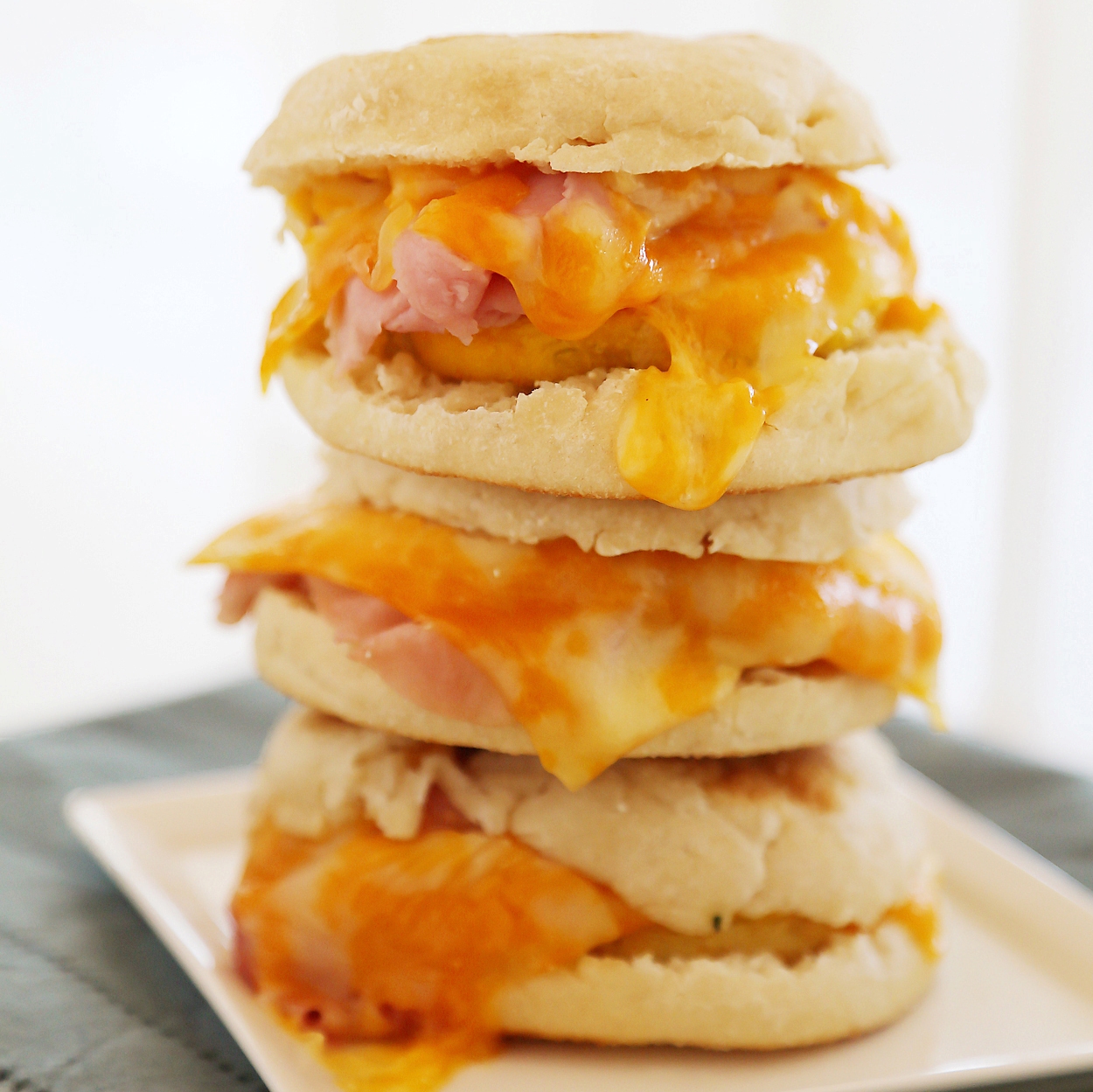 Homemade Freezer Breakfast Sandwiches
Ingredients
6 large eggs
6 English muffins, halved
16 slices deli-sliced ham, turkey or chicken*
6 slices cheese, any kind (I used Colby Jack)
Instructions
Preheat oven to 375 degrees F. Lightly grease 6 (10 oz.) ramekins, or 6 cups of a standard-sized muffin tin. If using ramekins, place on a baking sheet.
Crack an egg into each ramekin; beat slightly with a fork. Bake until egg whites are cooked through, 12-14 minutes. Run a knife around ramekins' edges and flip over to remove eggs. Let cool while preparing remaining ingredients.
Place one egg on top of each English muffin bottom. Top with 2 slices ham and 1 slice cheese. Cover with muffin tops. Microwave on high, 1-2 minutes, to enjoy right away. Or, wrap tightly in plastic wrap and place in a resealable bag before freezing.
To reheat:
Remove plastic wrap from sandwich and wrap in a paper towel. Microwave on high, 1-2 minutes, or until completely heated through. Serve with salsa or hot sauce, if desired.
Enjoy!