We are addicted to this sausage, potato and pepper dish! I cook it almost every week and always change up the veggies for what's in season. It's a healthy, colorful and protein-packed pan full of deliciousness and so easy to make. Just chop, toss and roast. Dinner is done!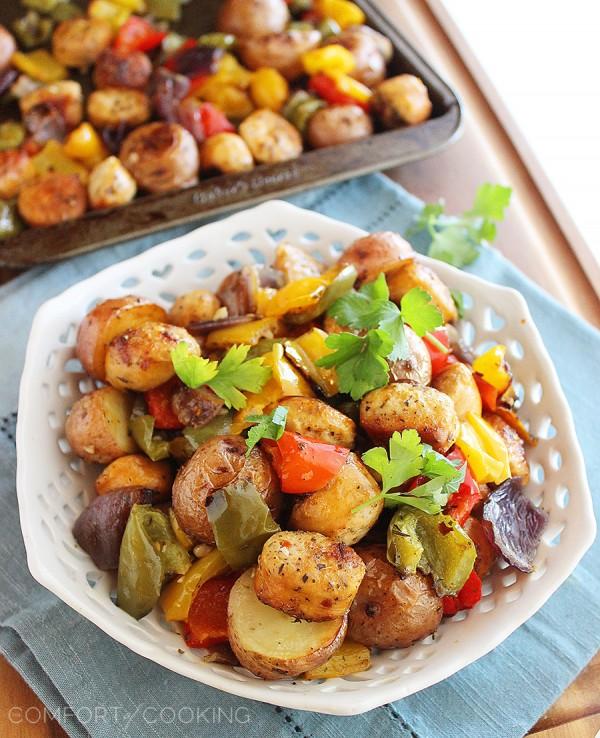 With an archive of almost 600 recipes, you might find it funny that I haven't posted my all-time favorite weeknight meal before. However, this one-pan wonder has been a relatively new, yet incredibly simple, discovery that has become a big time favorite.
We've gone back to this delicious meal again and again, cooking it once a week since dreaming it up earlier this year.
Using a variety of the fresh veggies we always have on hand – bell peppers, potatoes, and onions – makes this meal easy, healthy and full of flavorful goodness. But, the best addition? Juicy, tender Parmesan Italian Chicken Sausage from Gold'n Plump®.
One pan, a colorful medley of fresh veggies, and chunks of healthy, high protein chicken sausage? Weeknight meals don't get any better.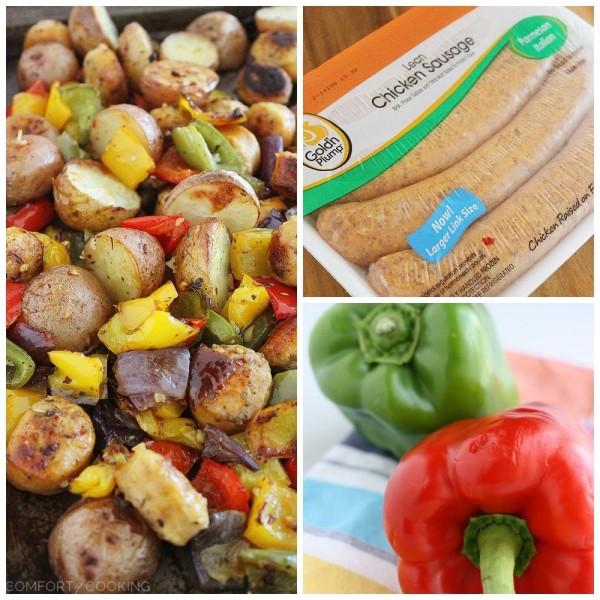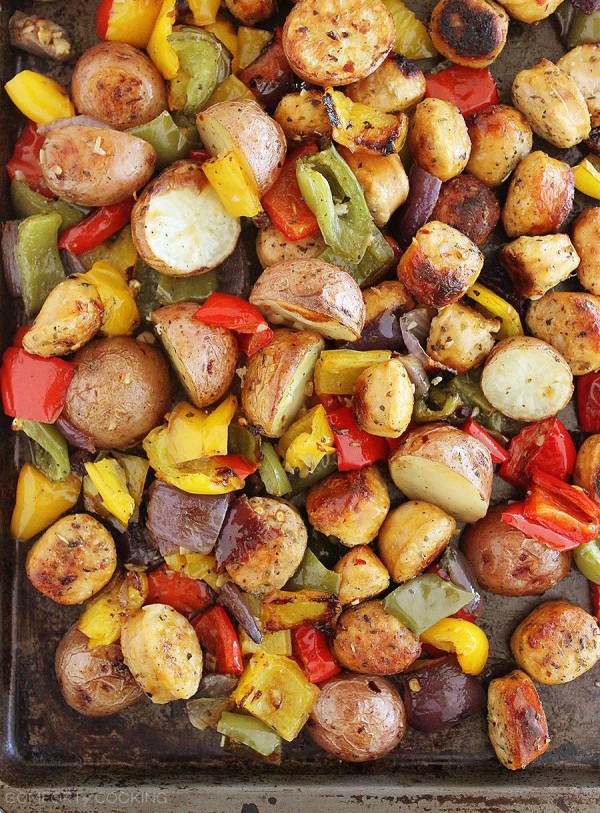 I often change up the vegetables in this dish according to what's in season. In the summer, I'll use zucchini and yellow squash, maybe toss in some quartered Roma tomatoes. In the fall and winter, sweet potato and butternut squash are scrumptious additions.
We also like to add a little spice with crushed red pepper flakes (and hot sauce on the table), but these are optional. Feel free to use any seasoning in place of the Italian seasoning, too.
I've cooked this combo with Cajun, Moroccan, and Lemon-Pepper seasonings with equally amazing results. You can really make this meal to your taste!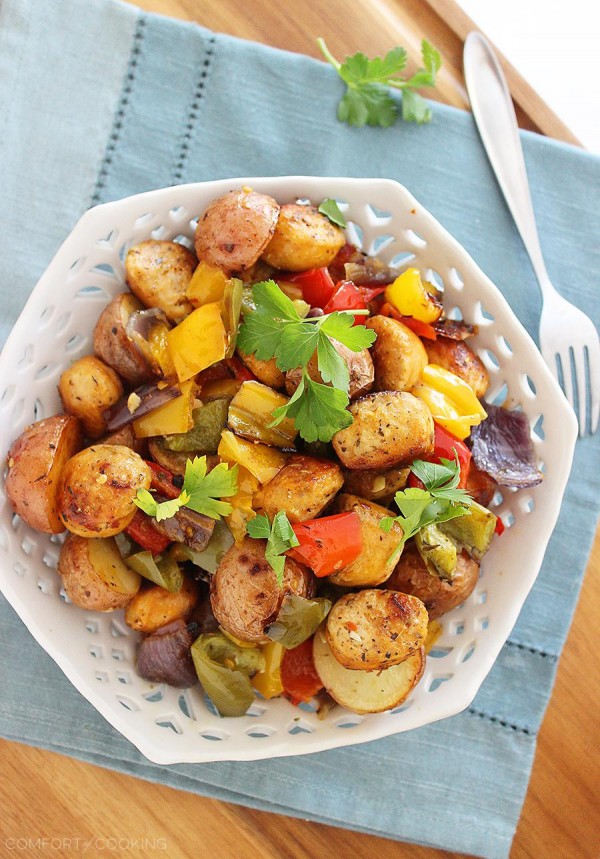 This mouthwatering mix of chicken sausage, fresh veggies, potatoes, and spices is easily made in one pan and full of hearty, healthy goodness. Just chop it, toss it and roast it! Voila, your delicious dinner is done. And as a bonus, your home smells amazing.
Grab the ingredients and cook it up tonight. Chances are I will be cooking it again, too!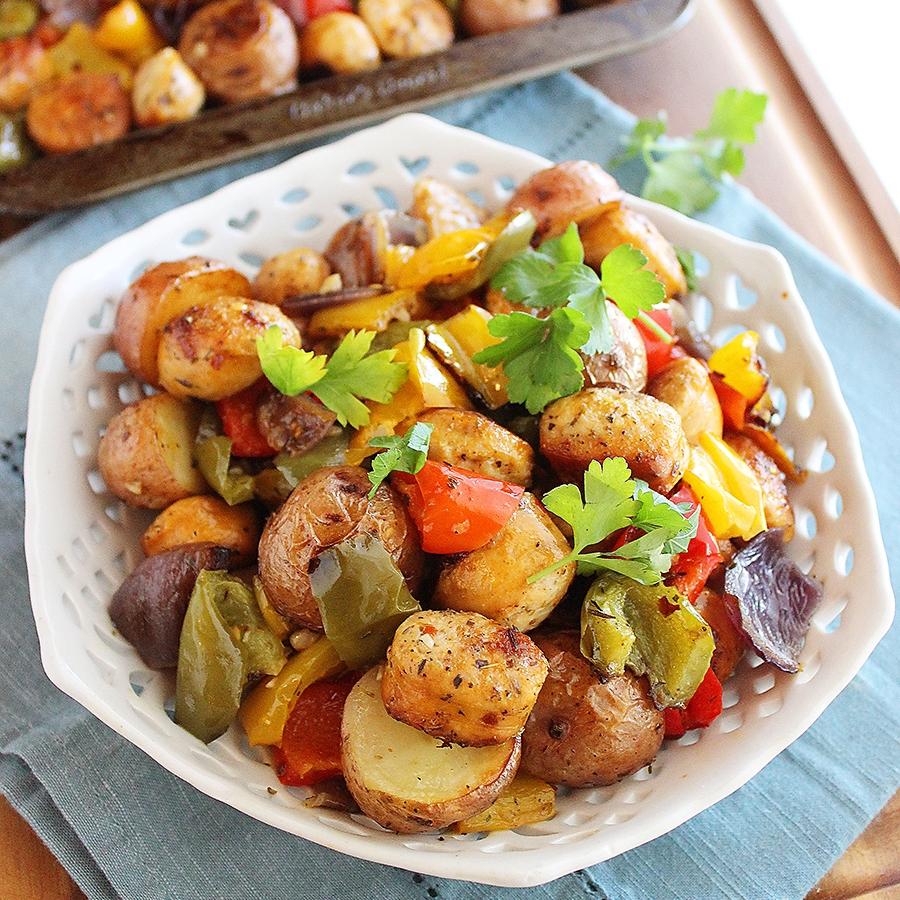 Roasted Chicken Sausage, Peppers and Potatoes
Ingredients
1 20 oz. package Gold'n Plump Parmesan Italian Chicken Sausage, uncooked and cut into 1-inch pieces
1 lb. baby potatoes, halved
1 medium green bell pepper, chopped
1 medium red bell pepper, chopped
1 medium yellow bell pepper, chopped
1/2 medium red or yellow onion, chopped
3 cloves garlic, minced
2 Tablespoons olive oil
1/2 teaspoon Italian seasoning
1/2 teaspoon kosher salt
1/4 teaspoon freshly cracked black pepper
1/4 teaspoon crushed red pepper flakes, optional
Instructions
Preheat oven to 400 degrees F.
Cut sausage into 1-inch chunks (cutting is easiest when sausage is partially frozen).
Coat a large baking sheet with nonstick cooking spray. Combine raw sausage pieces, potatoes, bell peppers, onion and garlic on baking sheet. Drizzle with olive oil. Sprinkle with Italian seasoning, salt, pepper, and crushed red pepper flakes, if desired. Toss to coat evenly. Spread ingredients out in a single layer.
Bake for 40-45 minutes, or until sausage is fully cooked and vegetables (incl. potatoes) are tender.
Enjoy!