The BEST soft-yet-crisp, thick Belgian waffles made easy at home. Cozy morning cravings = solved with this quick, scrumptious waffle recipe. Serve for brunch and dessert, or freeze for later!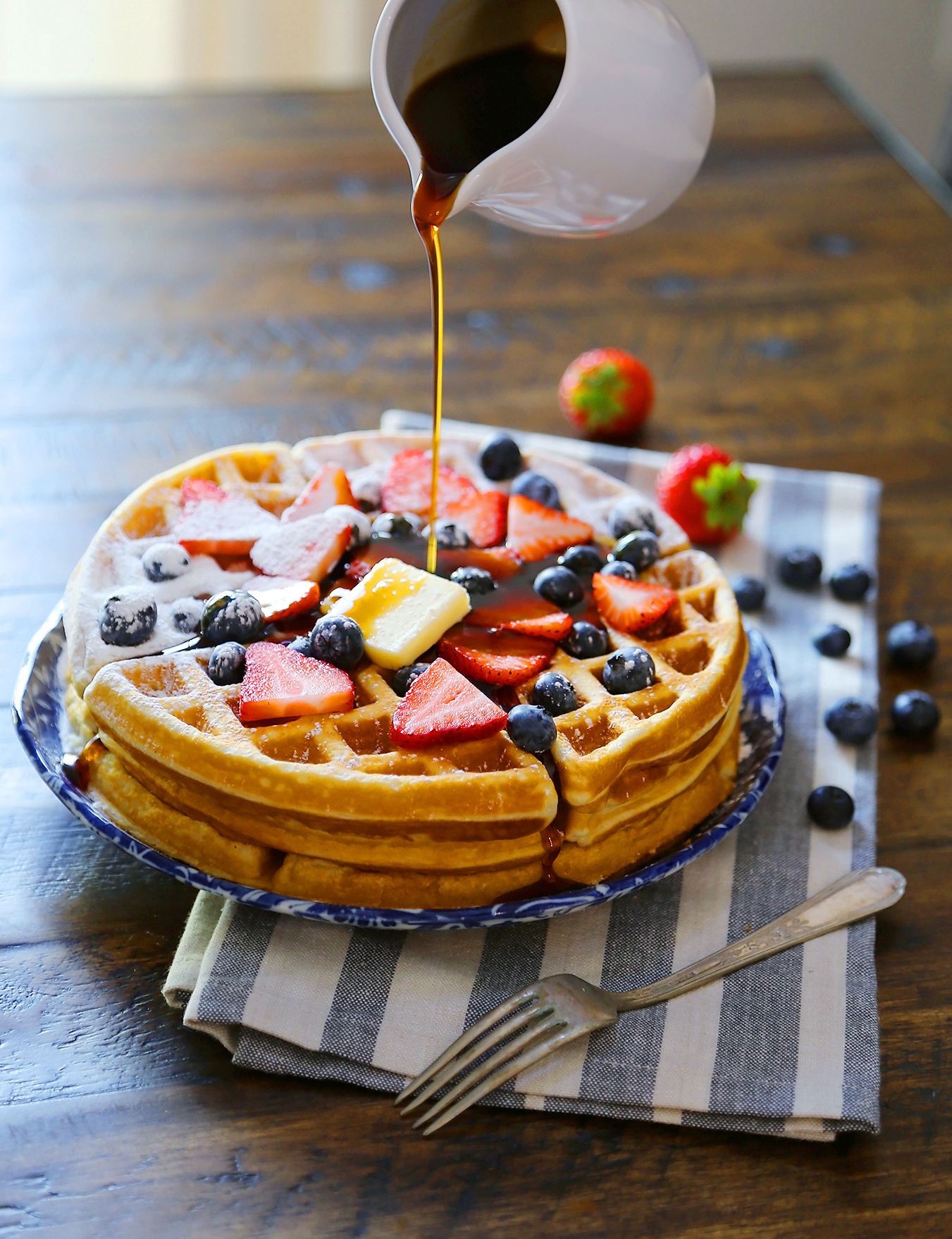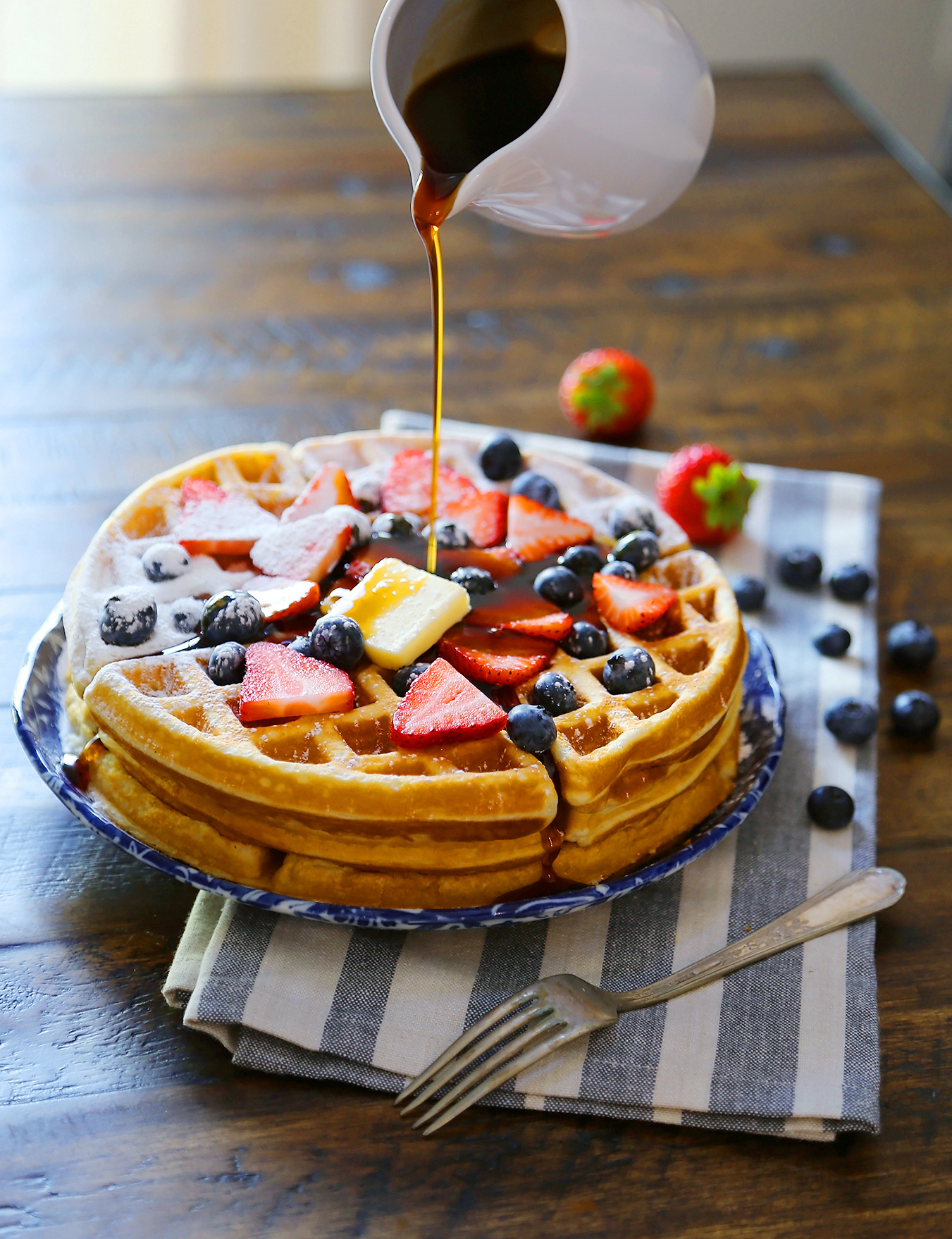 Weekend mornings are defined by a delicious family breakfast in my home. Though everyone may be slow to start, we love making a creative project out of cooking together – and my 4-year-old loves to have her hands in everything, these days!
We have been enjoying the tasty experiment of attempting the perfect Belgian waffle. And finally, we found it!
The goal: Slightly crisp, thick and fluffy, with a soft center and a kickin' vanilla aroma. Bonus if it breaks apart easily for sharing. These babies fit the bill perfectly! We promptly picked them hot off the waffle iron, and heaped on the berries and butter.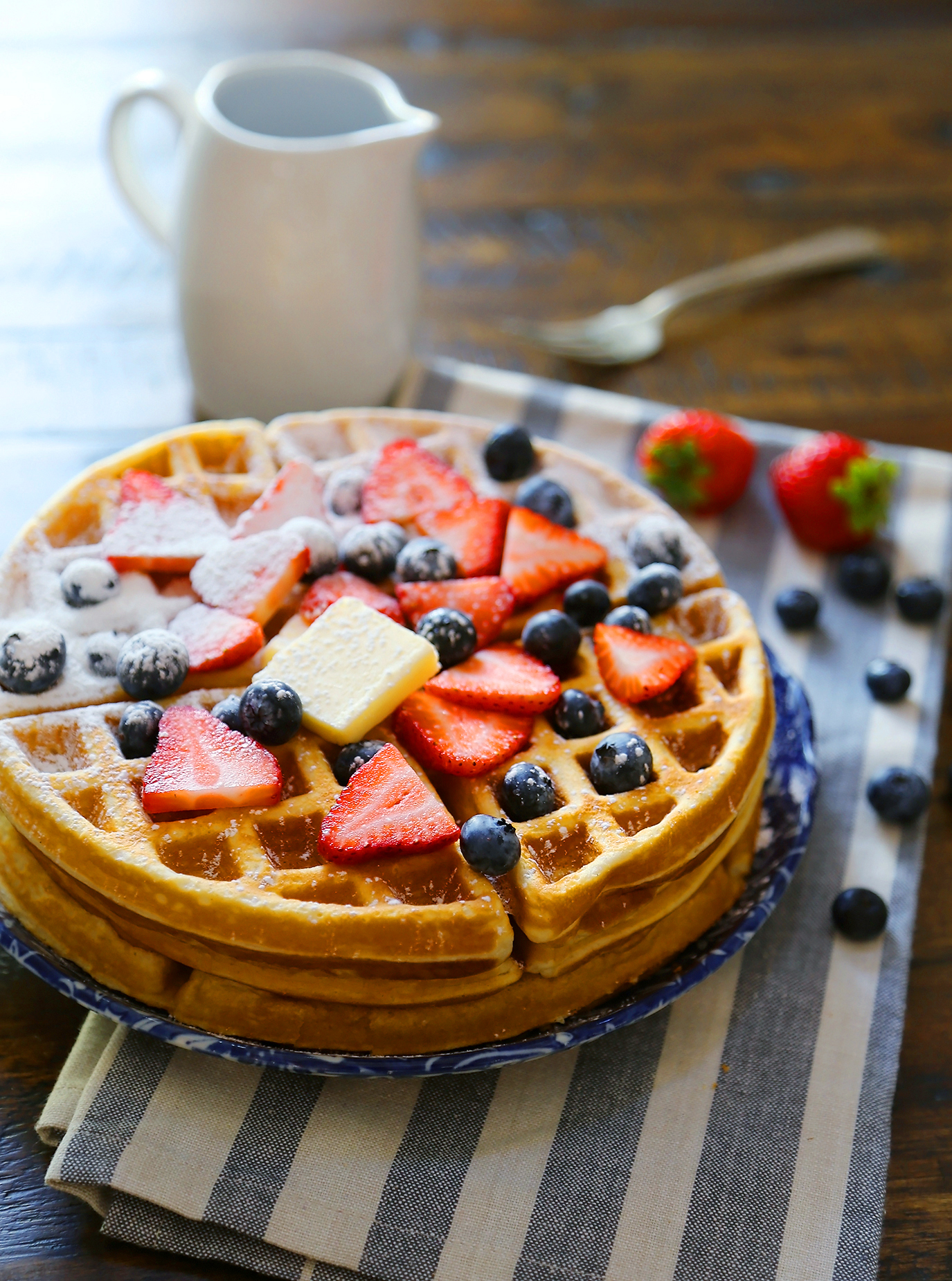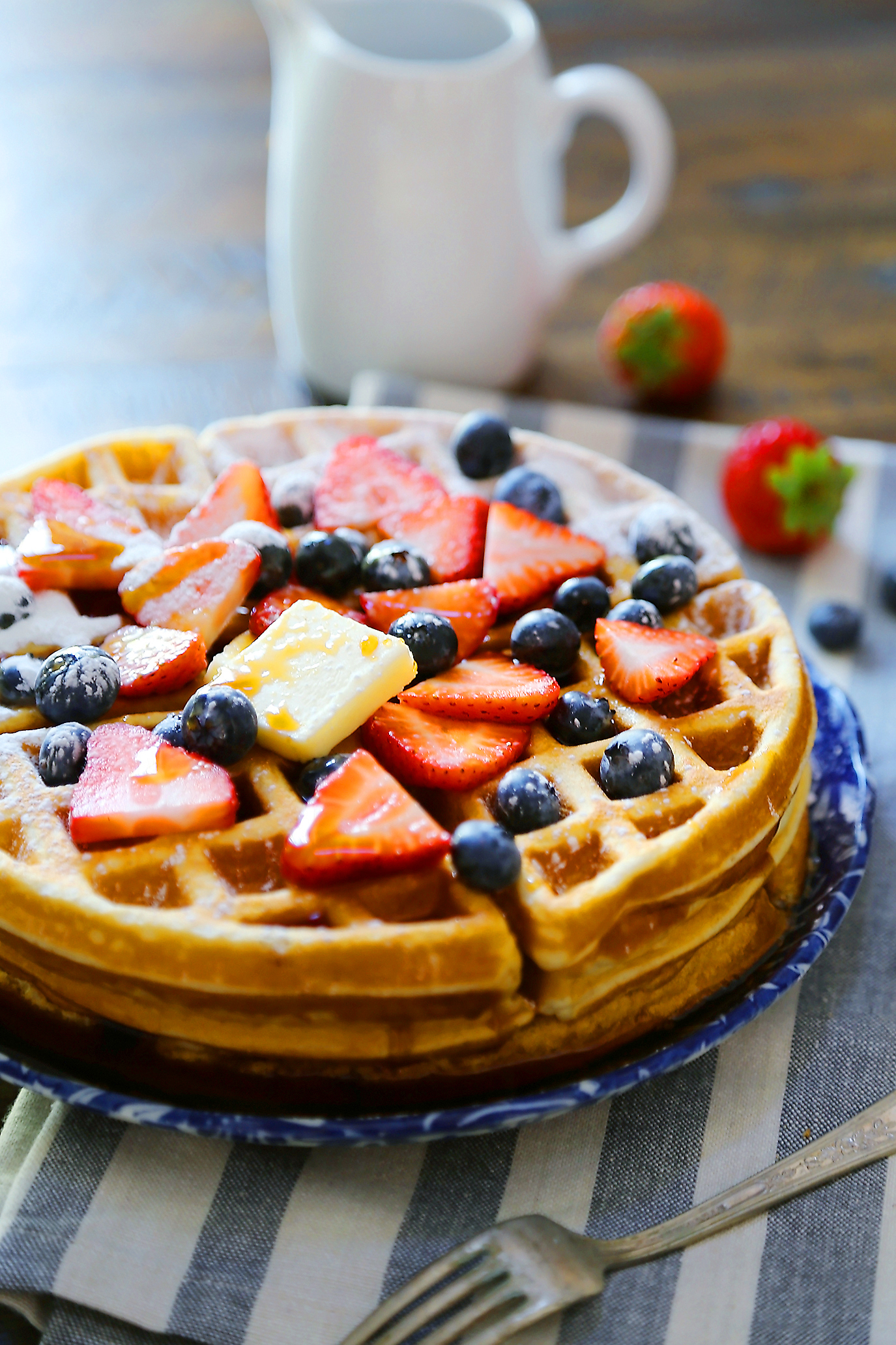 Wanna bake a batch? It's simple!
You can use a Belgian waffle maker or a regular waffle maker, however, we prefer the thicker Belgian-style.
Whisk your dry ingredients and wet ingredients separately. Whip up some egg whites (this is the secret to crispy-soft waffles), then fold them in. Pour into your hot waffle iron, then cook according to the iron's instructions – usually about 5-10 minutes, depending on your waffle maker.
Meanwhile, get your toppings ready! We love a bit of powdered sugar, butter, berries, and Vermont maple syrup. These fluffy waffles are also perfectly delicious without toppings, for the especially eager waffle enthusiast (me).
Serving a family brunch? Set out a toppings bar for everyone to dress theirs as they like. Cozy breakfast for two? You can freeze plenty for later! Just wrap each waffle in plastic wrap, then stick in a container and freeze for up to 6 months.
Sizzle up these scrumptious waffles and you'll certainly have a happy weekend!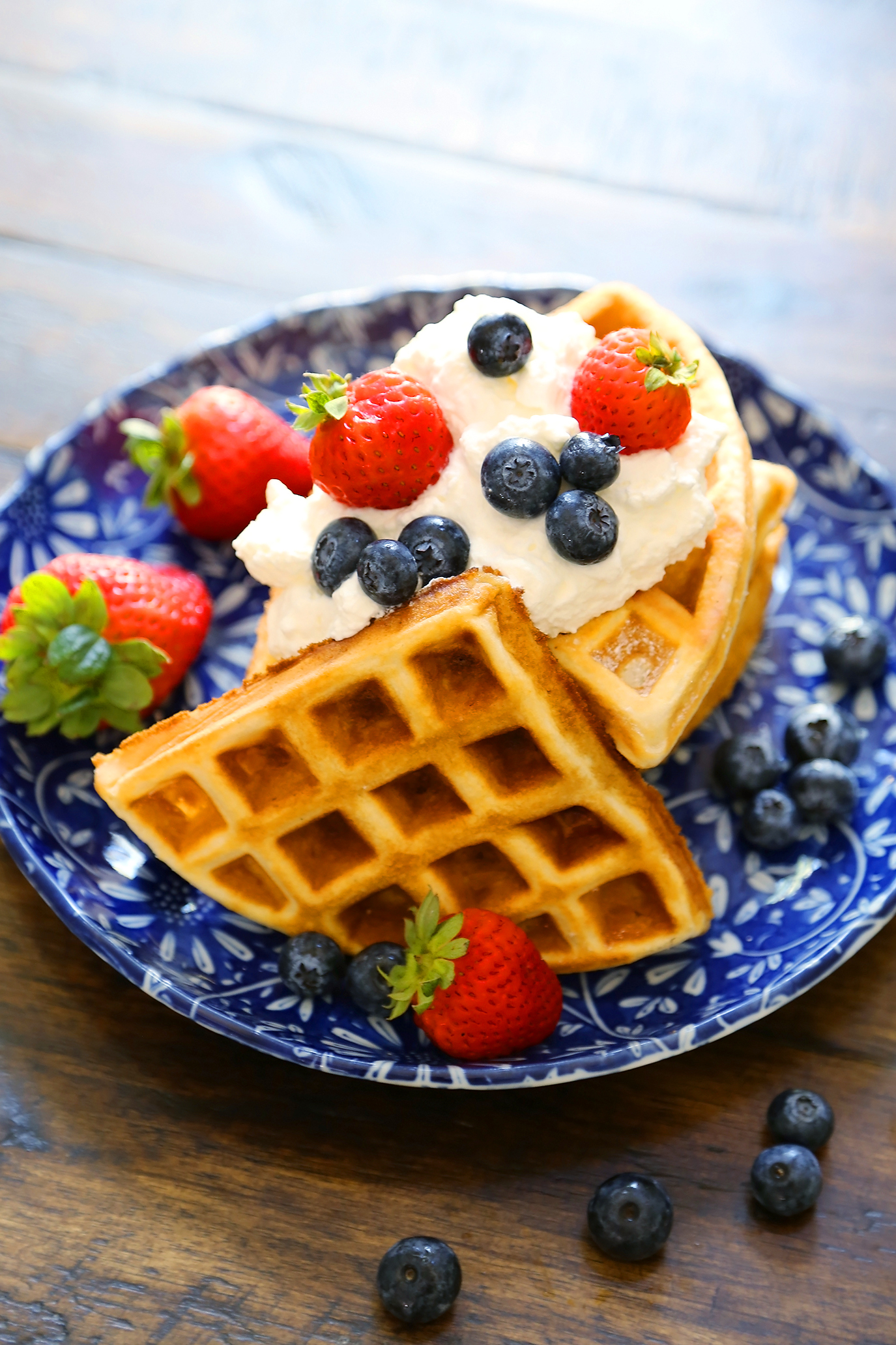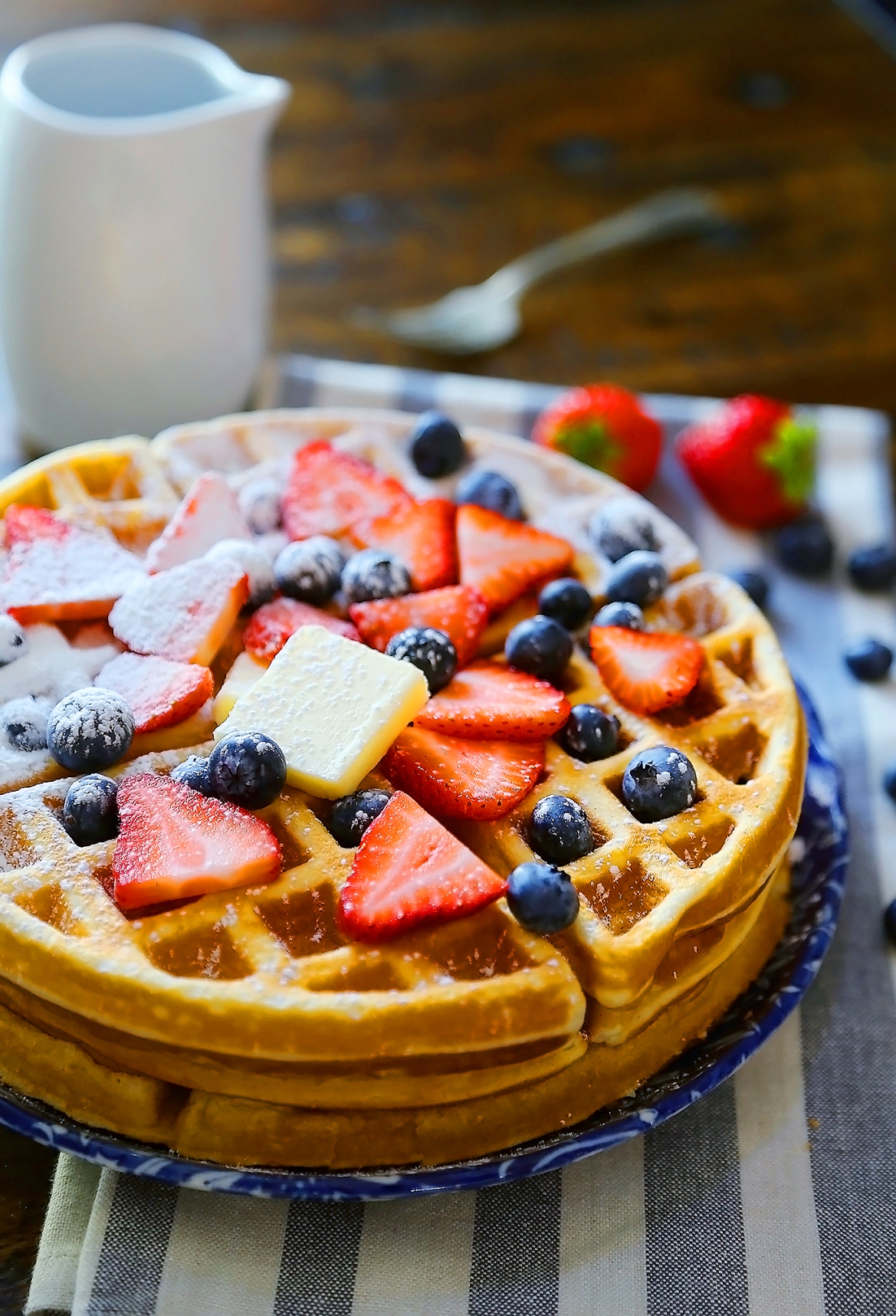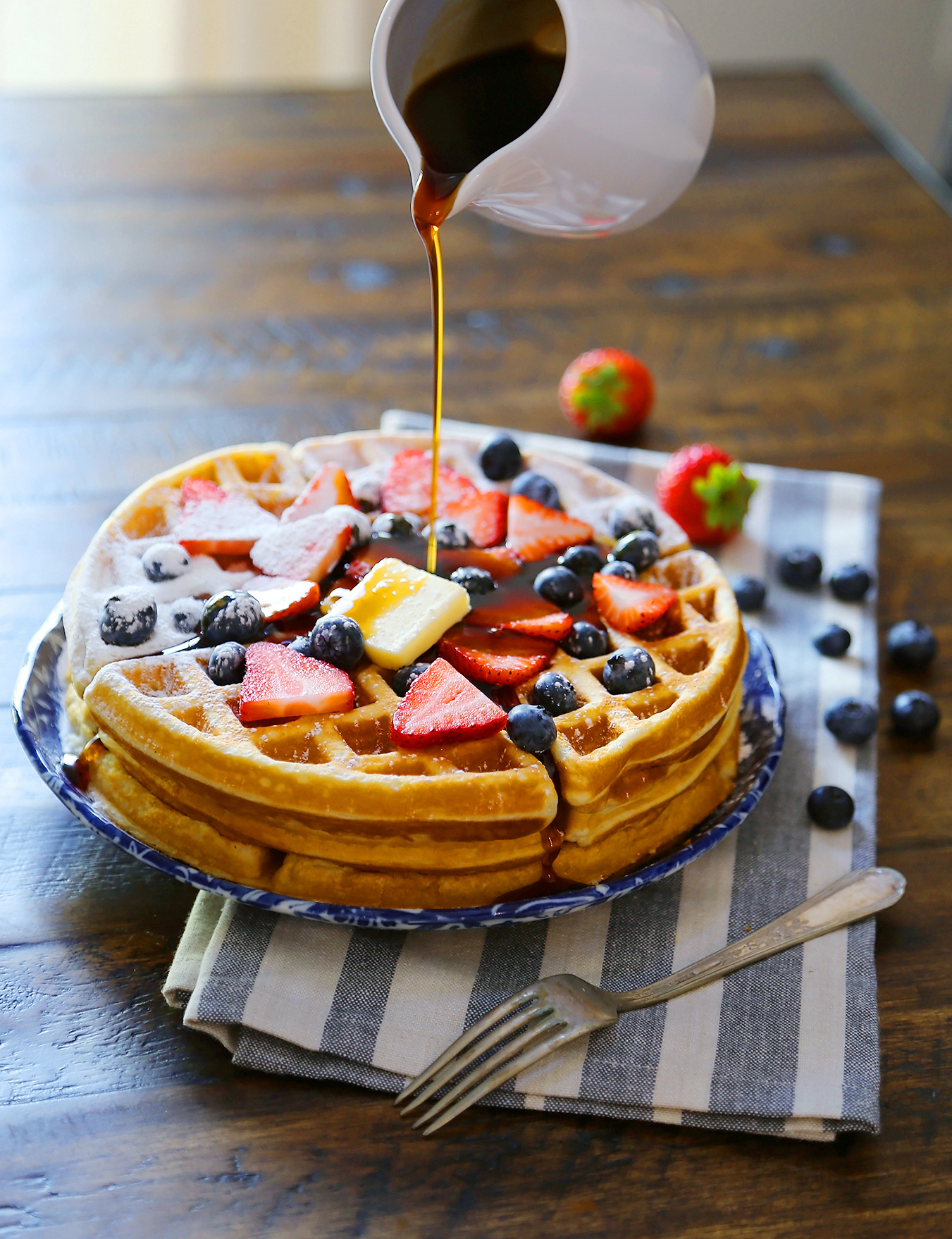 Fluffy Belgian Waffles
Ingredients
Nonstick cooking spray
2 cups all-purpose flour
1/4 cup granulated sugar
4 tsp. baking powder
1/2 tsp. kosher salt
2 cups milk
1/2 cup vegetable oil or melted butter
2 large eggs
1 tsp. vanilla extract
For serving (optional):
Fresh strawberries + blueberries
Maple syrup
Sliced butter
Whipped cream
Instructions
Coat the inside of your waffle iron with nonstick cooking spray. Preheat to medium-high.
In a large bowl, whisk flour, baking powder, salt and sugar.
Separate egg whites and yolks into individual medium-size bowls. With an electric mixer, beat egg whites until stiff peaks form.
Whisk together egg yolks, vegetable oil, milk, and vanilla. Pour into dry ingredients and mix well. Fold in egg whites.
Pour batter into waffle iron. Cook for 5-10 minutes, checking occasionally.
Serve with fresh berries, butter, maple syrup and/or whipped cream.
Notes
To freeze, wrap each waffle in wax or plastic wrap. Place in a resealable container or bag. Freeze for up to 6 months. Defrost and warm up in a toaster oven (2 minutes) or low setting in your oven (10 minutes).
Adapted from Genius Kitchen