One of the things I love most about Southern California summers is the abundance of fresh fruits and vegetables available. From grocery stores to farmer's markets, it's a wonderful thing to know that the produce I need, and plenty more that I don't need, is fresh, plentiful and grown locally.
So, what better time to make this delicious dish of ratatouille? The zucchini, squash, red pepper and eggplant were perfectly plump and ready for a close shave, and laid on a bed of tomato puree mixed with onion, garlic, spices, and topped with fresh thyme, I knew these veggies would make for one pretty simple, good lookin' side dish!
The great thing about this dish is that, even if you're short on time and don't want to create the pretty pattern, the ingredients can be chopped up and tossed into a pot in the more traditional, rustic French style, such as in this ratatouille recipe from Food & Wine.

Even my meat-eating man was over the moon for this one, which we served with grilled chicken and a warm, sliced baguette. We also agreed that it would also be enough as a full dinner on its own, or served with rice, couscous or polenta.
I know you'll absolutely love this ratatouille adapted from Smitten Kitchen, too, because the flavors are just as vibrant as the colors. Completing it really makes you feel like you've not only made an incredibly delicious dish, but you've created a work of art!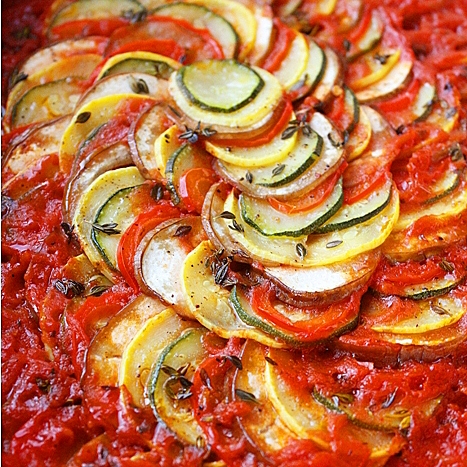 Layered Ratatouille
Ingredients
1/2 onion, finely chopped
2 garlic cloves, very thinly sliced
1 cup tomato puree
¼ tsp. oregano
¼ tsp. crushed red pepper flakes
2 tablespoons olive oil, divided
1 small eggplant
1 zucchini
1 yellow squash
1 red bell pepper
Few sprigs fresh thyme
Salt and pepper
Instructions
Preheat oven to 375 degrees F.
Pour tomato puree into bottom of an oval baking dish, approximately 10 inches across the long way. Drop the sliced garlic cloves and chopped onion into the sauce, stir in oregano, crushed red pepper flakes, one tablespoon of the olive oil, and season the sauce generously with salt and pepper.
Trim the ends off the eggplant, zucchini and yellow squash. Trim the top of the red pepper and remove the core.
On a mandoline, adjustable-blade slicer or with a very sharp knife, cut the eggplant, zucchini, yellow squash and red pepper into very thin slices, approximately 1/16-inch thick.
Atop the tomato sauce, arrange slices of prepared vegetables concentrically from the outer edge to the inside of the baking dish, overlapping so just a smidgen of each flat surface is visible, alternating vegetables. You may have a handful leftover that do not fit.
Drizzle the remaining tablespoon olive oil over the vegetables and season them generously with salt and pepper. Remove the leaves from the thyme sprigs with your fingertips, running them down the stem. Sprinkle the fresh thyme over the dish.
Cover dish with a piece of parchment paper cut to fit inside.
Bake for approximately 45 to 55 minutes, until vegetables have released their liquid and are clearly cooked, but with some structure left so they are not totally limp. They should not be brown at the edges, and you should see that the tomato sauce is bubbling up around them.
Serve with a dab of soft goat cheese on top, alone, or with some crusty French bread, atop polenta, couscous, or your choice of grain.
Enjoy!