Use leftover hummus to make a crispy, creamy topping for baked chicken! Add a squeeze of lemon and a salad for an easy, fresh and healthy weeknight meal.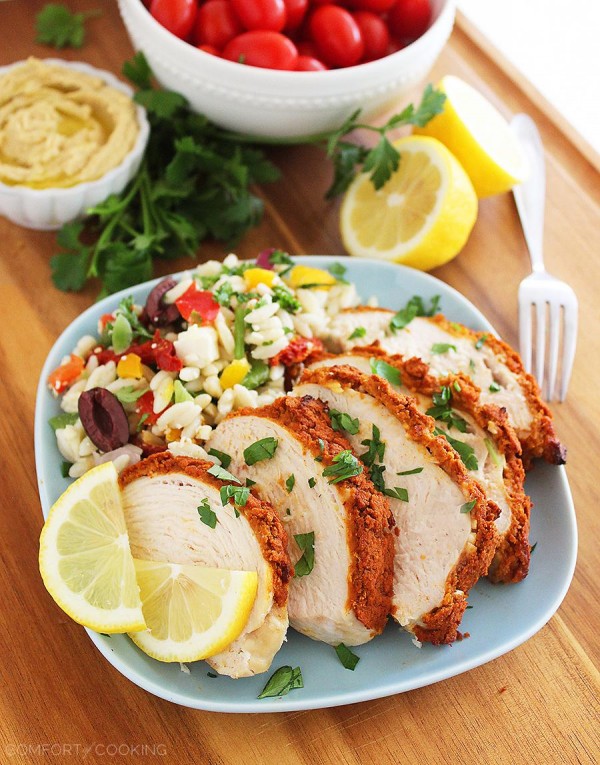 Fall is my favorite season… what's yours?
However, try as I might to get into the mug-of-cider-cozy-sweaters-pumpkin spice spirit of things, summer is very much still present here in Austin. The toasty temps outside remind me of this every minute! Specifically in the morning, when I think, "Oh, it looks like a nice overcast day with a nip in the air. I think I'll pull on my boots and go crunch some crisp leaves." Until I walk outside and BAM – humidity, mosquitoes and sun. Scorching, incessant sun that keeps my favorite fall clothes on lockdown until at least November. Sigh.
Regardless of the heat, I'm firing up my oven and churning out delicious meals like this hummus-crusted chicken! A girl can pretend, after all.
Hummus may seem like a funny topping, but it produces the most colorful, crisp crust on baked chicken. The flavor of the hummus is only heightened by the heat of your oven, and what results is ridiculously scrumptious. The taste is creamy, nutty and deliciously fragrant… nudged along with a few spices and freshly minced garlic.
A squeeze of lemon over top makes this a perfect Mediterranean meal for weeknights or special dinners in! Just serve a salad alongside, or my One-Pan Greek Orzo with Tomatoes and Feta. A killer flavor combination!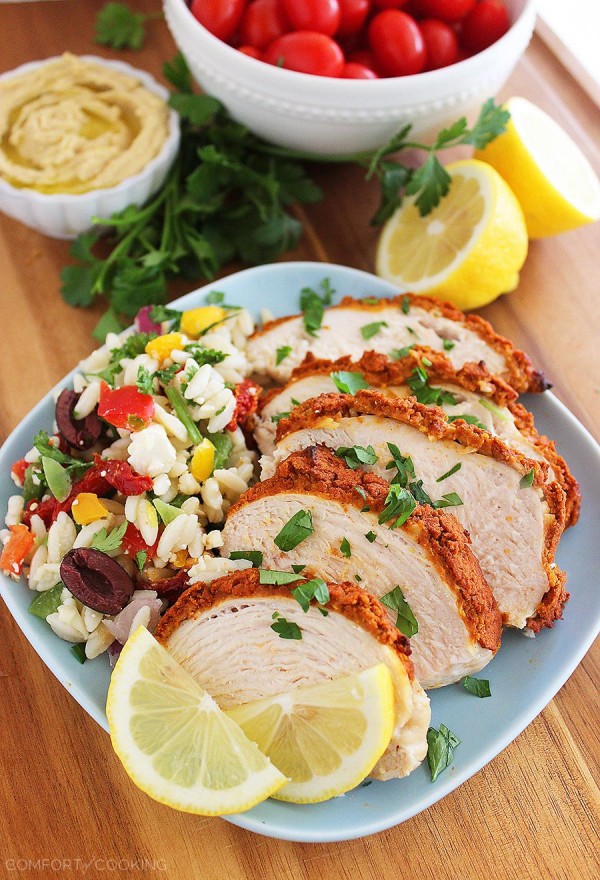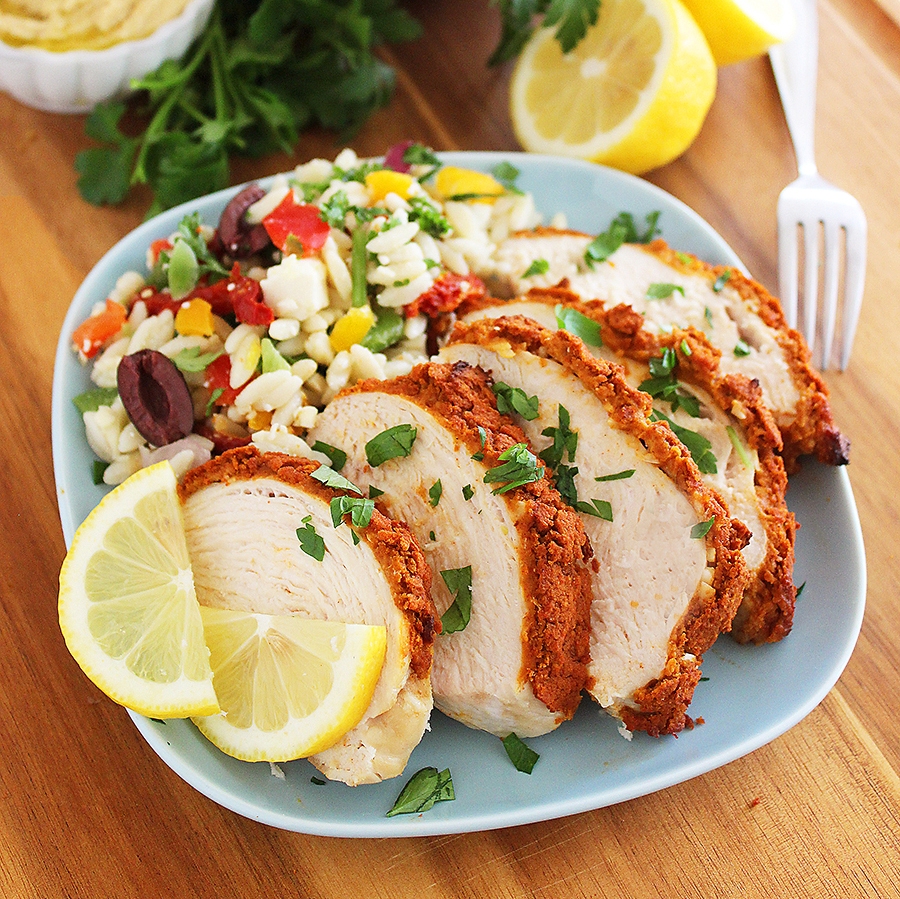 Baked Hummus-Crusted Lemon Chicken
Ingredients
1 lb. boneless, skinless chicken breasts
1/2 cup hummus
1 clove garlic, minced
1/2 teaspoon smoked paprika
1/4 teaspoon cumin
1/4 teaspoon red chili powder
1 lemon
Instructions
Preheat oven to 450 degrees F. Lightly coat a baking sheet with nonstick cooking spray. Place chicken breasts on the baking sheet.
In a small bowl, combine hummus, minced garlic, paprika, cumin and chili powder. Using a spoon, scoop hummus on top of chicken, spreading evenly to coat. Squeeze one lemon half over each chicken breast.
Bake for 25 to 30 minutes, or until chicken is cooked through and hummus has crisped.
Enjoy!