Dig in to these cheesy, crispy loaded Hasselback potatoes made mini! They make perfect game day food, or a fun weeknight side!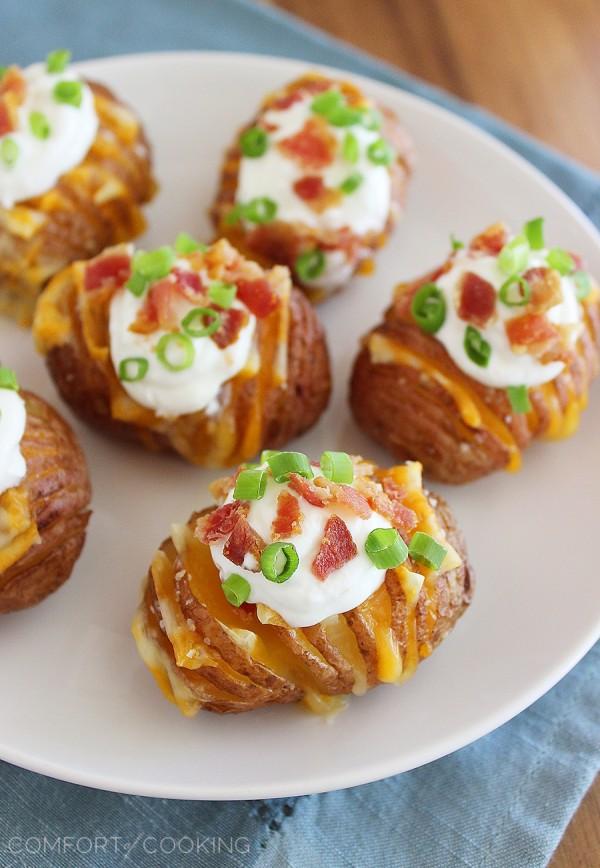 Happy October, friends! The falling leaves, warm cider and cinnamon-spiced goodies make this month my undeniable favorite… not to mention my upcoming birthday. With my little lady to help me celebrate, I have a feeling this will be one to remember.
But first, before discussing cake and candles, let's talk football. Or rather, football food. I may not be a diehard fan of the pigskin, but I do love me some potato skins. Traditional potato skins take a bit of work, between the boiling and mashing and filling. But, these? Same delicious loader tater taste with much more ease. These cheesy, crispy hasselback potato bites make THE perfect game day grub.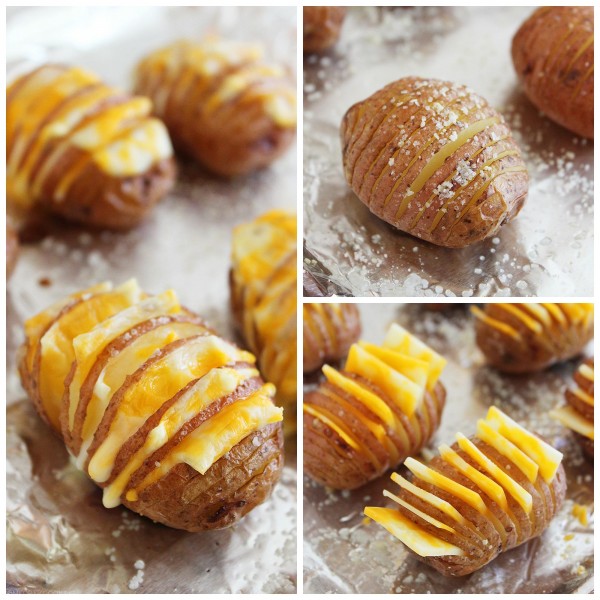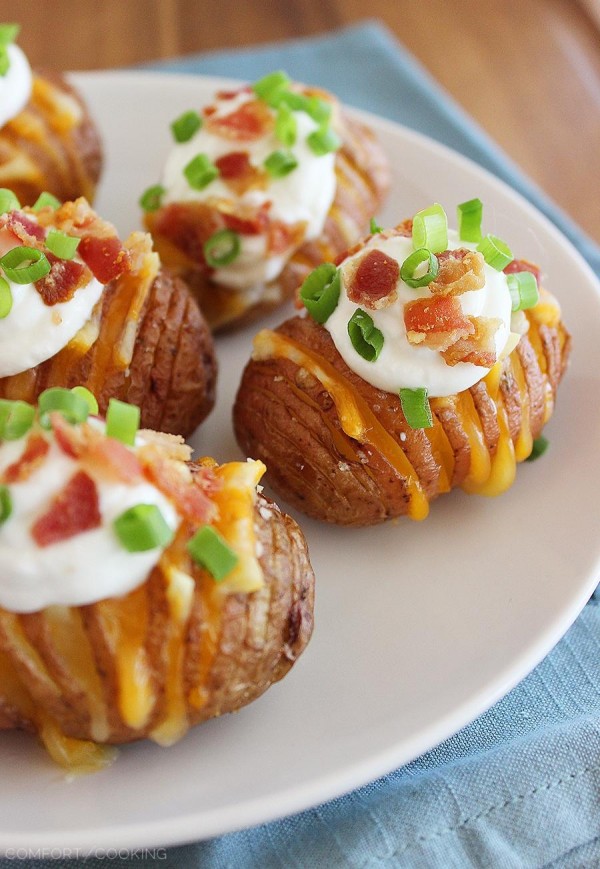 As bite-sized party appetizers, it doesn't get any better, but you can also serve these full-sized for a weeknight side dish.
Just make several skinny cuts into your potatoes, rub them with olive oil and sprinkle with salt. Into the oven they go for 30 minutes. Slip in some tiny cheese squares, and back in they go to get bubbly and delicious. Once they're done, say hello to that gooey, melted goodness in between layers of crispy hot potato! Now comes the good stuff… sour cream, salty crumbled bacon and green onions galore. Have mercy!
Cook up your own potato bites for fun football food, or a special weeknight treat. You're going to go love these, I guarantee it!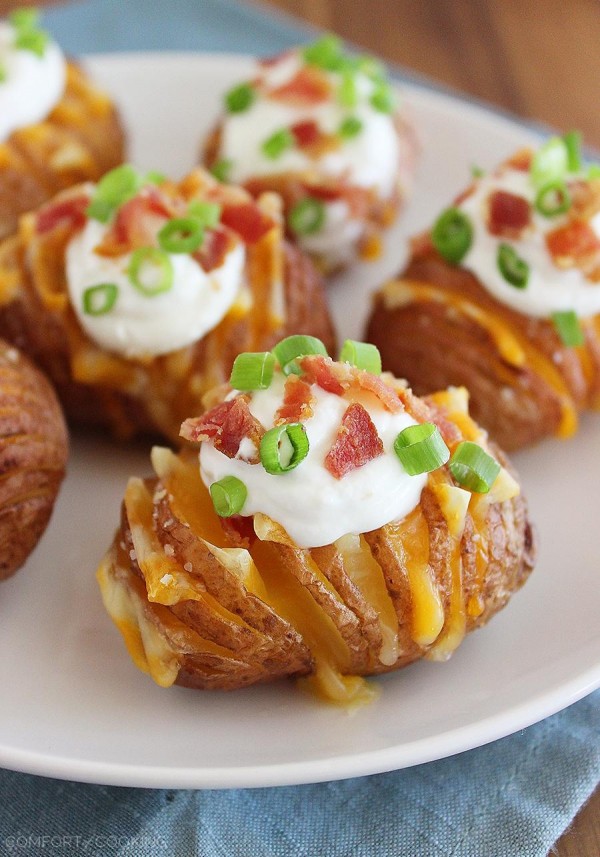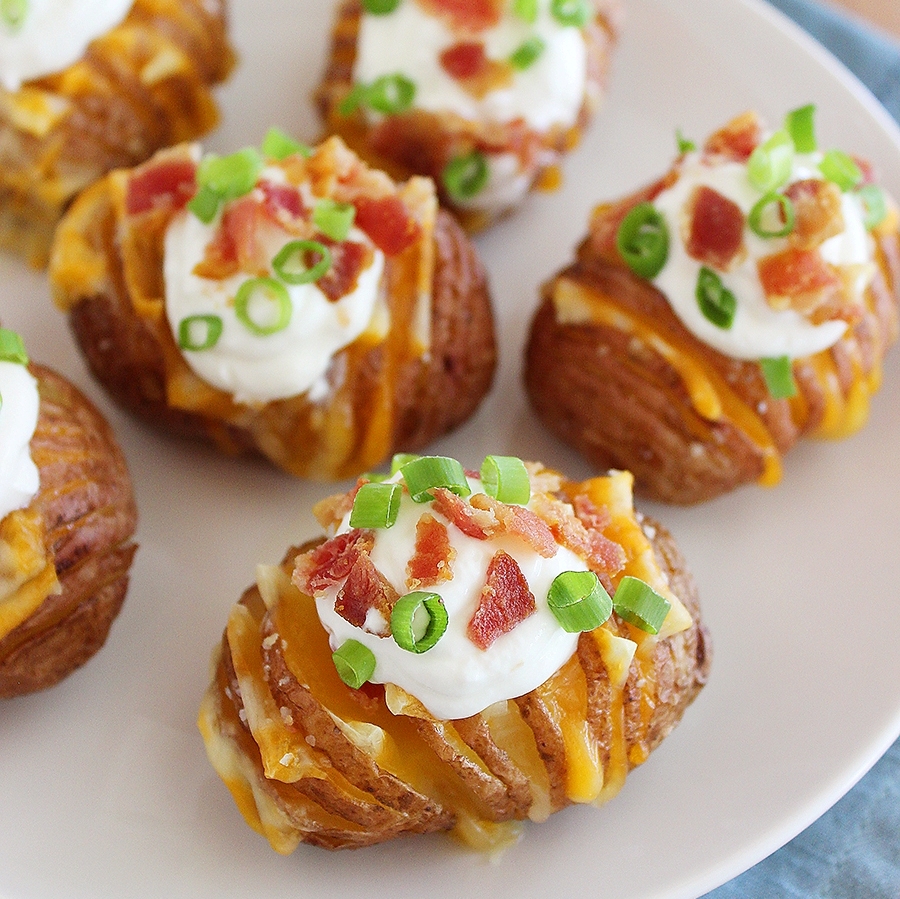 Crispy Loaded Hasselback Potato Bites
Ingredients
1 lb. small potatoes, about 2" across - red or Yukon work fine
Olive oil
Kosher salt
Sliced cheese, your choice – I used Colby Jack, cut into small squares
For topping:
Light sour cream
Cooked bacon, chopped
Sliced green onions
Instructions
Preheat oven to 400 degrees F. Line a large baking sheet with aluminum foil.
Using a sharp knife, make several cuts through each potato, avoiding cutting all the way down. Place potatoes on baking sheet. Rub with olive oil and sprinkle with salt.
Bake for 30 minutes, until potatoes are tender. Place cheese squares in between a few of the cuts on each potato. Return to oven for 5-10 additional minutes, until cheese has melted. Let cool 10 minutes before topping with sour cream, bacon and green onions, or your desired toppings.
Serve warm or at room temperature.
Enjoy!