Two classic comfort foods combine to make one mouthwatering meal! You have GOT to try these cheesy, delicious Sloppy Joe Stuffed Peppers!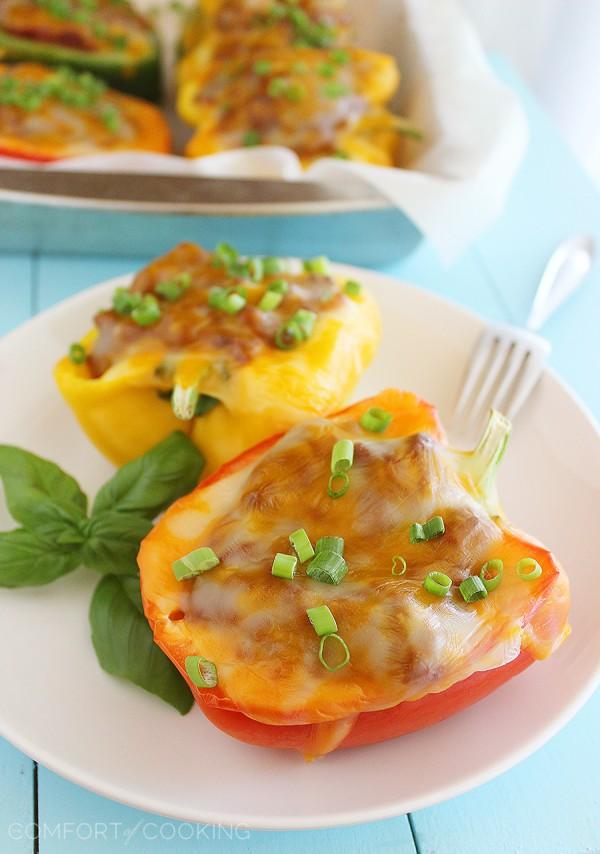 The whole business of stuffing vegetables with delicious goodness really appeals to me. You can dirty them up with any sticky, cheesy, salty indulgences you like, because at the end of the day… you're eating your vegetables. Like the good little cook you are.
I've paired peppers with a Mexican mix of beans and rice, and filled them to the brim with bubbly, gooey macaroni and cheese. But, stuffed with sloppy joe? Be still my heart. This kid-friendly spin on stuffed peppers has got to be one of my favorite variations! Simple, comforting and absolutely scrumptious for a weeknight meal with family.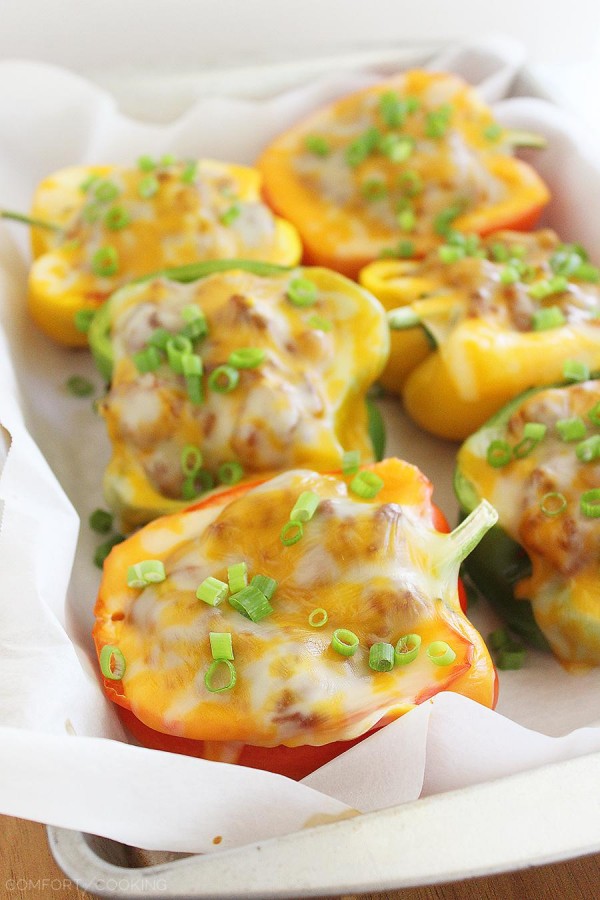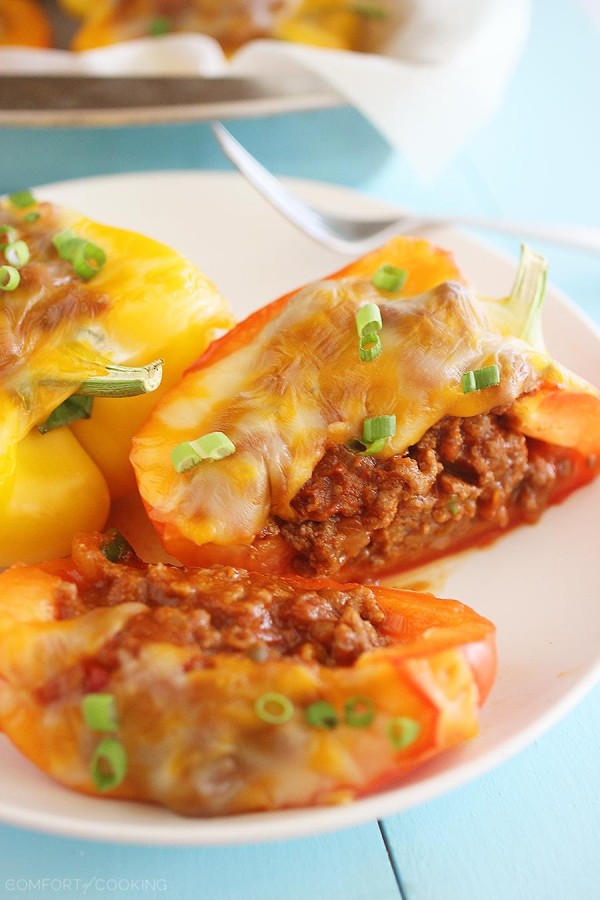 To keep this Monday-thru-Friday favorite fast and easy, I used a canned sauce for the sloppy joe mixture. But, I have a recipes made from scratch here and here. Those would also make fine fillings for these "sloppy" sandwiches-turned-stuffed-peppers! As for a stuffed pepper re-do? I've even turned them into soup!
You could say I like to play with my food.
Topped with a slice of creamy Colby jack cheese (or whatever cheese you prefer), every bite of these peppers is melt-in-your-mouth good. Even a simply seasoned dish like this can pack major flavor… and this one does! For a pop of color, use red, green and yellow peppers, but the color difference won't impact the taste. These also make delish next day leftovers.
You'll love this hearty, (mostly) healthy meal for an easy weeknight fix. It's become a fast favorite in my house!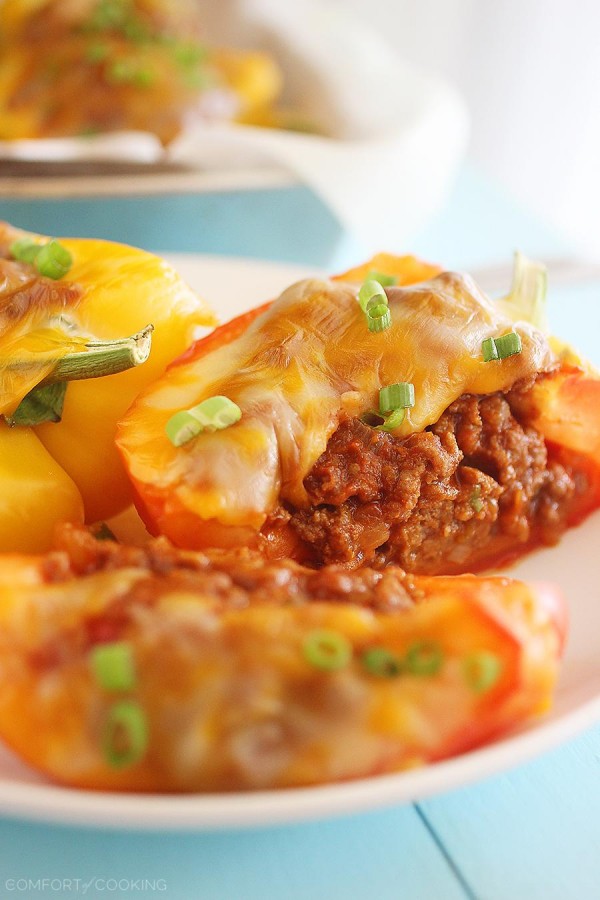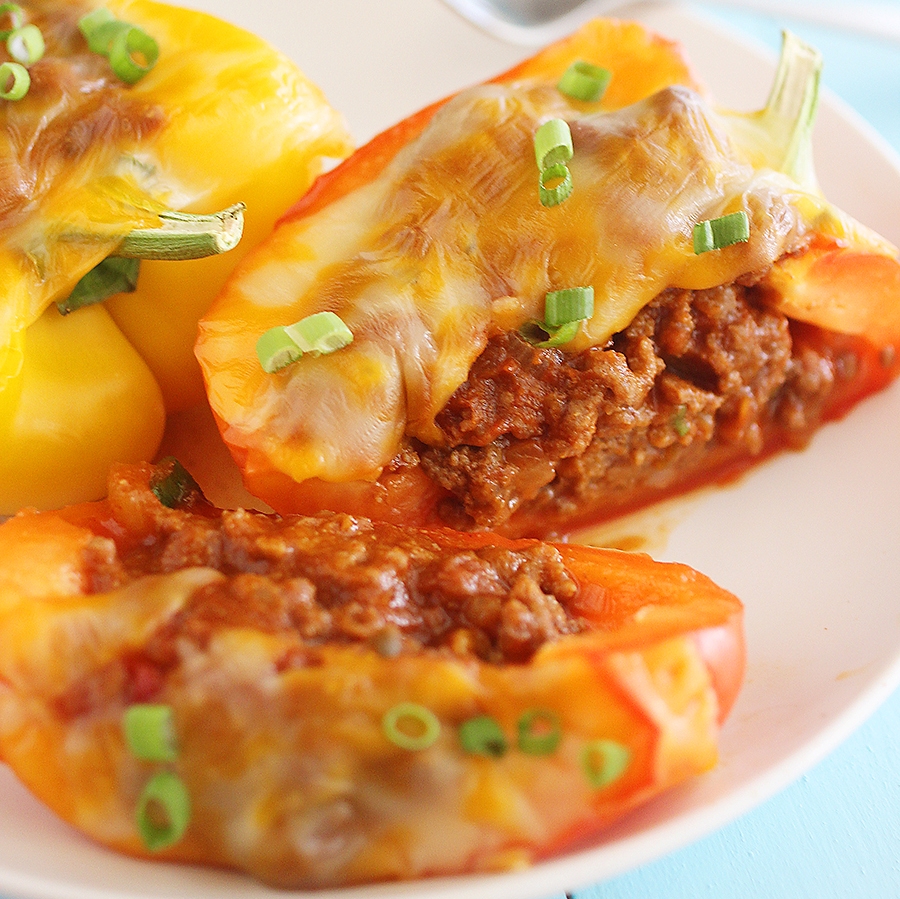 Sloppy Joe Stuffed Peppers
Ingredients
3 bell peppers, I used green, yellow and red
1/2 medium yellow onion, chopped
1 lb. lean ground turkey or ground beef
1 16 oz. can sloppy joe sauce (I used Hunt's Manwich)
1 teaspoon vegetable oil
6 slices colby jack or cheddar cheese
1 green onion, chopped
Instructions
Preheat oven to 350 degrees F. Coat a 13 x 9-inch (or other large) dish with cooking spray.
Cut each pepper in half lengthwise. Remove the stems, seeds and membranes. Place peppers, cut side up, in the baking dish.
In a large skillet over medium-high heat, add oil. Once hot, add onion and cook for 2 minutes. Add ground turkey or beef. Cook, stirring and crumbling as it browns. Drain off any excess liquid. Reduce heat to low and stir in sloppy joe sauce. Simmer for 5 minutes.
Divide mixture evenly among pepper halves. Bake for 20 minutes. Top each pepper with a slice of cheese and bake for 5 additional minutes, or until cheese is melted.
Sprinkle with chopped green onion.
Enjoy!