Salty-crisp bacon, creamy goat cheese, savory-sweet jelly, all tucked into a roasted jalapeño! Broil a batch of these super-easy flavor bombs for family, friends and game day get-togethers!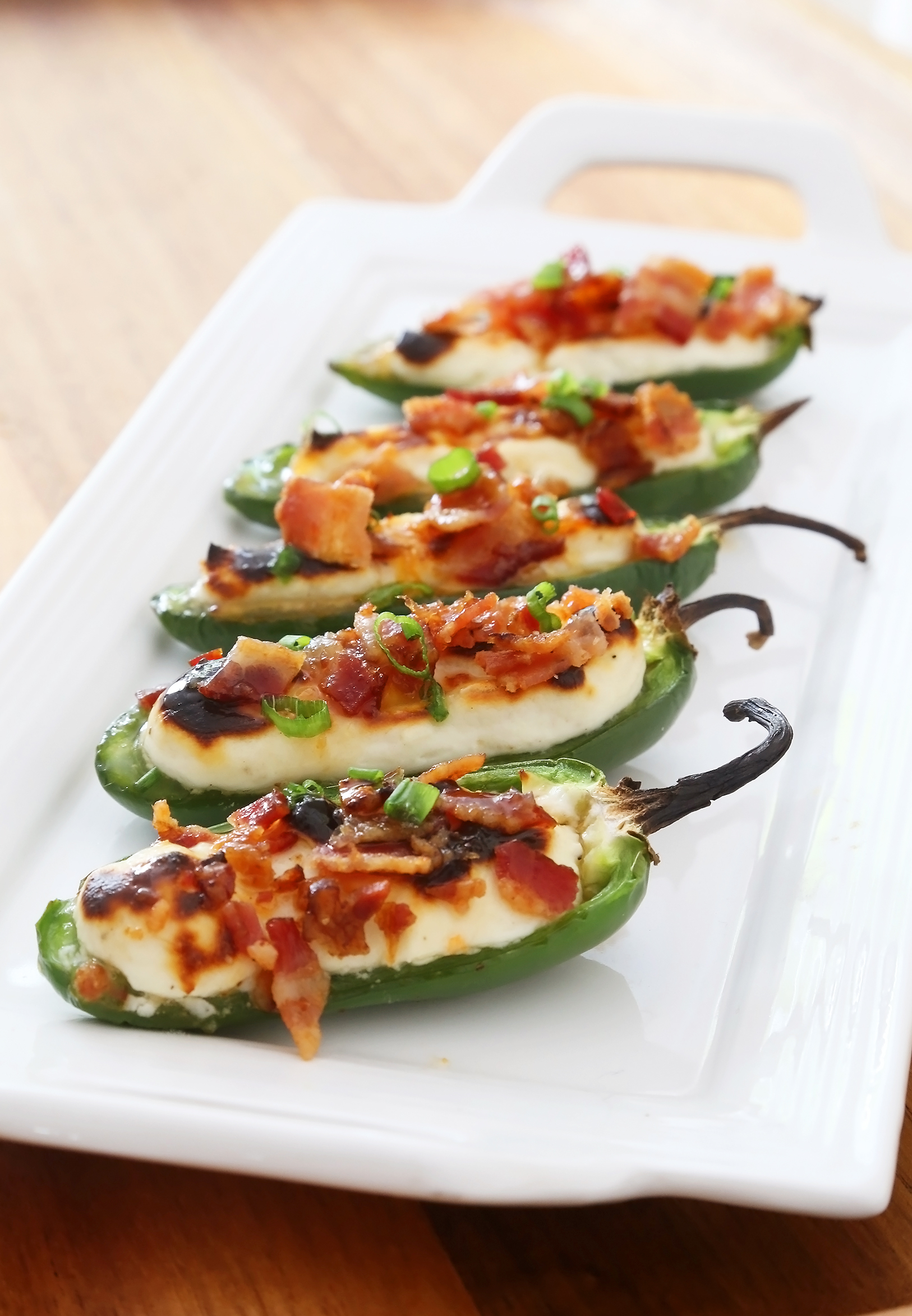 I've had a bit of an obsession lately. And if it's wrong, I don't want to be right.
But, something tells me it's not wrong, and that many other people have been embracing my obsession before I even discovered it! What is it, you ask?
Goat cheese and roasted, sizzled, smoky vegetables. Almost every night. And hey, if that's one way to make sure I eat my veggies ever night (like a good little blogger), I will keep dolloping away. The combination of creamy, melt-in-your-mouth tangy goat cheese with sweet, charred bell peppers sizzled on the stovetop or roasted in the oven will have me scraping my plate. Today, I present this goodness to you stuffed inside a jalapeno! These two-bite appetizers with crispy crumbled bacon, sweet pepper jelly and a sprinkle of scallions are addictively good.
How easy are they? Um, so easy you can make 'em in under twenty minutes. Sold yet?

The steps are simple! First, cook up some bacon until crisp, then chop those salty strips into crunchy crumbs. Then combine a mixture of cream cheese, goat cheese, garlic powder, onion powder, salt and pepper in a microwave-safe bowl. Warm it up for 30 seconds to thin out the mixture and make it easier to dollop into your hollowed-out pepper halves. Then spread that goodness inside your peppers, pop it into your hot broiler, and let them sizzle! Pull it, top 'em with bacon, and spoon on some deliciously sweet red pepper jelly (or honey) to really make this spicy-creamy appetizer sing!
Serve these scrumptious snacks for your next game day, or any casual afternoon with friends and family. They will fly off the platter, I guarantee!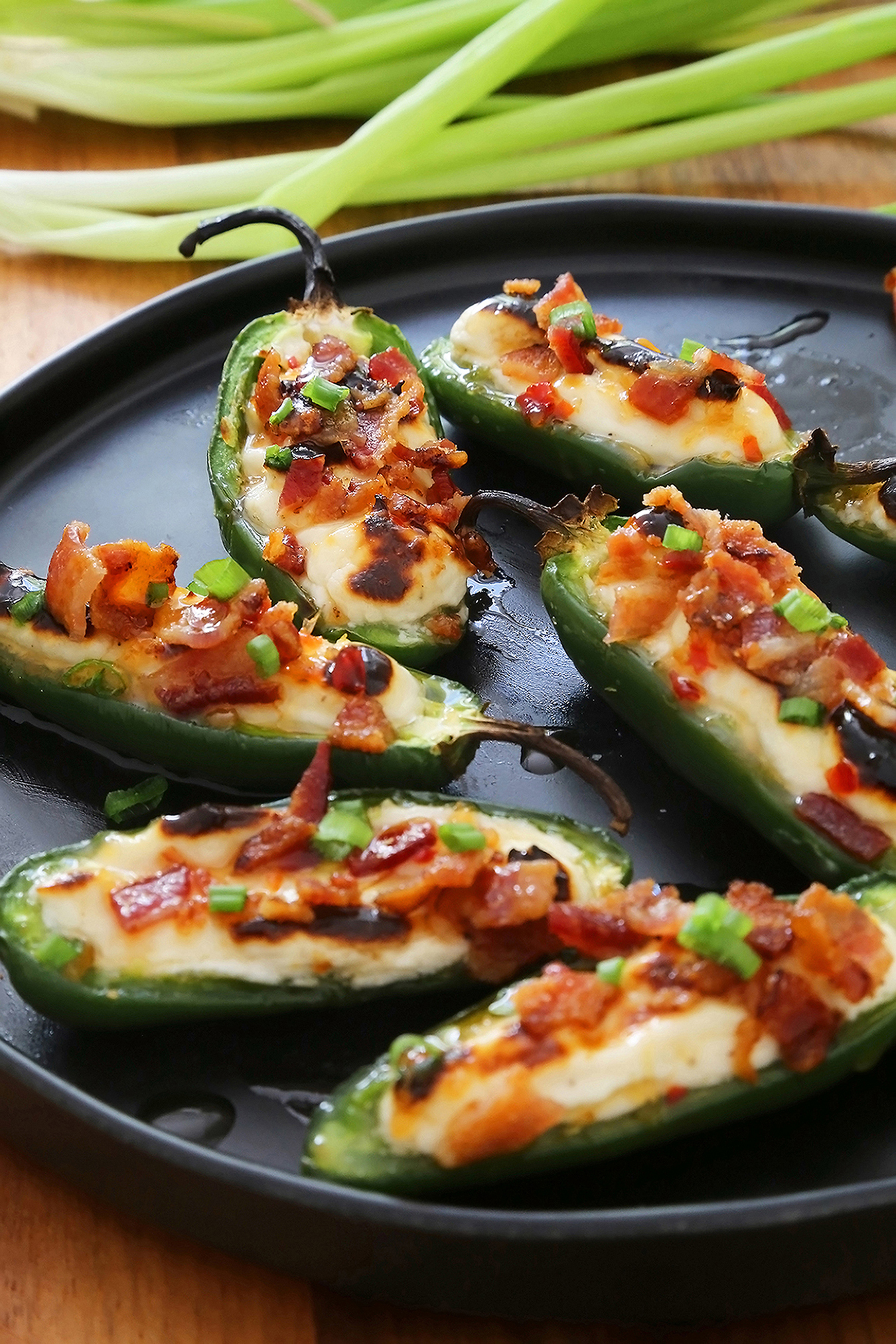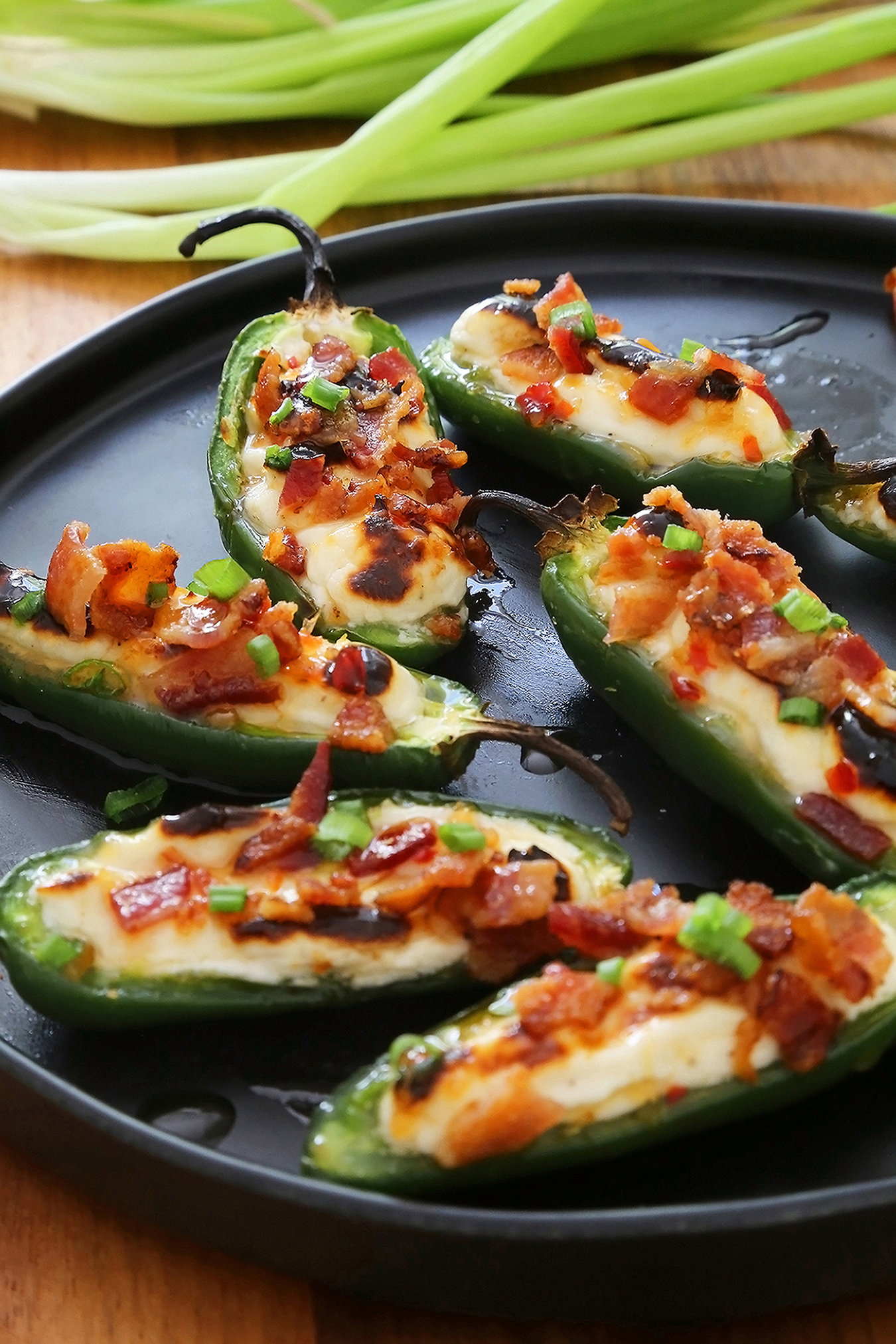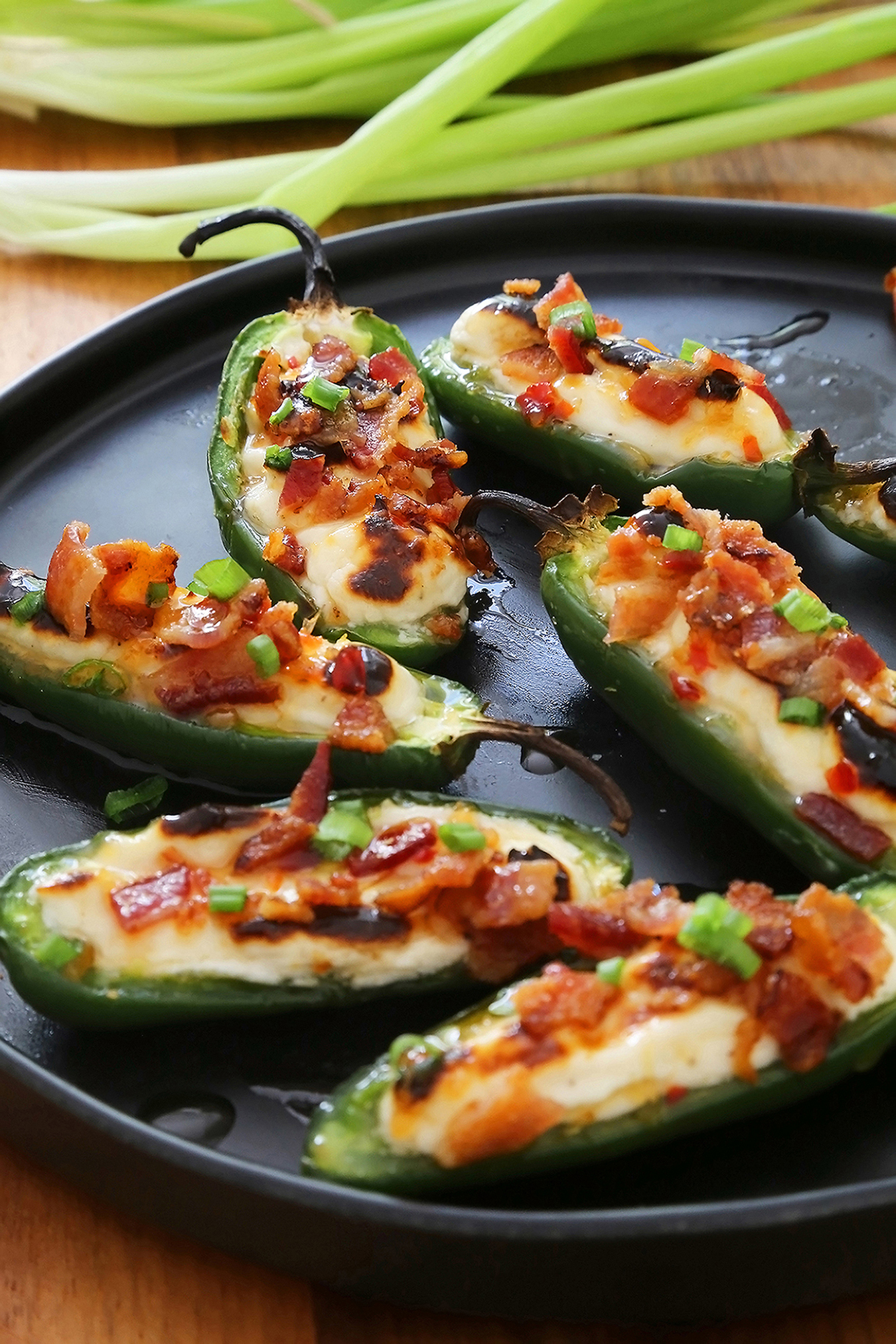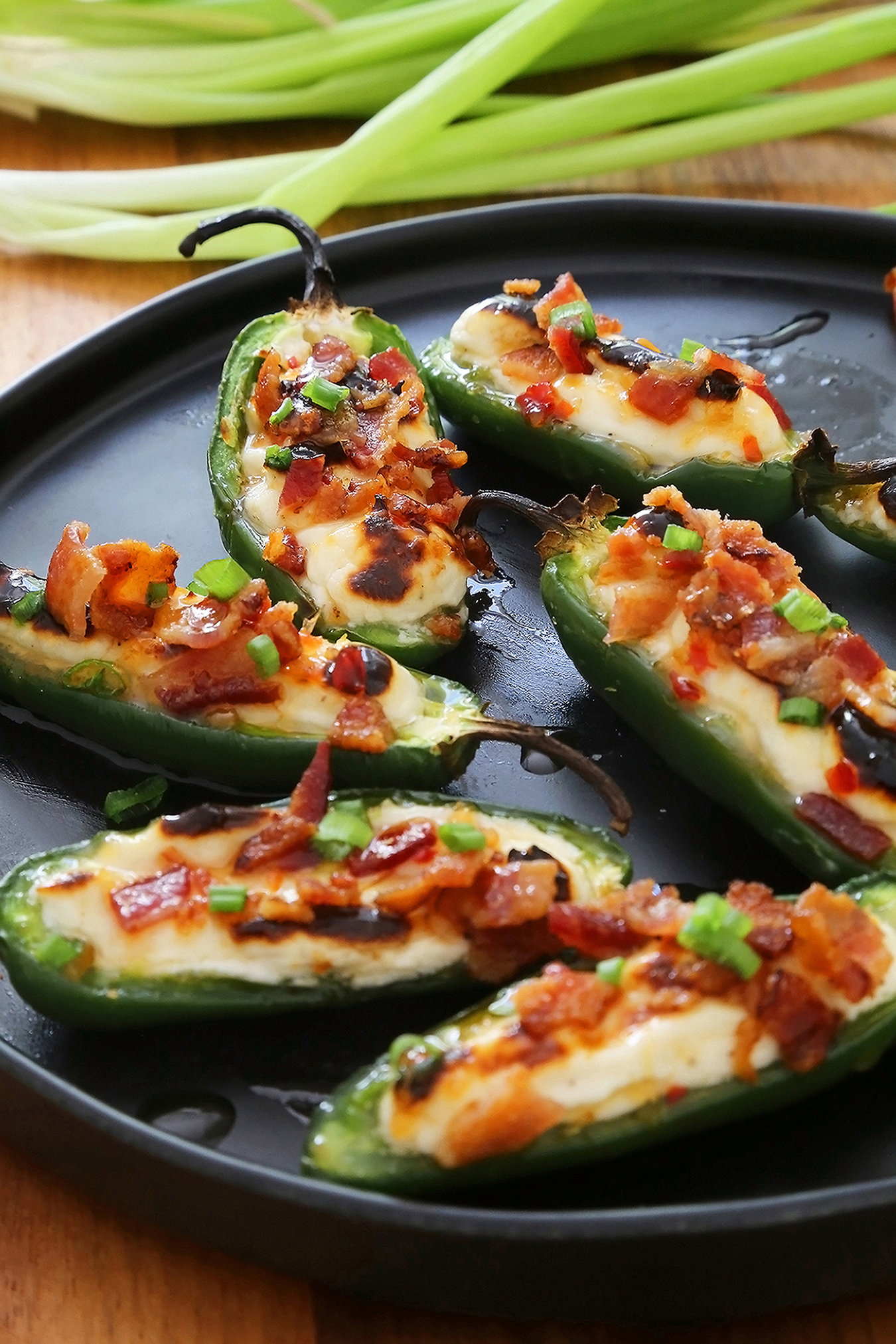 Bacon-Goat Cheese Jalapeño Poppers
Ingredients
8 jalapeno peppers, halved vertically and seeded
4 ounces goat cheese, softened
4 ounces reduced-fat cream cheese, softened
1/4 teaspoon onion powder
1/4 teaspoon garlic powder
1/4 teaspoon kosher salt
1/8 teaspoon freshly ground black pepper
4 bacon slices, cooked and crumbled
2 tablespoons red pepper jelly or honey
Instructions
Preheat broiler to high. Arrange pepper halves on a baking sheet.
In a medium bowl, combine goat cheese, cream cheese, onion powder, garlic powder, salt and pepper. Stir well to combine (you may need to microwave for 30-45 seconds, to thin the mixture). Divide filling among pepper halves.
Broil for 6-7 minutes, or until peppers are tender and filling is slightly charred. Remove from oven and sprinkle with crumbled bacon.
Add jelly/honey to a small bowl. Microwave 30 seconds, or until consistency has thinned. Drizzle over peppers. Serve warm.
Enjoy!