Try this fresh take on traditional creamy, gooey macaroni and cheese… with basil pesto! Made with just a handful of wholesome ingredients, this is a delicious spin on a classic comfort food you're gonna love!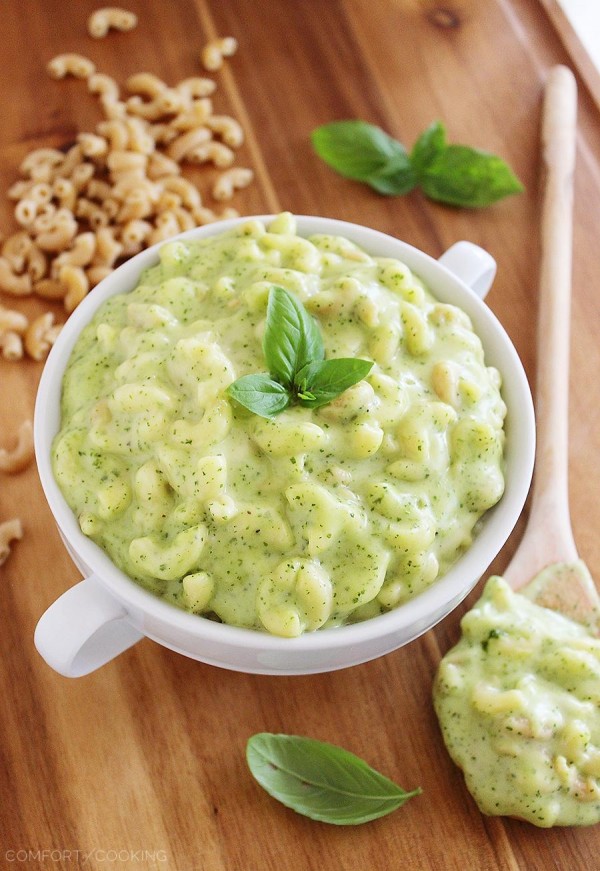 Here in Austin, we've had some cooler days in the past week. That's meant more long walks, fuzzy slippers and new spins on my favorite fall comfort foods. However, I see September as an in-between month as far as summer and fall inspired cooking. You can really just interpret it however you like. In this incredibly scrumptious macaroni and cheese with my best Spinach Basil Pesto, I think I've achieved the best flavors of both seasons!
Of course, there are so many more flavors that define summer and fall. But, these are my personal favorites – bright, citrusy basil pesto the color of summer grass mixed with cheesy, pillowy noodles wrapped up in a creamy white cheddar sauce. Summer + fall flavors = one happy marriage.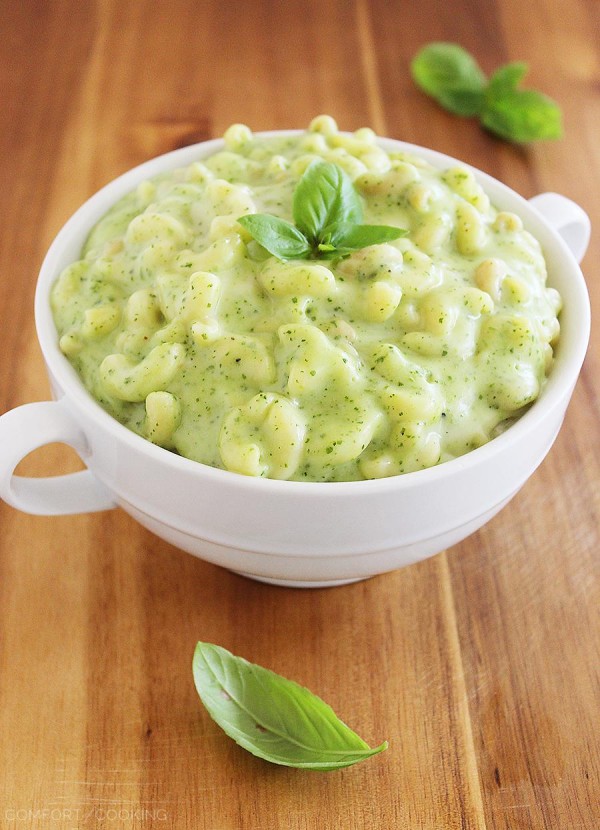 Using skim milk instead of cream cuts a few calories, too! You're still left with a silky, super creamy sauce that perfectly coats each noodle… and using white cheddar makes for the most intensely cheesy flavor. All done on your stovetop in one pan, in less than 30 minutes.
I like to serve this alongside my Easy Herb Roasted Chicken or a store bought rotisserie chicken. So easy, and so incredibly delicious with a glass of white wine. It also freezes well, too! The pesto makes the perfect finishing touch to this already stellar side, and really adds a special something. You've just got to try it.
This mac and cheese is totally kid friendly, too! I can see myself calling it "Monster Mac" to get my daughter to eat it one day… if mom and dad don't eat it all first! Hehe.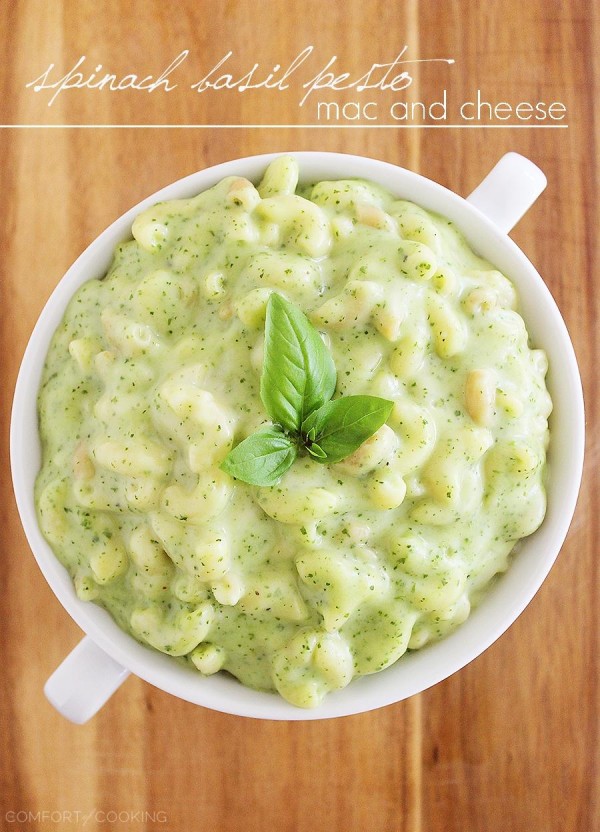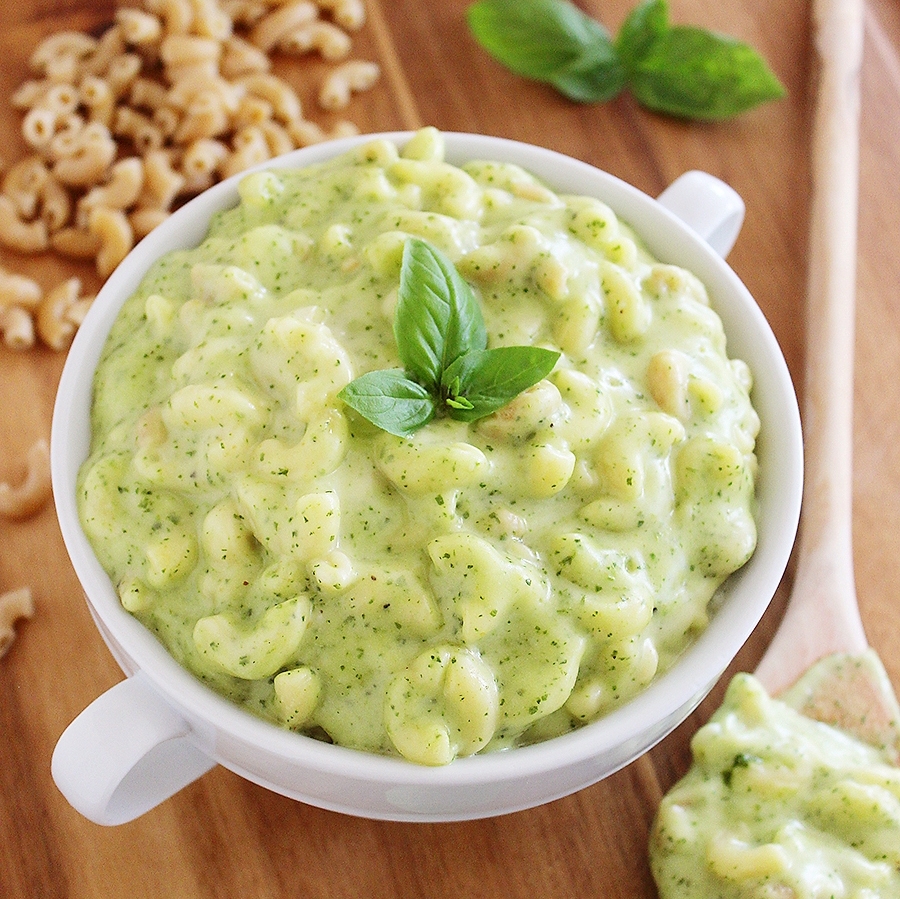 Stovetop Spinach Basil Pesto Mac and Cheese
Ingredients
1 pound dry elbow pasta
1 stick (1/2 cup) unsalted butter
1/2 cup all-purpose flour
3 cups milk
2 cups shredded white cheddar cheese
1/2 teaspoon kosher salt
1/4 teaspoon black pepper
2-3 Tablespoons Spinach Basil Pesto,, or other pesto
For the Spinach Basil Pesto:
4 cups spinach
2 cups basil
2 cloves garlic
1/4 cup Parmesan cheese
1 Tablespoon lemon juice
1 teaspoon kosher salt
1/2 teaspoon black pepper
1/3 cup + 1 Tablespoon olive oil
Instructions
Bring a pot of salted water to boil. Add pasta and cook according to package directions. Drain and set aside.
In a medium saucepan over medium heat, melt butter. Once melted, add flour, salt and pepper. Whisk for 2 minutes, until bubbly and thick. Gradually whisk in 3 cups milk. Continue stirring until thickened, 2-3 minutes.
Remove from heat and add cheddar, stirring until melted. Stir in cooked pasta until well combined. Stir in pesto (start with 2 Tbsp., adding more if you wish). Season with additional salt and pepper, to taste.
For the Spinach Basil Pesto:
To the bowl of a food processor or blender, add all ingredients except for olive oil. Blend for 30 seconds, scraping down the bowl as needed. Slowly stream in all olive oil while the machine is running. Process until smooth.