Add a little sunshine to everyday with these buttery soft sprinkle cookies! Deliciously colorful, fun, and easy to make from scratch with basic ingredients. Perfect for parties, birthdays, and any celebration that calls for rainbow cookies!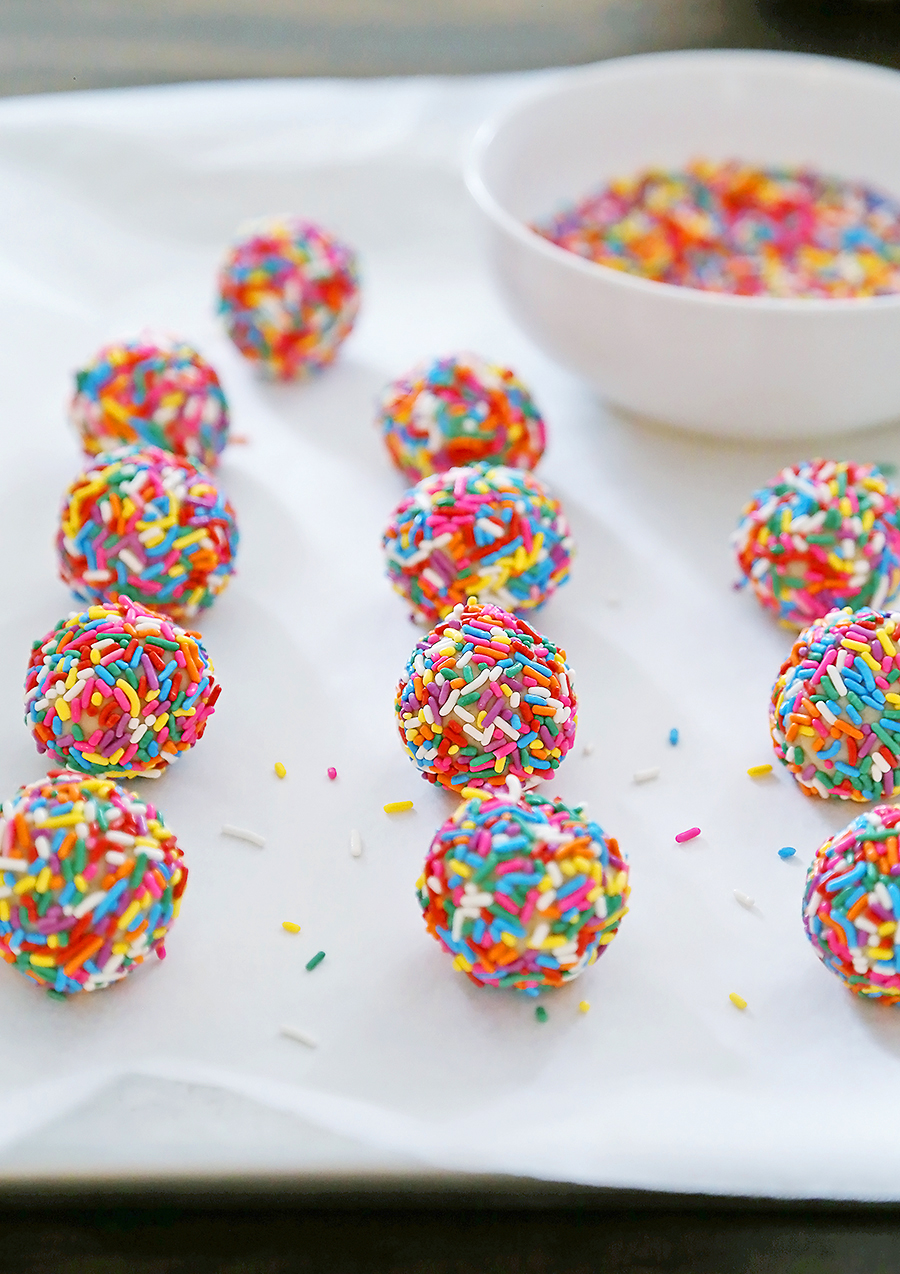 When looking for an easy, unique cookie to add to my Easter table, I fell hard for these rainbow cookies! Just look at that confetti of colorful sprinkles, all wrapped up in a soft and buttery vanilla cookie. Irresistible!
These cookies came together quickly and were so fun to make with my 6-year-old, who loves helping in the kitchen. They have a melt-in-your-mouth texture with that addictive vanilla-almond aroma reminiscent of a classic birthday cake. But, instead of slaving over complicated cakes or cupcakes, you can whip up these cookies in under 15 minutes! A batch of rainbow sprinkle cookies are so fun for holidays, celebrations, birthday parties and any reason to make someone smile!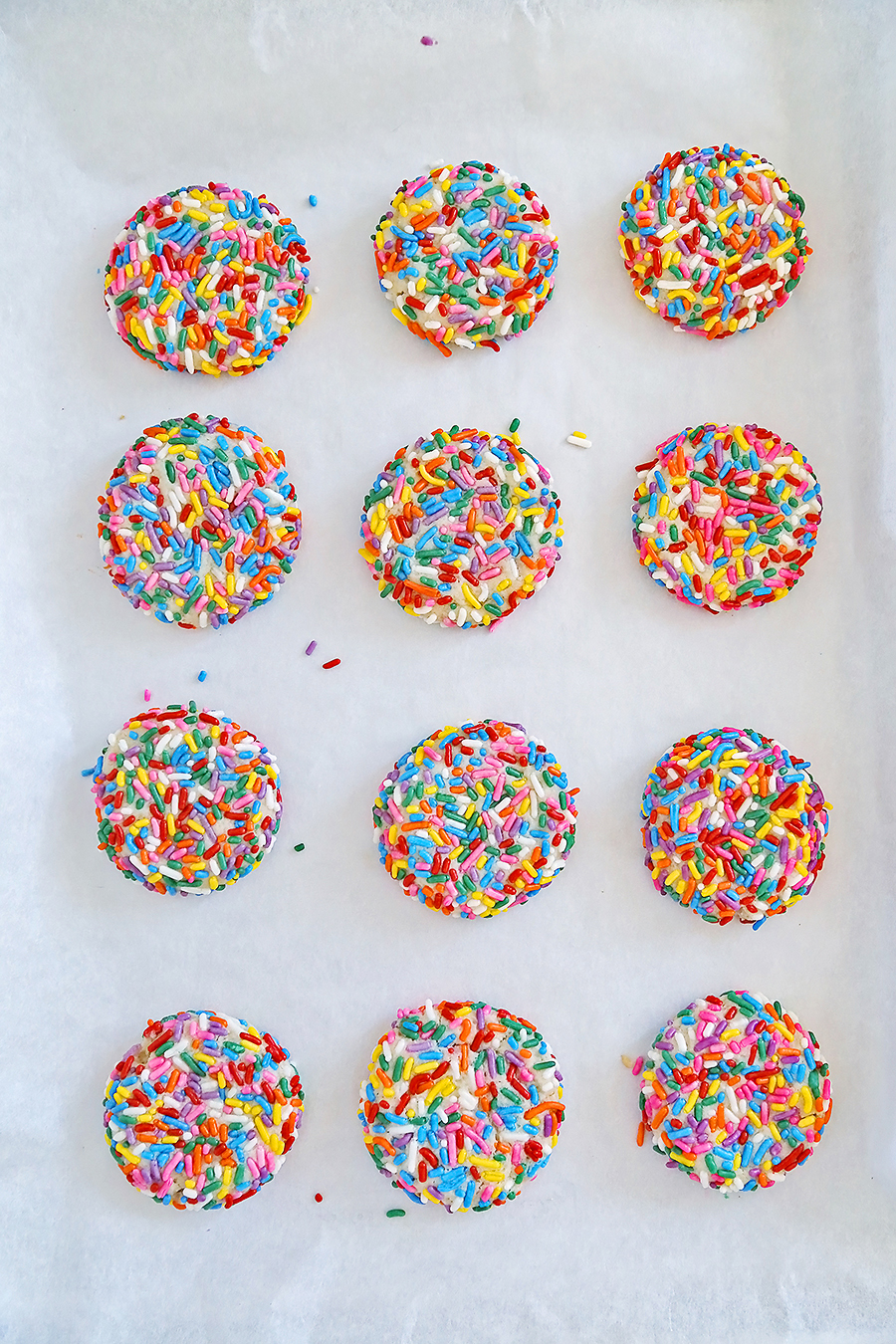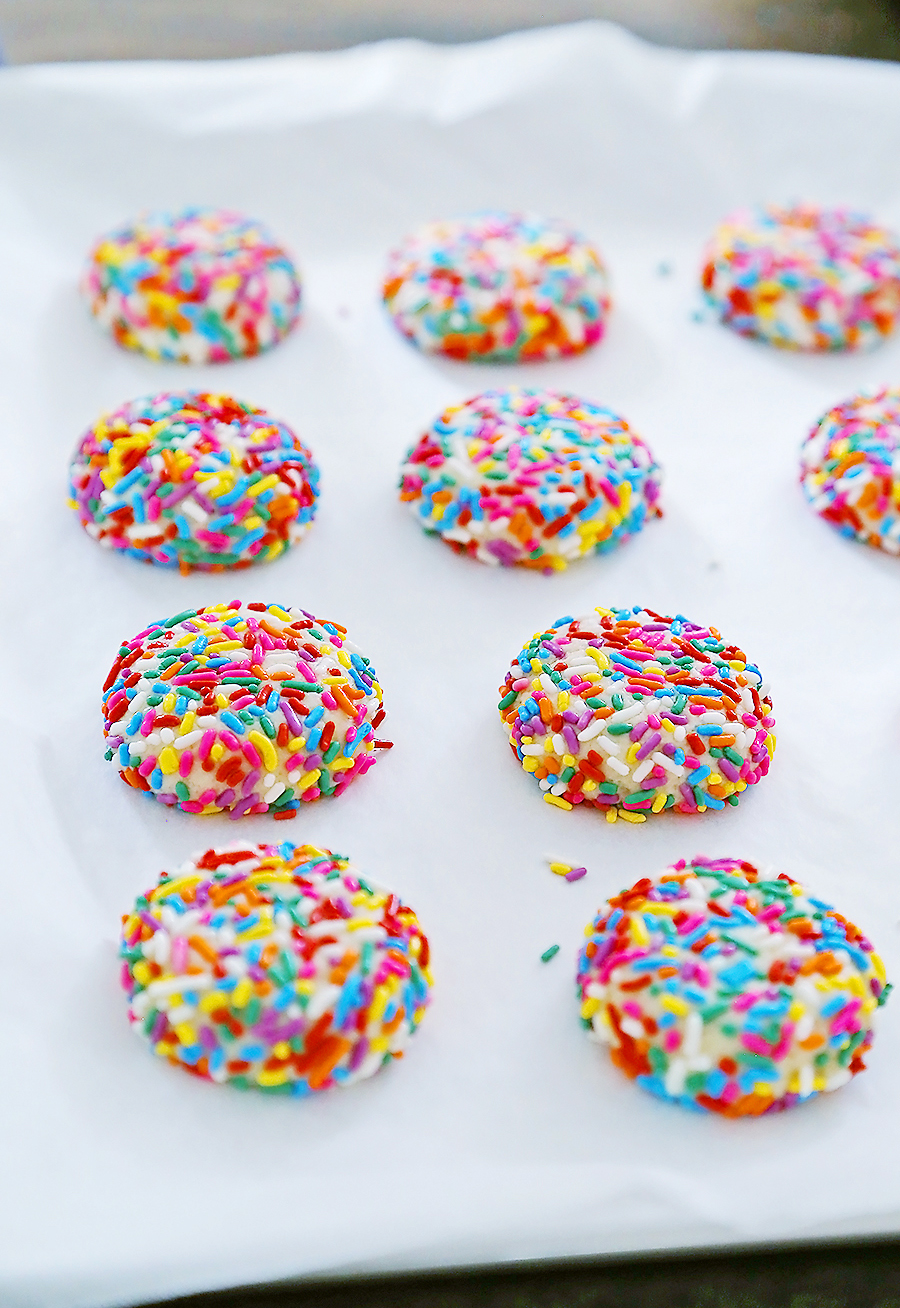 Looking for more sweet rainbow recipes? Try these!
• Rainbow Fruit Skewers with Vanilla-Honey Yogurt Dip
• Mini Vanilla Wafer Ice Cream Sandwiches
• Strawberry Mango Salsa with Cinnamon-Sugar Tortilla Chips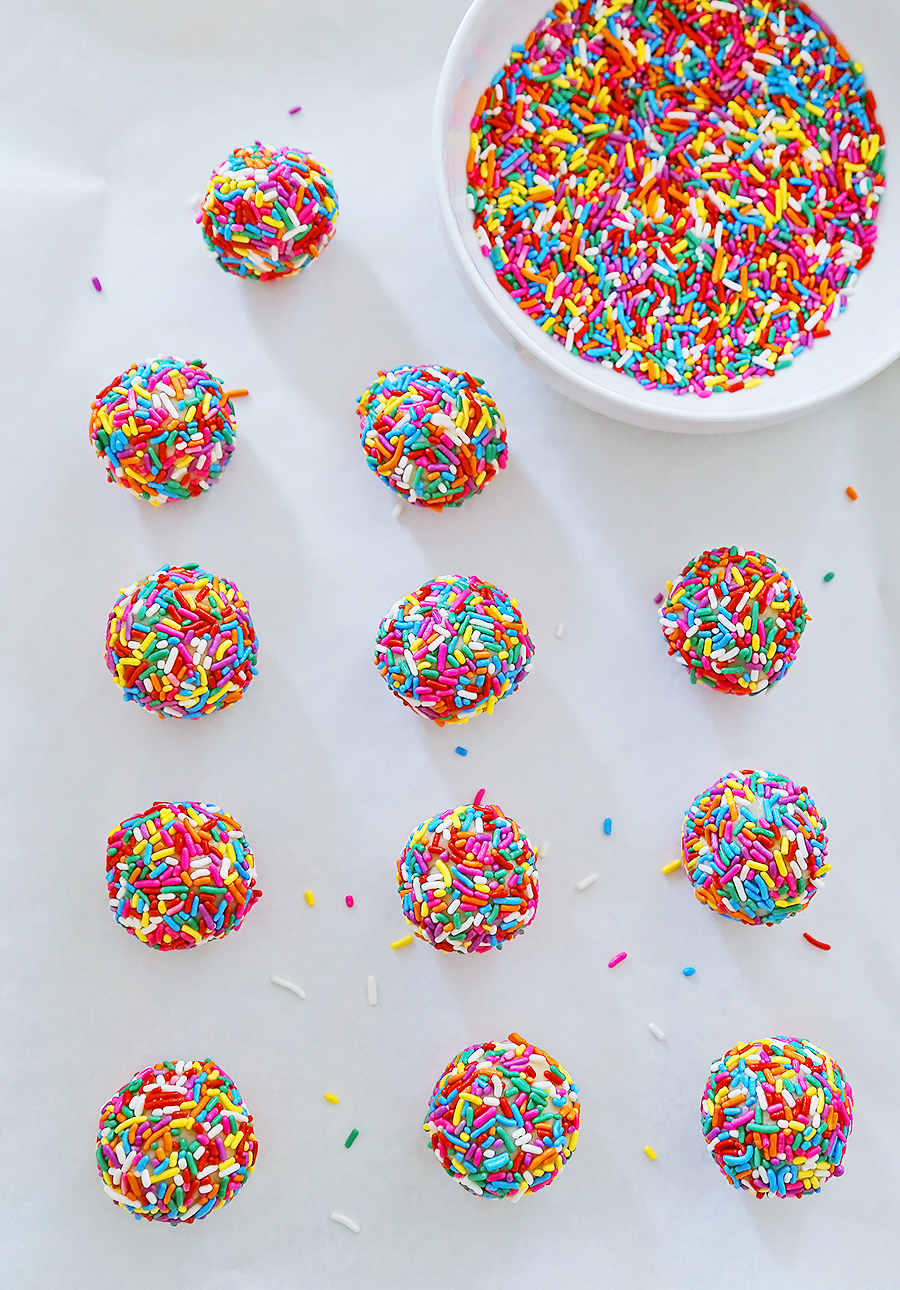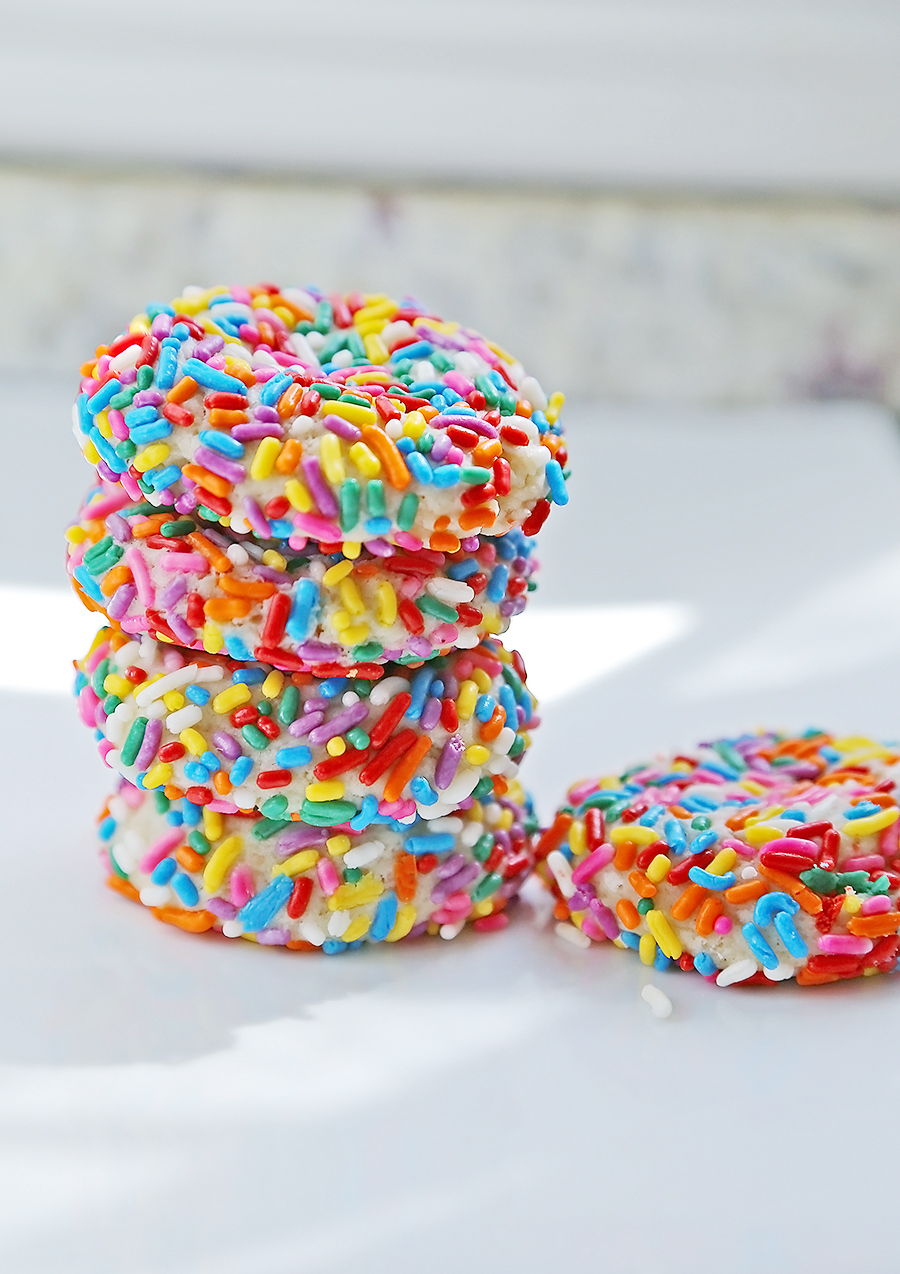 It turns out these were the perfect cookie for our party! One by one, these cookies flew off the platter and received plenty of compliments. How could you resist these bright, cheerful colors anyway? For an amazingly easy cookie, these were an instant family favorite – no surprise, given how adorable and mouthwatering they are.
This isn't your average sugar cookie. They have so much flavor, a super soft texture, and fun, happy colors. You have just got to try them!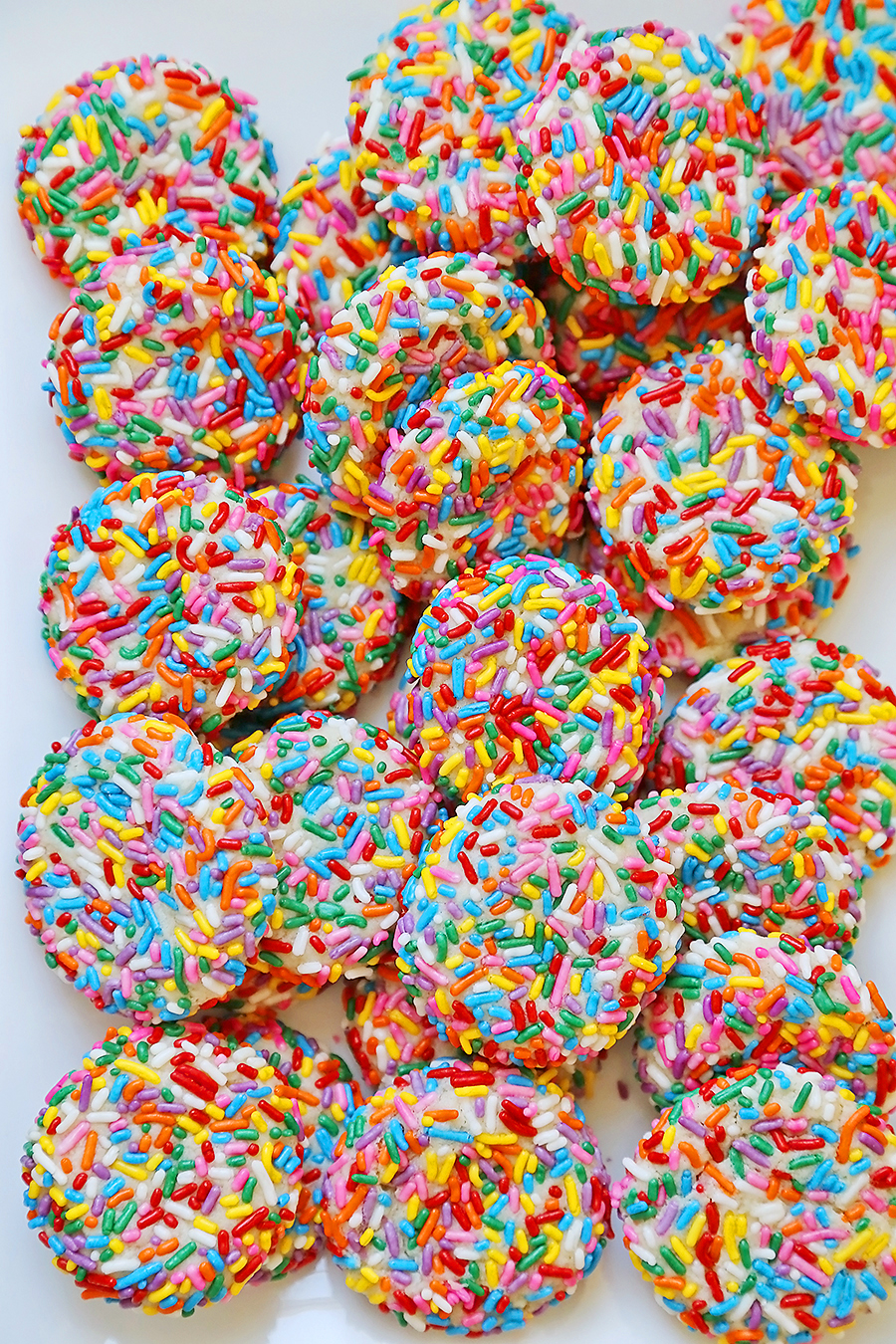 Whether you're baking a sprinkle cookie to satisfy a craving, or for a special celebration, these will definitely hit the spot! Kids and adults alike love these rainbow confetti cookies. They are the ultimate treat to inspire happy smiles all around!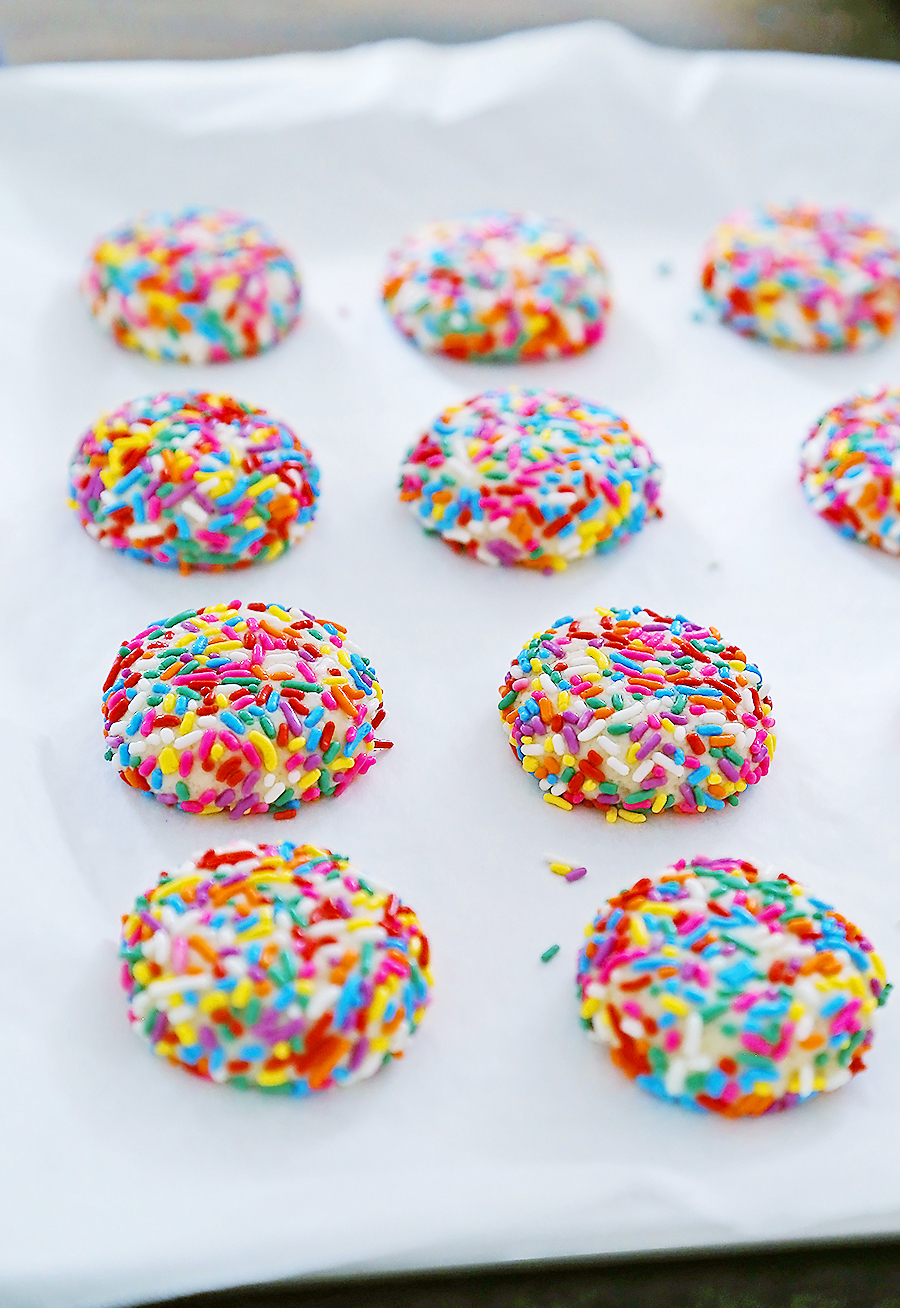 Rainbow Sprinkle Cookies
Yield:
20 cookies (approx.)
Ingredients
3 cups all purpose flour
1 teaspoon baking powder
1/4 teaspoon baking soda
3/4 teaspoons kosher salt
2 sticks (1 cup) unsalted butter, softened
1/4 cup cream cheese, softened
1-1/4 cups granulated sugar
1 large egg
3 teaspoons vanilla extract
1/4 teaspoon almond extract
1-1/2 cups rainbow sprinkles
Instructions
Preheat oven to 375 degrees F. Line two large baking sheets with parchment paper. Set aside.
In a large bowl, whisk flour, baking powder, baking soda and salt.
In a separate large bowl, add cream cheese, butter and sugar. Mix with the paddle attachment or your electric mixer or beat with a handheld mixer, until combined and fluffy, about 3 minutes. Beat in egg, vanilla extract, and almond extract. Add flour mixture and beat on low just until flour disappears. Do not overmix.
Cover mixing bowl and refrigerate for 20-30 minutes. Pour rainbow sprinkles into a bowl.
Scoop dough into 1 Tablespoon-sized balls. Roll dough between your palms to make round. Gently roll in sprinkles, coating completely.
Transfer dough balls to baking sheet, spacing 2 inches apart. Use a flat bottomed object (glass, can, bowl, measuring cup) to gently press down on cookies to flatten.
Bake for 8-10 minutes. They may be slightly under baked - this is good!
Remove from oven and allow cookies to cool for a couple minutes, before transferring to cooling racks.
Notes
To store: Place cookies in an airtight container, or in a resealable plastic bag, for up to one week. Freeze for up to one month.
Adapted from The Forked Spoon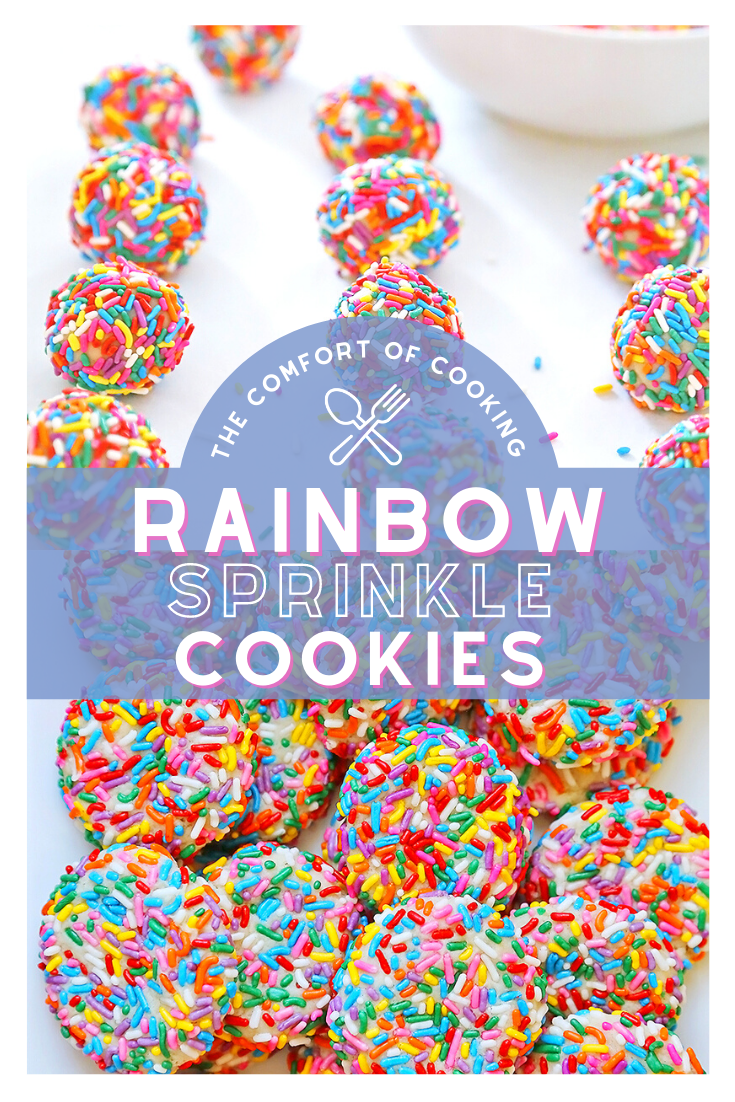 Want to receive our latest recipes straight to your email inbox? Click here to subscribe!