The sweetest mini celebration cake! Five layers of colorful, moist cake with vanilla frosting and a confetti of rainbow sprinkles. Simple and suitable for small crowds, this little layer cake is delicious and fun for all ages!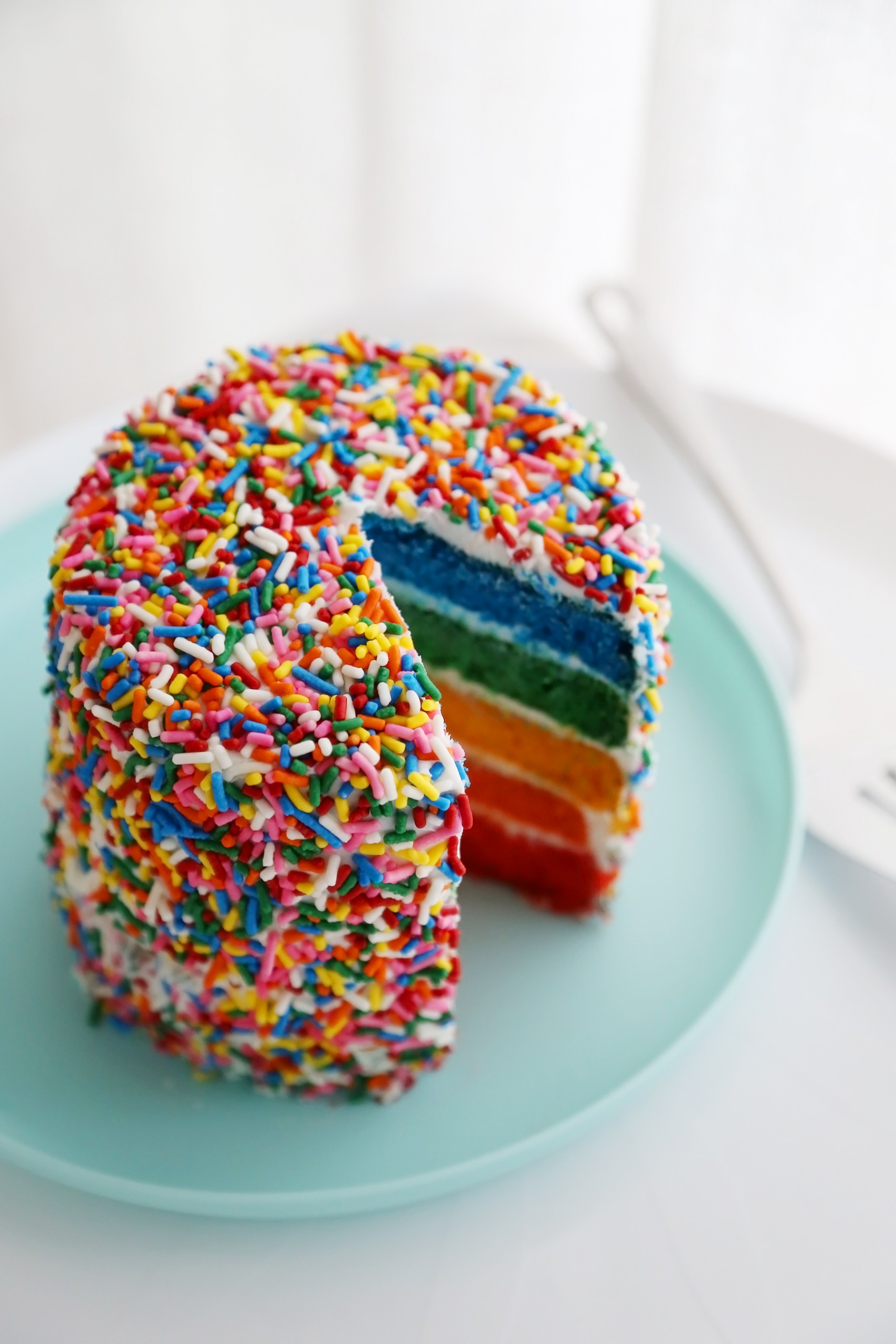 After celebrating my daughter's sixth birthday with this gorgeous (and easy) sprinkled rainbow cake, we decided we must share it with you! The vibrant colors and fluffy, moist layers of frosted cake were so warmly received by our small crowd. Everyone at the festivites, from young to old, was happily surprised when a beautiful rainbow was revealed after the first slice!
Novice bakers, trust me: This cake is easier to make than it may first appear. I am no professional baker, but was determined to pull of a pretty and delicious homemade cake for our celebration. Didn't care if it had that "homemade" look, or tilted to one side – adds to the charm, right?
For this recipe, I used smaller 6-inch pans to make it mini, but with five layers, this cake still feeds a gathering of 8-10 people. You can spread the same batter into 8-inch pans for thinner layers and a slightly wider cake. This will serve closer to 12-14 people.
This ridiculously fun rainbow cake is sure to impress your party guests! Easy to make with semi-homemade ingredients and melt-in-your-mouth flavor. Everyone loves a sprinkled party cake for a creative and fun twist on traditional desserts!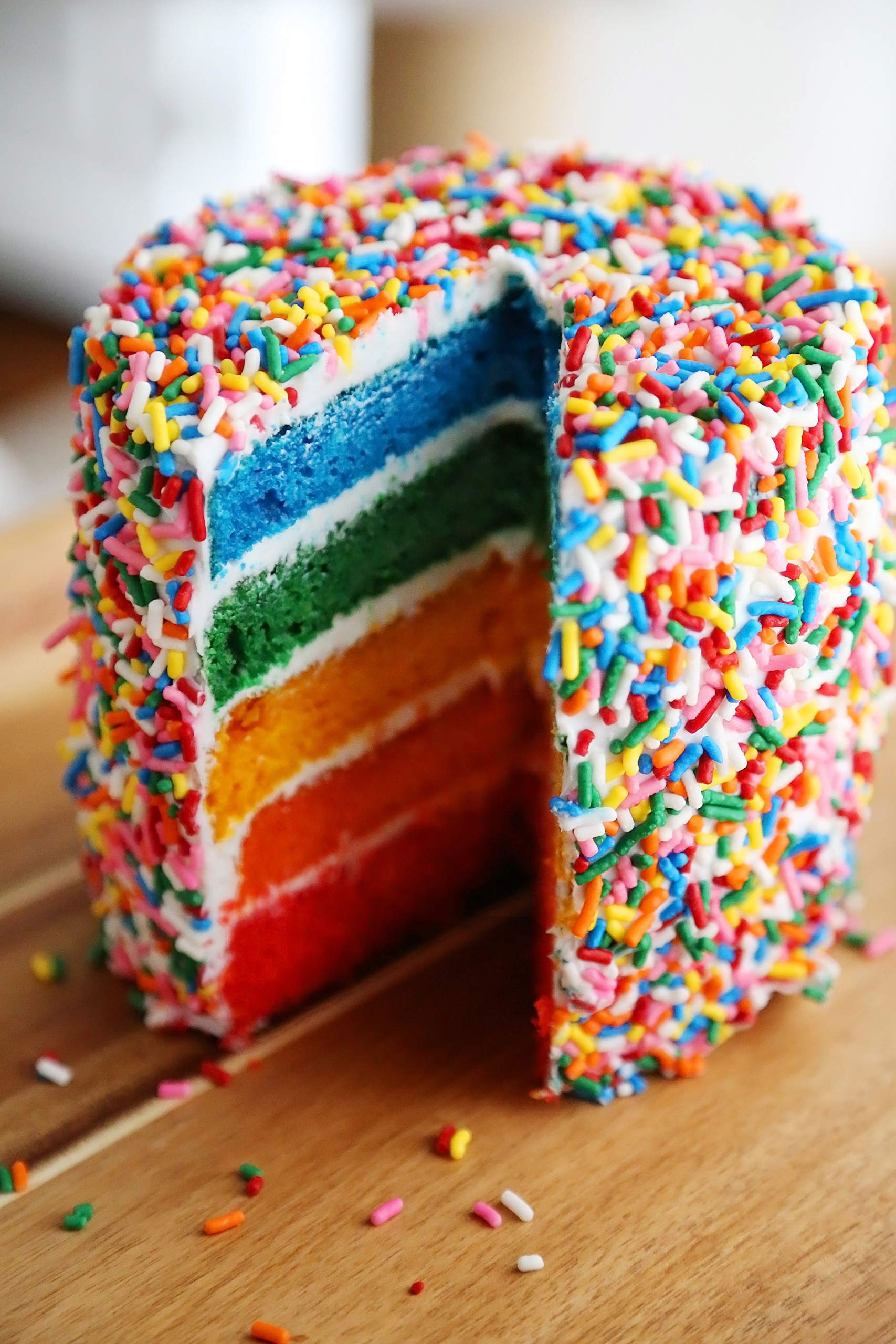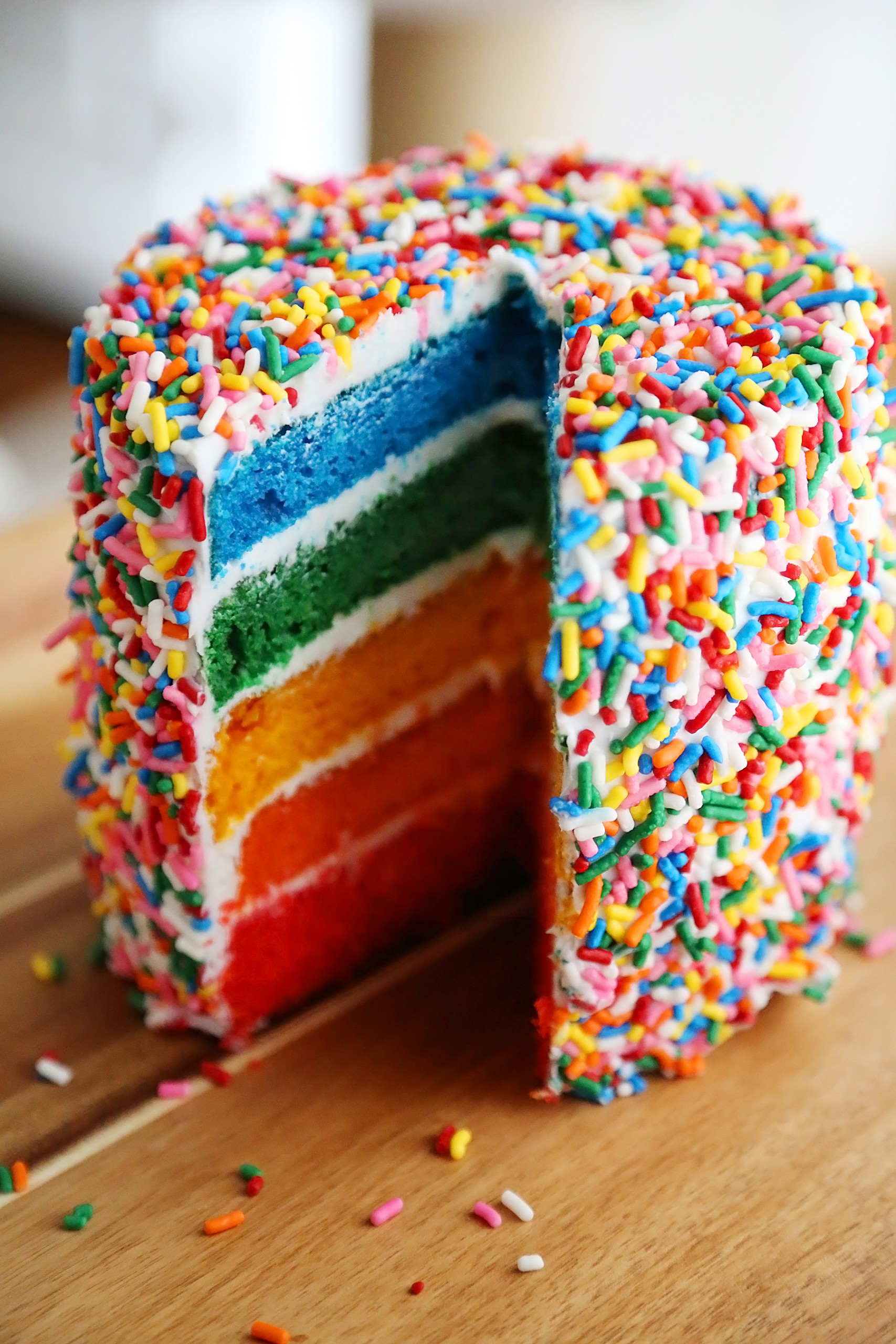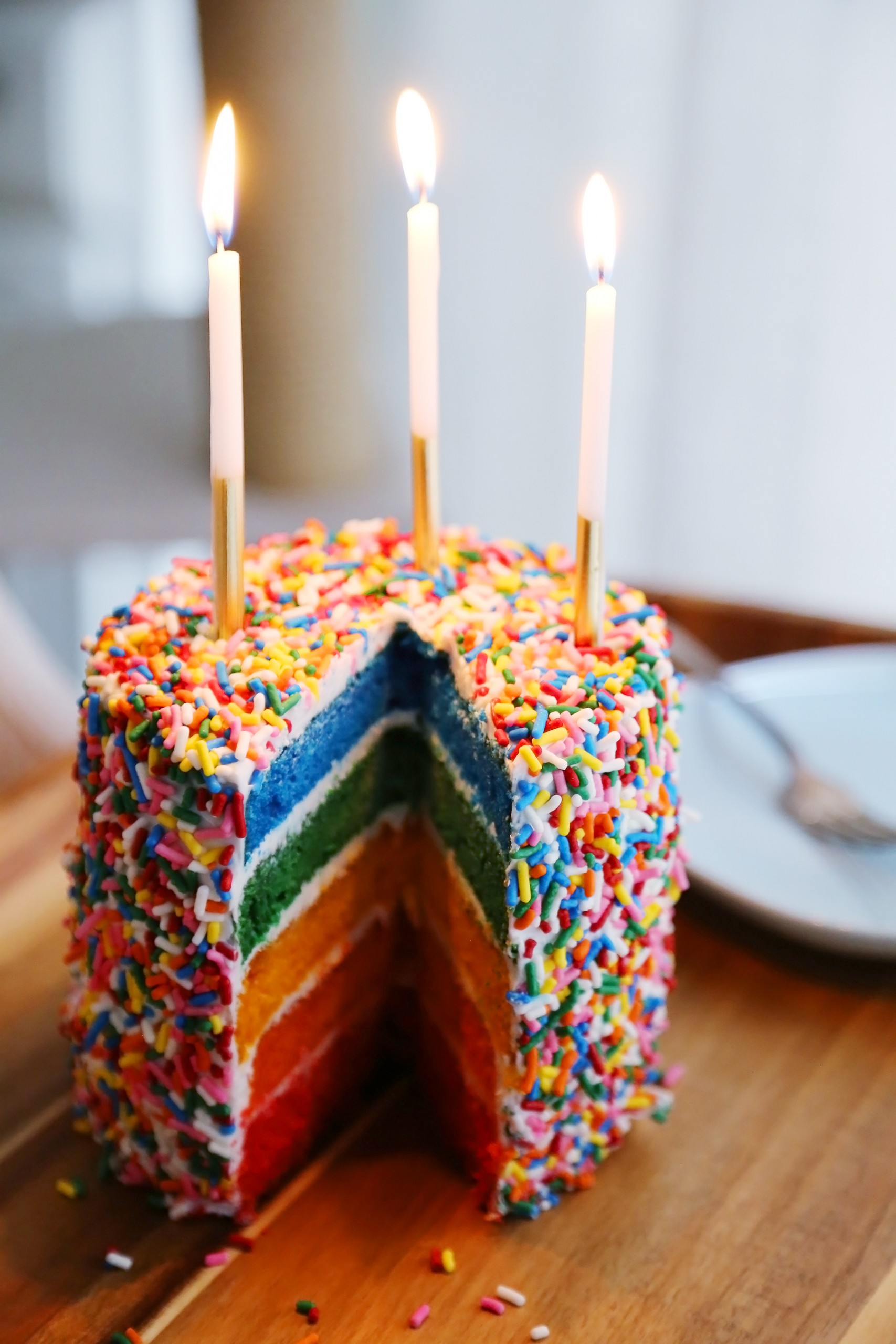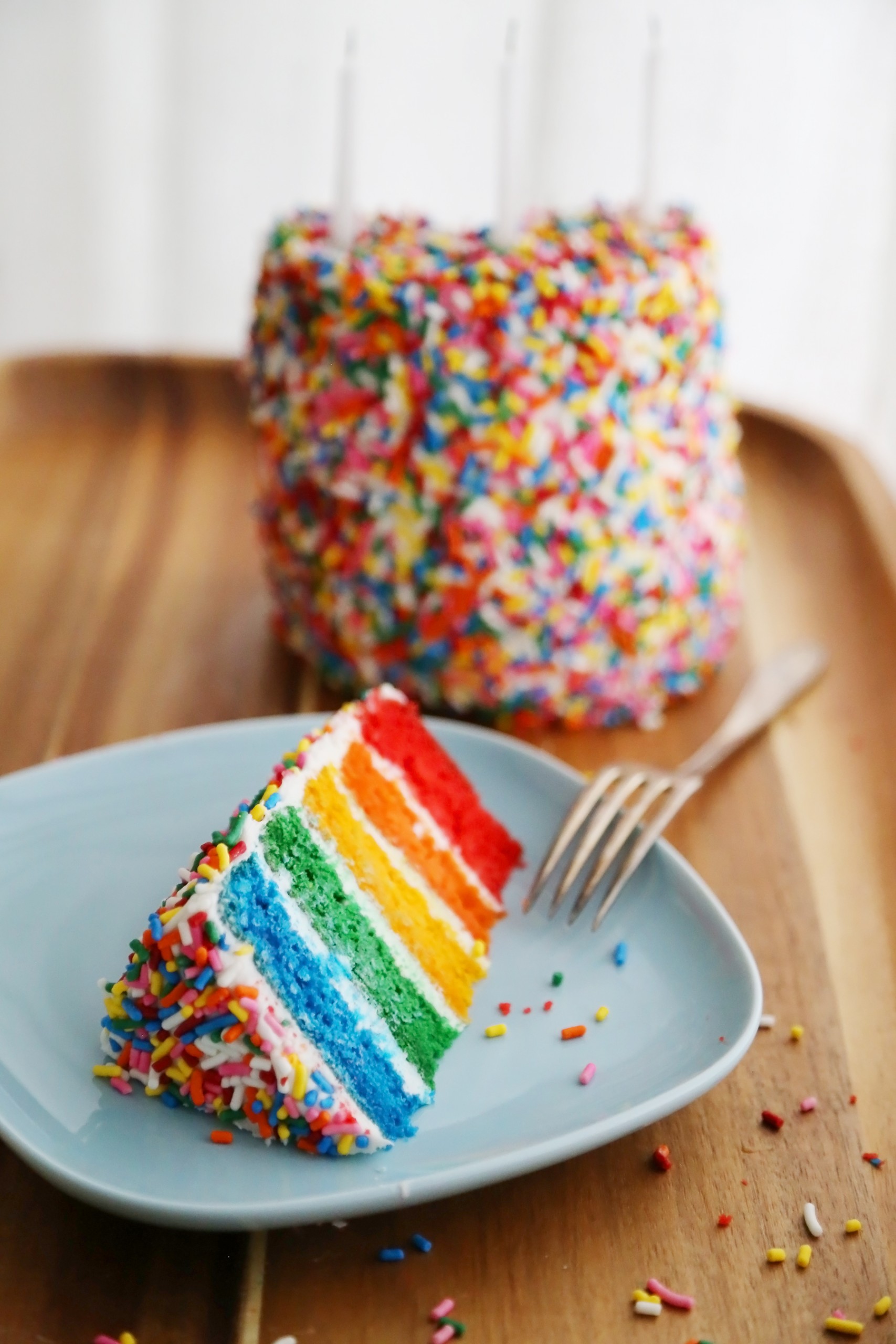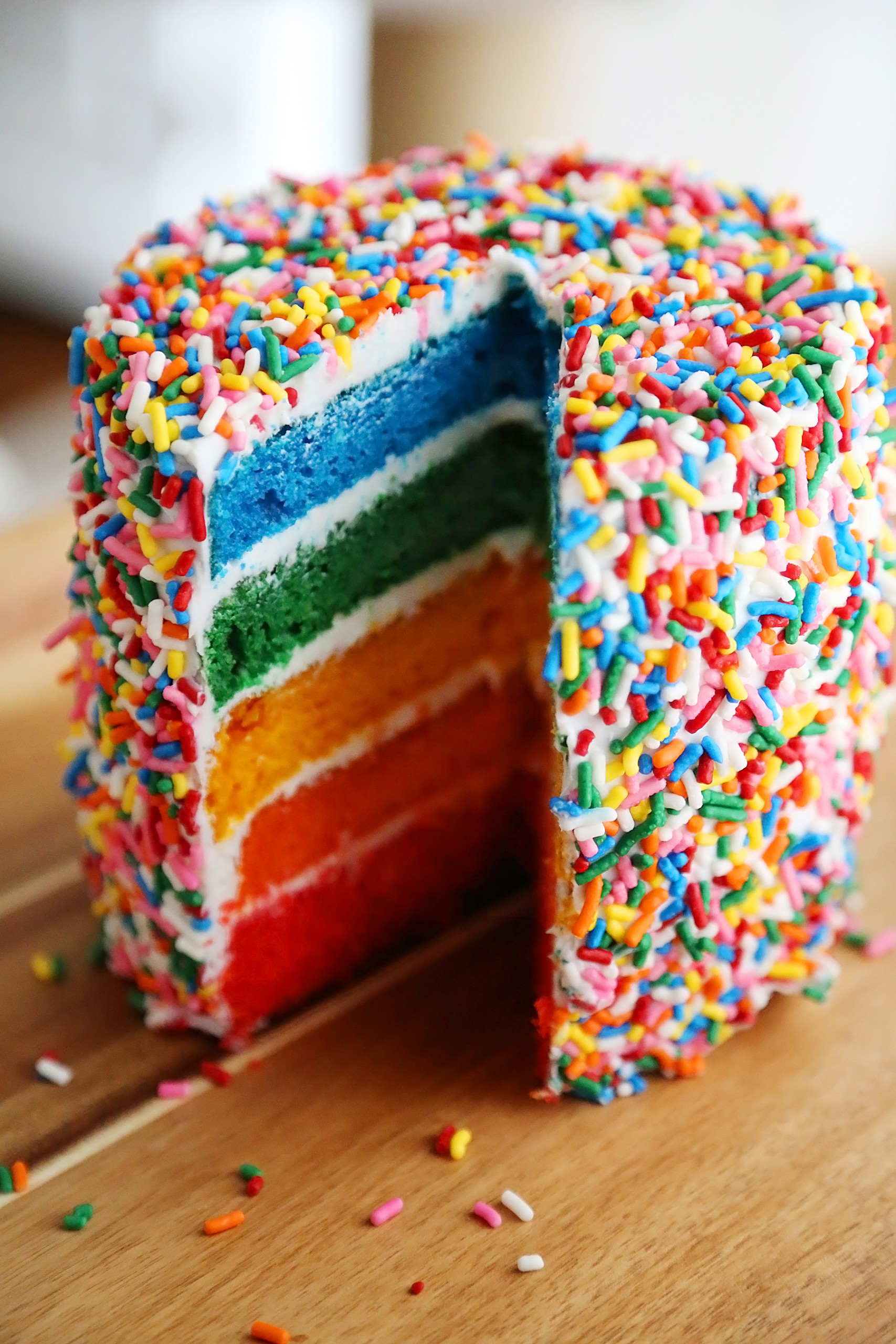 Easy Rainbow Cake
Ingredients
For rainbow cake layers:
Nonstick cooking spray
2 (16.25 oz.) boxes white cake mix
2 cups water
1 cup vegetable oil
6 large eggs
Gel food coloring (red, yellow, green, blue)
For decorating:
2 containers (about 3 cups) white or vanilla frosting
about 2 cups rainbow sprinkles
Instructions
For rainbow cake layers:
Preheat oven to 350 degrees F. Spray round cake pans with nonstick cooking spray.
In large bowl, combine cake mix, water, oil and eggs. Beat with electric mixer on low speed for 30 seconds, then on medium speed for 2 minutes, scraping bowl occasionally. Divide batter evenly among 5 bowls, about 1-1/3 cups each.
Using food colors, tint batter in separate bowls red, orange (using red and yellow), yellow, green and blue. Start with a small amount of coloring, and adjust as needed.
Pour each colored batter into separate cake pans (use one at a time if you don't have 5 pans). Set aside and cover remaining batter until ready to use.
Bake 25 to 30 minutes (depending on size of your cake pan), or until cake springs back when touched lightly in center and begins to pull away from side of pan. Cool 10 minutes. Remove from pans to cooling racks. Cool completely before frosting.
Once cake has cooled completely, slice domed top with a sharp knife to flatten. This will help you layer the cakes evenly.
For decorating:
With a flat spatula, evenly spread a thin layer of white frosting on your bottom cake layer. Top with remaining layers, spreading frosting between each.
Spread a thin layer of frosting all over the entire cake. This is your "crumb coat" (one of two frosting layers) that holds everything together. Refrigerate until firm, at least 1 hour.
Spread with remaining frosting. Coat all over with rainbow sprinkles. Refrigerate until firm and ready to serve.
Special Equipment Needed
Electric mixer
5 medium bowls
6-inch or 8-inch round cake pans
Icing spatula or flat spatula