Super easy, crispy and flaky turnovers! Made with fresh apples, puff pastry and fall spices. Only 6 ingredients and 30 minutes, start to finish! You will love the buttery, apple pie flavors in this heavenly handheld breakfast or dessert.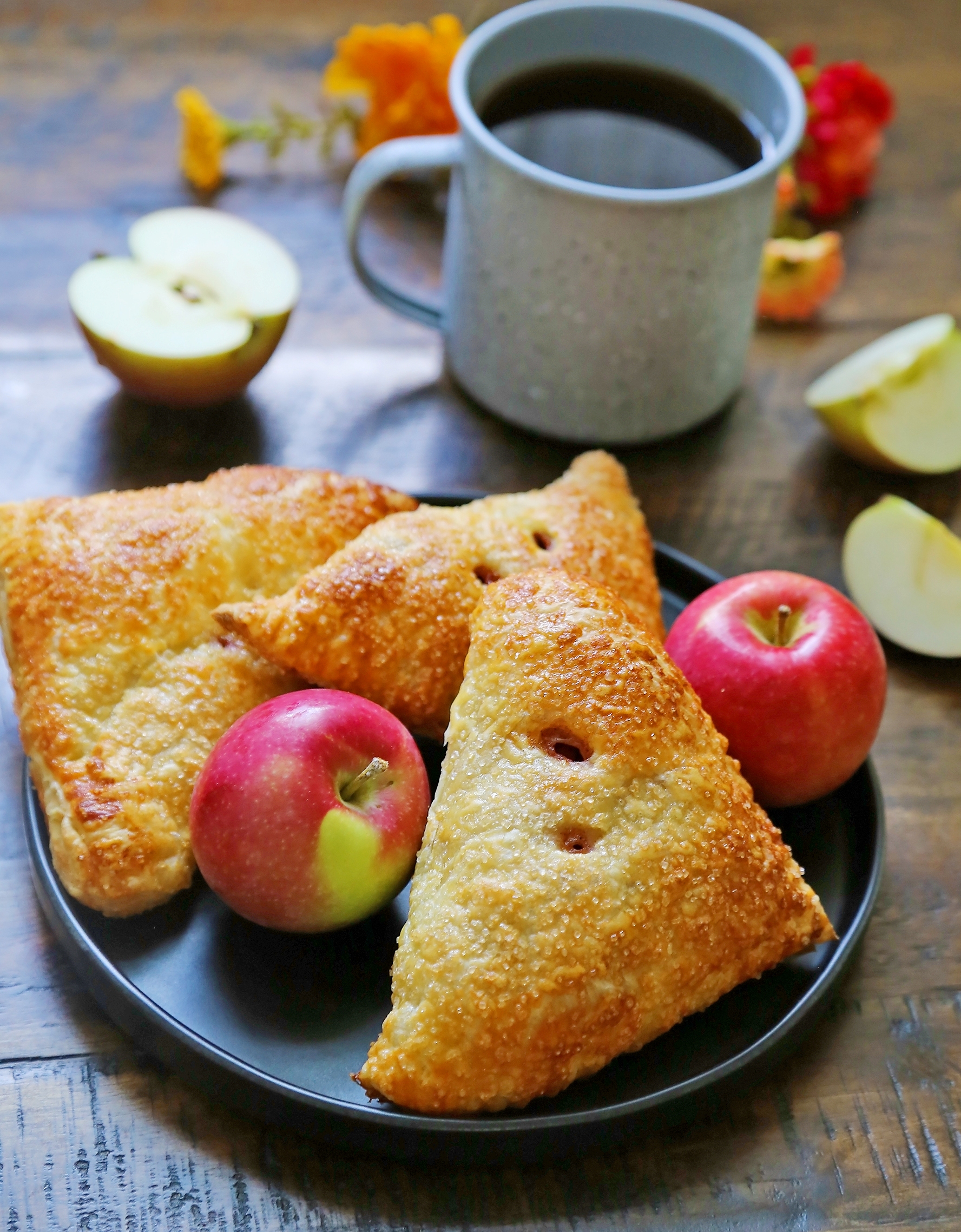 Say hello to my favorite fall treat!
These simple, scrumptious apple turnovers only need 6 ingredients! They come together quickly, give you that amazing autumnal aroma in the house, and serve double duty for breakfast and dessert. What's not to love?
Every flaky, buttery bite is fabulous with a cup of coffee and the paper, or a scoop of vanilla ice cream and drizzle of caramel sauce. Fall is calling, y'all. And if you have a bushel of apples waiting to be used, these handheld pie-style turnovers are what you need in your life.
Did I mention how EASY these are to make?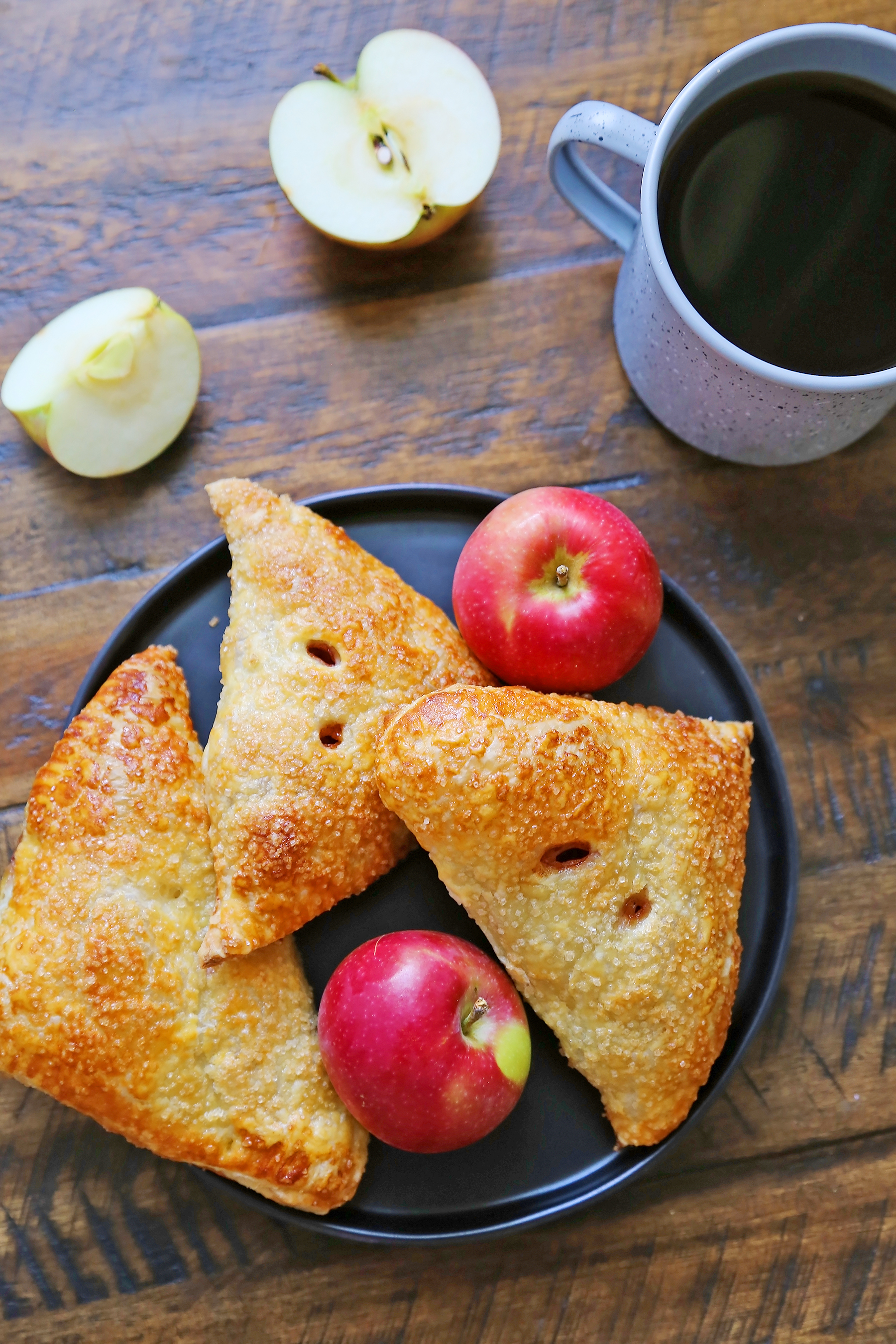 All you need for this melt-in-your-mouth, puffy perfection is: about 3-4 apples, puff pastry, brown sugar, cinnamon, 1 lemon and some flour for dusting your work surface.
Roll out your puff pastry and cut it into 4 squares (a pizza cutter makes this easy, but not necessary). Combine your chopped apples with the brown sugar, cinnamon and lemon juice. Then fill up your pastry sheets, fold over diagonally, and crimp with a fork. Brush with an egg wash and sprinkle with coarse sugar, if you'd like. Remember to cut some slits in the top for steam to escape. We don't want exploding turnovers!
Onto your baking sheet they go, and into a piping hot oven to bubble away and fill your home with that cozy fall aroma.
Serve warm or at room temperature, with your morning coffee or tea, or a little ice cream on the side for dessert. These are absolutely amazing for fun fall baking. The light and flaky crust, the gooey apple filling, and that crispy sugar coating makes this one irresistible autumn treat.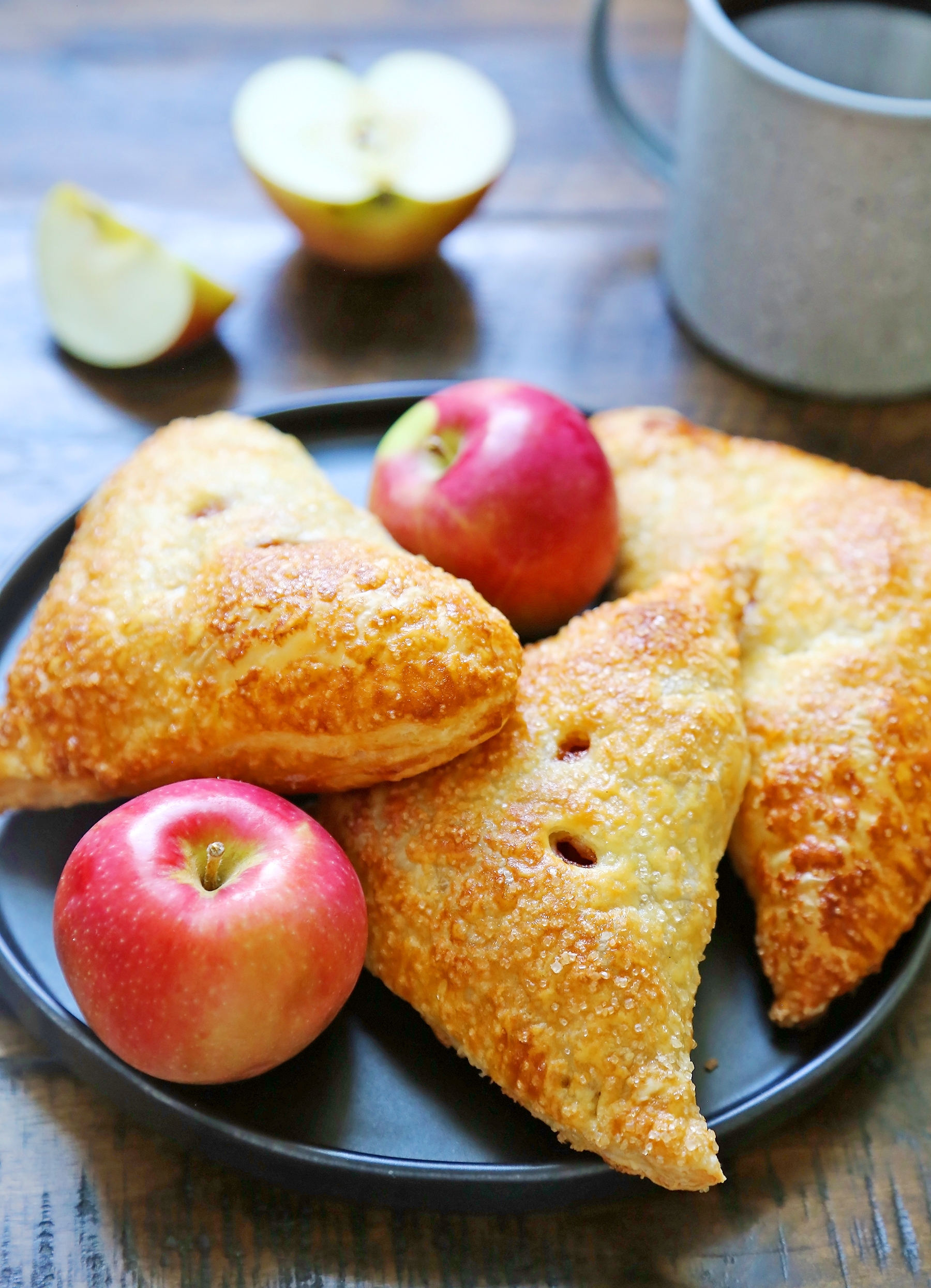 Easy Apple Turnovers
Ingredients
1 (17.3-oz.)package frozen puff pastry (2 sheets), thawed
2 cups small diced apples (peeled)
2 Tablespoons brown sugar
1 teaspoon ground cinnamon
Juice from 1 lemon
Flour, for dusting work surface
For topping:
1 large egg + 1 teaspoon water
Coarse sugar, optional
Instructions
Preheat the oven to 400 degrees F. Line two baking sheets with parchment paper.
Lightly flour your work surface. Unfold puff pastry sheets. Using a rolling pin, roll over the pastry to seal any perforations. Cut each sheet into 4 squares.
In a large bowl, stir together apples, brown sugar, cinnamon and lemon juice.
Scoop about 2 Tablespoons of the apple mixture into the center of each puff pastry square. Fold the pastry across diagonally to form triangles. Using a fork, crimp edges. Place turnovers on baking sheets, about 2inches apart. Cut two small slits in the tops of each turnover.
Whisk together egg and water in a small bowl. Brush turnovers with egg wash. Sprinkle with coarse sugar (optional).
Bake for 15 to 20 minutes, until golden brown and puffed. Transfer turnovers to a rack to cool. Serve warm or at room temperature.
Enjoy!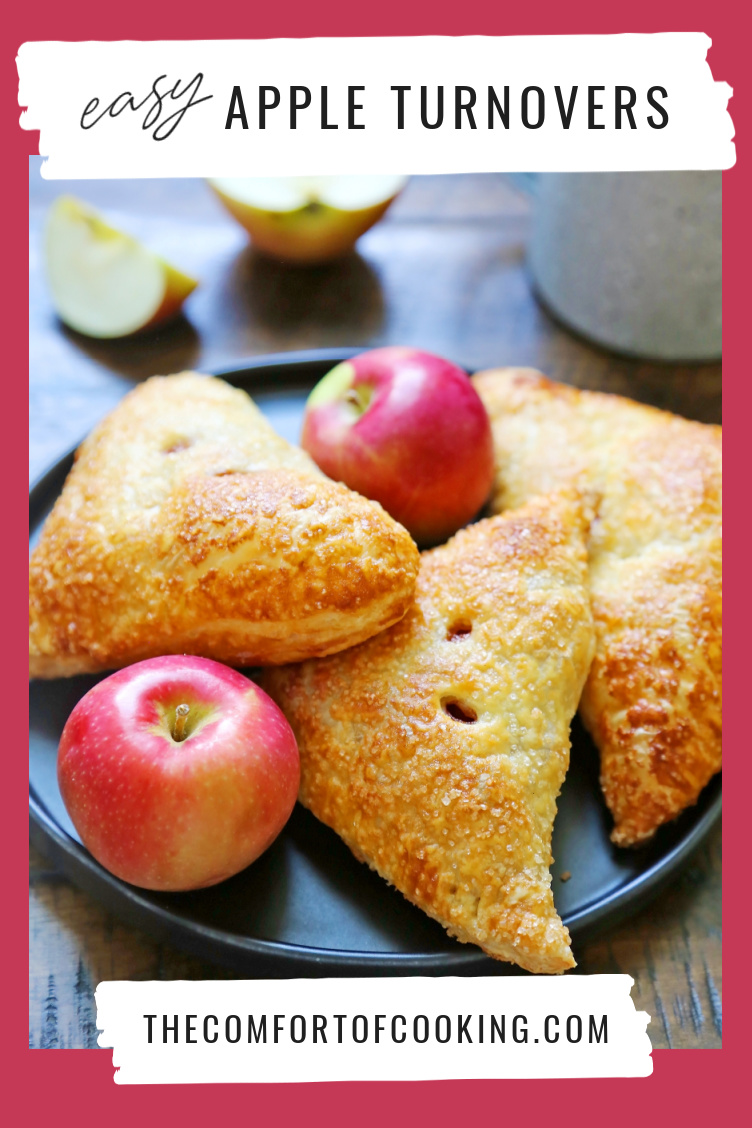 Want to receive our latest recipes straight to your email inbox? Click here to subscribe!