Rise and shine! These super soft, spiced whole wheat apple-pumpkin muffins are easy, delicious and only need 1 bowl. Plus, they freeze well!
Though I'm not ready for Christmas to be dripping from the ceilings of every department store (yea, I'm talking to you, Hobby Lobby), I am definitely ready for some fall baking! I mean, at least while it's still scorching here in Austin I can pretend with a delicious mix of pumpkin, cinnamon, apple and nutmeg that cooler days are close…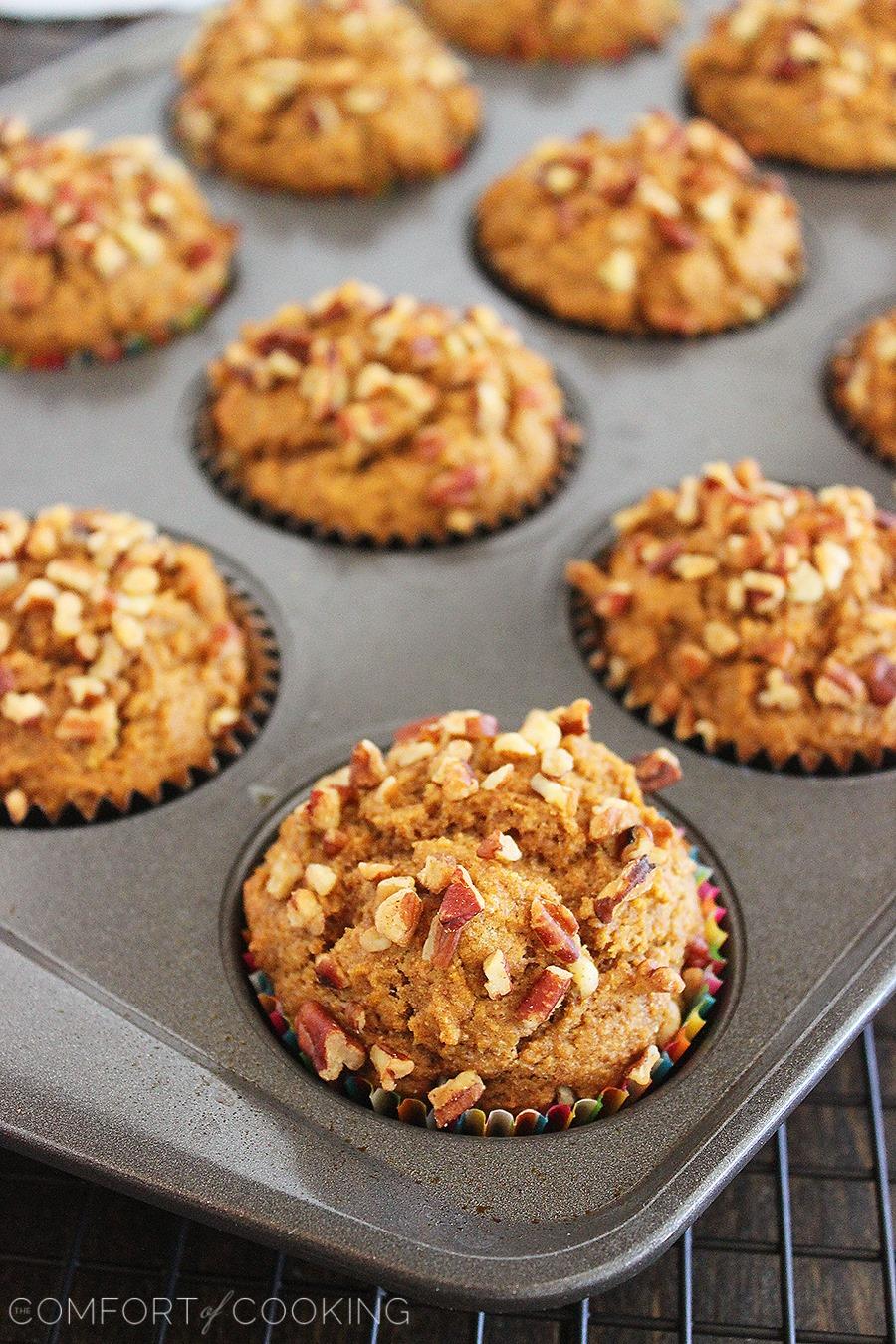 Every morning on my walk with our pup, I daydream about brisker days and all the delicious baked goodies that my oven will be churning out. The summer sun hasn't stopped me from enjoying these amazing muffins, though. These babies are the most mouthwatering morning treat to hit my kitchen lately! They're chockfull of spicy aromas and are pretty sinless at just over 200 calories a piece. Not to mention easy to bake, freeze, and tote with you to the office for a homemade breakfast or snack on the go!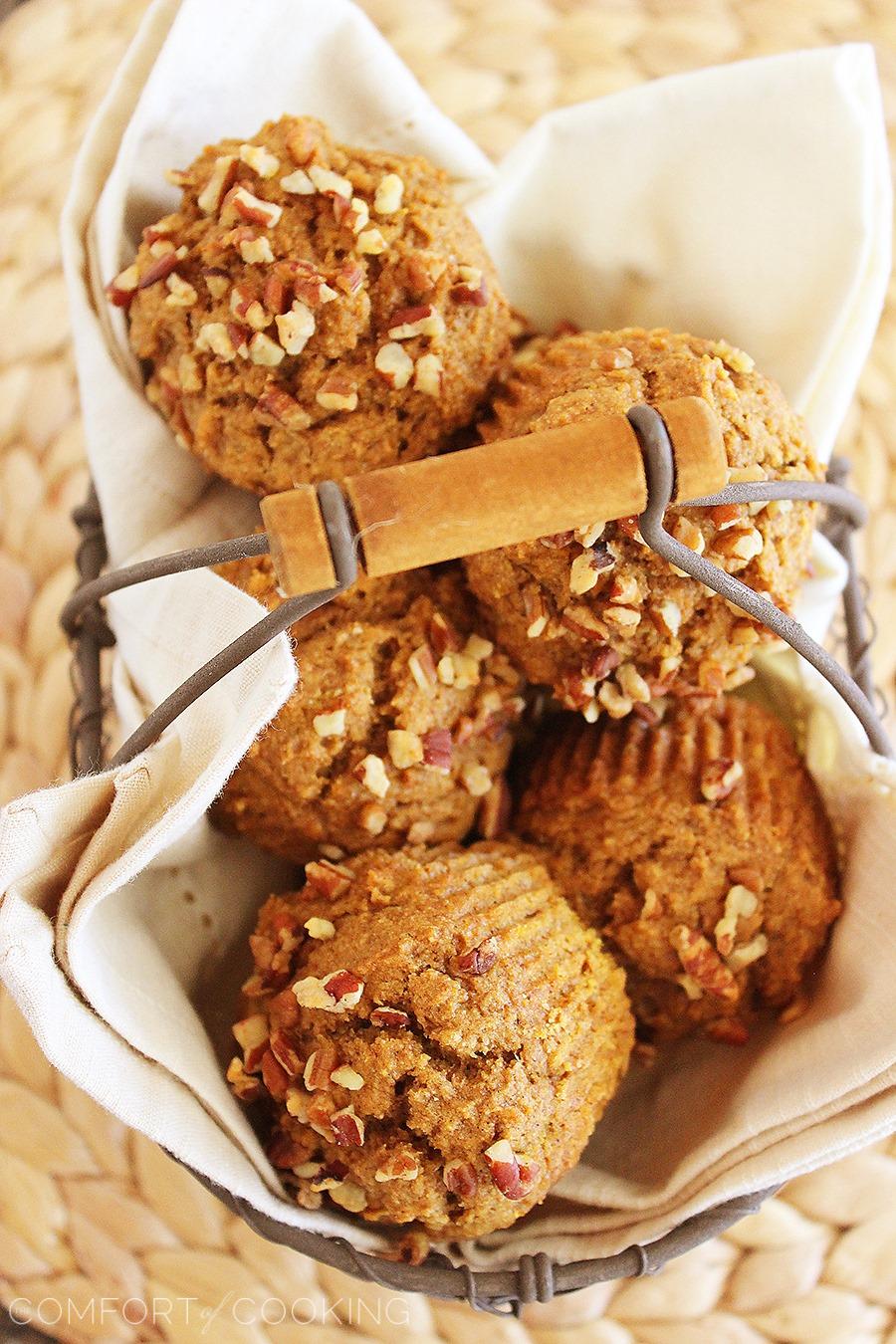 Now, don't get me wrong. I love my Austin home and the great life we have here! But hey, a girl deserves to mentally transport herself once in a while. Sinking my teeth into one of these warm pumpkin muffins takes me to a cozy New England cottage with a crackling fireplace and creaky wood floors – just like where we spent the end of last September. Gives me the warm fuzzies… or maybe that's just the lint stuck to my shorts. Wait… shorts?! Ugh, we're still a long way off yet.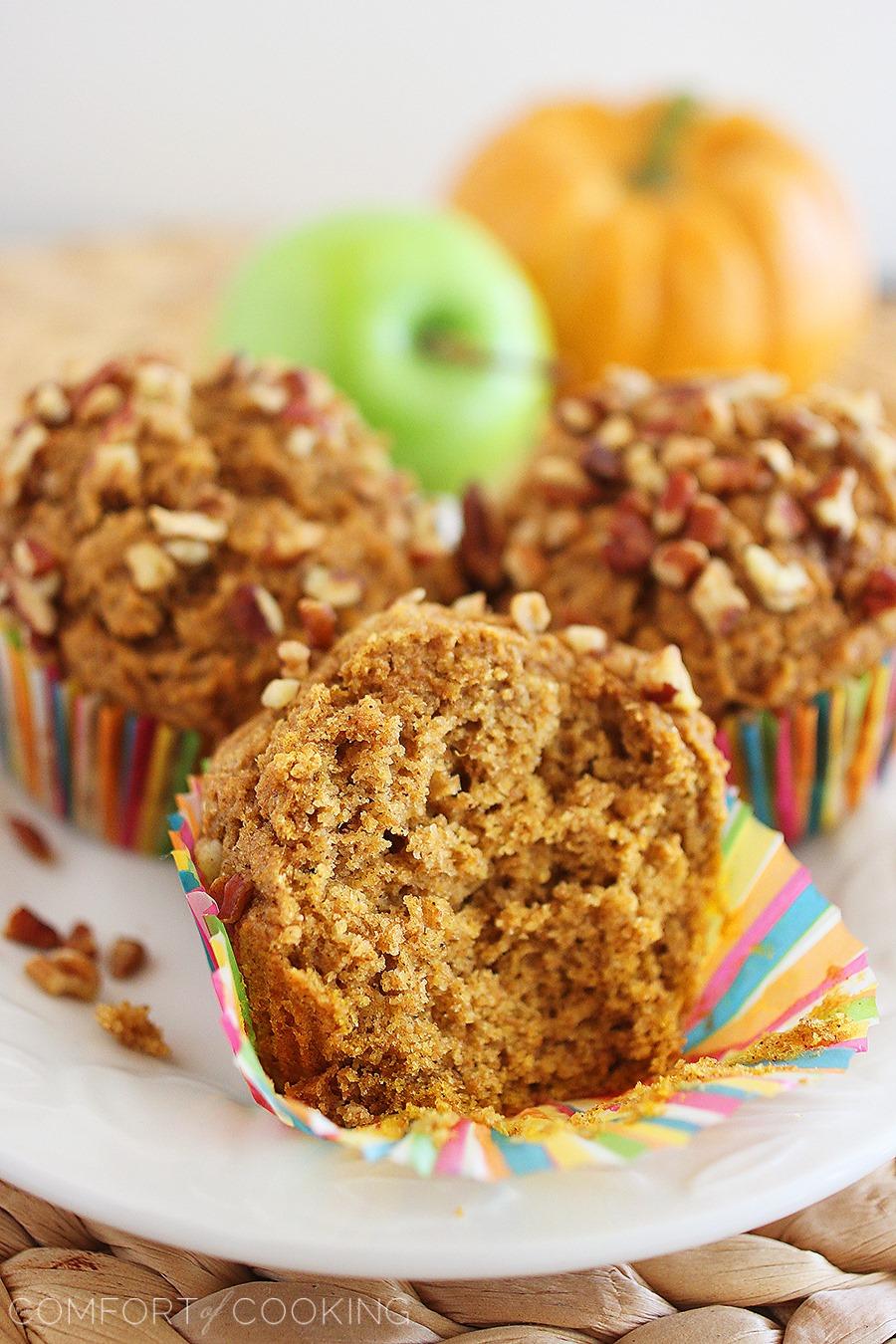 Even if you're not feeling the fall spirit yet, I know you'll love these luscious, super-soft whole wheat muffins as much as my hubby and I do. All it takes is one bowl and a little patience after they come out of the oven. Slice one in half, slather on a little butter and enjoy this terrific morning treat for yourself!
Here's to a delicious start to the week with something simple, scrumptious, and just plain wonderful. These muffins have become a big favorite in my house, and I bet after one bite you'll see why!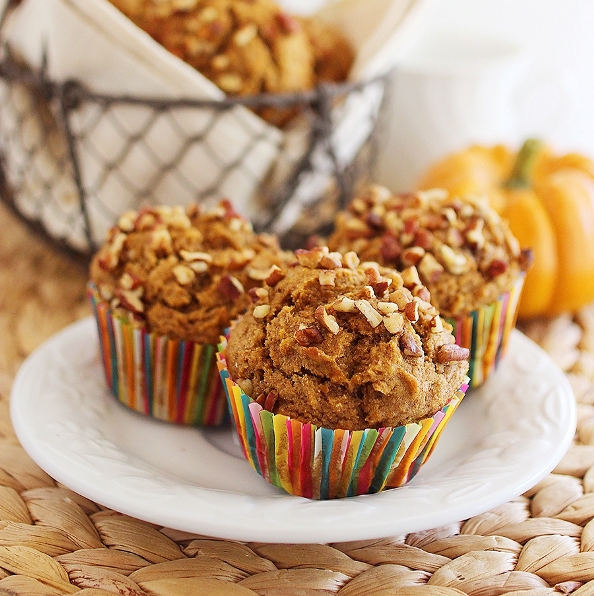 Super Soft 100% Whole Wheat Apple-Pumpkin Muffins
Ingredients
1 1/2 cups whole wheat flour
1/2 cup packed brown sugar
1 tsp. pumpkin pie spice, or 1/2 tsp. cinnamon, 1/4 tsp. nutmeg, 1/4 tsp. allspice
3/4 tsp. baking powder
1/2 tsp. baking soda
1/2 tsp. salt
2 large eggs
3/4 cup canned pumpkin puree
2/3 cup unsweetened applesauce, two 4-oz. cups
1/2 cup vegetable oil
1/3 cup chopped pecans or walnuts
Instructions
Preheat oven to 350 degrees F. Line a 12-cup muffin pan with paper liners and spray lightly with nonstick cooking spray.
In a large bowl, stir together whole wheat flour, brown sugar, pumpkin pie spice, baking powder, baking soda and salt. Make a well in the center and add eggs, pumpkin, applesauce and oil. Mix just until the dry ingredients are absorbed. Fill muffin cups to the top with batter. Sprinkle with chopped pecans or walnuts.*
Bake for 20-22 minutes, or until the tops spring back when lightly touched. Cool in the pan before removing from cups.
Enjoy!