Easy 5-ingredient spicy taco stuffed peppers with cheese and a cool cilantro cream sauce. A fast, fabulous appetizer that will fly off your party platter. Or, serve them for a fun weeknight dinner!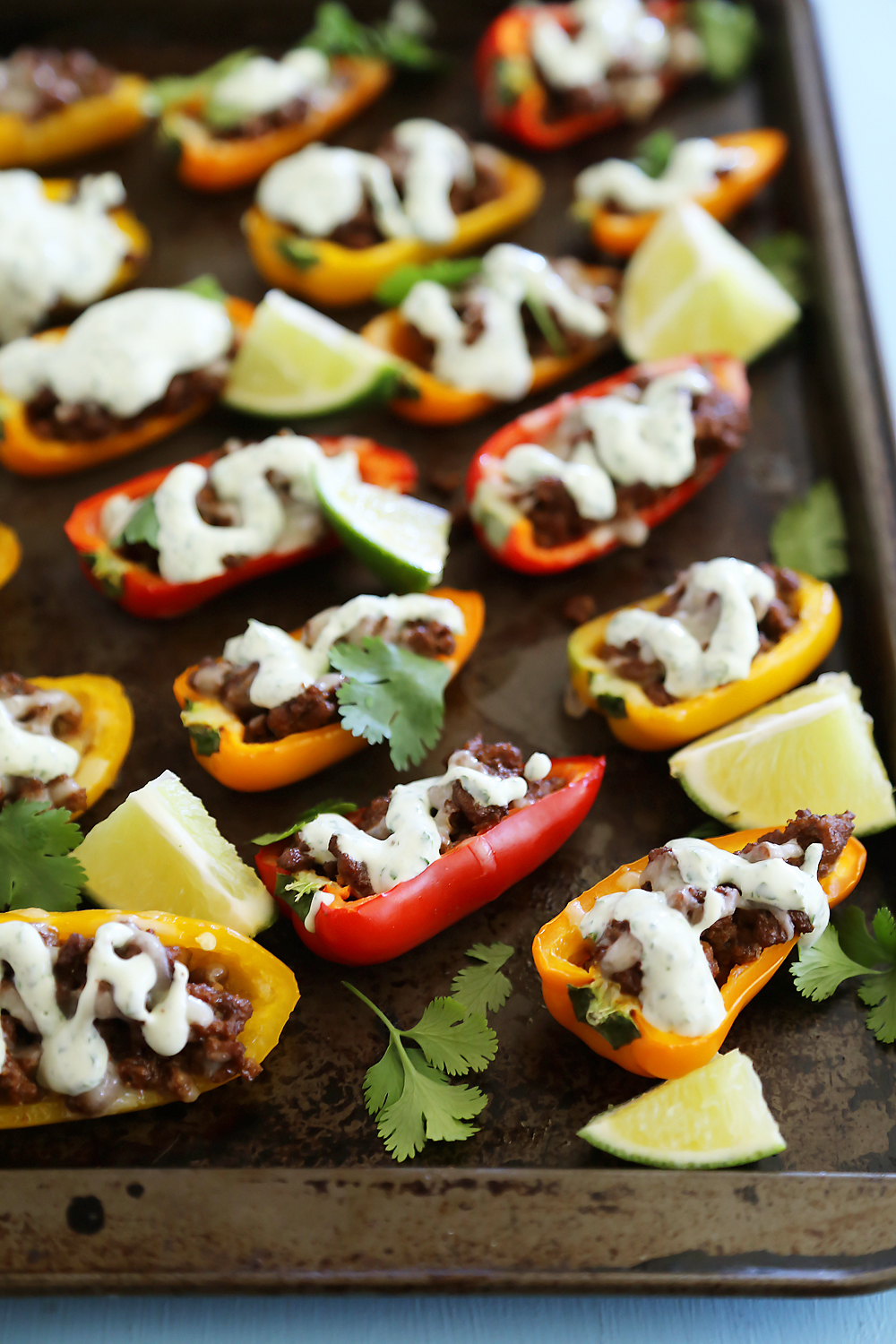 Living in Texas, I've realized that the Tex-Mex fare that I've had over and over again can be just that – a little stale. There are only so many ways that one dish can be replicated, and they can become boring. Maybe I'm not going to the right places, but most seem to lack inspiration. And this girl needs some zing and zest in her Tex-Mex!
Now, I'm no expert in this kind of cooking, but I love a tangy, fresh twist on classically heavy cuisine. These scrumptious stuffed peppers are just that. All the belly-filling heartiness you crave in a light, low-carb appetizer with amazing flavors. Or, a unique weeknight meal with a side of rice!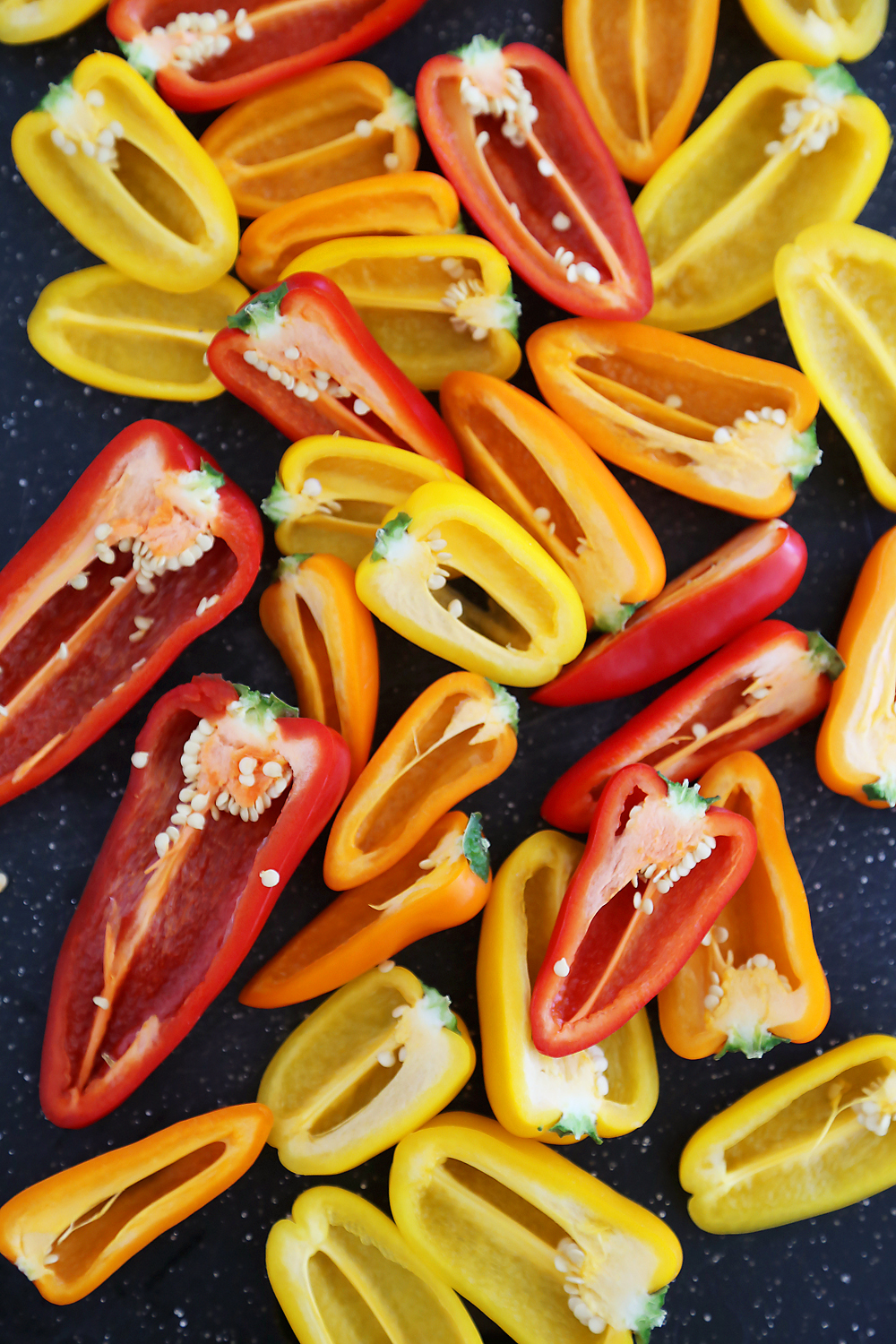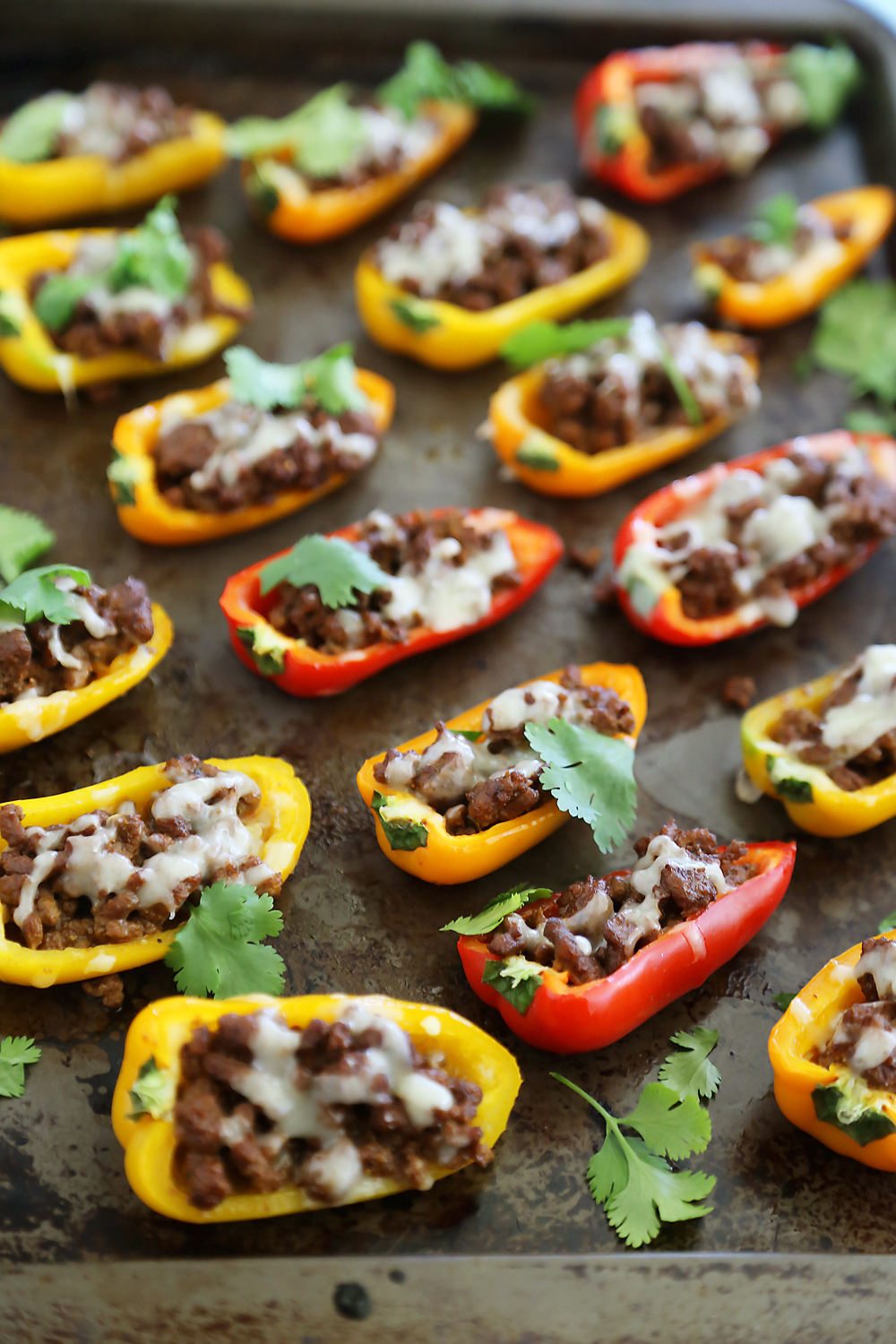 All you need is a handful of ingredients for these easy stuffed peppers. You can find these mini ones at most grocery stores. Just halve them and hollow them out, and sizzle up a mixture of ground beef, turkey or chicken. Add your spices and seasonings, and scoop the spicy meat into the peppers. Pop into your oven for just under 15 minutes, then top with shredded cheese. You can omit the cheese if you'd like, or replace it with a crumbly queso, if you have that!
The cilantro cream sauce is just the cherry on top. So fresh and cooling for the spicy peppers, this simple sauce is the perfect finishing touch. It's made easily in 5 minutes in your food processor, and has great eye appeal!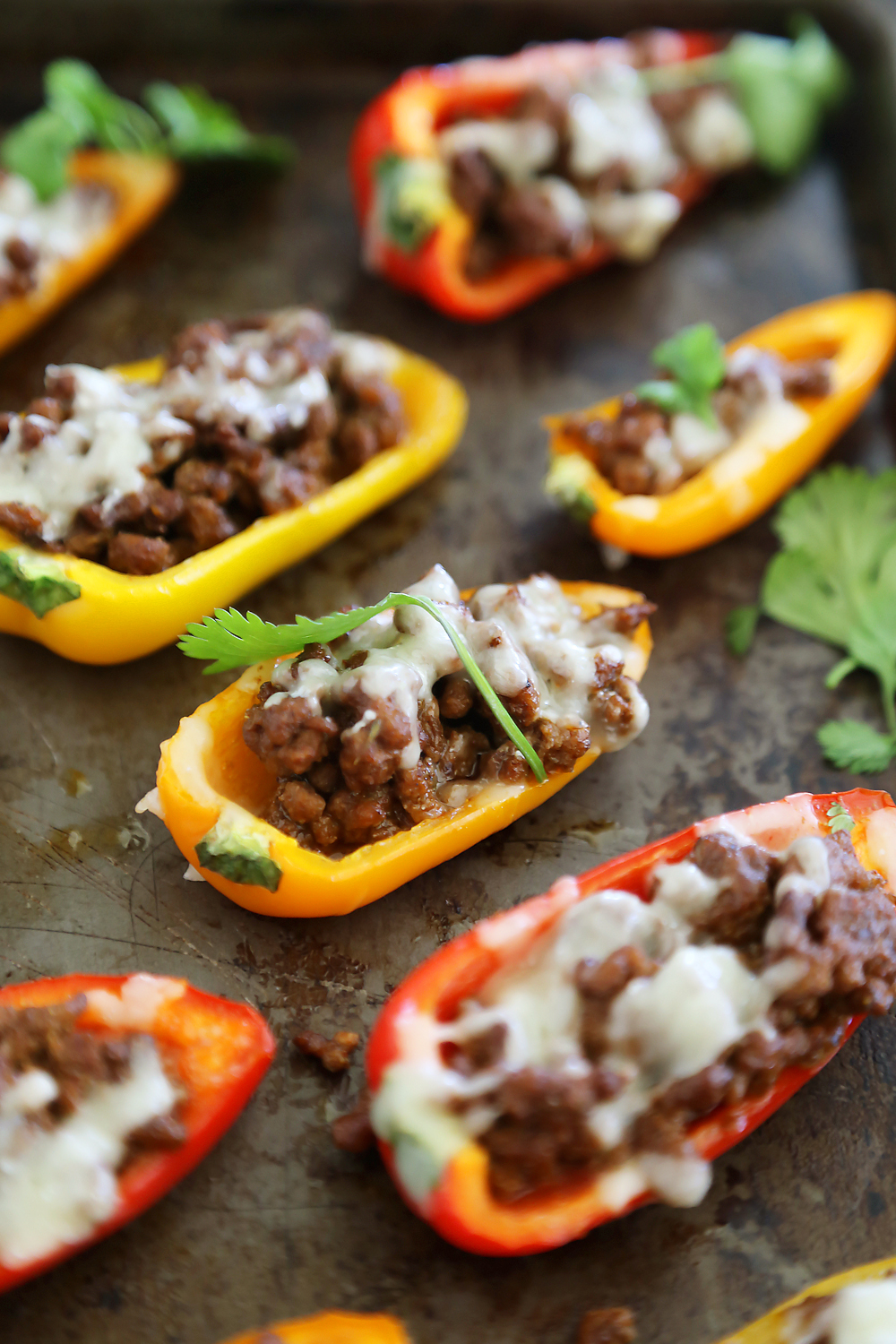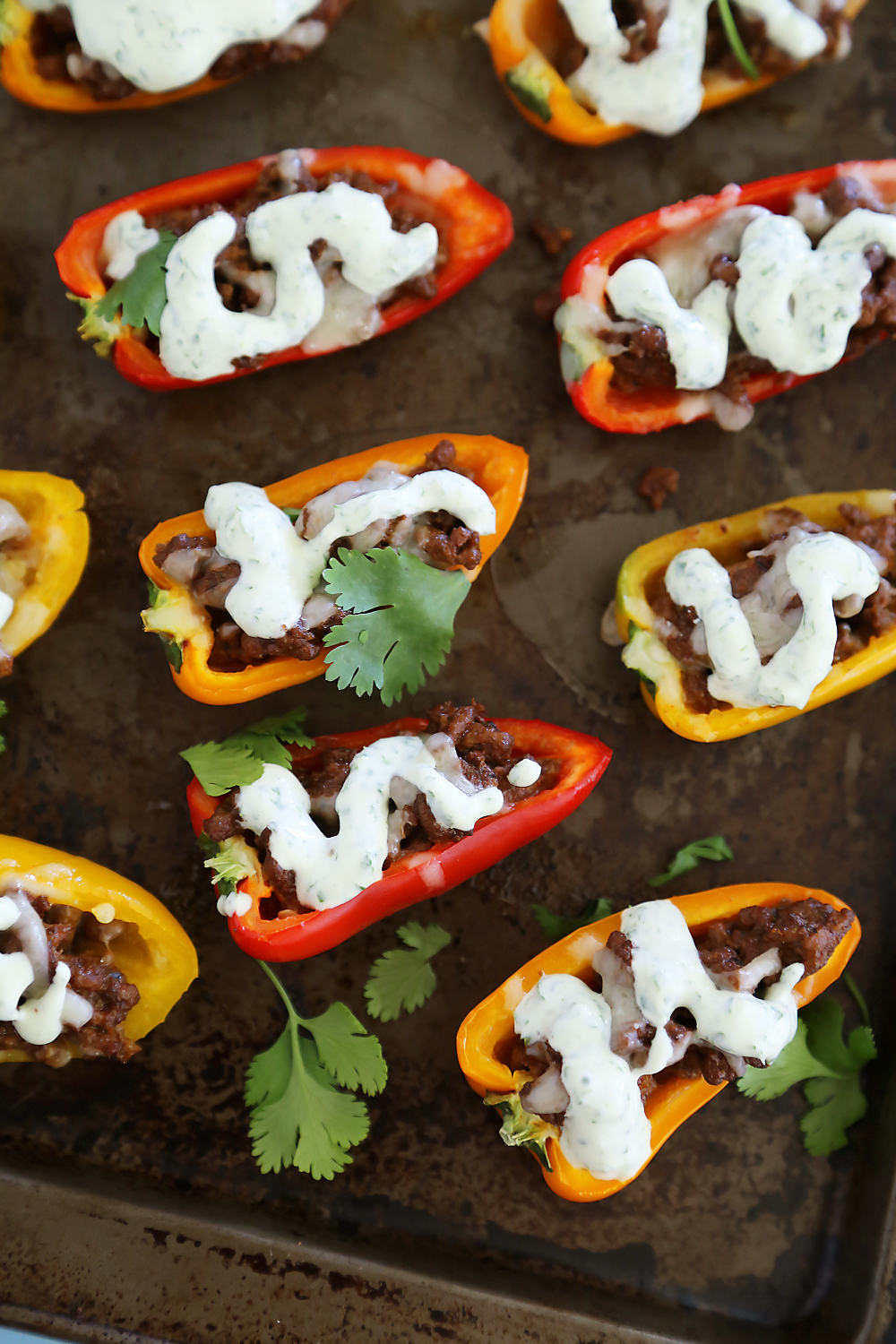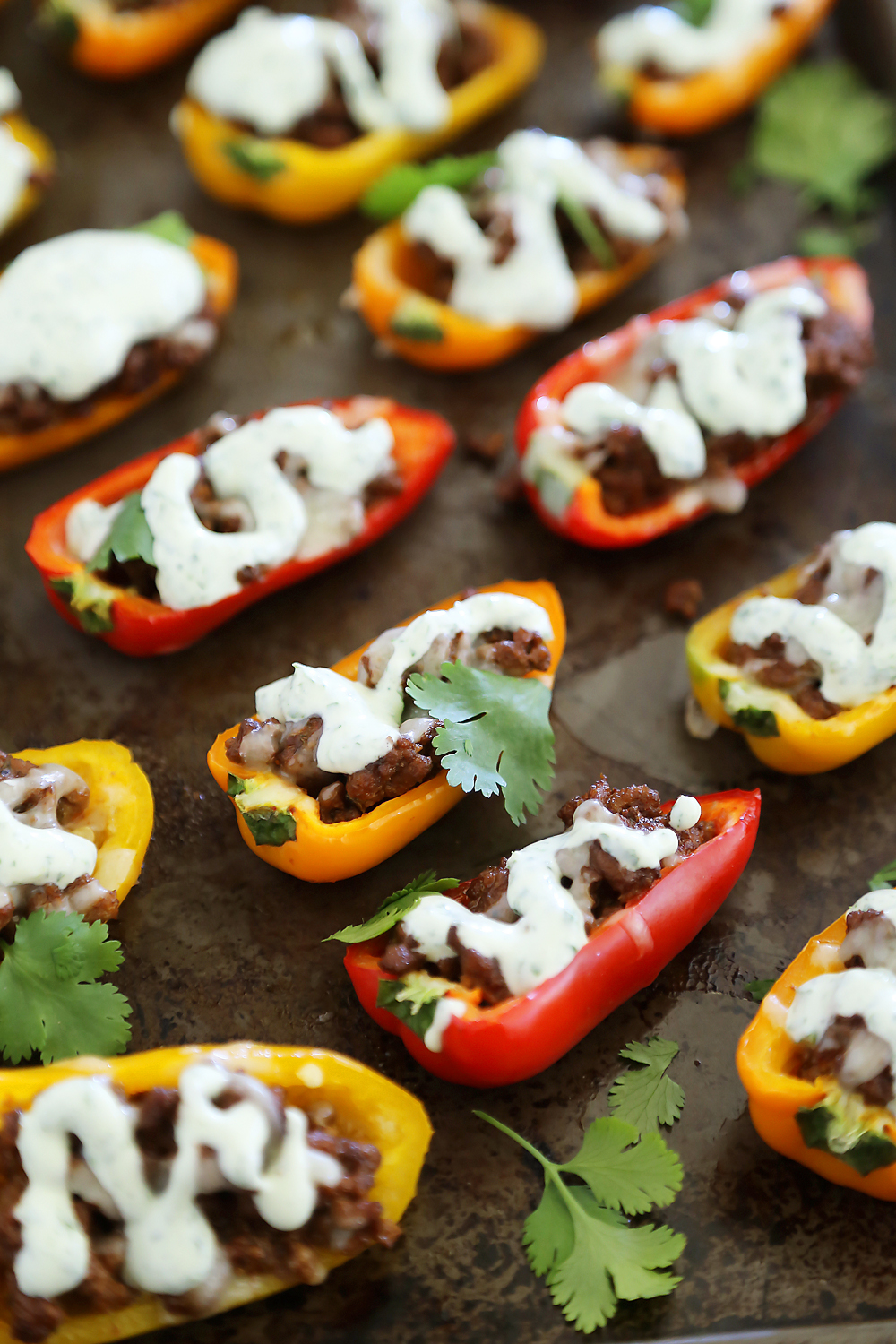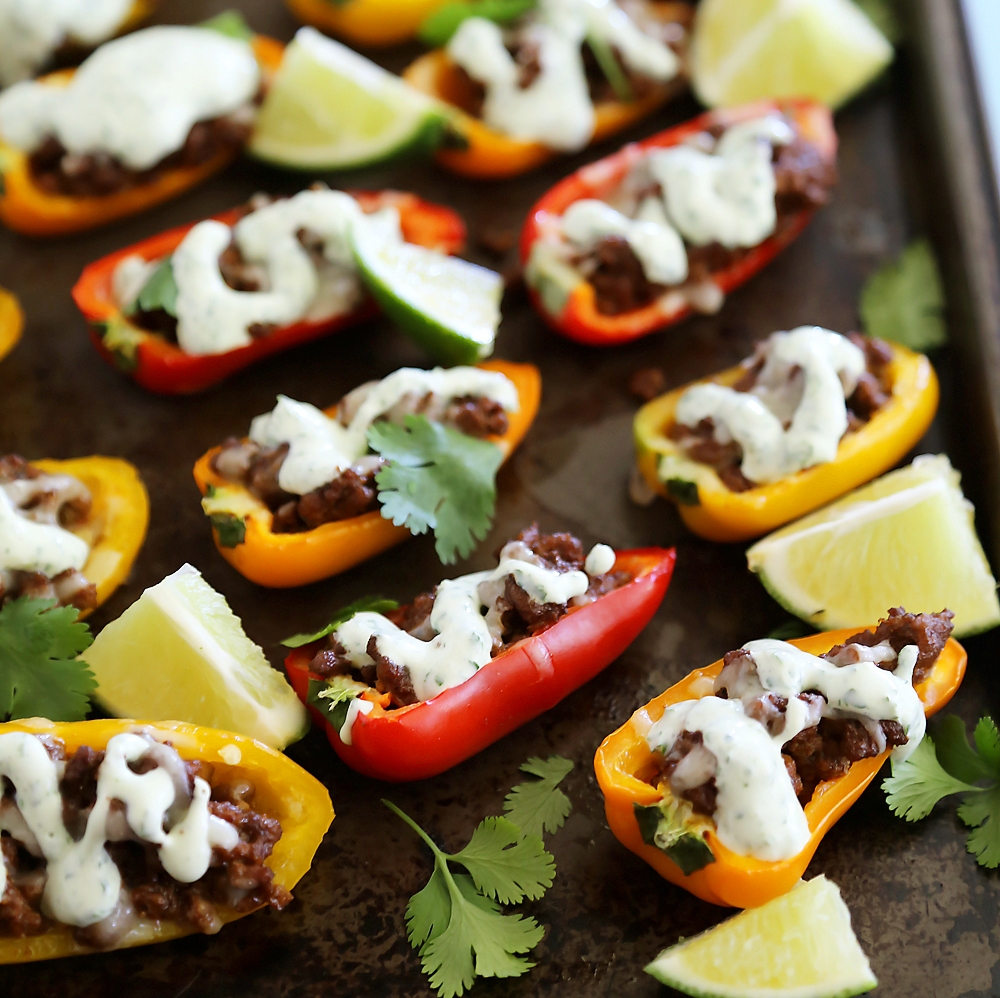 Mini Taco Stuffed Peppers with Cilantro Cream Sauce
Yield:
32 stuffed peppers + 3/4 cup cream sauce
Ingredients
For the Stuffed Peppers:
1 teaspoon canola oil
1 lb. ground beef, chicken or turkey
1 teaspoon taco seasoning*
1 lb. mini bell peppers
1 cup shredded cheddar cheese
For the Cilantro Cream Sauce:
1/2 cup sour cream
1/2 cup fresh cilantro
1 clove garlic
2 Tablespoons fresh lime juice
Instructions
For the Stuffed Peppers: Preheat oven to 350 degrees F. Line a large baking sheet with foil.
Halve peppers lengthwise; remove ribs and seeds (This is easily done by scraping with a small spoon).
In a medium skillet set to medium-high heat, add oil. Add ground meat and cook for 5-7 minutes, until browned. Stir in taco seasoning midway through cooking. With a small spoon, scoop meat mixture evenly into each pepper. Place on baking sheet. Bake peppers for 13-15 minutes, or until peppers have softened slightly.
Meanwhile, make the Cilantro Cream Sauce.
Remove peppers from oven and top with cheese. Return to the oven for 1-2 minutes, or until cheese is melted.
For the Cilantro Cream Sauce: Combine all ingredients in a food processor, and process until smooth. Chill in the refrigerator until ready to serve.
Top peppers with sauce and serve.
Enjoy!