Rich, chocolaty cookies topped with a decadent layer of caramel-coated pecans, coconut and chocolate chips? Yes, please. This soft and sweet cookie twist on the classic cake is so incredibly delicious and easy!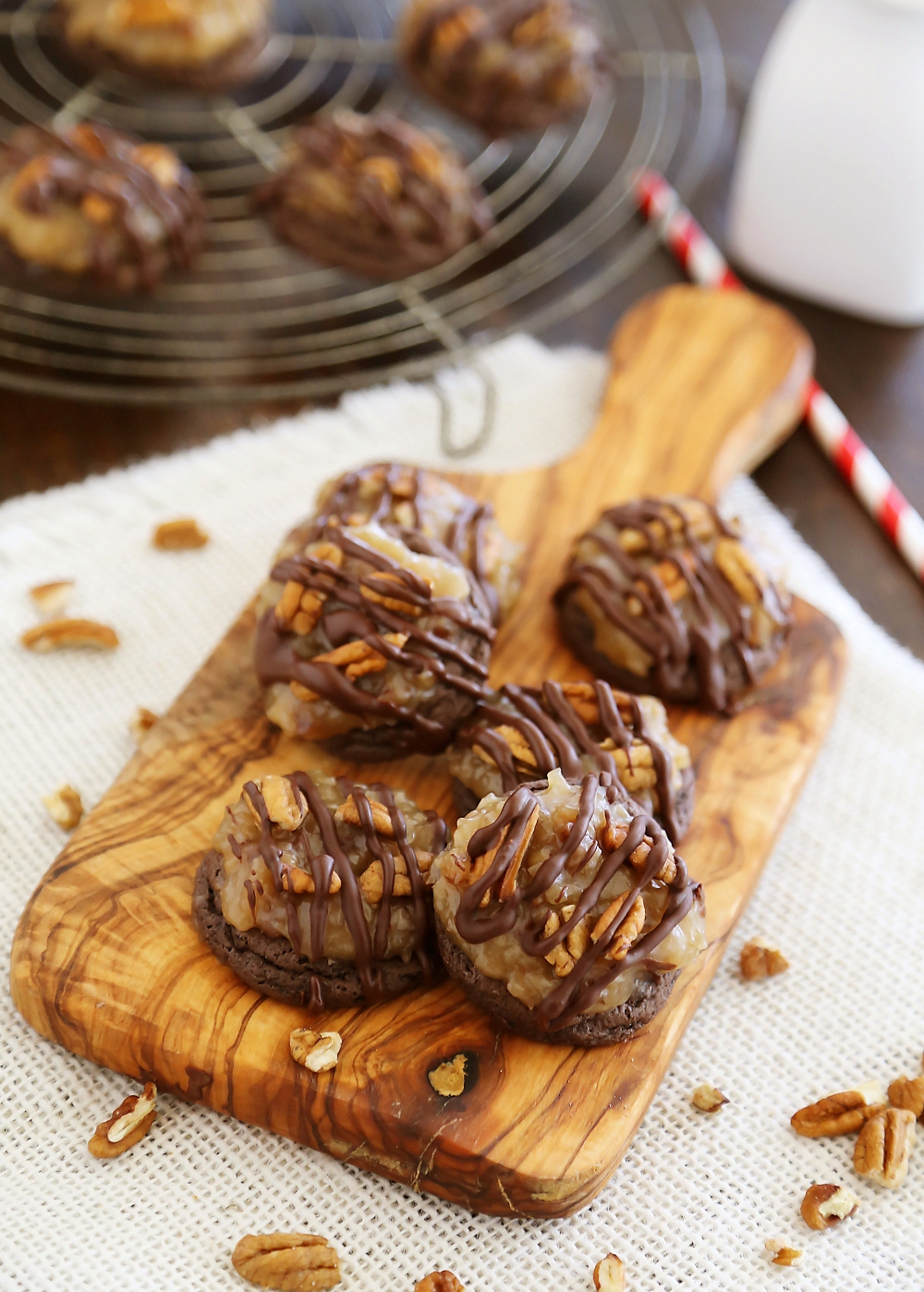 I don't remember the first time I had German chocolate cake, but I made sure it was definitely not the last. You could say it was love at first bite! The combination of sweet flaky coconut, crunchy pecans and creamy chocolate was irresistible, and it has remained one of my favorite cakes since my first forkful.
German chocolate cake has everything going for it, but constructing one layer-by-layer can be a hassle. That's why I love the idea of scaling down this decadent dessert into a more crowd-friendly size, with smaller portions and easier prep.
These cookies are the perfect party dessert! Savor these last weeks of summer entertaining, and end your parties and potlucks on a sweet note.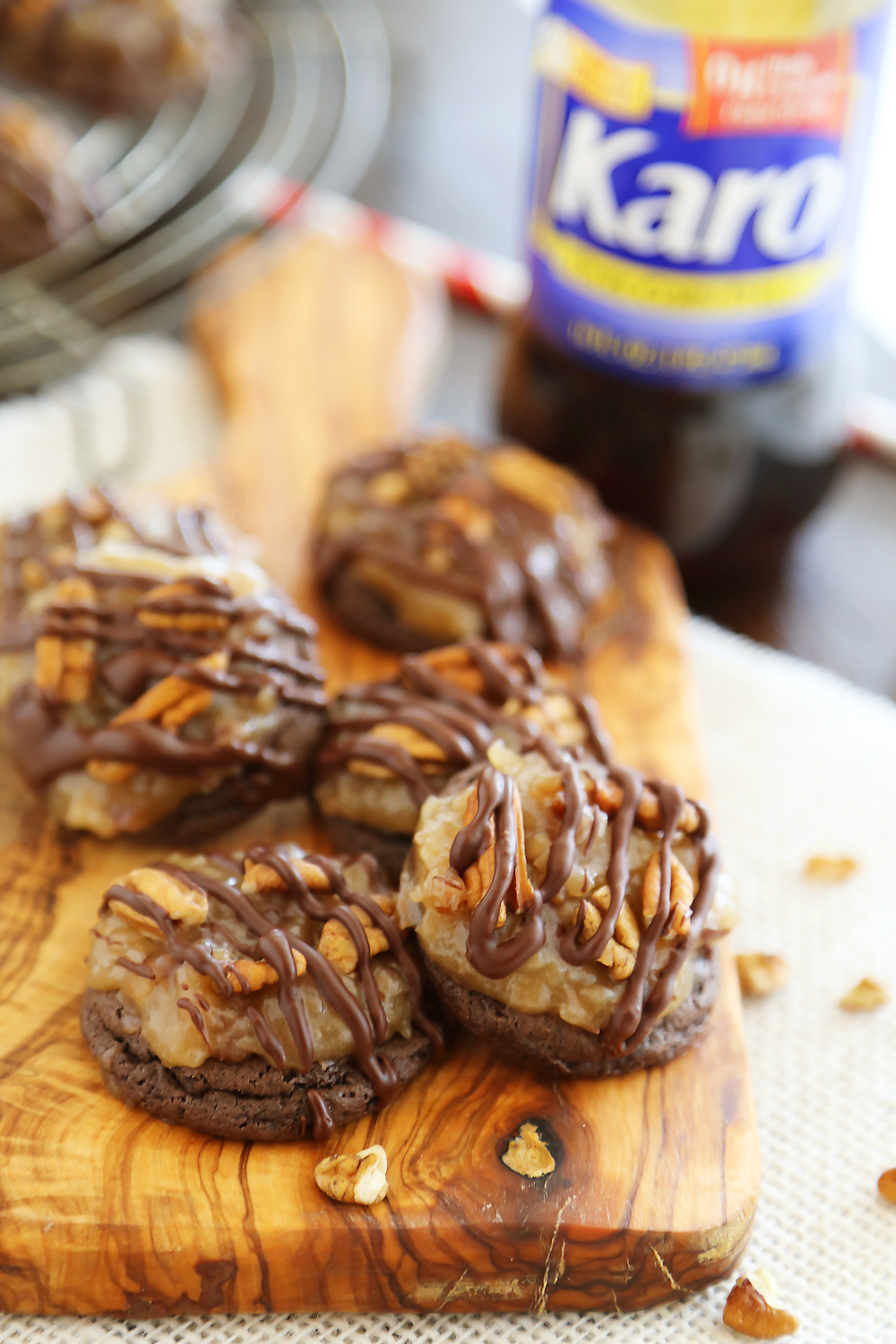 You won't believe how easily the cookies are made, too!
Using a boxed cake mix for the base keeps the process quick, but if you have a homemade German chocolate cake recipe you'd prefer, feel free to substitute with that.
While your cookies bake, simply combine a mixture of Karo® Dark Corn Syrup, butter and vanilla extract in a bowl. I love using this corn syrup in many of my baked goods that call for a layer of caramel, since it gives such a velvety smooth texture with intense, molasses-like flavor. Plus, it contains no high fructose corn syrup, which is always a plus in my book!
Now comes the fun part! Add heaps of chopped pecans, chocolate chips and coconut flakes to the buttery vanilla caramel. When your cookies have baked, let them cool completely before adding the frosting mixture. Once they're cool, slather on that scrumptious coconut-pecan frosting and drizzle melted chocolate over top.
Confection perfection!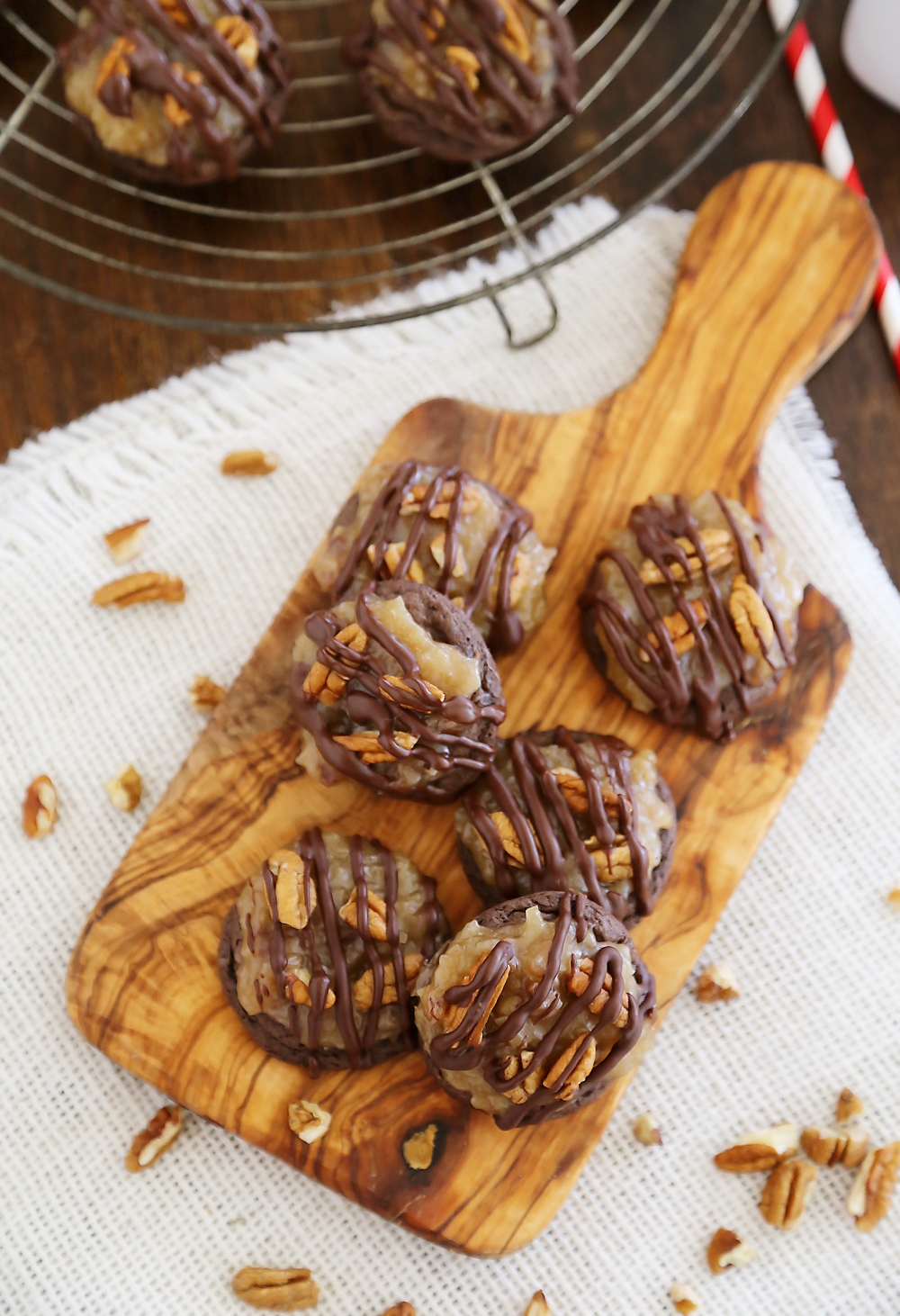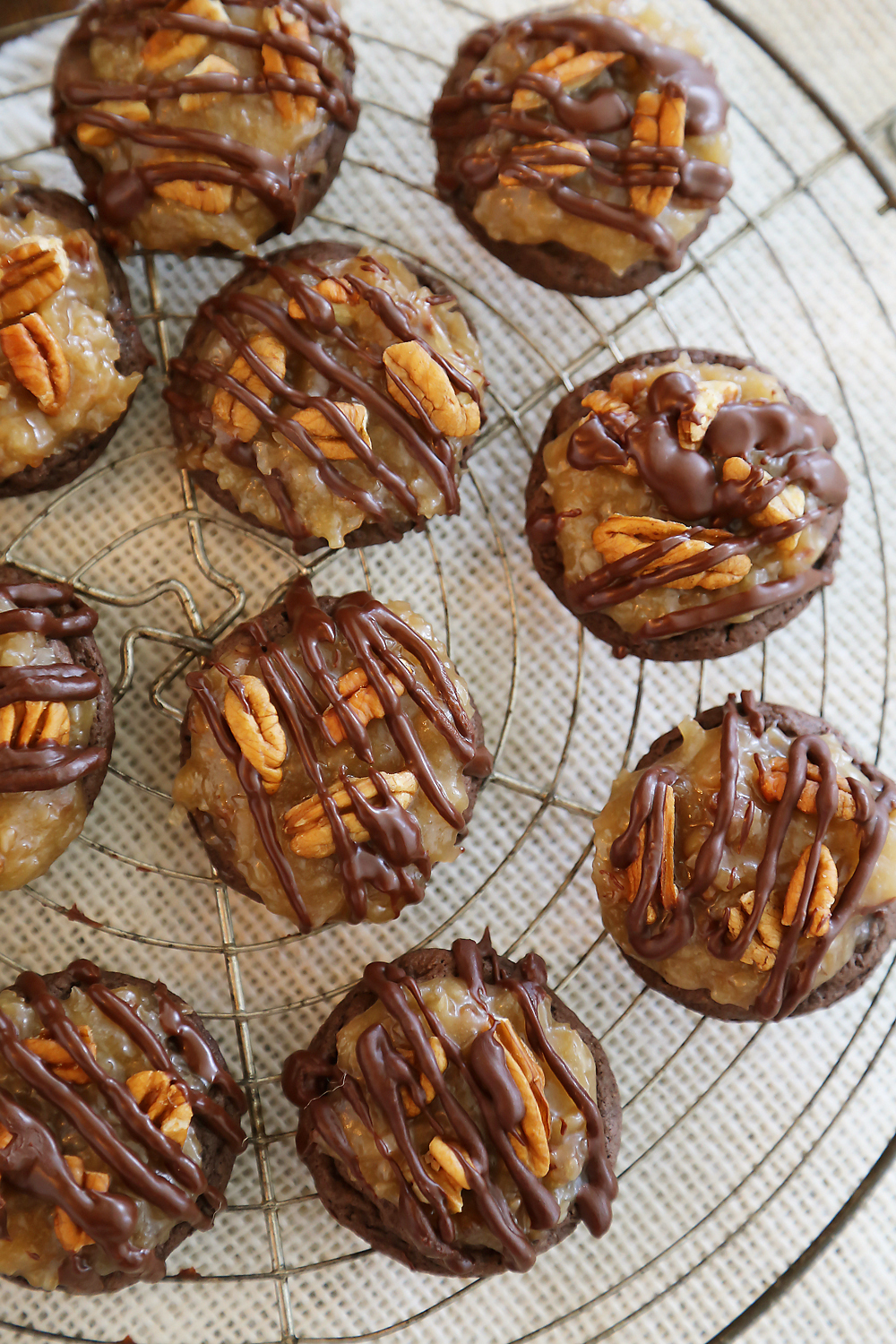 Share this delicious twist on classic German chocolate cake with someone special. These cookies are so simple to make, and perfect for the chocolate lover in your life. Or the chocolate lover like me, who takes my chocolate with lots of goodies added into the mix. The more the merrier is my motto!
You will love these cookies. I promise. If you try them, please tell me how they turned out for you!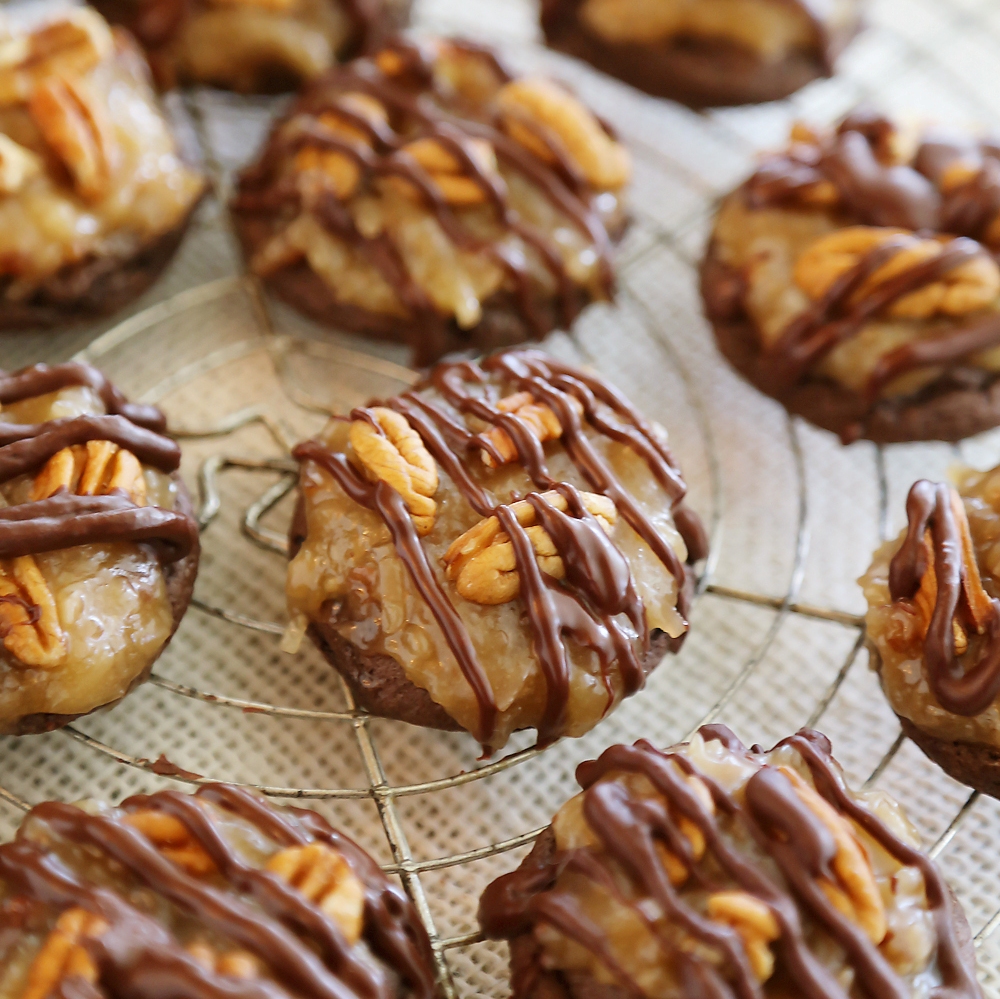 Gooey German Chocolate Cake Cookies
Ingredients
For the cookies:
1 15 oz. box German Chocolate Cake mix
2 large eggs
6 Tablespoons unsalted butter, melted
For the frosting:
1 cup Karo® Dark Corn Syrup
1/4 cup unsalted butter, melted
1 teaspoon Spice Islands® Pure Vanilla Extract
1 1/2 cups chopped pecans
1/2 cup mini chocolate chips
1/2 cup sweetened coconut flakes
For drizzle:
1/2 cup chocolate chips or candy coating
Instructions
For the cookies:
Preheat oven to 350 degrees F. Line a large baking sheet with parchment paper.
In a large mixing bowl, combine cake mix, eggs and melted butter. Beat until well mixed. Batter should be sticky and thick. Roll into 1-inch balls and place on prepared baking sheet.
Bake for 6-8 minutes. Let cool on baking sheet 5 minutes before removing to a wire rack to cool completely.
For the frosting and topping:
In a medium bowl, whisk corn syrup, butter and vanilla. Stir in pecans, chocolate chips and coconut flakes. Spread frosting over tops of cooled cookies.
For drizzle:
In a small bowl, melt chocolate chips. Stir until smooth. Drizzle over tops of frosted cookies. Place in refrigerator to set completely.
Enjoy!