Creamy light ice cream rolled in crispy, buttery cornflakes! Just 4 ingredients and your favorite toppings needed. An easy, elegant dessert perfect for lighter indulging and special occasions.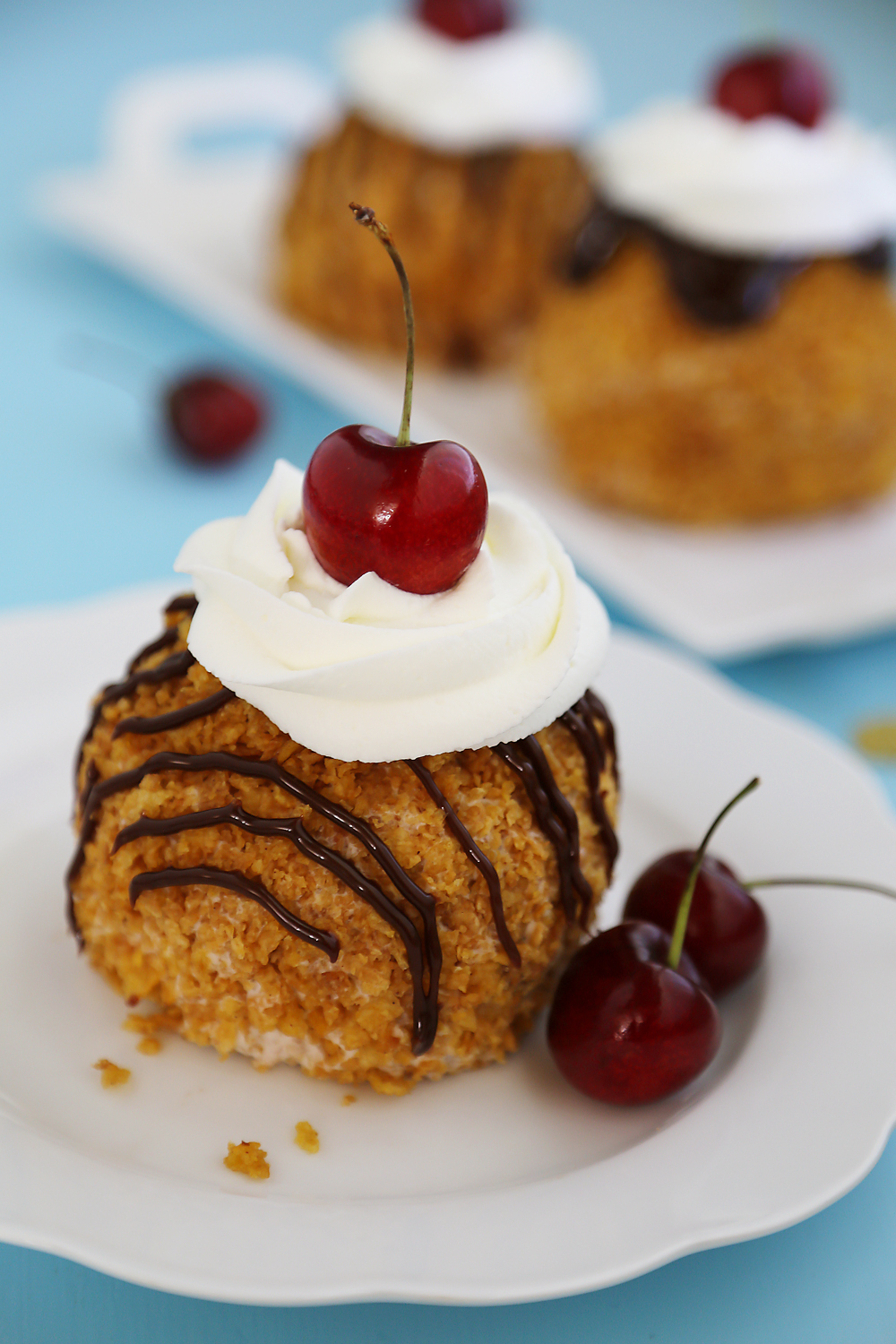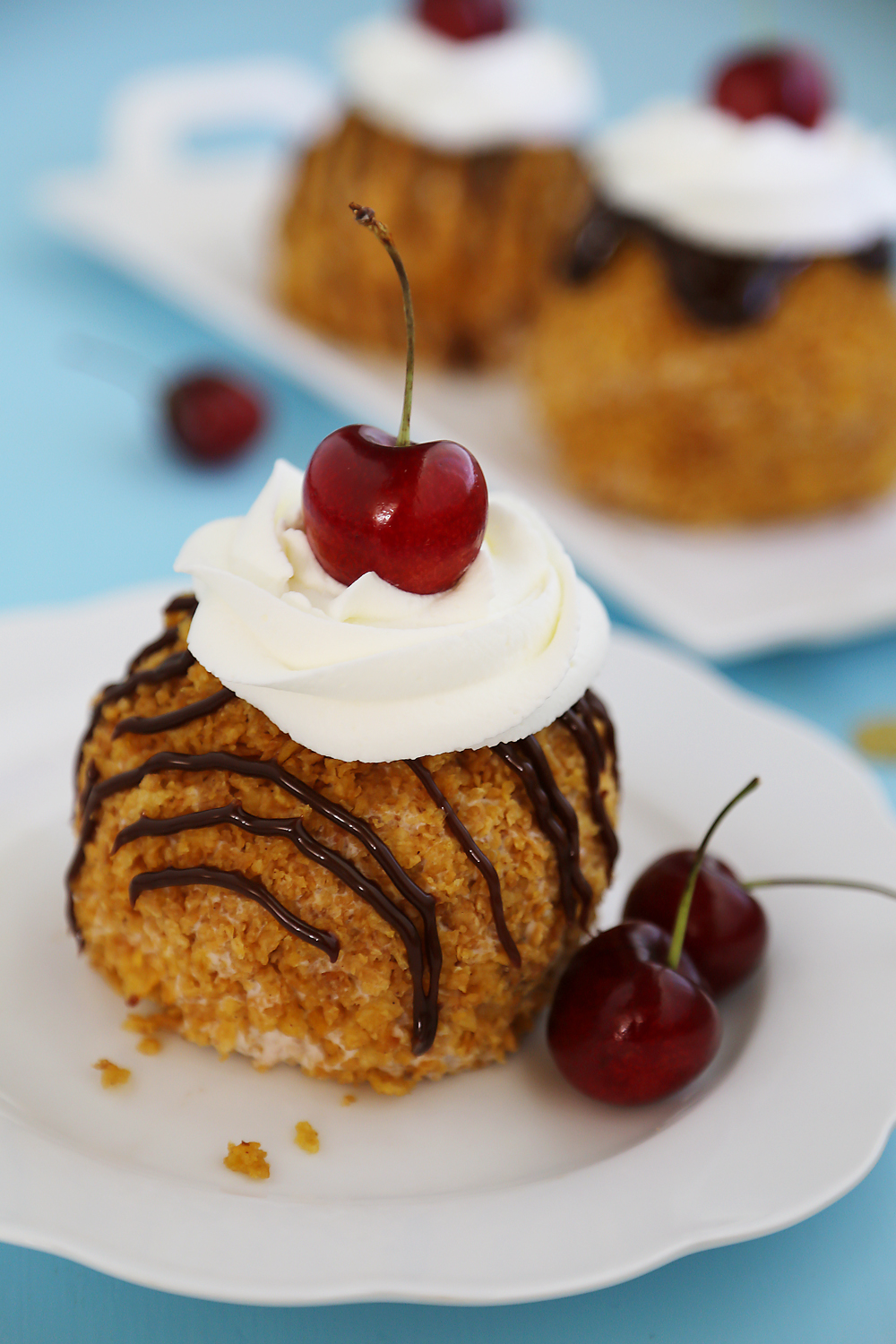 If there is one thing I know to be undoubtedly true, it is that ice cream is the best year-round dessert. It's true! Ice cream is cool and refreshing in the summer, and makes for a dreamily creamy, delicious winter dessert. The flavors are endless, and your creativity is limitless with the number of sweet concoctions you can create. Milkshakes, cakes, sandwiches, parfaits, or even just piled high on a cone (my favorite). And now, Mexican fried ice cream!
Well, not really fried. But, they sure taste decadent.
Let me show you the secret to these incredibly easy, elegant desserts! You won't believe how simple they are to make at home. You can also experiment with a variety of different toppings, so everyone can have theirs just the way they like!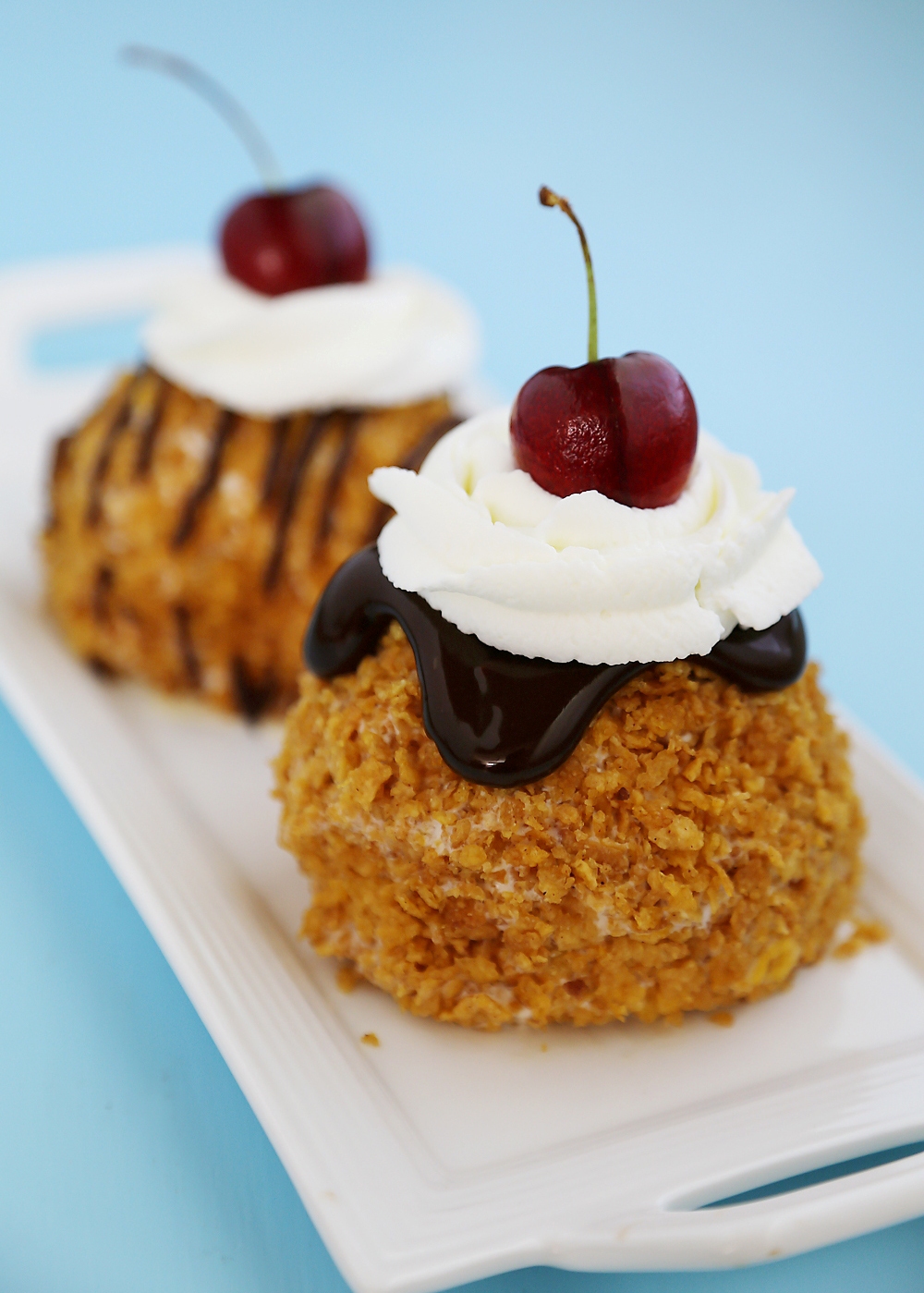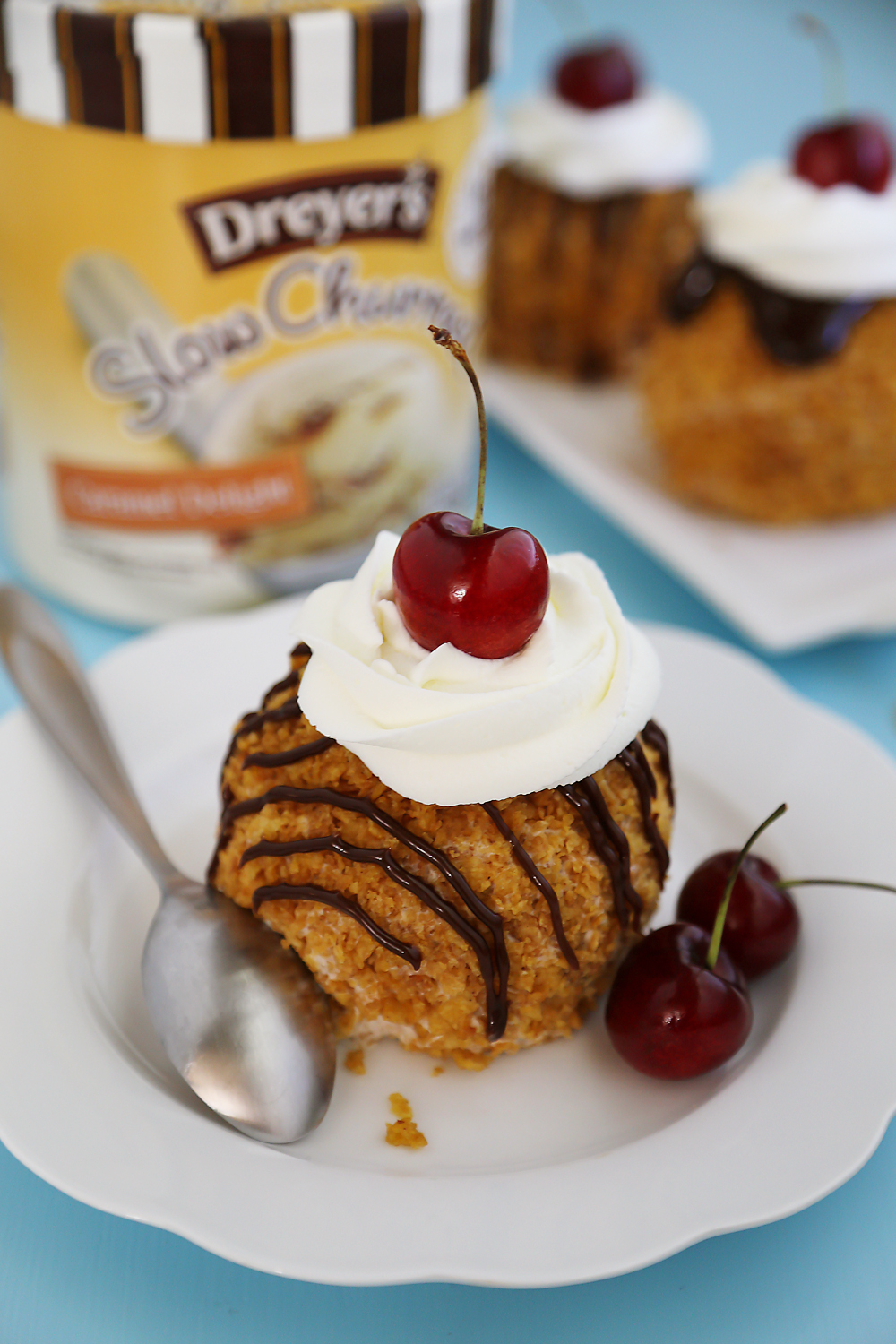 As with all of my few-ingredient recipes, the emphasis is really on good quality ingredients! For this recipe, that means nice butter, spicy cinnamon, and a carton of Dreyer's Slow Churned Caramel Delight light ice cream. You can always find a carton of Dreyer's in my freezer, every season and in my bowl almost every evening after dinner. It is the creamiest, most delicious ice cream I have come to love. With half the fat and one-third the calories of regular ice cream, I never feel the guilt! The caramel flavor, with swirls of decadent sweetness, pairs perfectly with the crispy cornflakes and cinnamon, too. Though, this fried ice cream would work equally well with their vanilla flavors, as well!
To make your own fried ice cream desserts, you only need four ingredients and your favorite toppings. Sizzle your crushed cornflakes in butter, then let them cool in a shallow pan. Then, simply grab a carton of ice cream, scoop out large balls and shape quickly with your hands (I recommend using latex gloves for this, to keep your hands from getting too cold and the ice cream from melting too quickly). Place them on a lined baking sheet. Roll the ice cream balls in the cornflake mixture, and slip the baking sheet into your freezer to firm everything up. Or, just serve right away with cherries, chocolate sauce, whipped cream, or whatever toppings you desire!
I know you will fall head over heels for this heavenly fried ice cream. If you have never tried it, you are definitely missing out on one of the greatest desserts! Try these soon to experiment with something new – I guarantee you will go back to them again and again.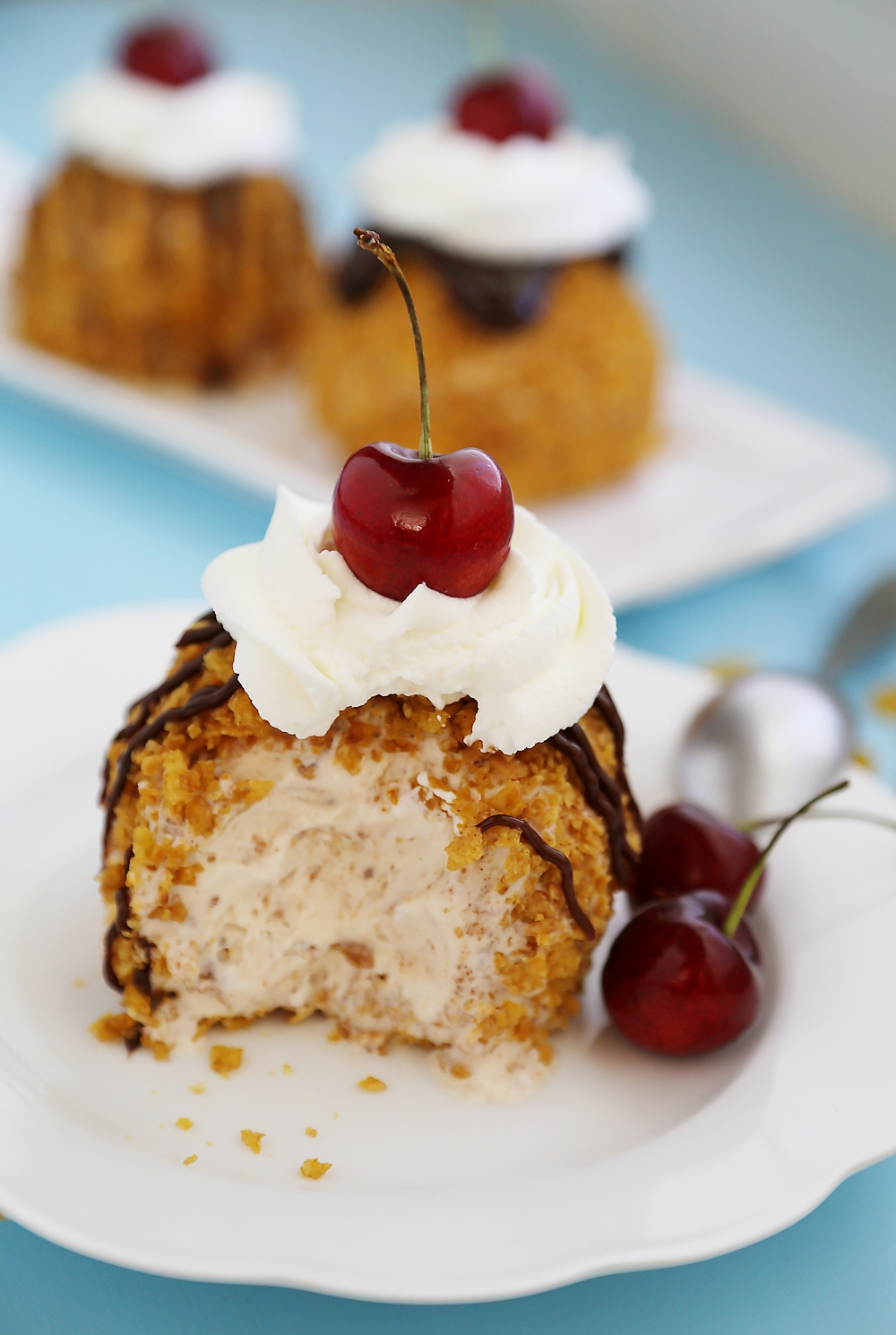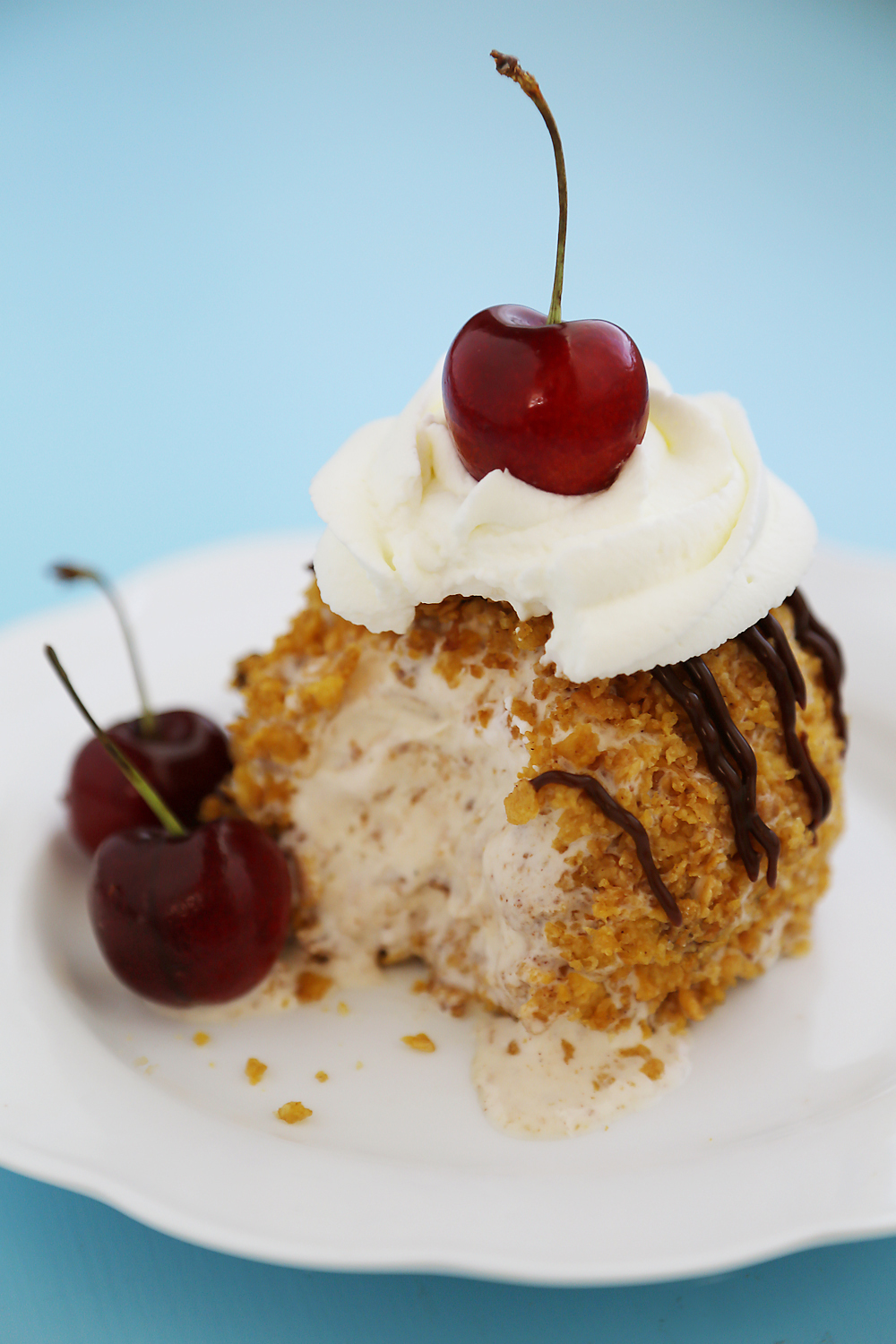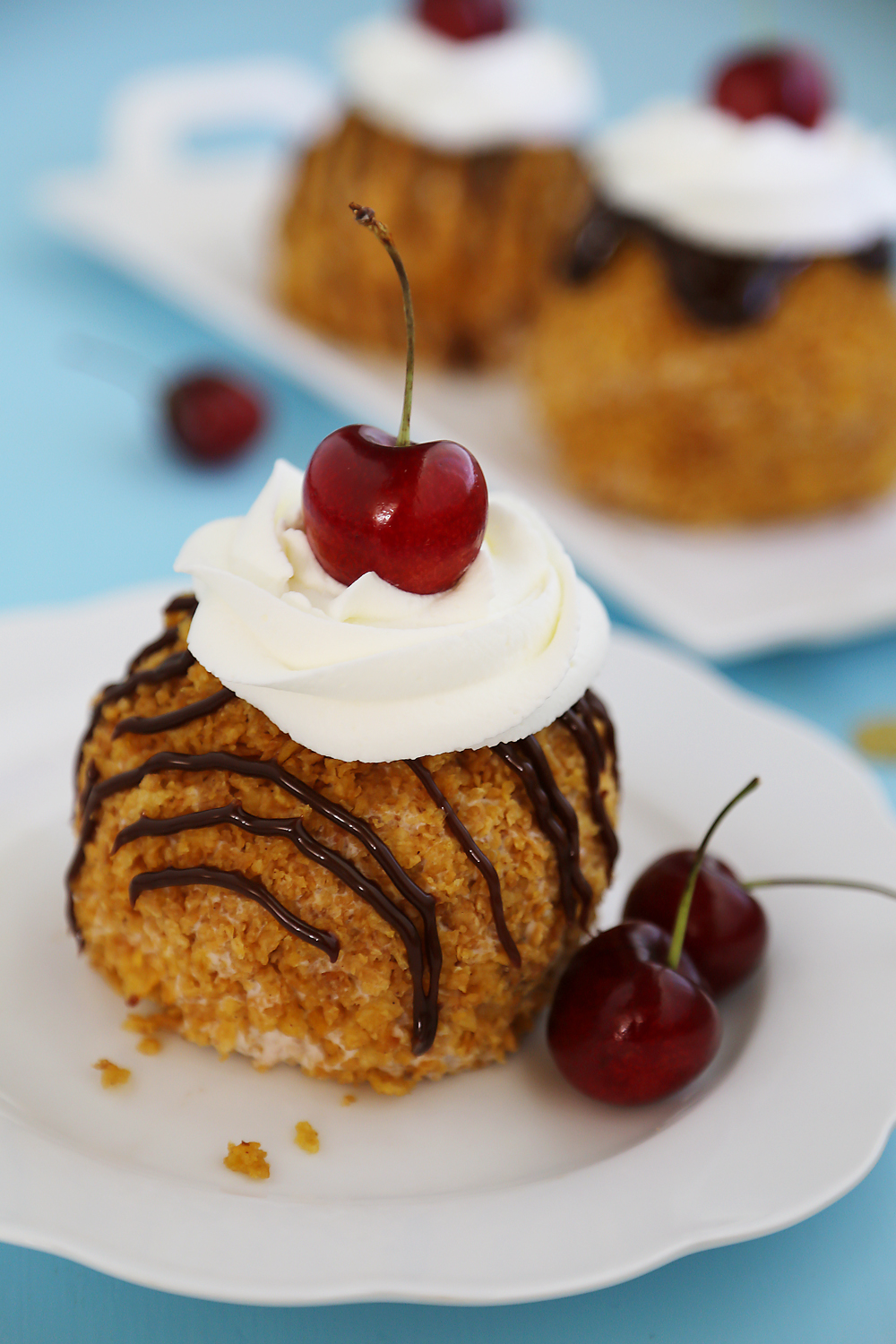 Easy Mexican Fried Ice Cream
Ingredients
5 cups cornflakes cereal
1/2 cup unsalted or salted butter
1/4 teaspoon ground cinnamon
1 1.5 qt. container ice cream
Optional serving suggestions:
Drizzled honey or melted chocolate
Caramel sauce
Chocolate fudge sauce
Whipped cream
Melted chocolate
Fresh berries
Fresh or jarred cherries
Recommended yet optional:
Latex gloves for shaping ice cream balls
Instructions
Add cornflakes to a large resealable plastic bag. Seal bag tightly and crush cornflakes with a flat mallet or rolling pin, until you have fine crumbs.
In a large (10-inch) skillet, melt butter over medium-high heat. Once melted, stir in crushed cornflakes and cinnamon. Cook for 3-4 minutes, stirring constantly, until golden brown and fragrant. Pour mixture into a shallow dish and let cool for 15-20 minutes.
Meanwhile, prepare a medium baking sheet. Remove ice cream from freezer. With latex-gloved hands (not necessary, but recommended to avoid super-cold hands, and ice cream that melts too quickly), scoop and shape ice cream into 5 round baseball-sized balls. Place on the baking sheet. Roll balls into cornflake mixture, evenly coating and pressing cornflake mixture around outer surface.
Serve immediately topped with desired toppings. Or, place in freezer on a baking sheet (before adding toppings) and chill until ready to add toppings and serve.
Enjoy!