I don't know about you, but my favorite way to each a peach is sitting barefoot on a back porch in the middle of summer, and feeling that sticky, sweet nectar roll down my chin. There's something about it that just oozes summertime. But, because rather than a back porch I have a balcony covered in pine needles, and because I'm usually wearing fuzzy slippers rather than padding around barefoot, I haven't nearly reached my peach-eating quota this season.
So, when my favorite sweet summer fruits go neglected and get a little soft, I like to cut 'em up and roll out a pie crust (either homemade or storebought), toss the fruit in the middle, and pinch the crust together to make little pies!
Topped with a scoop of vanilla ice cream or this heavenly homemade whipped cream, these little pies are my six-minute solution to a cute, simple and oh-so satisfying summer treat. And, if you don't prefer peach, skip on over to my strawberry galette for an equally easy dessert.
I know you'll absolutely love these tasty little fruit pies. Fresh out of the oven, they make an elegant presentation for dessert, but hey, what's the matter with indulging a little at breakfast, too?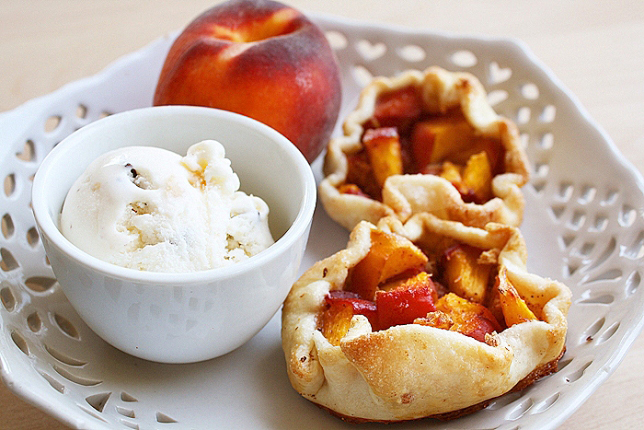 Mini Peach Pies
Ingredients
1-1/2 cups ripe fresh peaches, from about 3 peaches
2 tbsp. sugar
1 tsp. ground cinnamon
1 tsp. ground nutmeg
1 pie crust, homemade or storebought
5-6 tbsp. graham cracker crumbs
Instructions
Heat oven to 400 degrees and line a baking sheet with parchment paper. Coat lightly with nonstick cooking spray.
Cut peaches into small chunks and toss into a medium bowl. Add sugar, cinnamon and nutmeg and coat the peaches evenly.
Using a 4-inch bowl as a guide, cut 5-6 circles from pie crust. Roll out each circle slightly, then place on the baking sheet.
Place 1 tbsp. of graham cracker crumbs in the center of each crust. Divide peaches among crusts. Fold the edge of each crust up and over peaches. Sprinkle each pie with 1/2 tsp. of sugar.
Bake 25 minutes, until pies are golden brown. Let cool 3 minutes before serving.
If desired, serve with vanilla ice cream or whipped cream.
Enjoy!