When you need to satisfy a cheesecake craving, turn to these easy mini berry cheesecakes with buttery graham cracker crusts and fresh whipped cream!


While I DO have a pretty intense sweet tooth, I don't need to eat a whole half of a pie, or even a slice, to get my fill. Thanksgiving, Christmas and birthdays being the exception, of course. Bring on the apple pie, tiramisu and layer cake!
But, during the rest of the year I love, love, love mini desserts. Just a little something sweet is all you need to satiate that sweet loving demon inside and keep trim enough for tiny swimsuits!
These mini cheesecakes are sensationally simple, delicious and super versatile – Add cocoa powder to the cream cheese mixture for chocolate cheesecake, maybe? Or how about topping the little cuties with mixed berries or chopped nuts and a caramel drizzle? No? You're tough to please.
Okay, what about…
… Heavenly homemade whipped cream mixed with the silky smooth, tangy-sweet puree of a fresh mango?
Oh baby.
Or, puree your favorite berries instead for an extra berry-licious addition to these already mouthwatering little morsels of dessert!
So, go ahead, have a little cheesecake this summer as you're slipping into sundresses and sunning outside with an icy cold margarita! Make 'em fancy and frilly or keep 'em casual and fuss-free, just don't be surprised when your super impressed guests start asking for the recipe!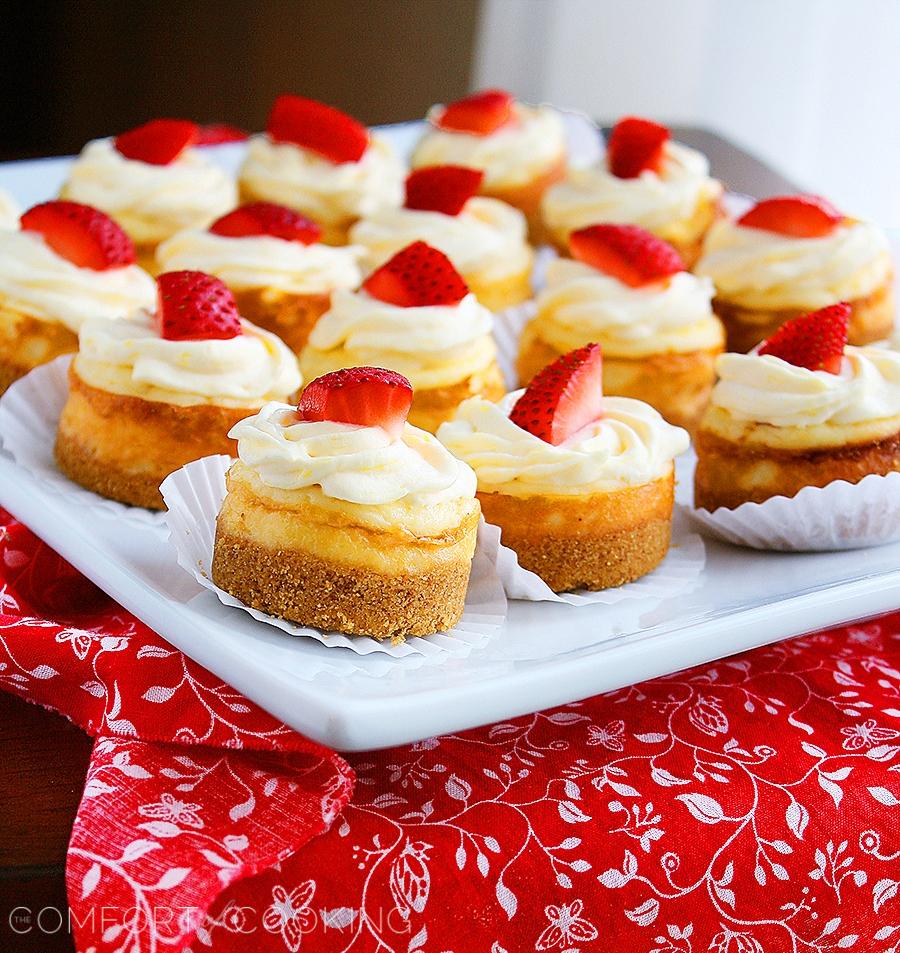 Mini Berry Cheesecakes
Ingredients
6-7 graham crackers
3 Tbsp. melted butter
2 8 ounce packages cream cheese or Neufchatel cheese, softened
2 large eggs
2 tablespoons fresh lemon juice
2/3 cup granulated sugar
Topping ideas:
Fresh berries, such as strawberries, raspberries, blueberries, etc.
Fruit pie filling, such as cherry or mixed berry
Chopped pecans or walnuts
Instructions
Preheat oven to 350 degrees F.
Line muffin tins with 12 paper baking cups, or leave mini cheesecake pan unlined.
In a food processor, pulse graham crackers with melted butter until you've achieved wet sand consistency. Place 1 tbsp. of graham cracker mixture into each cup, gently patting into the bottom and sides of each cup.
In a large mixing bowl, beat cream cheese until fluffy. Mix in eggs one at a time. Add lemon juice and sugar. Beat until smooth and thoroughly combined.
Fill each baking cup 2/3 full with cream cheese mixture.
Bake in preheated oven for 15 minutes. Cool pan completely on a rack before removing cheesecakes.
Top with fresh berries, fruit pie filling, chopped nuts, or fresh whipped cream before serving, if desired.
Enjoy!