This amazing apple pecan crisp is simple, scrumptious and easy to enjoy at only 150 calories per serving. Plus, it's so delicious served with reduced fat vanilla ice cream or whipped cream!
Home is very much with my husband here in Texas, where we've made a nice little love nest. But, nothing – and I mean nothin' – takes me truly home like a warm apple crisp with vanilla ice cream or whipped cream. One scoop of this delicious, comforting dessert and I feel ten again.
Helping my mom peel apples (and eating along the way) for pies and crisps remains my favorite fall memory as a kid. Tossing the tart-sweet slices with a spicy mixture of cinnamon, nutmeg, butter and sugar was my job and the amazing aroma always takes me back to the excitement of Thanksgivings and first snowfalls. Can you tell I can't wait?
Well… I may be waiting a while for the first Texas snowfall but I couldn't wait to share this delicious and light dessert with you! Each serving is under 150 calories, so enjoy your summer and eat this easy, delish dessert, too!
With just 4 tablespoons of sugar and half as much butter, this mouthwatering apple crisp is low in sugar and fat, and sprinkled with protein rich oats and pecans. Yum!
Into the scrumptious streusel topping I also added a couple crushed Walker's Shortbread cookies. Their shortbread is melt-in-your-mouth delicious and adds a little extra buttery-sugary indulgence to an already amazing crisp!
Serve it up with big scoops of vanilla ice cream, whipped cream or frozen yogurt, and a bunch of spoons. This crisp will be one tasty treat you'll go back to again and again, anytime of year!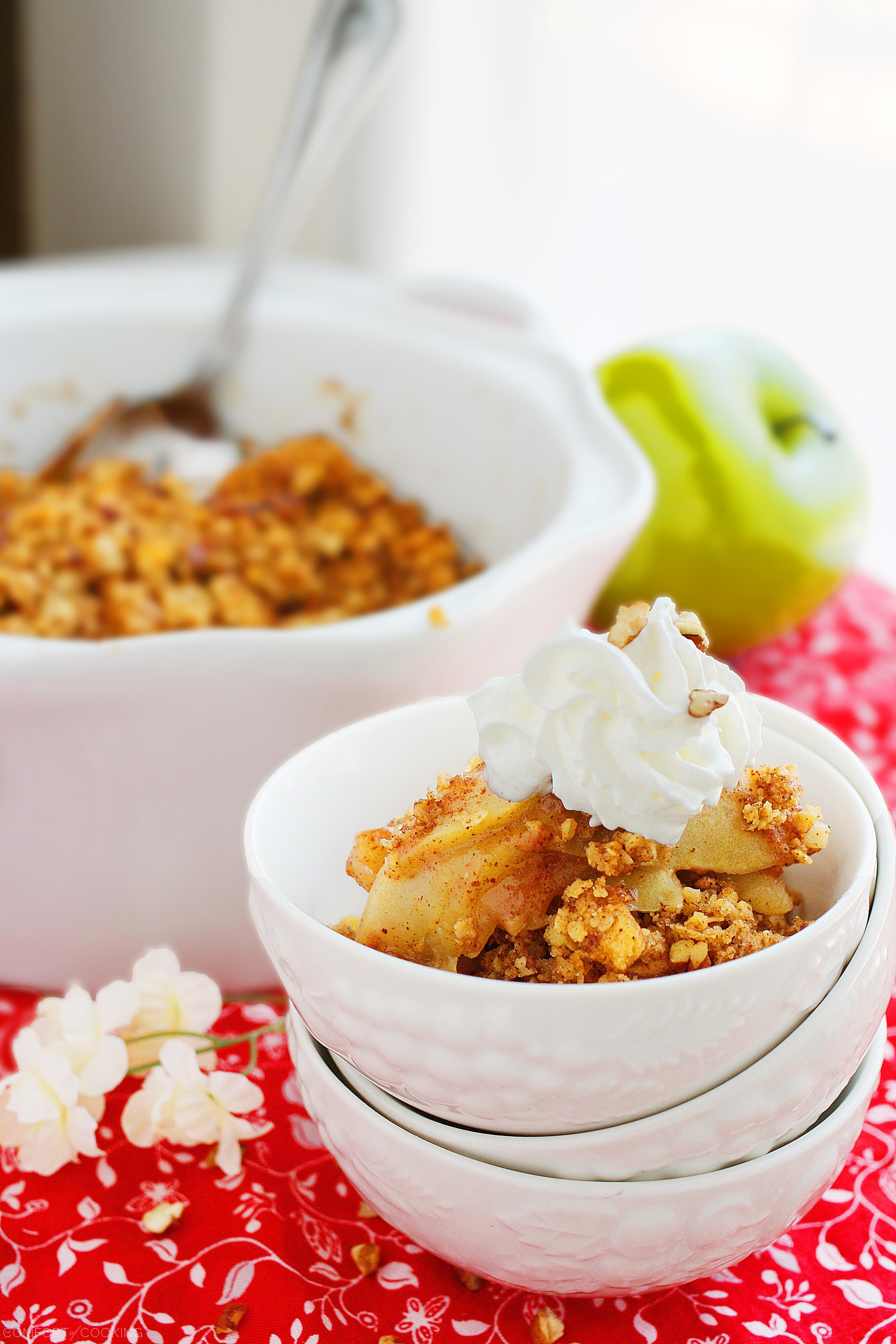 Light Apple Pecan Crisp
Yield:
4 large servings / 6 small servings
Ingredients
1 tsp. ground cinnamon
1/4 tsp. ground nutmeg
2 Tbsp. granulated sugar
2 Tbsp. all-purpose flour
3 Granny smith apples, cored, sliced thin
Topping:
1/3 cup quick oats
1/4 cup crushed shortbread cookies, about 3 / recommended: Walker's Shortbread
1 Tbsp. chopped pecans
1 tsp. ground cinnamon
2 Tbsp. brown sugar
1 tsp. pure vanilla extract
2 Tbsp. unsalted butter, softened
Instructions
Preheat oven to 350 degrees F.
Mix cinnamon, nutmeg, sugar and flour in a large bowl. Toss in sliced apples and coat evenly. Place apples into a 9-inch square or round baking dish.
In the same bowl, combine topping ingredients and mix by hand until crumbly. Sprinkle topping over the apples.
Bake until topping is golden brown, 25-30 minutes. Test by inserting a toothpick; it should come out clean and not pick up the apple slices.
Serve with vanilla whipped cream, ice cream or frozen yogurt. To store, cover dish with plastic wrap and refrigerate up to 4 days.
Enjoy!