I hope you all had a happy, joyful holiday rich with good food and the company of loved family and friends! I certainly had a special Christmas spending it with my in-laws, cozying up to cups of hot cocoa, making hundreds of homemade ravioli, and spending quiet quality time telling new and old stories. Though my own parents were in my thoughts, it was a treat to be with my husband's family and I'm looking forward to seeing all of my family again in the coming year.
Now, onto to the soup: After a rushed day of traveling back home yesterday, a pot of this comforting, warm broccoli cheddar soup is just what we needed to relax. It's so simple to whip up, and as you can imagine needs only a handful of basic ingredients. This stuff is seriously lick-the-bowl good with a hunk of crusty bread!
Here's how it's done… After cooking chopped onions in a bit of butter (is there any better aroma?), swirl in more butter, flour, half-and-half and chicken stock. Let it bubble, then simmer. Toss in the chopped broccoli and a bit of freshly grated carrot, along with grated nutmeg, salt and pepper. Simmer again, and then blend it all into a velvety, smooth consistency with an immersion blender or food processor. Stir in the gooey cheddar, and voila! Rich, hearty and absolutely scrumptious broccoli cheddar soup.
Cook it, share it and enjoy it to the fullest while swimsuit season is still far off!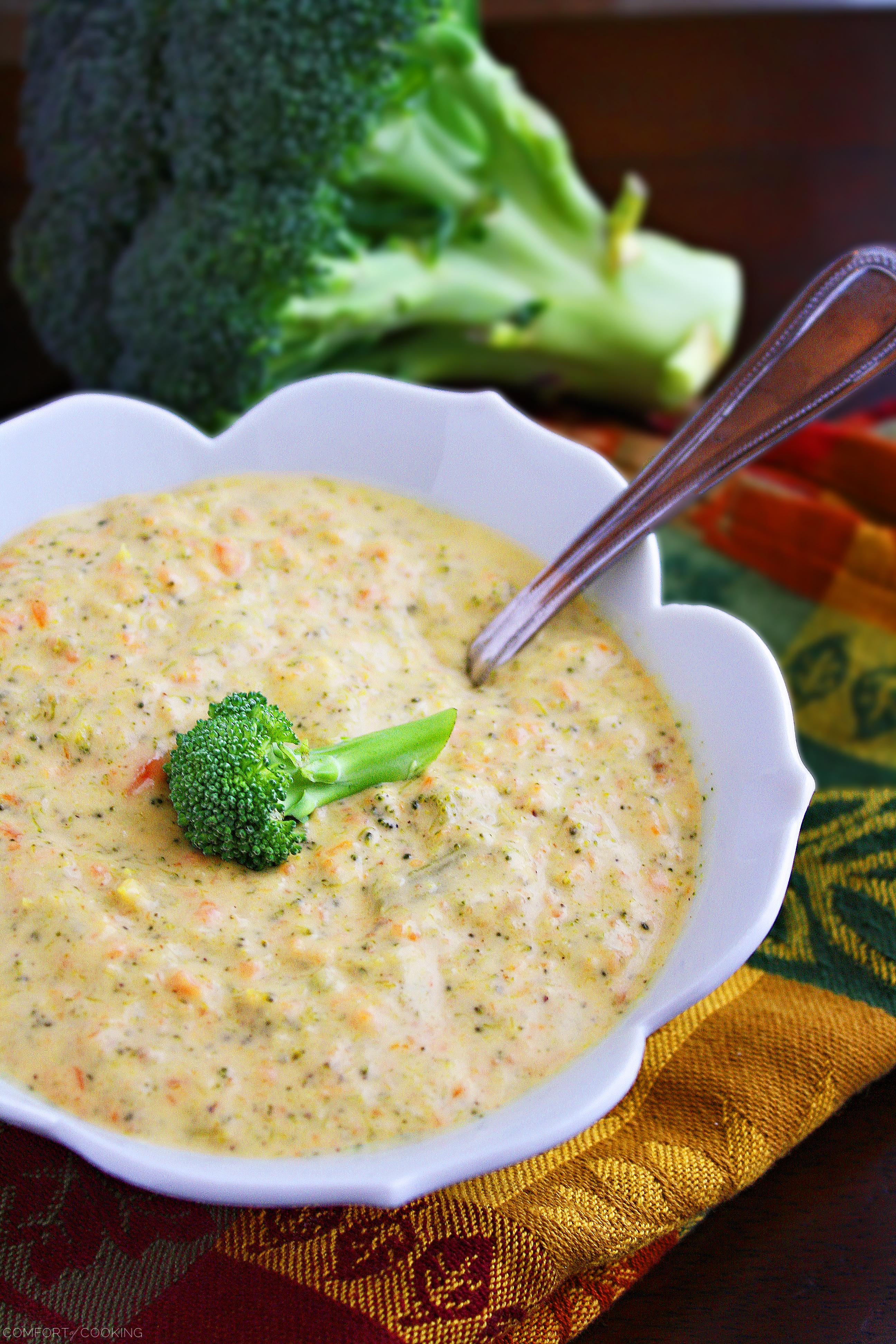 Creamy Broccoli Cheddar Soup
Yield:
5 servings (1 1/2 cups per serving)
Ingredients
1 tablespoon melted butter
1/2 medium chopped onion
1/4 cup melted butter
1/4 cup flour
2 1/2 cups half-and-half
4 cups chicken stock
1 lb. 16 oz. fresh or frozen broccoli florets
1 cup grated carrot
Kosher salt and freshly grated pepper, to taste
1/4 teaspoon grated nutmeg
8 ounces grated sharp cheddar cheese
Instructions
Melt butter in a large pot over medium-high heat, and sauté onion until soft, about 3 minutes. Add additional butter and flour, whisking for 3-5 minutes to create a roux. Whisk while adding the half-and-half and chicken stock. Simmer for 20 minutes.
Stir in the broccoli florets and grated carrot. Add salt, pepper and nutmeg. Simmer over low heat for 30-35 minutes.
Remove soup from heat and pulse with an immersion blender until smooth. Or, puree the soup in batches in a food processor until smooth, adding mixture back to the pot.
Return pot to low heat and stir in cheddar cheese. Simmer for 10 minutes, and serve.
Enjoy!